GODSPEED! PRESTON PETTY (1941-2022)
GODSPEED! PRESTON PETTY (1941-2022)
Preston Petty was born in Los Angeles on February 19, 1941. His father was a successful attorney and tried in vain to keep young Preston off those crazy motorcycles. Preston had an interest in anything motorized and at the age of 13 he got what he described as his first "real motorcycle," an Ariel Colt. It didn't take long before Preston Petty was a leading off-road and motocross racer of the late 1950s through the early 1970s. He was one of the first riders in the country to race Honda motorcycles. Petty rode for Team USA in three International Six-Day Trials ISDT (now known as ISDE) events and was one of the early proponents of bringing European-style motocross to America.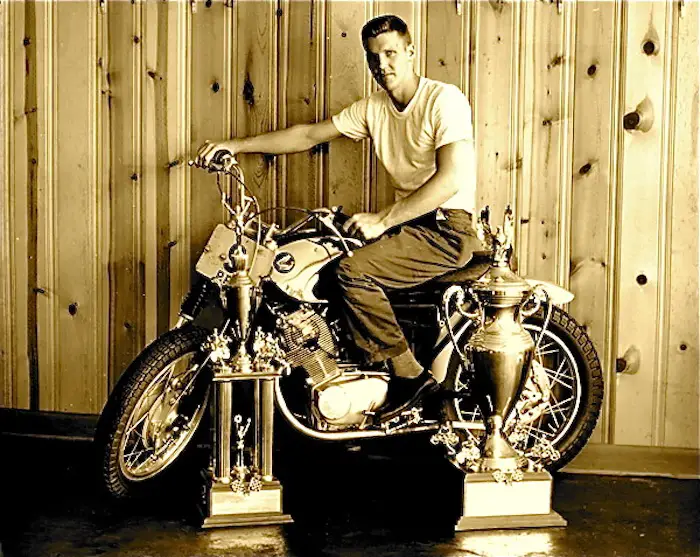 Preston Petty is best remembered for his ground-breaking plastic motorcycle components, most notably his fenders, but also his skid plates, Hex grips, enduro front number plates, starting gate and No-Dive. His innovative fenders changed the popular view of the time that plastic was junk when it came to off-road motorcycles. His fenders became the gold standard during the 1970s and nearly all serious racers scrapped their stock fenders for Petty units.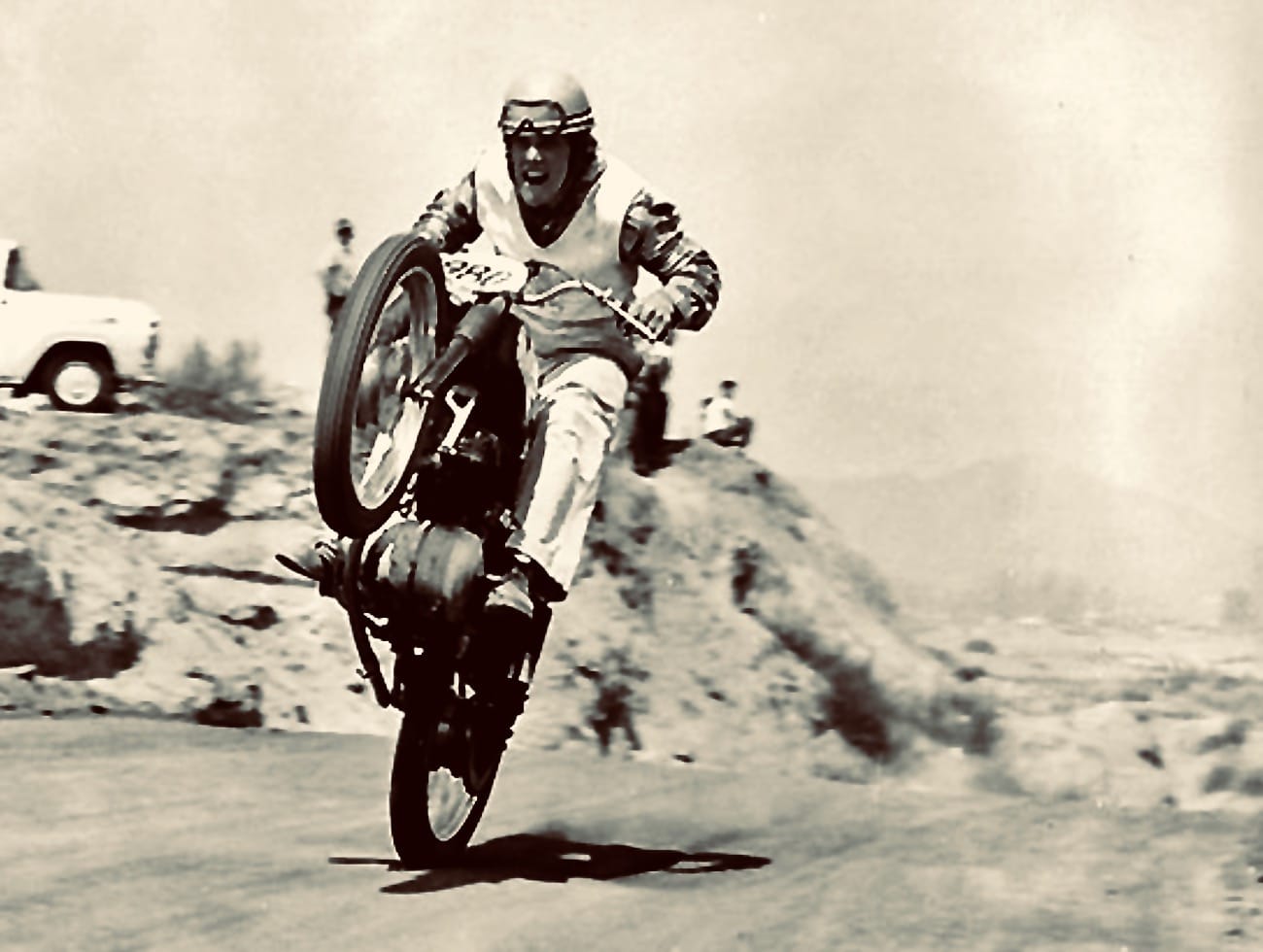 Preston at speed.
Before Preston Petty came on the scene, offroad motorcycles had metal fenders. Those metals fenders, steel or aluminum, were not only dangerous to ride with, but prone to fatigue cracking. The idea for the fender came when the aluminum front fender of his Maico broke off. Using the five-gallon plastic paint bucket as inspiration, Petty utilized his computer programming skills to come up with the optimal plastic formula to use in his fenders. Preston thought that if he could sell 2000 fenders that it would be worth the effort and investment. The Preston Petty plastic fender was the perfect product at a perfect time as off-road motorcycle sales exploded. Instead of selling a total of 2000, Petty Plastic sold 2000 fenders a day at the peak of sales.
During this creative period, Preston built his own injection-molding equipment and computer control systems. Preston used this equipment to produce the first enduro headlight (now copied on every enduro bike), an innovative plastic skid plate and the Petty Hex Grip. His enterprise might have made him a rich man, but by 1980, Petty lost it all after the sale of his company on a long-term payout basis went awry when the group that purchased the rights to his Petty Plastics went bankrupt.
Roger DeCoster testing the Preston Petty No-Dive at Indian Dunes.
Preston, recognizable in his blue coveralls, loved to fly airplanes and moved from Oregon to Arizona to live on a runway. He was a regular visitor to AMA races throughout the '70's, '80' and early '90. But became more reclusive later in life and lived for many years in a converted bus/motorhome where he fiddled with his computers.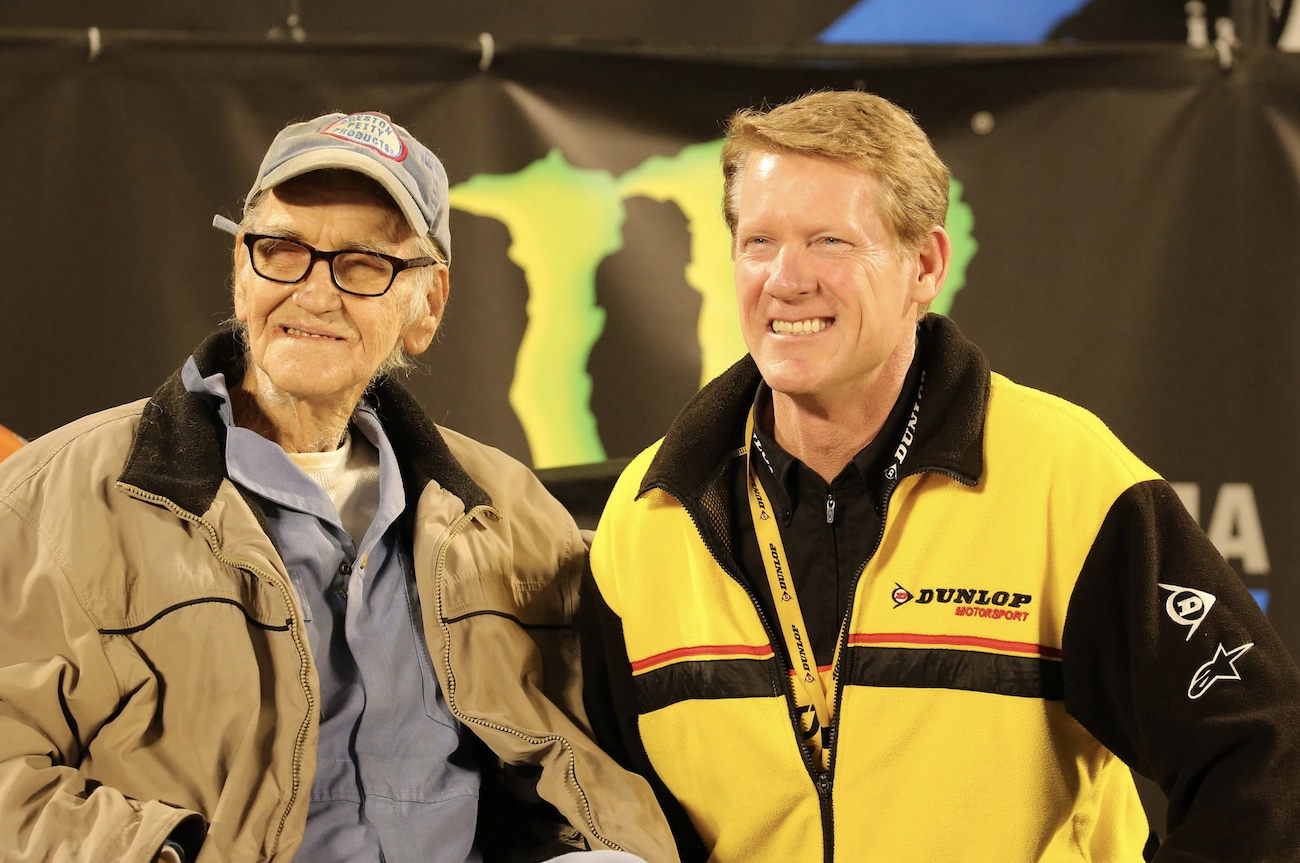 Preston Petty and Broc Glover that the 2020 Legends and Heroes Tour at the Anaheim Supercross.
Surprisingly, Preston Petty wasn't a rich man. He is the victim of bad business deals.In later years, Preston  signed a deal to have his Preston Petty fender remanufactured for vintage bikes and was busy working the kinks out of his electric dirt tracker. In recent years, Preston Petty lived quietly in Los Angeles and although he suffered from COPD (Chronic Obstructive Pulomary Disease), he worked as a freelance computer programmer for many motorcycle industry customers. The AMA Hall of Famer passed away on January 16, 2022 at the age of 81.

Preston and Jody: It was, after all, the Age of Aquarius.
MXA's Jody Weisel said of Preston, "Preston Petty was a genius on a motorcycle. More importantly, he was a genius off one. He was a unique and honest individual. I once asked Preston why he always wore blue mechanic's coveralls everywhere he went. I thought he was going to say that it was a fashion choice. Instead, he said it allowed him to walk through airports without security asking him what he was doing (that was obviously in a pre-9/11 world). One day, Preston told me that I shouldn't support the move to water-cool bikes. I asked, "Why?" Preston said, "It will increase the cost of bikes and parts, but it won't change anything about racing. If everybody is on an air-cooled bike, the rider won't care and the bike won't know." This photo of Preston and I was shot at the 1983 Superbowl of Motocross. We were hamming it up for the camera. Amazingly, many times later in life when I ran into Preston, he would repeat the exact same thing. Priceless."