GODSPEEED! BENGT ABERG (1944-2021)
Bengt Aberg: 1969 and 1970 500 World Motocross Champion.
Two-time 500 World Champion Bengt Aberg passed away at the age of 76 on Saturday, March 6, 2021. The family has not announced the cause of death. The Swedish GP rider was one of the top riders in the World Championships during the late 1960s and early 1970s.
Roger DeCoster (left), Torsten Hallman (center) and Bengt Aberg (right) at the Inter-Am series.
In 1968 he was part of the Swedish team that won the Trophee des Nations and he was a member of three Motocross des Nation teams for Sweden in in 1970, 1971 and 1974. His teammates for the three MXDN wins were Christer Hammargren, Ake Jonsson, Arne Kring, Olle Pettersson and Hakan Anderson. He won the FIM 500 World Motocross Championship in 1969 and 1970.

Husqvarna ad for the one-two finish in the 1970 World Championships with Bengt Aberg and Arne Kring.
Bengt also competed on Bultaco's in 1974-1976, including the rarely seen dual-fork Bultaco. In 1977, when four-stroke were a rarity in GP motocross, Bengt competed on modified Hallman/Lundin Yamaha XT500. Bengt rode the four-stroke to a first moto victory at the 1977 500 Grand Prix of Luxembourg.

Bengt on the dual-forks Bultaco.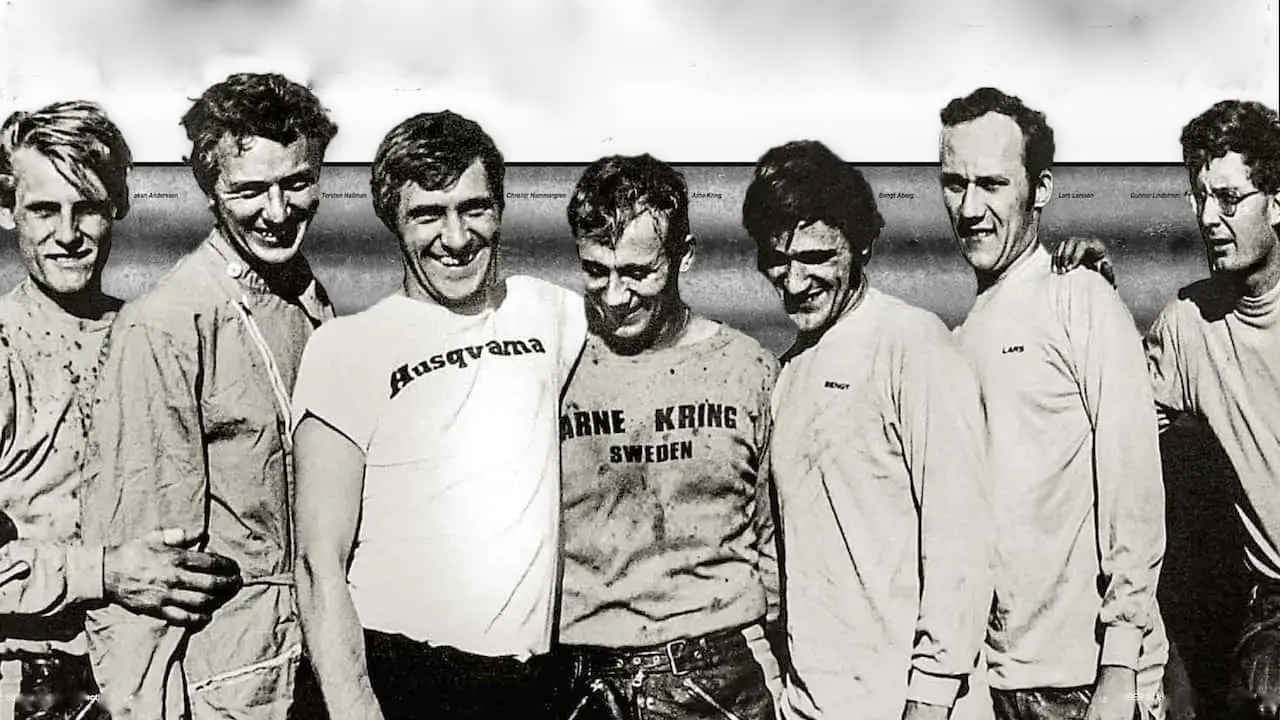 Bengt Aberg (third from the left) with six of his closest friends in 1971: Hakan Andersson (left), Torsten Hallman, Christer Hammargren, Arne Kring, Bengt Aberg, Lars Larsson and Gunnar Lindstrom.
A production version of the bike Bengt raced in Luxembourg was released by Yamaha in 1978-79. Yamaha Europe commissioned the Norton factory to build 400 complete HL500s that would only be sold in Europe in 1978-1979 (you can tell the 1979 from the 1978 by the banana swing arm). The production HL500s used a lot of stock Yamaha parts, including the forks, but Ohlins shocks were included. The Bengt Aberg Replica was sold in America by Torsten Hallman racing as a kit bike.
The Hallman/Lundin Yamaha kit bike.