GRAND PRIX OF BRAZIL: HERLINGS PERFECT SEASON GOES OUT THE WINDOW: AS THE SUPER FINAL HOAX IS FINALLY OVER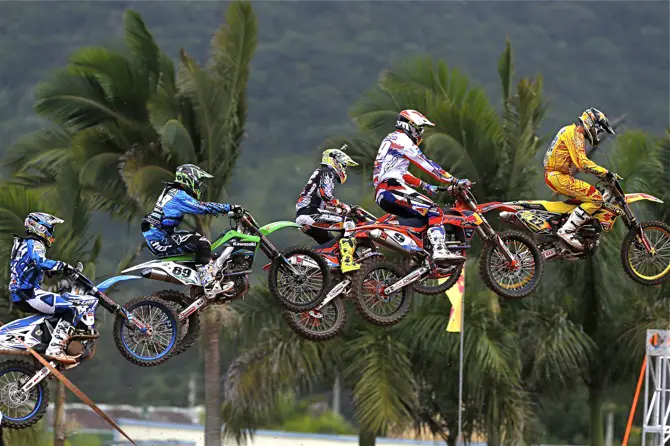 Strijbos (22), De Dycker (9), Cairoli (222), Van Horebeek (89) and Simpson (24) enjoy Brazilian air time. Photo: Ray Archer.
Riders: Thanks to South American wild cards there were 23 riders in the 450 class and 24 in the 250 class. Five of them made the main event (Jean Ramos, Antonio Balbi, Rodrigo Andrade, Anderson Cidade and Thales Vilardi). Without the South American riders there would not have been 20 riders in either class.
Last Chance: There were only nine riders for the Last Chance race, so they just used it as a timed practice to decide who moved to the Super Final. David Guarneri and Jean Ramos were the 450 guys, while Anderson Cidade and Rodrigo Andrade were the 250 guys to make the main
Super Final 250s: The first 250 rider was Jose Butron was 10th place. In short, there was only one 250 rider in the top ten. Jeffrey Herlings was 13th, Jordi Tixier 15th, Christophe Charlier 16th, Dean Ferris 18th, Max Anstie 19th and Alessandro Lupino 20th.
Gate pick: Before the race started it was announced that instead of the 250 riders getting first pick at the gate (as at the first two Super Final races), the gate selection would alternate between 250 and 450 riders.
Perfect season: Jeffrey Herlings will be credited with losing the second moto (the Super Final moto?because he was beaten by Jose Butron). Thus ends his string of perfect moto wins at 13.
What a mess: Thankfully this is the last Super Final of the year. Hopefully the last ever. Not only does it demean the 250 class, but, if it keeps going, 250 teams will have trouble finding sugar daddies willing to send them to overseas races to be invisible in the Super Final. Butron, who was the first 250 rider, was one minute and 9 second behind the leader (on a one minute 59 second track). That isn't how you impress sponsors.
Jeffrey Herlings: Jeffrey Herlings points lead is 100 points over second place…which means he can miss the next 4 motos without losing the top spot.
Orange sweep: KTM went 1-2-3-4 in the 250 class in Brazil with Herlings, Butron, Tixier and Coldenhoff.
How to pay for it: Youthstream and its defenders always claim that Youthstream can't pay purse money because they wouldn't know where to get the money. Funny, every other race series is able to find the purse money. Youthstream ought to be able to come up with the same amount of money as the AMA Nationals…and, if they want to be considered the premier series in the world, they would have to beat the AMA Supercross purse money?which is $99,000 per race. Let's quit joking ourselves?Youthstream can afford to pay purse money to the riders, but they want to keep all the money for themselves.

Antonio Cairoli. Photo: Ray Archer.
BRAZILIAN RESULTS: 450 CLASS
(Second moto scores are from the Super Final)
1. Antonio Cairoli (KTM)……………1-1
2. Clement Desalle (Suz)………….3-3
3. Kevin Strijbos (Suz)………………6-2
4. Max Nagl (Hon)…………………….2-6
5. Gautier Paulin (Kaw)……………..4-4
6. Jeremy van Horebeek (Kaw)…5-8
7. Ken de Dycker (KTM)…………….9-5
8. Tommy Searle (Kaw)…………….8-9
9. Joel Roelants (Yam)…………..10-12
10. Shaun Simpson (TM)…………13-10
Other notables: 11. Evgeny Bobryshev (12-11); 12. David Philippaerts (7-17); 13. Rui Goncalves (18-7); 14. Jonathan Barragan (14-15).

Jeffrey Herlings. Photo: Ray Archer.
BRAZILIAN RESULTS: 250 CLASS
(Second moto scores are from the Super Final)
1. Jeffrey Herlings (KTM)……………1-2
2. Jose Butron (KTM)…………………6-1
3. Jordi Tixier (KTM)…………………..4-3
4. Glenn Coldenhoff (KTM)…………2-12
5. Dean Ferris (Yam)…………………7-5
6. Christophe Charlier (Yam)……..12-4
7. Mel Pocock (Yam)…………………5-11
8. Alessandro Lupino………………..10-7
9. Alex Tonkov (Hon)…………………9-8
10. Dylan Ferrandis………………..8-9
Other notables: 11. Max Anstie (14-6 ); 12. Jake Nicholls (3-20); 14. Maxime Desprey (11-13); 15. Petar Petr (13-14); 16. Jimmy Decotis (17-15).
WHAT MAX NAGL AND EVGENY BOBRYSHEV THOUGHT ABOUT THE RACE


250/450 SUPER FINAL RESULTS
1. Antonio Cairoli
2. Kevin Strijbos
3. Clement Desalle
4. Gautier Paulin
5. Ken de Dycker
6. Max Nagl
7. Rui Goncalves
8. Jeremy van Horebeek
9. Tommy Searle
10. Jose Butron (250)
11. Shaun Simpson
12. Evgeny Bobryshev
13. Jeffrey Herlings (250)
14. Joel Roelants
15. Jordi Tixier (250)
16. Christophe Charlier (250)
17. Davide Guarneri
18. Dean Ferris (250)
19. Max Anstie (250)
20. Alessandro Lupino (250)
21. Alex Tonkov (250)
22. Adam Chatfield
23. Dylan Ferrandis (250)
24. Ivo Monticelli (250)
25. Mel Pocock  (250)
26. Glenn Coldenhoff (250)
27. Maxime Desprey (250)
28. Petar Petrov (250)     
29. Jonathan Barragan
30. Jimmy Decotis (250)
31. Thales Vilardi (250)
32. Anderson Cidade (250)
33. Kasper Lynggaard
34. Rodrigo Andrade (250)
35. David Philippaerts
36. Antonio Balbi
37. Tanel Leok
38. Paulo Alberto (250)
39. Jean Ramos
40. Jake Nicholls (250)


Joel Roelants isn't in the 450 top ten yet.
450 WORLD CHAMPIONSHIP POINTS STANDINGS
(After 7 of 18 races)
1. Tony Cairoli………………….330
2. Gautier Paulin………………279
3. Clement Desalle…………..267
4. Ken De Dycker……………..245
5. Kevin Strijbos……………….220
6. Tommy Searle………………205
7. Max Nagl……………………..169
8. Rui Goncalves………………148
9. Jeremy Van Horebeek…..138
10. David Philippaerts………..116
Other notables: 11. Joel Roelants (112); 12. Shaun Simpson (112); 13 Tanel Leok (108); 14. Evgeny Bobryshev (106).

Dean Ferris is sixth in 250 points.
                           
250 WORLD CHAMPIONSHIP POINTS STANDINGS
(After 7 of 18 races)
1. Jeffrey Herlings…………347
2. Jordi Tixier………………..257
3. Jose Butron………………178
4. Glenn Coldenhoff………183
5. Christophe Charlier……171
6. Dean Ferris………………152
7. Max Anstie……………….150
8. Jake Nicholls…………….129
9. Alessandro Lupino…….123
10. Mel Pocock…………….112
Other notables: 11. Petrar Petrov (114); 12. Dylan Ferrandis (105); 13. Romain Febvre (98); 14. Alex Tonkov (81).