GRAPHIC WARNING! JASON ANDERSON OUT WITH COMPOUND FRACTURED FOOT
A look at the pool of blood coming through Jason Anderson's sock. 
Jason Anderson's freak accident yesterday at Glen Helen resulted in a compound fracture to his right foot. Jason posted two Instagram stories last night. The first one sad, "Compound fracture to the foot in a crazy accident today." The second said, "A bump in the road, but I will be back as fast as possible and I will race before the season is over. Sorry everyone I won't be making it this weekend but I'll be back ASAP."
Official Husqvarna Press Release on Jason's status: Just weeks after he claimed the 2018 450 Supercross Championship, Rockstar Energy Husqvarna Factory Racing's Jason Anderson sustained an injury Thursday morning during practice motos at Glen Helen Raceway. Two days before the Thunder Valley National in Lakewood, Colorado, Anderson took off aboard his 2018 Husqvarna FC450 Rockstar Edition for a standard practice session. While riding, Anderson collided with another rider resulting in a compound fracture to his right foot which required surgery. The expected recovery time is four to six weeks. Without complications, he is looking to return to the 2018 Lucas Oil Pro Motocross Championship at the Unadilla National on August 11th. We wish Jason a speedy recovery and hope to see him back on the bike to finish out the end of the season.
We talked to the rider who Jason Anderson collided with to tell his own story of what happened. The Kiwi rider from New Zealand was veering left to make sure his buddy who broke both legs and femur was okay. Jason and the New Zealander went around the down rider by going off the track as their were riders flagging the riders around.
BEWARE: GRAPHIC PHOTO BELOW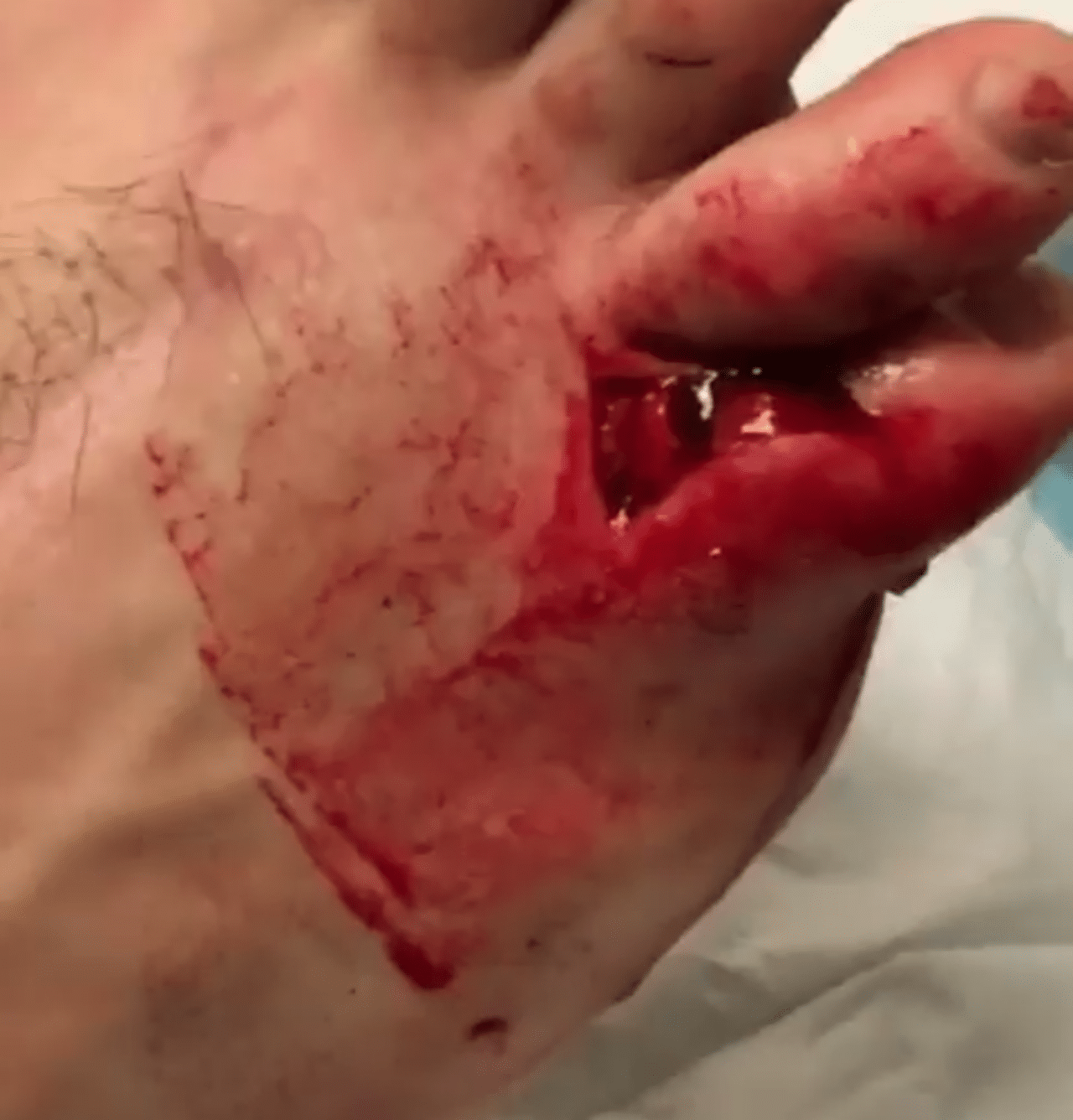 Jason released this photo of his compound fractured foot.
This is Jason right after he crashed. 
Jason getting carried off the track by Steve Westfall.