GREG ALBERTYN WINS REM GLEN HELEN: DOUBLE CLASSES IT WITH CLASS

Click on images to enlarge
 Photos by Dan Alamangos, Mark Chilson & Jody Weisel
Greg Albertyn (7) decided to come back to racing and brought his son Ethan out for his first race ever. Both Albertyns looked good as Greg holeshot and led the 450 Pro class for a couple laps before waving the young kids by and then came back to win the Over-40 Expert class with ease. Ethan won the 85 Beginner class. Photo: Dan Alamangos

The surprise of this weekend's REM "Straight Eight" series was the appearance of former 1992 125 World Champion, 1993-94 250 World Champion and 1999 AMA 450 National Champion Greg Albertyn. Greg hasn't been racing much over the last few years, keeping busy with his business interest in the USA and South Africa instead, but the 42-year-old obviously hasn't lost a step. Greg double-classed it on the hot sunny day, but placed his biggest focus on the Over-40 Experts rather than mixing it up with the kids in the 450 Pro class. Greg's real mission at REM Glen Helen was to give son Ethan his first chance to race in competition in the 85 Beginner class. It worked out well for Greg and Ethan they had a fun father/son day at the races.
Dominic DeSimone took the 450 Pro win. Photo: Dan Alamangos

PROS & EXPERTS: The 450 Pro class was won by Dominic DeSimone with a 1-1 in front of Swede Robert Lind (with Albertyn a safe and sane third overall). The 250 Pro class fell to another Swede, Kristoffer Palm. Albee would be back on the track three motos later for the Over-40 Expert race, which was combined with the Over-50 Experts and Over 50 Elites. Except on the start, where Greg failed to get the holeshot in the second moto, none of the other riders in the class saw him again until he started lapping them. The Over-50 Elite class was won by Jon Ortner, who couldn't buy a start and had to charge from the back to catch and pass Canadian Pete DeGraaf late in the first moto. DeGraaf, who has won 4 World Vet Championships at Glen Helen, is no stranger to the track's famous decomposed granite dirt, but he didn't get a chance to pay Ortner back in moto two as he was involved in a terrible looking, but ultimately non-injury-causing, accident with first Over-50 Expert moto winner Robert Reisinger. With Resinger tangled up with DeGraaf, Bryan Friday used a 3-1 to take the Over-50 Expert victory. In the Over-60 Experts Will Harper swept both motos with Lyle Sweeter (3-2) second and Ken Ehlers (4-3) third.
Brazilian Vinnie Angelini won the 450 Intermediate class—although he forgot his helmet and had to borrow Dennis Stapleton's MXA helmet for the day. Stapleton flew in from Loretta Lynn's at 3:00 a.m. and still made it to REM, but will be back on a plane on Monday for Mt. Morris, Pennsylvania, for the 2016 Kawasaki KX450F intro. Photo: Dan Alamangos

OVER 40: Pete Vetrano won the Over-40 Novices (and would double-class to a fifth in the Over-50 Intermediates). The Over-40 Intermediates were the sole domain of Dutch rider Ralf Schmidt, who went 1-1 in front of Pasha Afshar (3-2), David Cincotta (2-3), Jeff Case (4-4) and Jonny Benskin (5-5).
Japanese rider Ryusei Otsuka (7134) swept both motos of the 250 Intermediates. He is being trained by former Yamaha factory rider Jimmy Holley. Photo: Dan Alamangos

OVER 50 & OVER 60: Mike Hillion's 1-1 took the Over-50 Novice victory in front of the 2-2 of Greg Atkinson, 3-3 of Lonnie Paschal, 5-4 of Jeff Greene and 4-5 of Gary Stoltenberg. In the Over-50 Intermediates, Ginger Hill's 3-1 was more than good enough to defeat the 5-2 of Jeff Mason, 2-6 of Jeff Scott and 1-7 of Paul Fitz-Gibbon. Brian Martin took the Over-60 Intermediate win, while Pro Valve's Nick Costello won the Over-60 Novice class.
Australian Dan Alamangos lofts the front wheel and displaces some terra firma on a 2016 KTM 350SXF. Photo: Jody Weisel

BRAND & AGES: The majority of racers at REM this Saturday were on Yamahas (as 34 % of the riders were riding blue). KTM was second with 23%, Honda third with 19%, Suzuki fourth with 13%, Kawasaki fifth with 11%, with the other brands (Husky, TM and Beta) at 2%. As for the age breakdown: 62% of the racers at REM were over the age of 40 (which mean that 38% were under 40). Riders in the Over-50 classes accounted for 24% of the turnout, while the Over-40 classes had 21% and the Over-60s were are 17%.
Swede #1: Robert Lind (869) was second in the 450 Pro class. Lind is part of a large Swedish contingent who have been using REM as a springboard to the AMA Nationals — the most famous of which is Fredrik Noren. Photo: Dan Alamangos

MISCELLANEOUS STATS: Counted by skill level, 32% were in the Pro or Expert category. The intermediate classes made up 27% of the riders, while the 39% were Novices. Amazingly, in 85% of the classes the winning score was a 1-1. The only classes not decided by a sweep were the Over-40 Novices, Vet Intermediates, Over-50 Experts and Over-50 Intermediates. Over 10% of the riders at REM double-classed it, and while 60% of those riders won at least one of their two classes, no riders were able to win two classes on the same day.
Swede #2: Kristoffer Palm is from the same town in Sweden as 1970's Grand Prix star Uno Palm, but wasn't aware of his hometown hero's motocross credentials until Americans started asking him if he was related to Uno. Kristoffer Palm won the 250 Pro class. Photo: Dan Alamangos

BEST WISHES: Prayers go out to Gene Boere who had to leave the track right after practice when he got news of an illness in his family.

Swede #3: Gustaf Gustafsson (862) didn't have a perfect day in the 450 Intermediates, but he managed a second place behind Brazilian Vinnie Angelini. Photo: Dan Alamangos


This looks like an innocuous photo of 250 Intermediate rider Cole Tompkins negotiating a downhill turn. Except, he is cheating. The actual corner is on the other side of the hay bale and orange cone. Tompkins is cutting the track, made obvious by the fire hoses in the the infield. Although Tompkins wins the "Greg Groom Creative Line Award" for this weekend, you gotta wonder if cheating to gain a second or two is worth the notoriety. Photo: Dan Alamangos

Former four-time Over-50 World Vet Champion Pete DeGraff (2007, 2009, 2010, 2011) came down from Canada for a shot at REM. Here, he chases Dan Alamangos, Val Tamietti, Fred Nichols and John Perry through the esses. Photo: Jody Weisel

Pete DeGraff and former AMA National rider Robert Reisinger (96) got bad starts in the second Over-50 moto and joined in tandem to work their way through the pack. Unfortunately, Reisinger ended up with both legs and his handlebars stuck in DeGraff's rear wheel. Durango, Colorado, rider John Perry had to stop to help extract Robert. It took more than a lap. Photo: Jody Weisel

The action was intense in every class. Here, Ty Cullins (66) and Todd Sibell (130) are chased by Irish rider David O'Connor (30) and Mark Taylor (126), while Michael Cooper (behind Taylor) and Matt Shultz (4) look for openings. Photo: Jody Weisel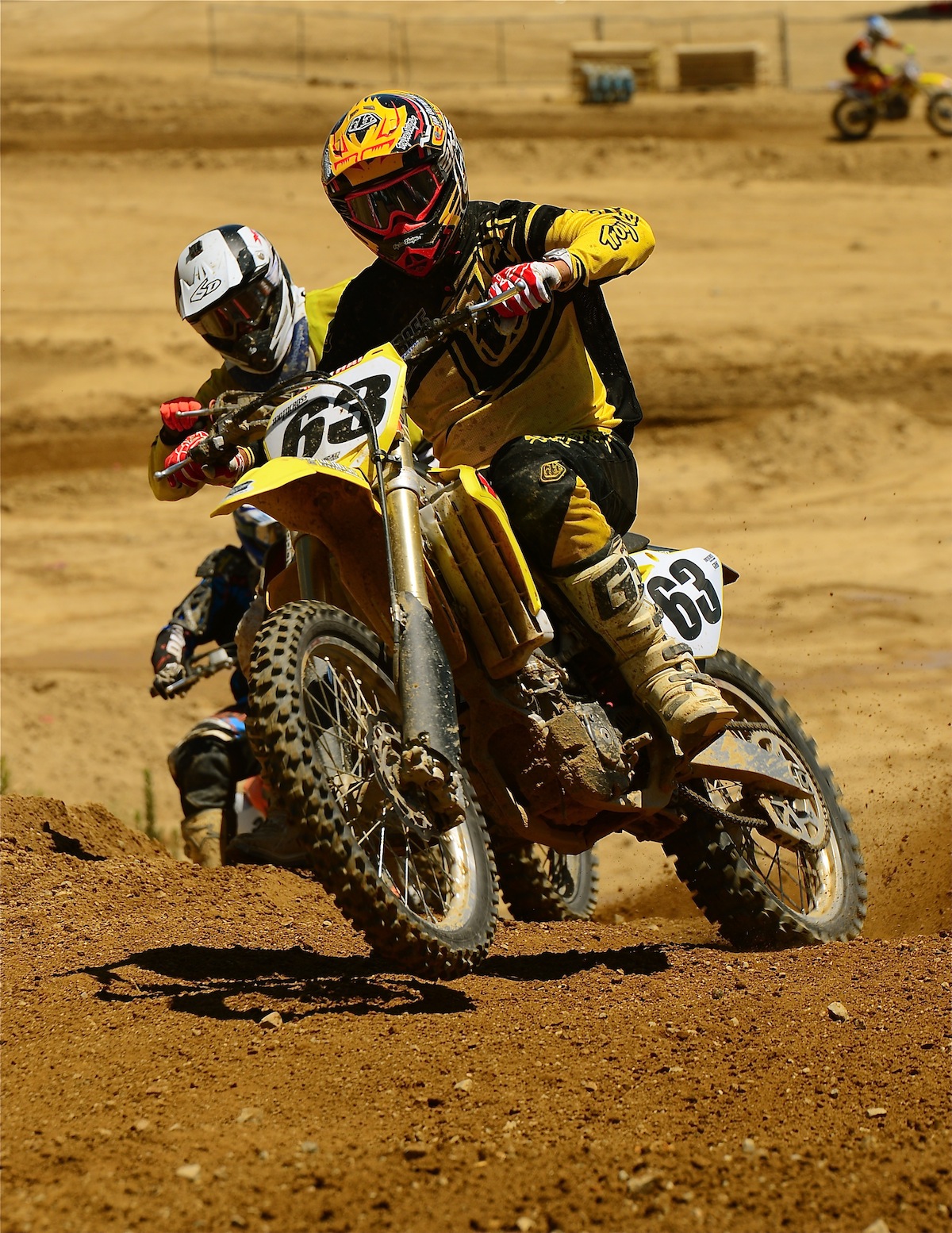 Jon Ortner (63) came from the back in both motos to win the Over-50 Elite class, while Bryan Friday (6D helmet) won the Over-50 Expert class. Photo: Jody Weisel

MXA brought six 2016 bikes and eight test riders to REM for testing. Every bike was ridden in multiple classes and some test riders raced different bikes in different motos. Here, Randel Fout is on MXA's 2016 CRF450, but he also raced a 2016 Suzuki RM-Z450. Photo: Dan Alamangos

Glen Helen uses reclaimed water from the two prisons that are adjacent to the park to water their race tracks. This is an excellent use of non-potable water during the SoCal drought. Non-potable means you can't drink it—nor would you want to. Photo: Dan Alamangos
Val Tamietti (31) was a consistent 7-7 for 6th overall in the Over-50 Experts behind Bryan Friday, Luther French, Ron Shuler, Phil Dowell and Paul Krause. Photo: Jody Weisel

Dentist to the Stars Marc Crosby does the motocross version of a root canal as he digs a trench past REM's scoring tower. Photo: Jody Weisel

Will Harper (7) and Brian Martin have a moment of togetherness in the Over-60 class. Harper went 1-1 in the Experts (in front of Lyle Sweeter), while Martin went 1-1 in the Over-60 Intermediates (in front of Travis Preston's dad Greg). Photo: Dan Alamangos
John Perry drove in from Durango, Colorado, to race REM (11 hours). He won the Open Vet class, but gave up any chance of a good finish in the Over-50 Experts when he stopped to help Robert Reisinger. Photo: Mark Chilson

REM races again next Saturday, August 8. For more info on REM, go to www.remsatmx.com