GROOMING THE NEXT GENERATION: KTM'S FACTORY EDITION STACYC STABILITY BIKE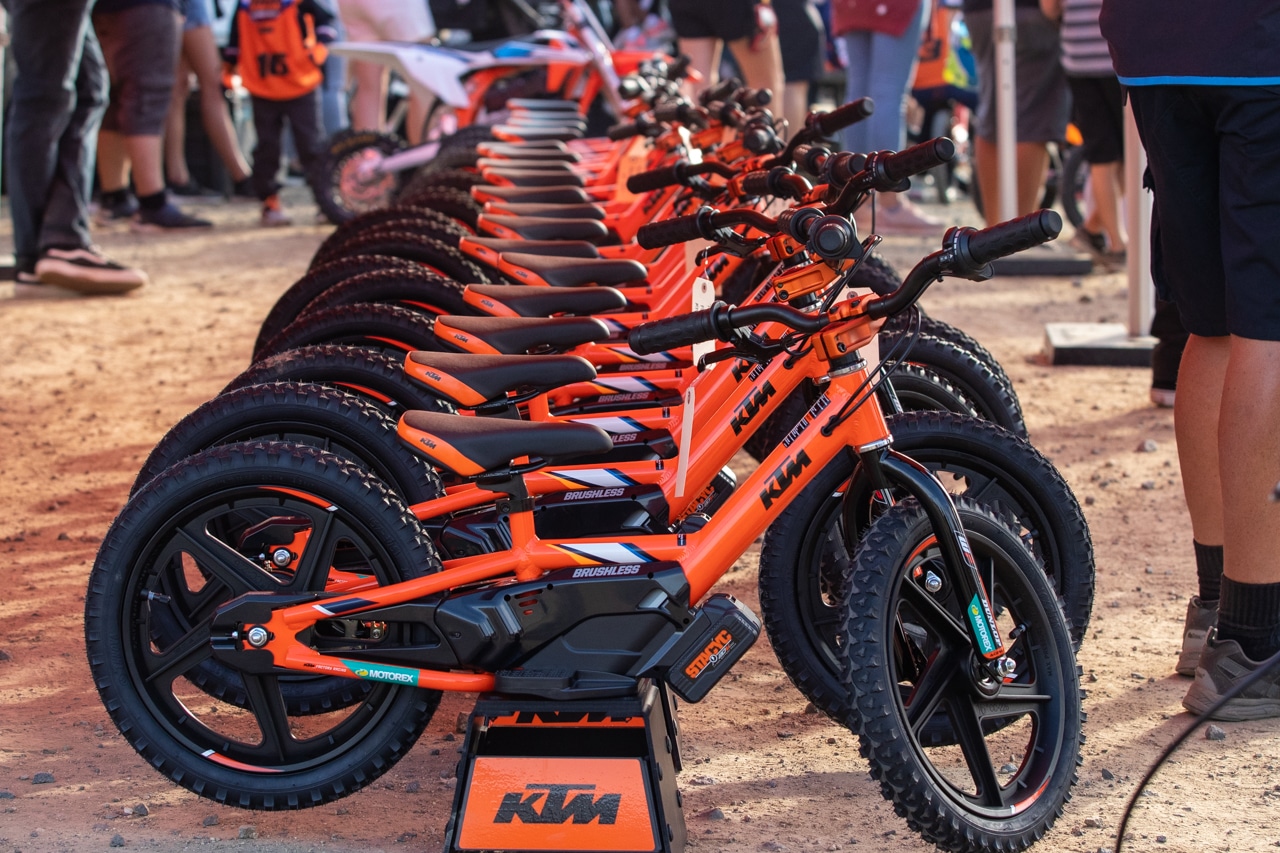 GROOMING THE NEXT GENERATION: KTM'S FACTORY EDITION STACYC STABILITY BIKE
From the outside looking in, the KTM/Husqvarna (and now GasGas) group seems like one big happy family. Their headquarters in Murrieta have taken over the street aptly named "innovation court" and on that same block is the factory KTM and Husky motocross and off-road race shops, the R&D department, WP Suspension, their own private Supercross/Endurocross/Trials test tracks and more. It's easy for industry insiders to perceive KTM as being one big family because we get the chance to meet the "high ups" and see them get their hands dirty while working alongside employees from every level of the company at media events like this one at Fox Raceway.
Words & Photos by Josh Mosiman
MXA test rider in training, Jaden Posca has got the scrub down. He already rides internal combustion powered two-stroke 50s, but he still has fun dropping down to ride the electric powered Stacyc. 
The latest partnership between KTM and the Stacyc Stability Cycle brand only builds on my statement of KTM being like a "big family" because the partnership serves as a homecoming for Ryan Ragland, founder of Stacyc and former KTM employee of 15 years. Ryan worked in the R&D department and helped develop the foundation of many of the products that KTM is using today. His last event with the brand was at Pala Raceway in 2011 when KTM was releasing their new 2012 models. Now, nine years later, Ryan Ragland and John Hinz (now president of KTM North America) are back at the same track to announce a new bikes once again.
Ryan Ragland has a long history with the KTM brand. He worked in KTM's R&D department for almost 15 years. Ryan said that the new partnership between KTM and Stacyc feels like everything is coming full circle. 
Like many great products, the Stacyc Stability Cycle wasn't created to make money, but it was created to meet a need. Ryan's son Robbie wanted to ride, but he was too small for a PW50 and Ryan was adamant that he wouldn't put training wheels on his son's mini bike. Ryan's engineering mind began turning and he eventually started using RC car batteries and motors to hop-up his son's bike. The next big boost in the program came when a lady walked over as Ryan's kids were riding their prototype motorized push bikes over ramps as well as up-and-down the curb all over their cul-de-sac. Originally, Ryan thought she was going to be angry about the mini track they had laid out and she would complain that he was endangering his kids. However, her response was quite the opposite. She loved it and wanted to buy three of them for her grandsons.
At this point, Ryan began to see an opportunity to introduce riders into the motocross industry earlier than ever before with less risk to the rider, less noise for the neighbors and less maintenance for the parents. Ryan Ragland said:"How big can we go? How many people can we bring into this industry to really establish this industry back? If you look back at the late '60s and '70s, every household had a 50cc mini-bike. They all sucked, they barely ran, but they all had one. And that's what I want to create with Stacyc. Everyone is into the motorized power, and you can't tell me all these kids riding today aren't going to be riding motorcycles for the rest of their life; they're amped. For me, it's about how many kids we can get riding on these and how many kids can we point back to our industry because this industry is awesome."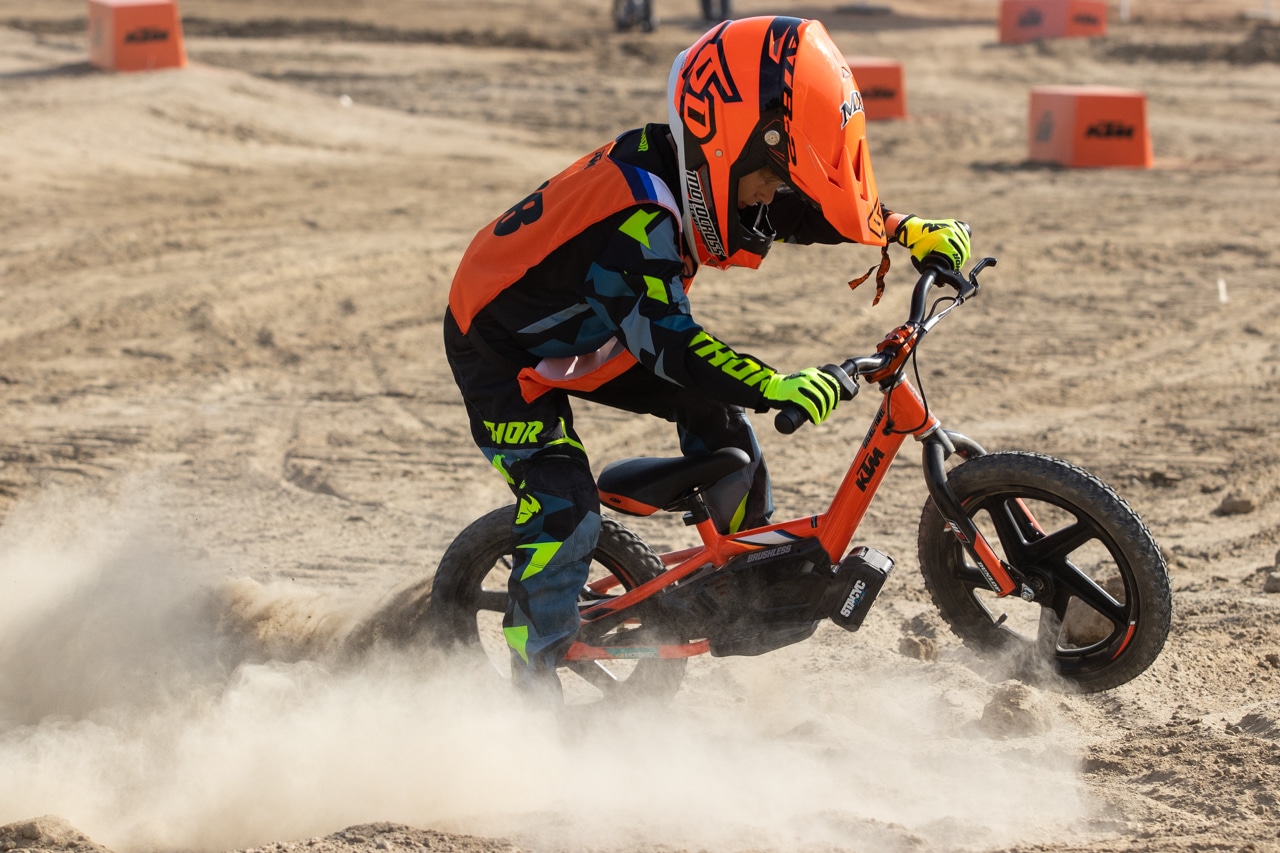 Jaden making some roost with the brushless battery-powered motor. 
Ryan also explained that he feels like he is giving back to the industry that has given him so much. Ryan Ragland: "I do feel like I have a unique opportunity in the industry to give back. I grew up in Montana, I came to California to race motorcycles, it didn't workout. Then, I ended up working at KTM with Regis Harrington, met my wife and had my kids. The industry supported me throughout my life, and for me at this point, to walk away from it without seeing how much of an impact we can make, is selfish."
John Hinz, President of KTM North America said:"We see that connection between the Stacyc product into the love of the sport. We are a market leader in off-road, we're a market leader in motocross and it's our responsibility to develop the next generation of riders for the sport that we all love. KTM has incredible product for kids to transition into with our E-mini product up to our internal combustion product, recreational riding and racing and all our different programs that we have from learning to ride to racing at the professional level."
Parents and kids getting ready for the big day.
To learn more about the KTM and Husqvarna Factory Edition Stacyc Stability Cycles click here or check out www.stacyc.com.
Enzo Posca on the charge.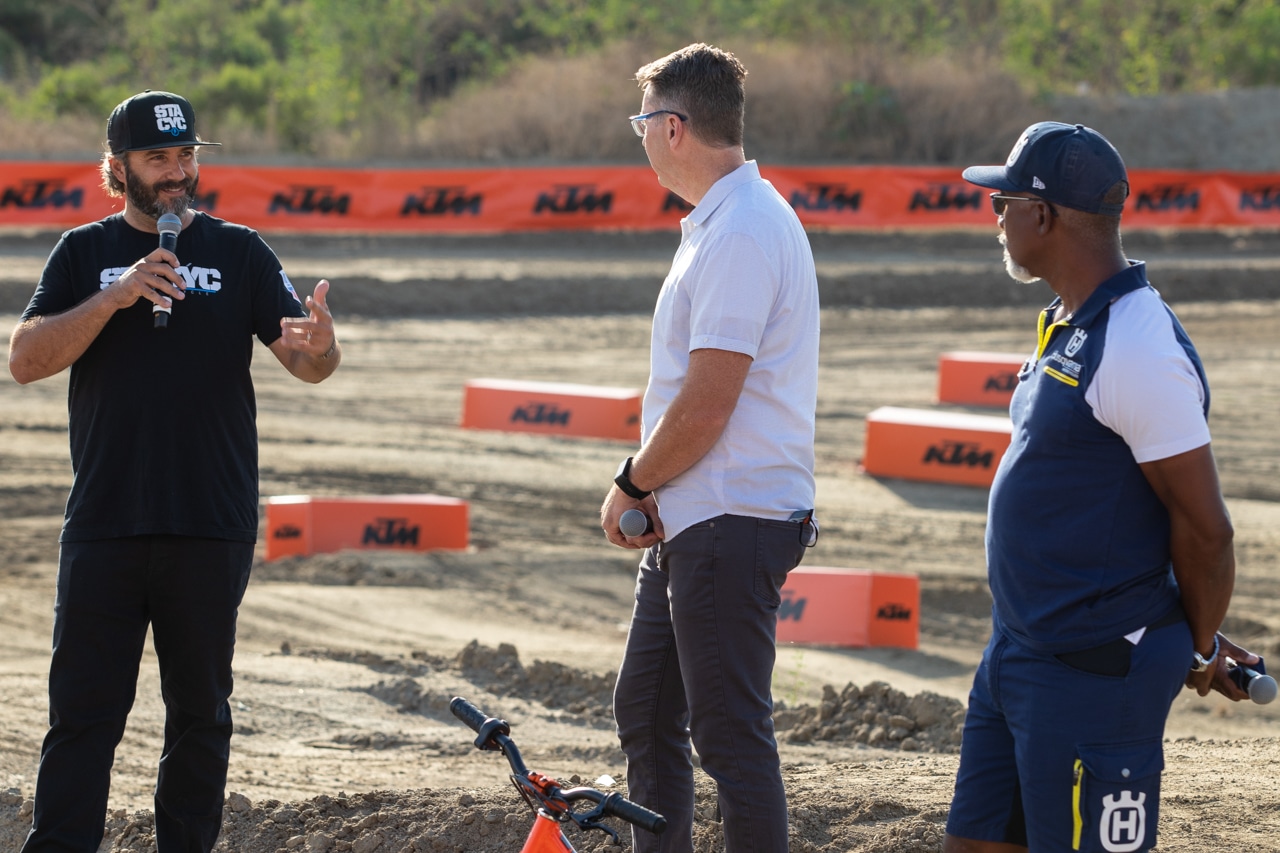 Ryan Ragland, John Hinz and Andy Jefferson introducing the new collaboration and talking about Ryan's story from KTM employee to this unique partnership between his Stacyc brand and KTM. 
Currently Stacyc is offering two models, one with 12-inch wheels for 3-5-year-old kids and a slightly bigger one with 16-inch wheels for 4-8-year-old kids. Although it was Ian Guglielmetti's first time riding on a track, he was able to use the bigger and faster 16-inch bike with the power turned down to the lowest level. He did great!
At 10-years-old, Jamison Posca is a little big for the 16″ Stacyc, but he still had a blast and even did some whips for our camera. His brothers Jaden (7yrs) and Krue (6) enjoyed watching their big brother have some fun.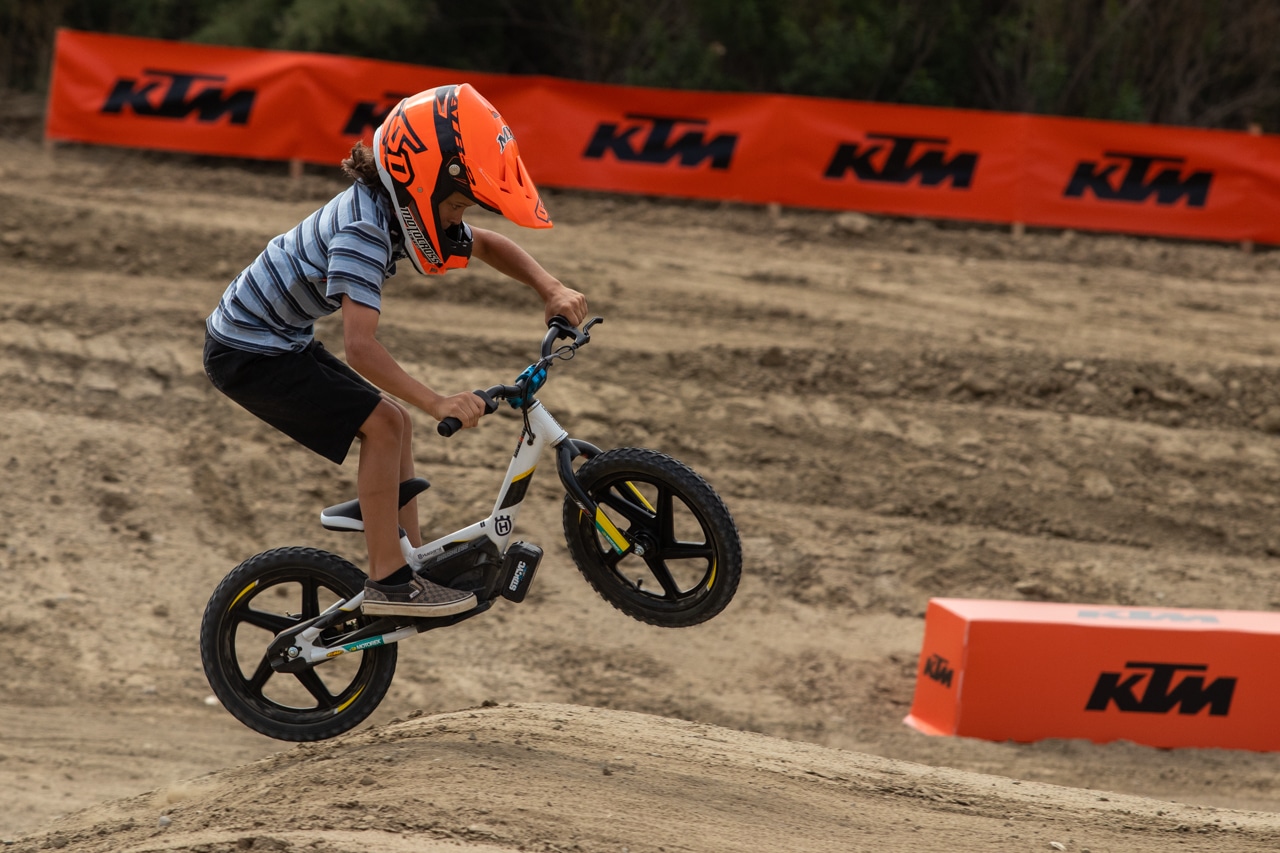 Even big kids can have fun on the Stacyc. 

Although it's not a dirt bike, even young riders with experience can continue to develop their skills on these bikes. Anytime a rider is on two-wheels, there's always opportunity to grow. 
Marvin Musquin's mechanic, Frankie Latham and his son.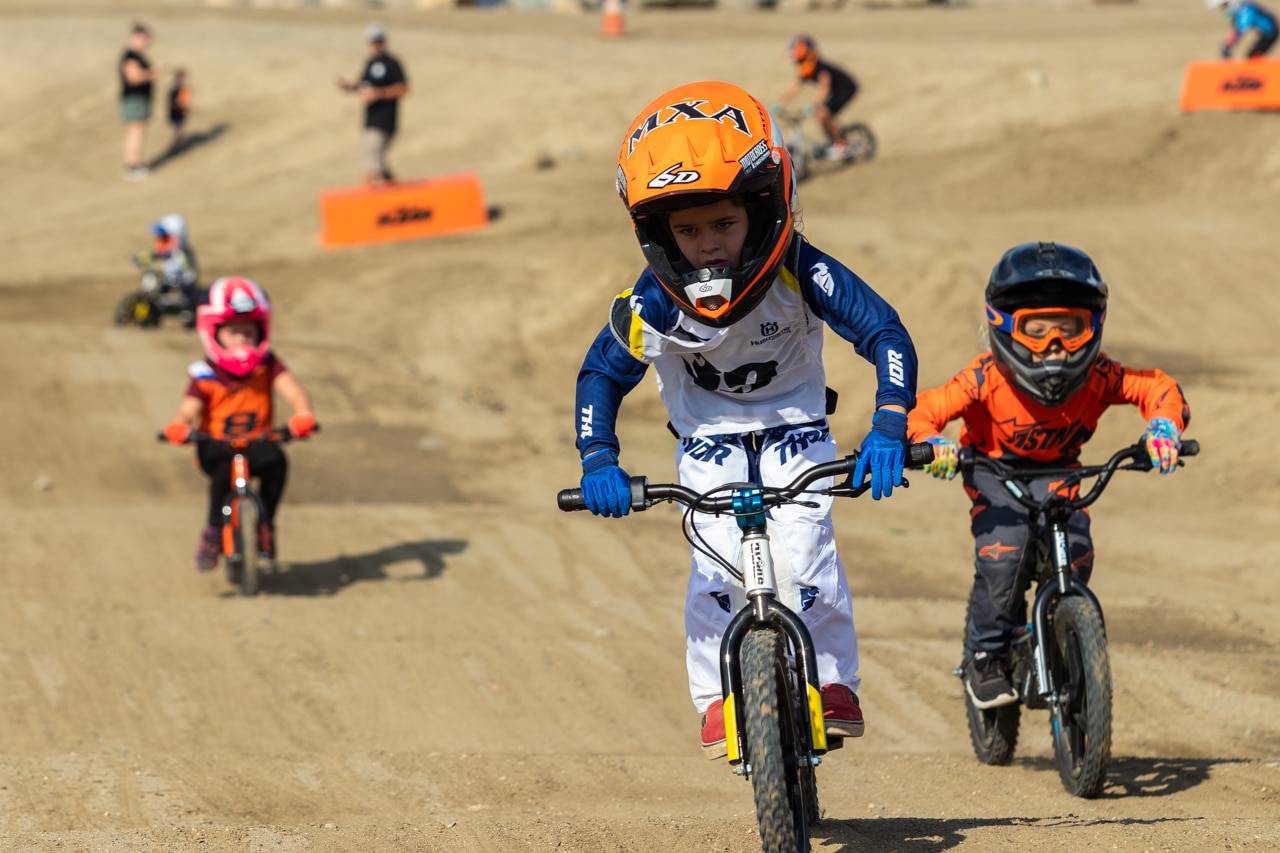 The was a constant line of kids circulating the pit bike track at Fox Raceway all morning long and after lunch, they still wanted to ride more. Here, 5-year-old MXA test rider in training Ezno Posca leads the pack.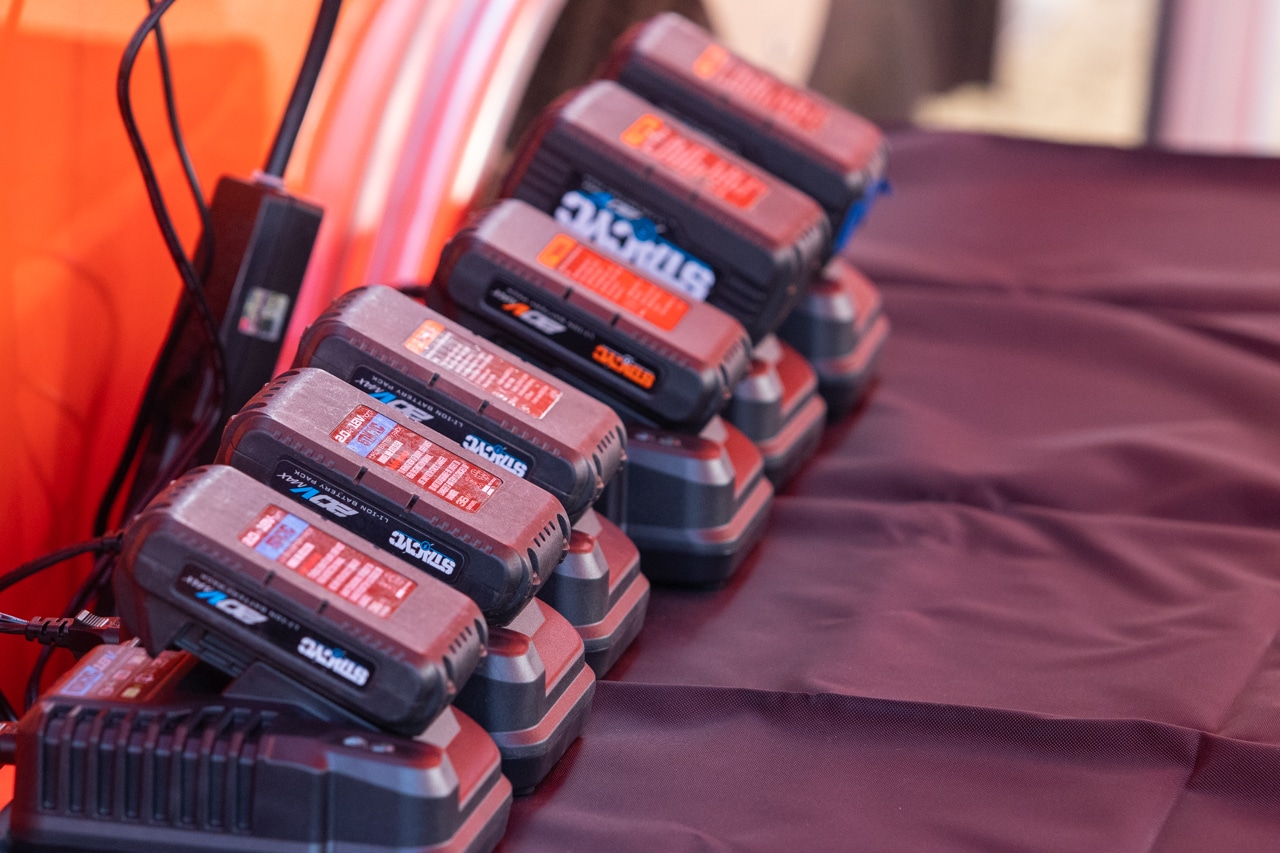 The Stacyc batteries take approximately 30-60-minutes to charge and they last for approximately 30-60-minutes.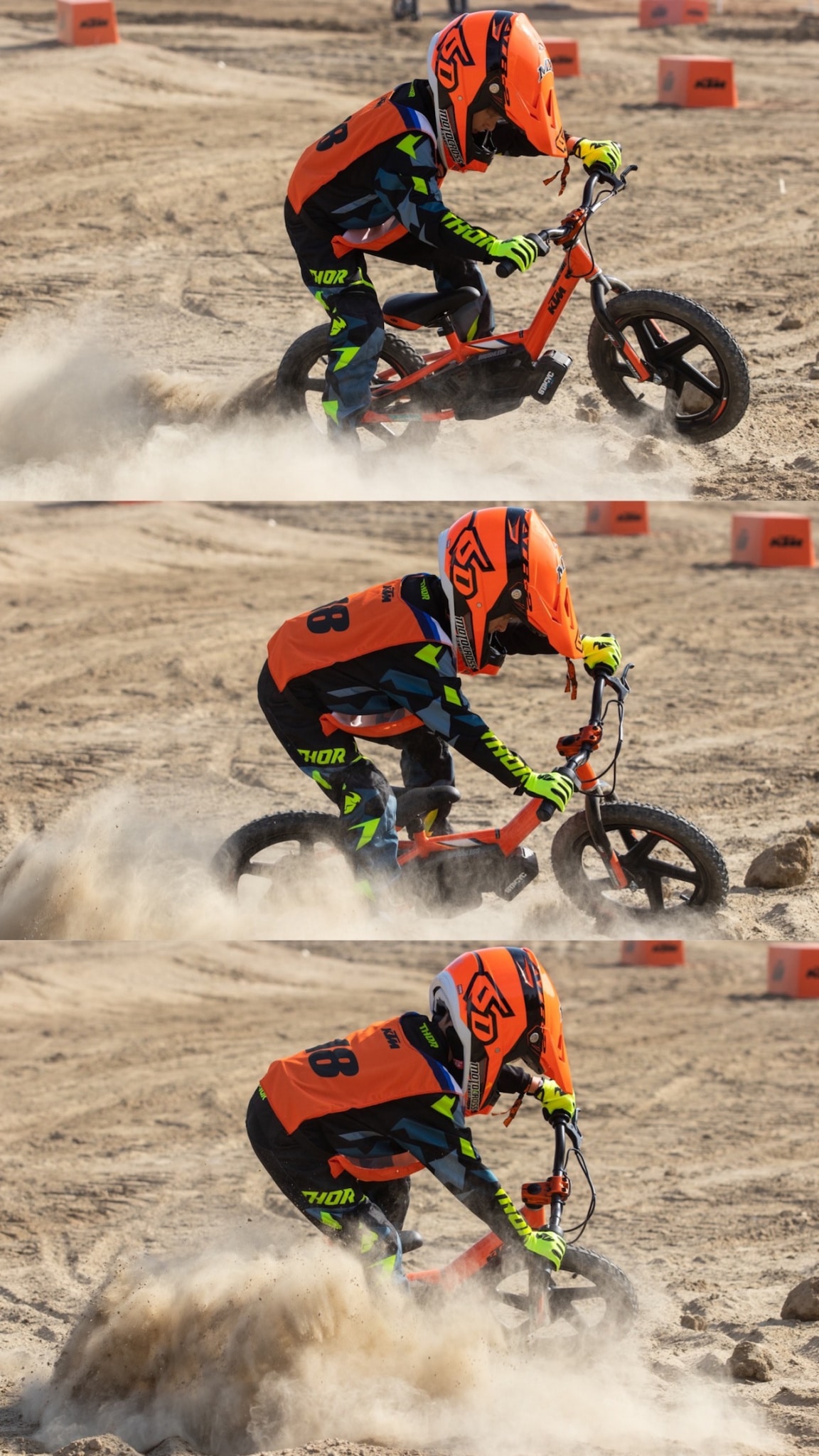 The 16e Brushless powered Stacyc has enough power for experienced riders to have some fun with! At only 7-years-old, Jaden is already very photogenic on the bike.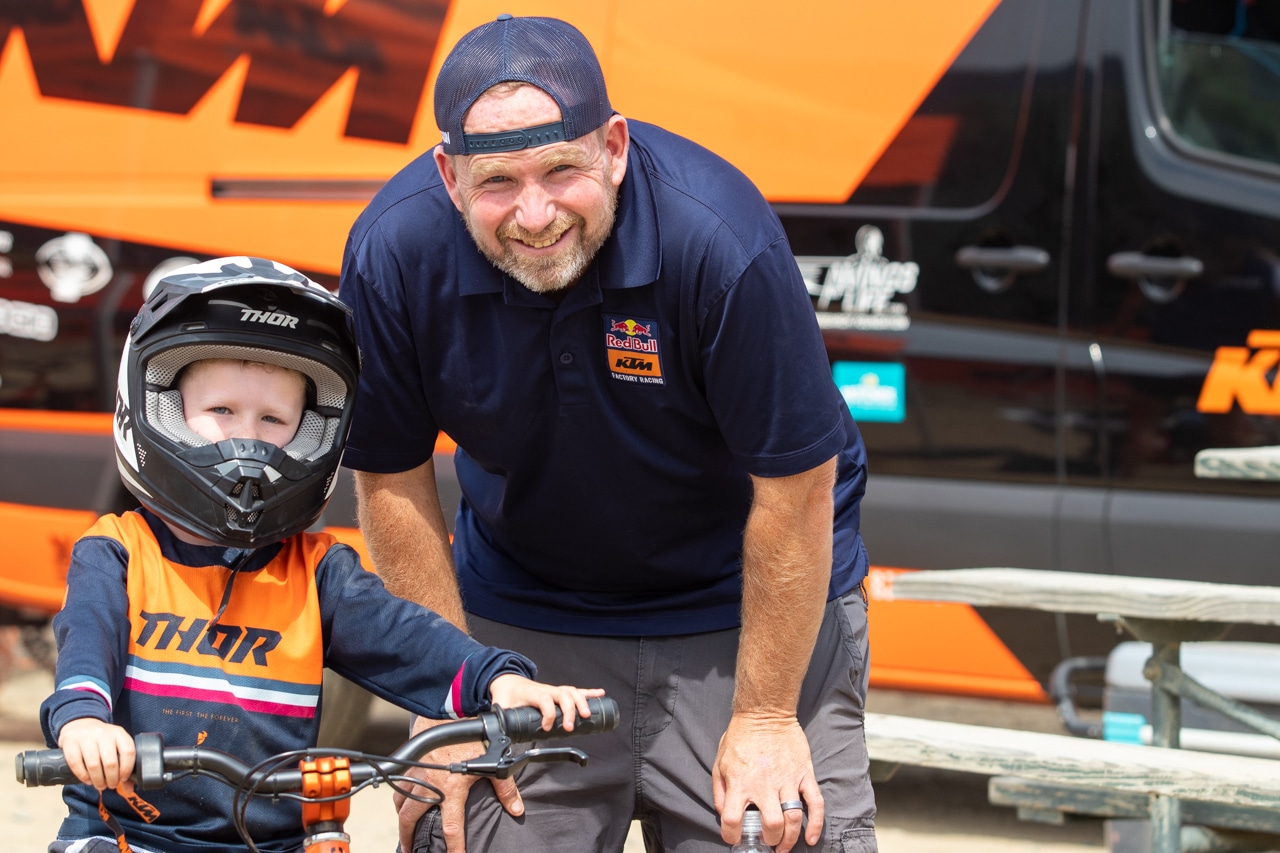 Frankie Latham's son is young, but he knows how to adjust the power settings on his personal Stacyc bike all on his own. 
Krue Morais, son of Red Bull KTM race team director and test rider, Ryan Morais, showed everyone a few laps around the track on his KTM SX-E5. KTM's electric mini bikes are the next step up from the Stacyc stability bike. 
Although this event wasn't for KTM electric bikes, we spotted a lot of SX-E5's. Here's one plugged into a Honda generator as it charges.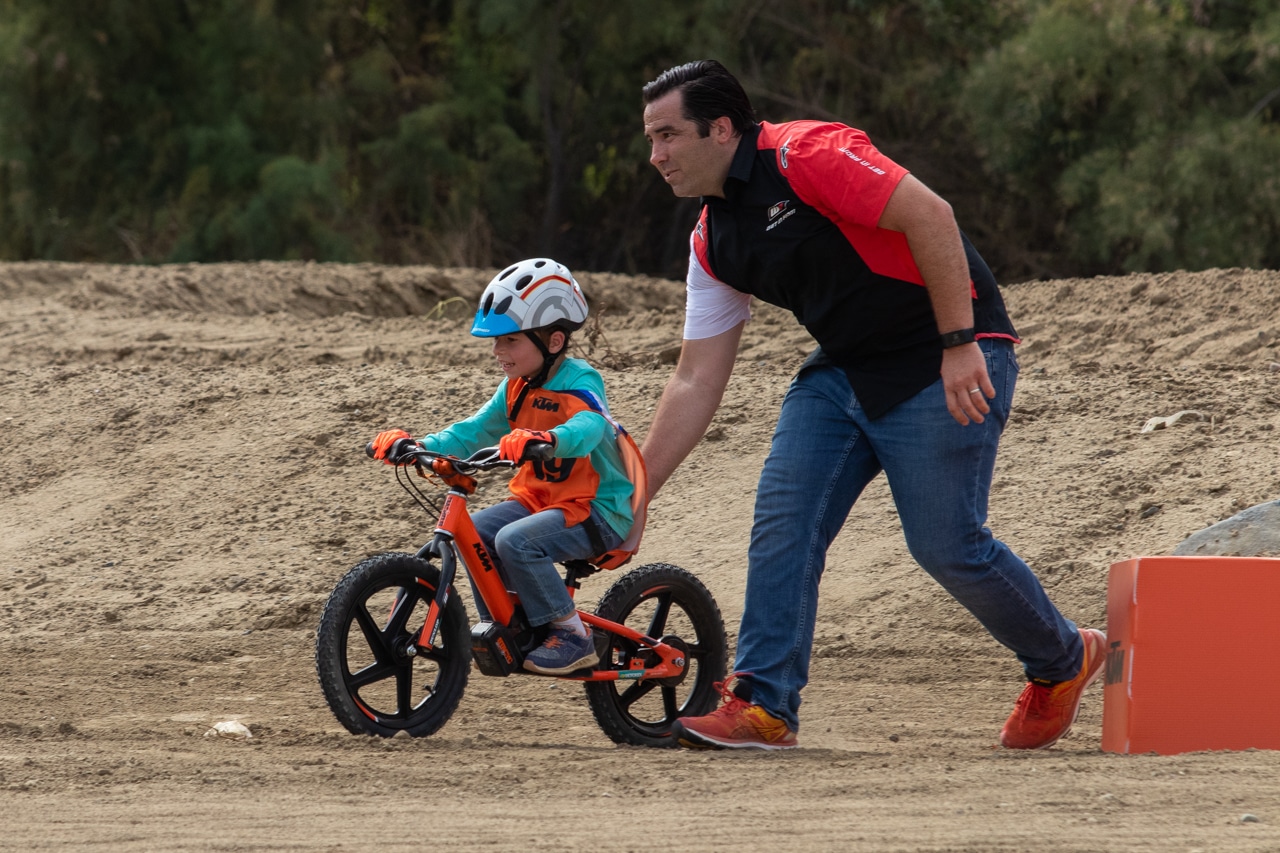 WP Suspension's Kyle Guglielmetti and his son Ian had a blast on the Stacyc. This wasn't Ian's first time riding, but it was his first time riding on a track and he did great.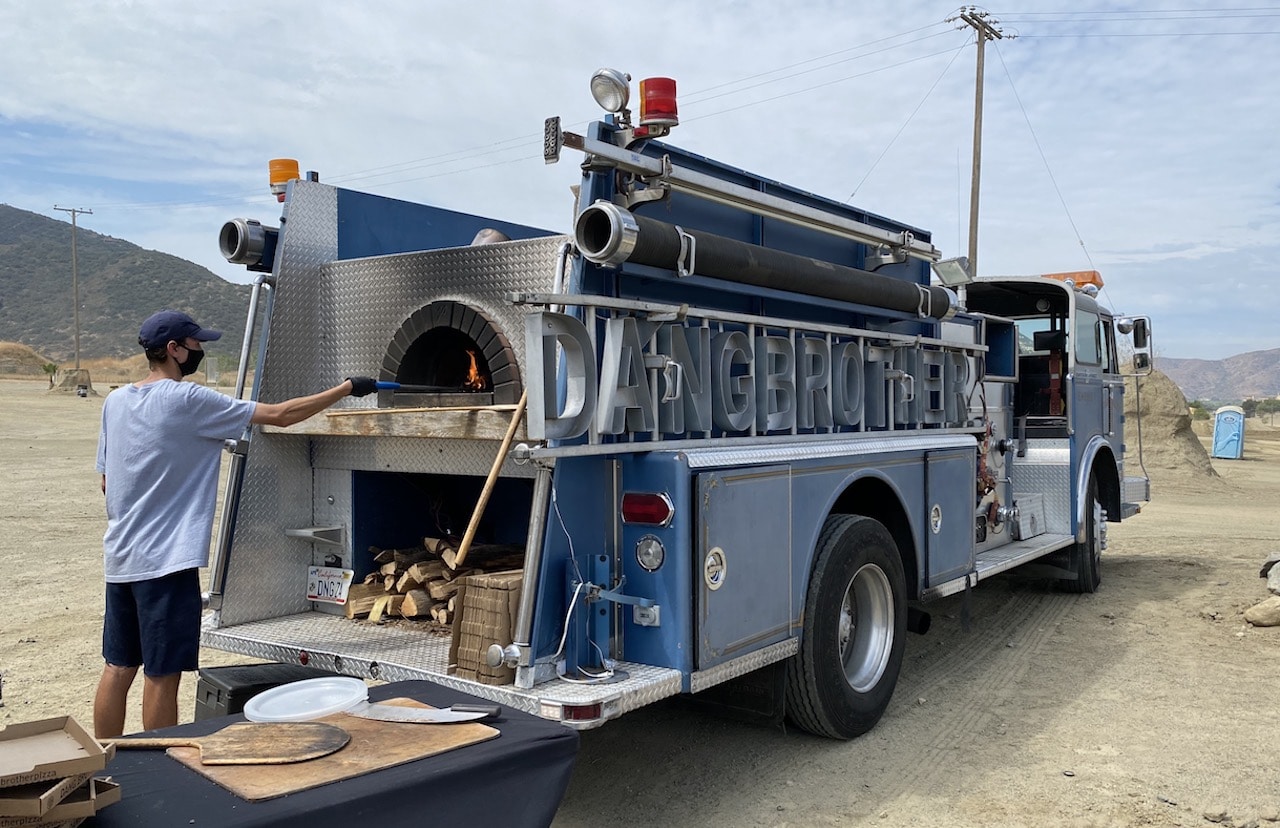 To end off the morning of fun, an old fire truck showed up with a pizza oven in the back.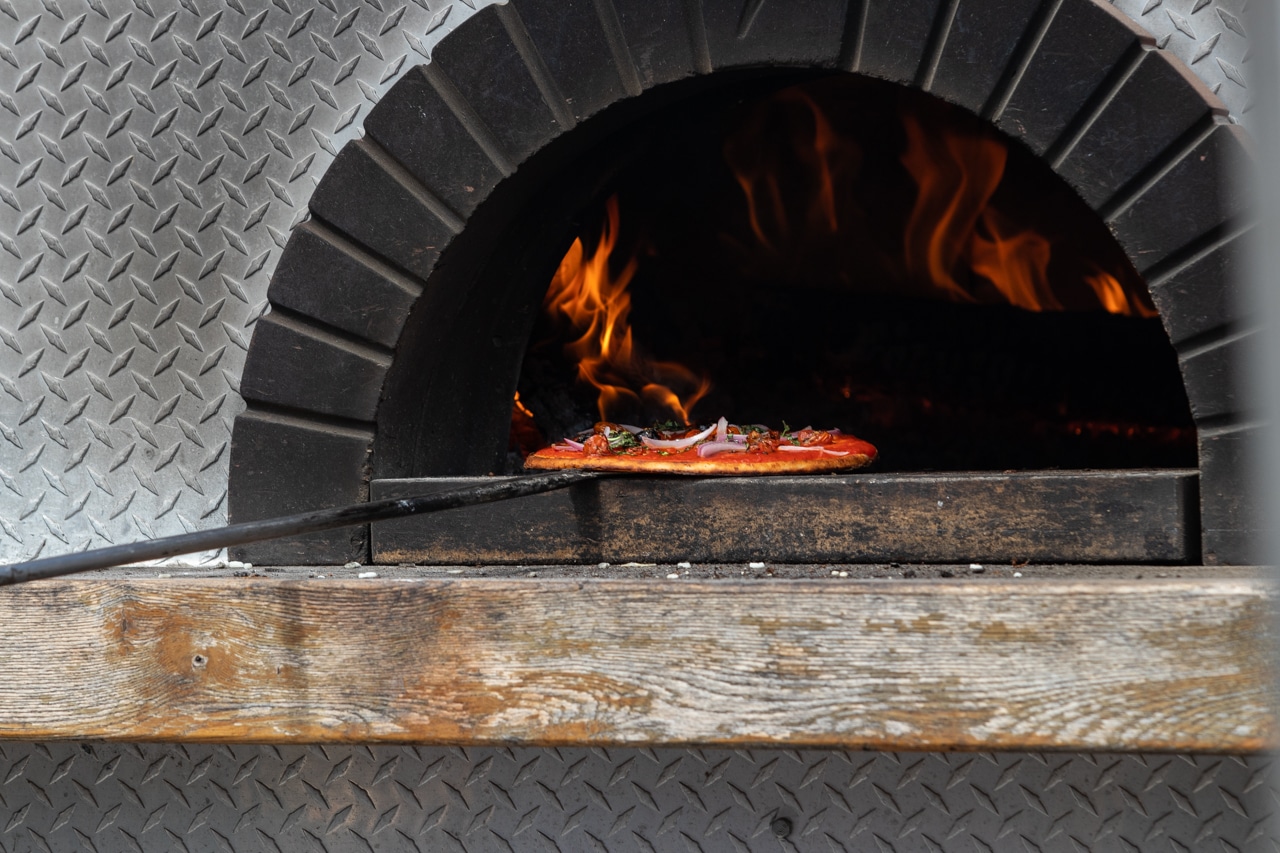 A fire truck with fire on it. Weird but cool!