HAIDEN DEEGAN TALKS ABOUT HIS PRO DEBUT, TRAINING WITH TEAM YAMAHA & MORE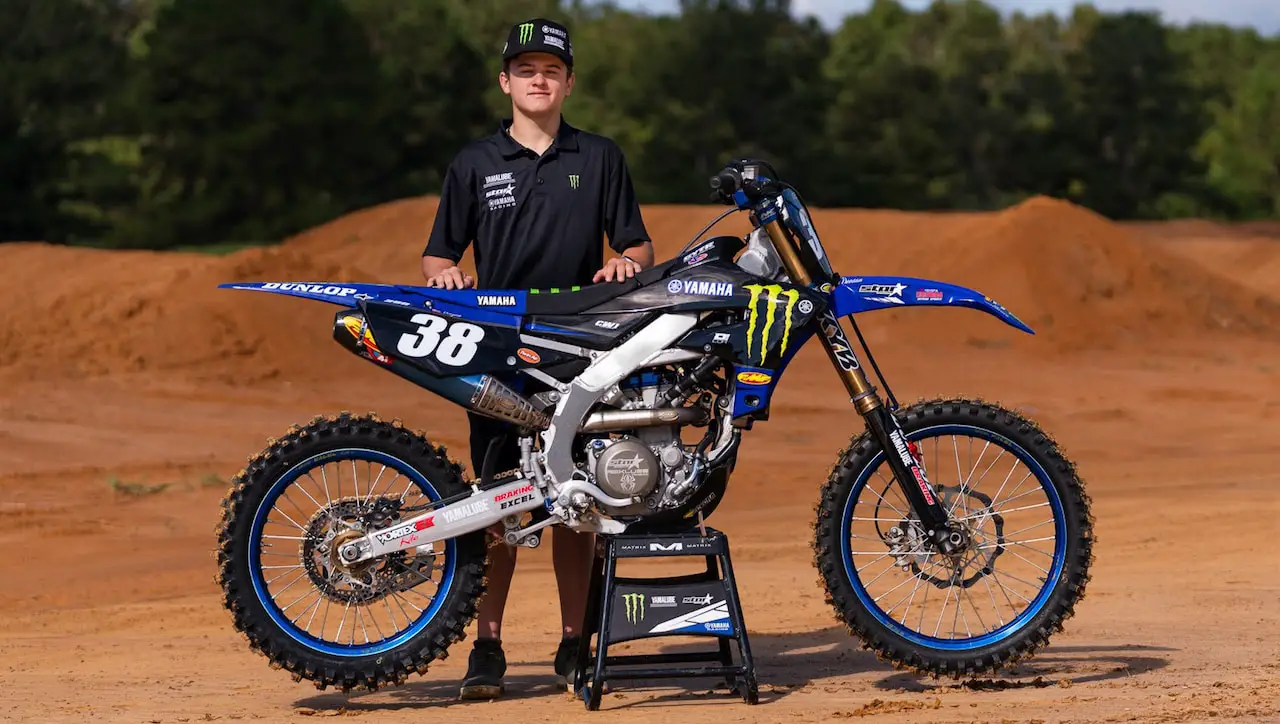 HAIDEN DEEGAN INTERVIEW: MOTO COMBINE WIN, PRO DEBUT & MORE
With already over thirty amateur championships to his name, it was not big surprise that Monster Energy/Star Racing/Yamaha sensation Haiden Deegan dominated both moto's at the recent 2022 Red Bud Moto Combine event. A new concept, the Moto Combine allows advanced amateur A and B class riders the opportunity to be a pro for a day to gain valuable experience and train them for the day when they eventually turn pro full-time. Deegan had many in attendance feeling he was ready for the big time already. With much hype, and high expectations, Haiden proved he could withstand the pressure. But it should be no surprise to see Haiden's success as his father Brian has fourteen x-games medals, and sister Hailie is an accomplished Nascar truck driver. As Haiden Deegan gears up to race the Loretta Lynn's Amateur National this week in Tennessee, we'd like to share an interview that MXA's Jim Kimball grabbed with "Dangerboy" after his Moto Combine win a few weeks ago. 
BY JIM KIMBALL
---
LETS BEGIN WITH THE RED BUD AMATEUR MOTO COMBINE, YOU CRUSHED IT! Yes, thank you! Coming into this, we are racing against A riders, and I am a B rider still.  I had expectations like I need to win. The team obviously was like "you must go out there, show them what you have been working for, go out and win obviously. I had nothing to lose really. It was a cool event, there were a bunch of fans and I sent it in both motos and was able to get a 30 second gap. It was crazy, the training is paying off.
HOW LONG HAVE YOU BEEN TRAINING AT THE GOAT FARM? I would say it is getting close to eight months now since I signed with Star, and right when I signed with Star, we were at the farm training. We go back and forth to California sometimes. Like when they were doing Supercross, I was training in California with them on the Supercross tracks with the West Coast guys.  
WHEN YOU ARE OUT RIDING OR PRACTICING, ARE YOU WITH BASICALLY THE 250 PRO TEAM? Yes, I do the exact same thing. Of course, I am an amateur as of now and hopefully we can go pro next year. We are training with all the pro guys right now, Justin Cooper, Levi Kitchen and Nate Thrasher. And Matt Leblanc and Nick Romano, who just went pro. It is all the same schedule. Christian Craig came here after Supercross, and we all just do the same thing.
A LOT OF PEOPLE UNDERSTAND THE DIFFERENCE BETWEEN AMATEURS AND PROS, BUT CAN YOU EXPLAIN THE DIFFERENCE BETWEEN THE AMATEUR A AND B CLASS. Sure, basically, the A class is where you are top tier. These guys are going to go pro the following year. These are the fastest guys in the amateur ranks. The B class is where they are scouting riders. There are some fast B kids here, and teams are looking for B riders now. Teams are even looking for supermini riders right now. They are picking them so early. B and A are really the standout classes that they like to look at for upcoming pro riders.
LET'S GO BACK A YEAR OR TWO; YOU WERE WITH KTM, BUT THEN SIGNED WITH THE MONSTER ENERGY STAR YAMAHA TEAM, WHAT LEANED YOU THAT WAY? There were a few teams that were looking at me, but Star was the one that started winning at the time, and winning championships. They really do have one of the gnarliest training programs with all the guys riding together. Though we have seen that with KTM, Kawasaki, and even Honda. Jett Lawrence and Hunter Lawrence, I know they train together. We wanted the best training program because that would lead me to the best route. Star was the one where all the guys train together. We all ride together and push each other, so that was why we chose Star. It was a better training program for me, and they obviously have a good bike and a bunch of fast riders.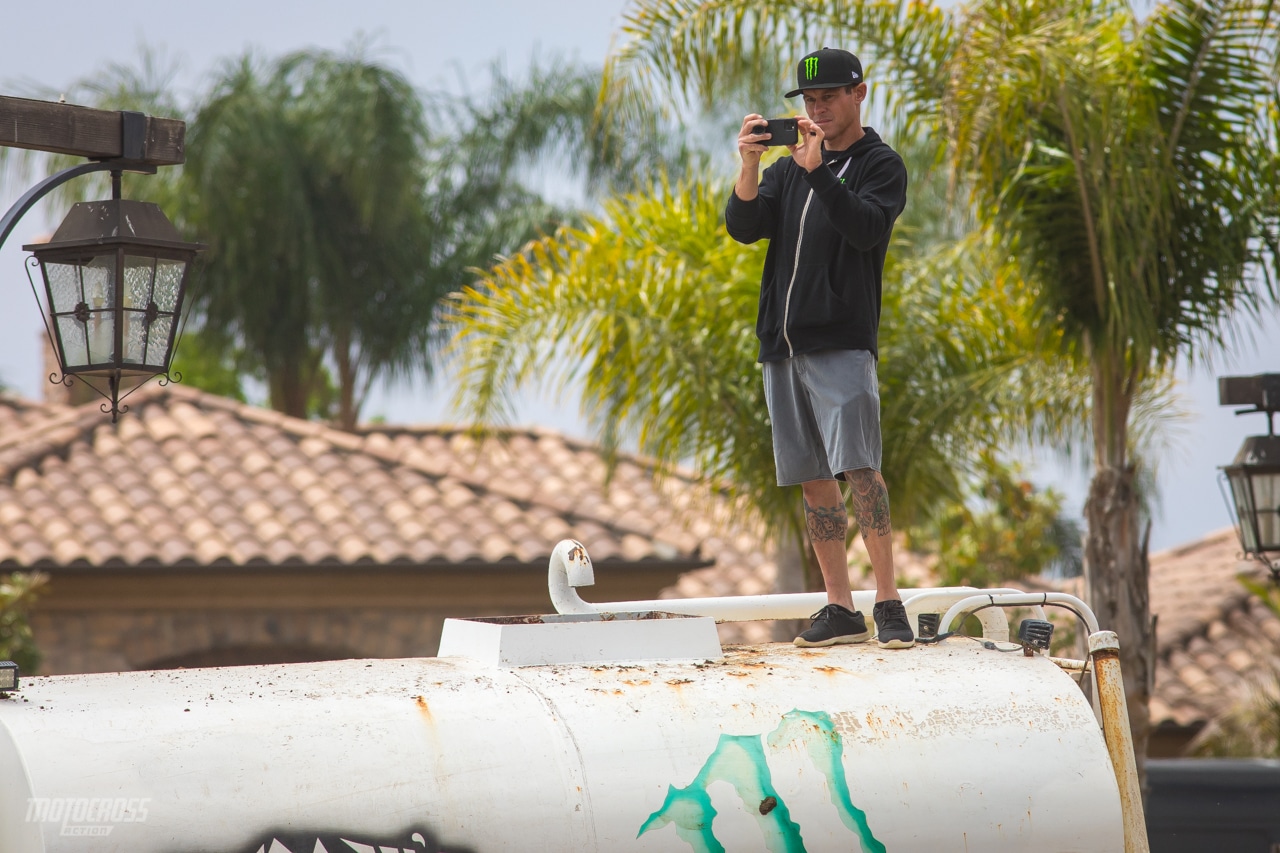 Brian Deegan is always there by his kid's side in victory and defeat. And when there aren't any cameras around, Brian whips out his iPhone to get the shot. 
OBVIOUSLY, YOUR DAD WAS A SUPERCROSS AND MOTOCROSS RACER. DOES HE STILL WORK WITH YOU MUCH, OR IS IT STAR YAMAHA'S TRAINER GARETH SWANEPOEL THAT WORKS WITH YOU MOSTLY? I would say I do most of my training with team trainer Gareth Swanepoel. He does all my tips, training, technique, off the bike, on the bike. My dad has always been there to help me, but I have never had my dad as my full-time trainer. I have had a couple different trainers throughout my racing. As I said, my dad was always there to help me, but he knew that I needed a good trainer. That helped me a lot, and once I got with Swanie, he just really took it to the next level. My dad did step away a little bit, but my dad is still there to watch. He has said to watch Jett Lawrence, Hunter Lawrence. They are obviously dominating, so he said "you just need to study these guys. If you want to win when you get into the pro ranks you must have the style, they are using. It is the new and upcoming style."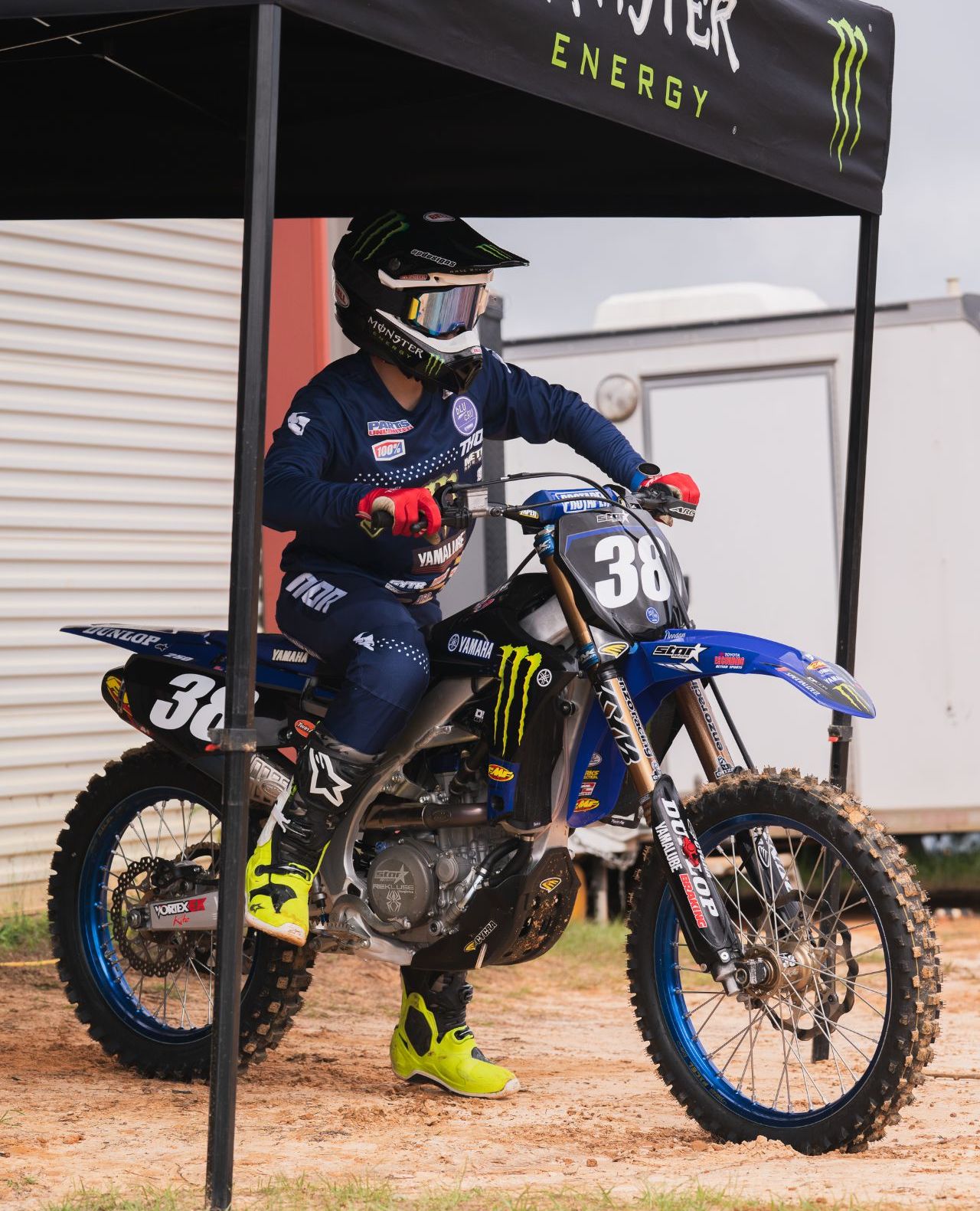 WHAT DO YOU HAVE PLANNED FOR THE REST OF THE SUMMER? After this combine, I will continue to really train super hard. I put my full heart into racing, so I train a lot. I knew coming into this thing (Red Bud Moto Combine) that I had a good shot at winning. But I did not realize my training was the next level like this. We are doing 30-minute motos. We never do those as amateurs and this new combine series is just great for that. I just kind of got out there and it surprised me. In the first moto, I got far ahead and thought to myself "this is sweet. The training is paying off."  
WHAT ABOUT OTHER RACES THIS SUMMER? There are two more Moto Combines, at Ironman and Pala. I will finish out the outdoor season on the combines and racing at Loretta's. Then I will train for Supercross. You never know, if I am looking good on Supercross, maybe I take a shot that I race a few Supercross events or even go with the first round. We must see but my focus right now is to keep training and get ready for outdoors the first-round next year and see where I am at.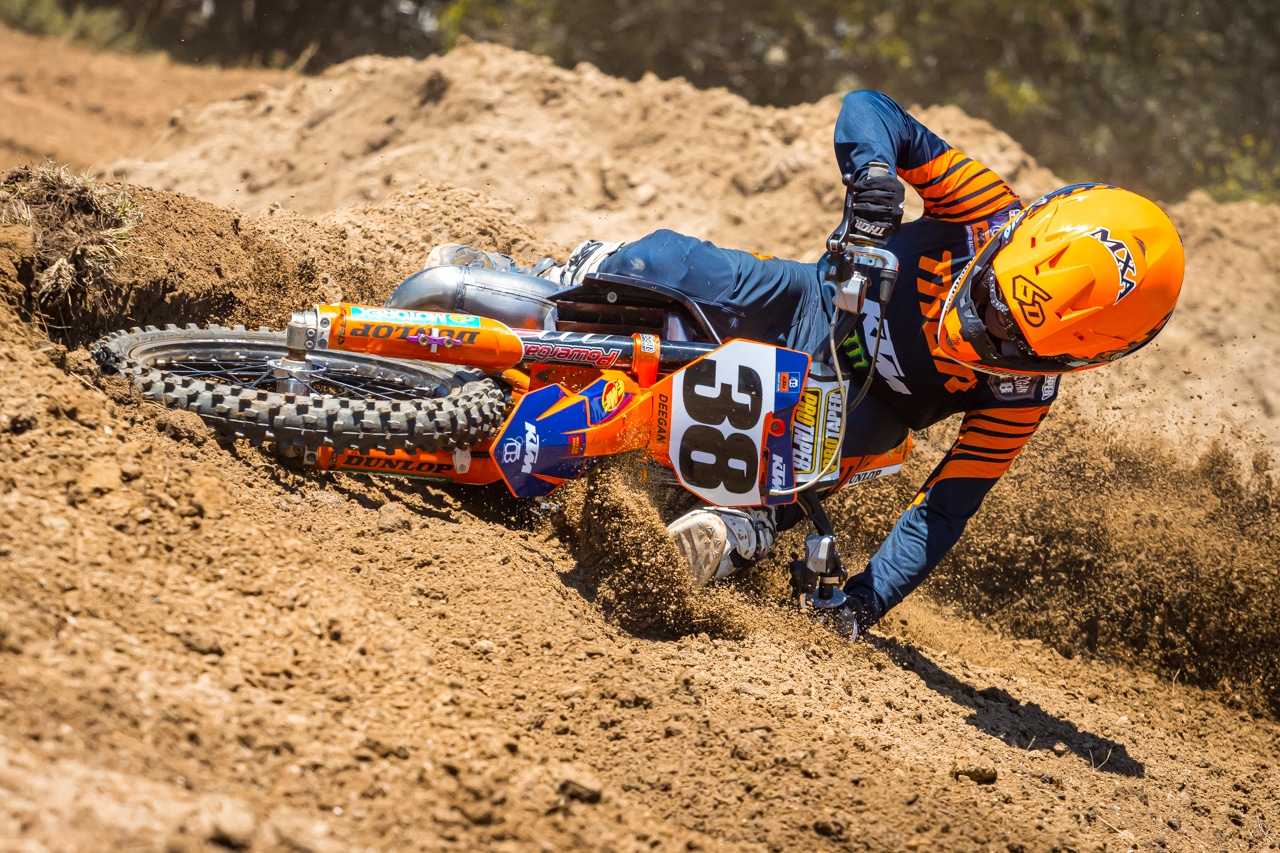 Haiden Deegan wearing the MXA orange helmet. This photo was shot at the Deegan Compound back in 2019 when MXA tested Haiden's KTM 112 Supermini. 
SO, YOU MAY TURN PRO FOR SUPERCROSS OR YOU WILL HOLD BACK AND TURN PRO NEXT YEAR IN OUTDOORS? I will train with Nate, Levi and all those guys getting ready for Supercross, and I will see where I am at. Surely, I will be racing the Supercross future rounds, 100 percent. After this Moto Combine (Red Bud), I feel good. Even Chad Reed said "bro, you need to go pro."
I HEARD CHAD MENTION THAT. He said, "you could probably run 5th place right now."  I want to wait and come out swinging. I don't want to come out and run like 10th or 5th or 7th, even though 5th is good, you know to run 5th place in Outdoor National is wild. I want to come out swinging and podium my first round. I have high expectations for myself. Some people may not like it, but I want to do that.

YOU MENTIONED HIGH EXPECTATIONS. THERE IS A LOT OF HYPE AROUND YOU, SIMILAR TO JETT LAWRENCE. Yes, the fans hype me up when I am racing. Social media is the new era. It is a part of how it is going to be now. To grow a fan base, you must have social media to help you get opportunities with teams. I like all the hype, as it gets me all excited. I think if I did not have the hype, it would not push me as much. I have a lot of people saying, "you have to do this, you have to succeed." I think the hype is going to push me better.
HAIDEN DEEGAN VIDEO: WINNING THE 2022 RED BUD MOTO COMBINE