HANGTOWN NATIONAL | 125cc ALL-STAR RACE RESULTS
OVERALL 125cc ALL-STAR HANGTOWN RACE RESULTS
30-year-old Ryan Villopoto batting for the holeshot with 16-year-old Brandon Ray in the 125cc All-Star race. Coonor Degraaf (53) is tird and Robbie Wagemen (141) fourth.

39 racers from the ripe age of 15 to 51 signed up to race the first of 12 rounds of the 125cc All-Star race. It was Ryan Villopoto who took the holeshot and led from start to finish. The KTM rider if Brandon Ray held off Robbie Wageman late in the short four-lap race. After Wageman got by he started making time on Villopoto. But it was too late to challenge him.
125cc ALL-STAR HANGTOWN RACE RESULTS
Ryan Villopoto (Yam)
Robbie Wageman (Yam)
Brandon Ray (KTM)
Wyatt Mattson (Hus)
Carter Dubach (Yam)
Tyler DuCray (KTM)
Angus Riodan (KTM)
Cole Barbieri (Suz)
Dennis Stapleton (Hus)
Ty Freehill (Yam)
Derik Denzin (Yam)
John Ayers (Hus)
Antonio Calavano (KTM)
Bryson Olson (Hon)
Conner Degraaf (KTM)
Toline Tyler (KTM)
Hunter Cross (KTM)
Talon Gorman (Hon)
Steven Stultz (Yam)
Jaded Lang (Hon)
Dylan Simao (Yam)
Geoff Wills (KTM)
Tyler Edmondson (Hon)
Aron Mattin…(NA)
Wyatt Bullen (Kaw)
Trevor Brooks (KTM)
Blaine Holdsclaw (Yam)
Drew Cappiello (Yam)
Chase Rorsberg (KTM)
Nick Roby (Kaw)
Jeremy Ryan (KTM)
Ryan Eager (Suz)
Robbie Wageman (Fasthouse graphics) got by Brandon Ray for second when Brandon made this mistake.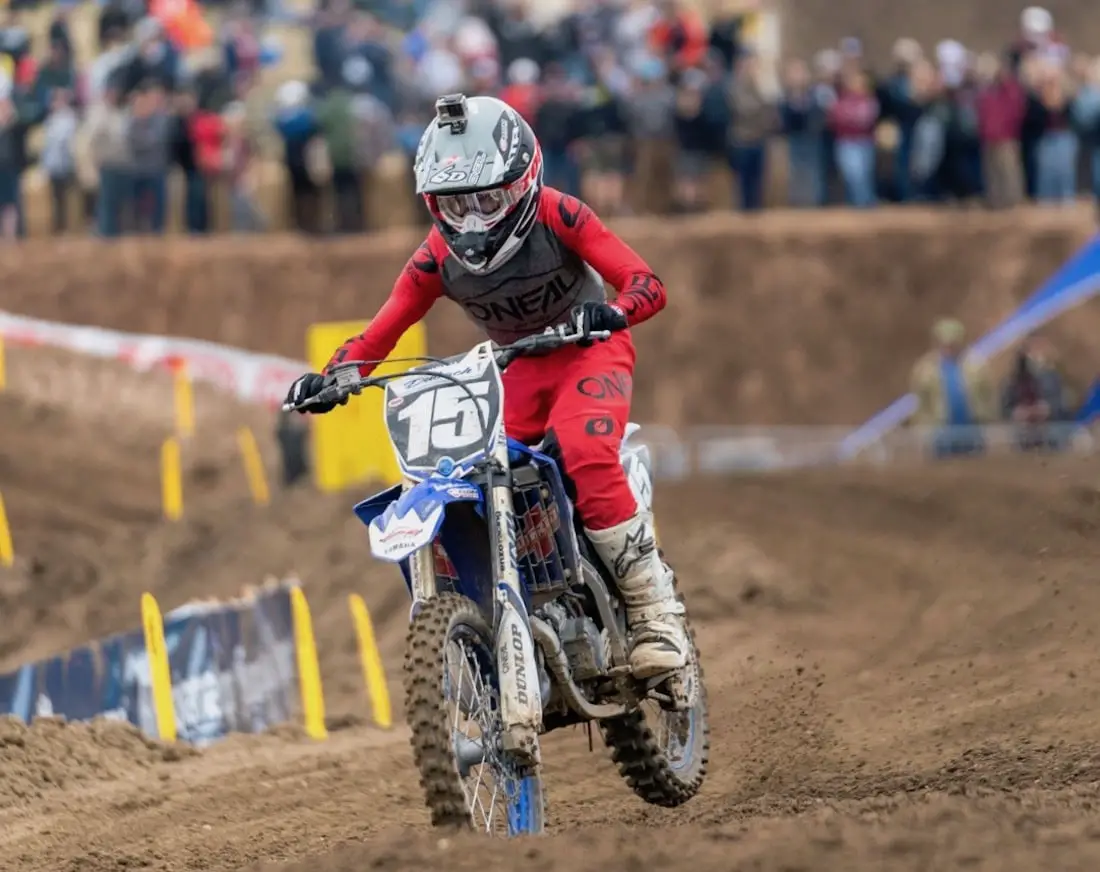 Carter Dubach (15) finished fifth overall in the short four-lap sprint race. Photo: Adam Duckworth

Brandon Ray (19) got the final step on the podium.  Photo: Adam Duckworth
MXA's Dennis Stapleton (184) was using the 125 All-Star races to test a project Husky TC125. He finished 9th overall. Photo: Adam Duckworth