HARD FACTS HANGTOWN NATIONAL: STARTING OVER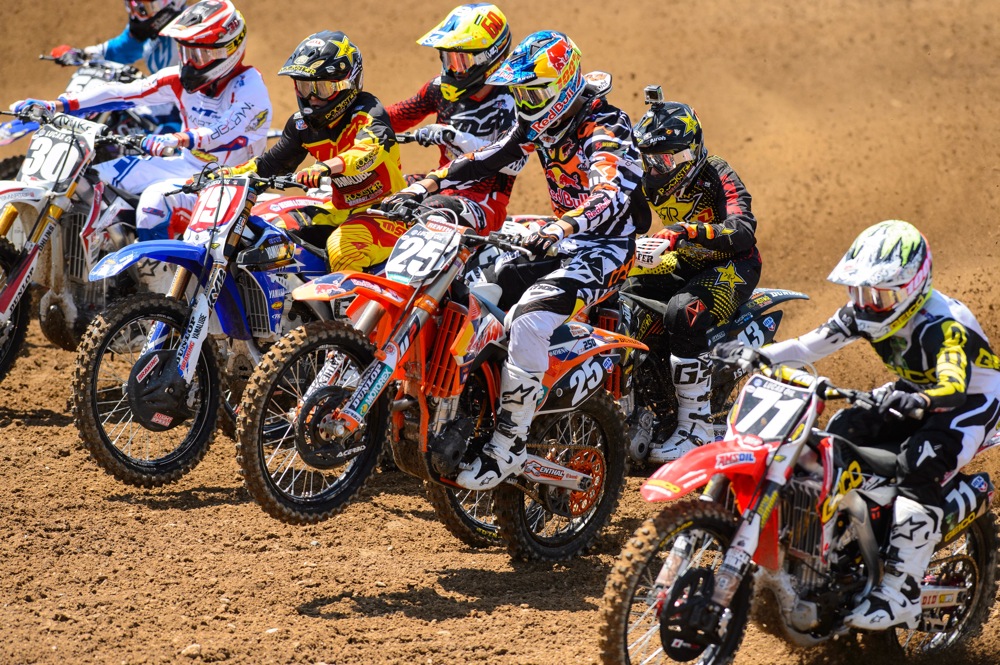 Jeremy Martin (19) will again have the red plate heading into Hangtown, but Marvin Musquin (25) will be in the big bike class.

By Kyoshi Becker

PRE-HANGTOWN ROUNDUP
On Saturday afternoon we go back to the roots of American motocross. While Hangtown doesn't have the hype of Anaheim 1, many would agree that is a good thing. We at MXA want to enjoy a race for the race itself—not for the firewoorks or cheesy "Who's Next" baloney. The AMA Nationals are a pure presentation of the sport and the format is more traditional. Instead of two main events with throwaway heat races, we get four real motos (maybe not as real as when they were 450-minute motos, but real enough when compared to Supercross' short races.. Racers can't play the opening moto like a chess game with the goal of a decent gate pick, but instead have to push for two solid moto scores. Adding to the mix is the variety of terrain that a Supercross track cannot come close to providing. In motocross you're spending more time on the ground than in the air. The terrain is one of many factors as to why National racing usually has more exciting battles.
Ryan Dungey is the 2016 Supercross champion. Every time he has won a Supercross championship he has clinched the National title. He did it in 2009 on a Rockstar Suzuki RM-Z250 and repeated it in the 450 class in 2010 and 2015. Additionally, he won the 2012 450 championship. He is the only rider in the 450 class this year that has multiple 450 titles outdoors. Two other 450 National Champions will be on the gate — Ken Roczen and James Stewart. At their full potential, both riders are arguably faster than Ryan Dungey. Roczen will be coming into Hangtown with a lot of momentum. His pace drastically improved over the Supercross season, and he was consistently setting the fastest lap times over the last five races leading into Las Vegas. James Stewart, the other champion, has no momentum coming into Hangtown. From his 16-month drug suspension to a painful-to-watch Supercross season, Stewart will have to rely on drive, hunger and skill to come in as a strong contender. Hopefully his fitness improves and his concussion syndrome issues are behind him. Other riders to watch include Eli Tomac, Jason Anderson. See their stats here.
The 250 class isn't split into East and West here. The outdoor National throw everyone together and the best 250 riders go head-to-head every round of the 12-race National series—although Malcolm Stewart won't be there because he wants to go fishing or if you believe in fairy tales he wants to start preparing for the  2017 Supercross opener (in 8 months from now). Jeremy Martin is the only repeat 250 National Champion still in the class. He has plenty of stiff competition, and the 250 Nationals may turn out to be more varied than the 250 East was in Supercross. While Cooper Webb will be dealing with an injured wrist, this is his last series in the 250 class. He will want to go out on top. Teammate to Webb and Martin is Aaron Plessinger,  who could be a serious contender. While Malcolm Stewart isn't racing this summer, his Geico teammate Christian Craig has been looking strong. In his return as a fill-in last year, Craig made the top five on three occasions. Pro Circuit's Joey Savagty is another rider who will be racing at a top pace. His execution at Las Vegas  proved he not only did his homework, but was very adaptable. Let's not forget that Savagty was third overall last year in the Nationals. Throw in Zach Osborne, Justin Hill, Adam Cianciarulo, Austin Forkner, Tristan Charboneau, Jessy Nelson, RJ Hampshire, Colt Nichols, Gannon Audette, Arnaud Tonus and many more, and this could be a very dynamic season.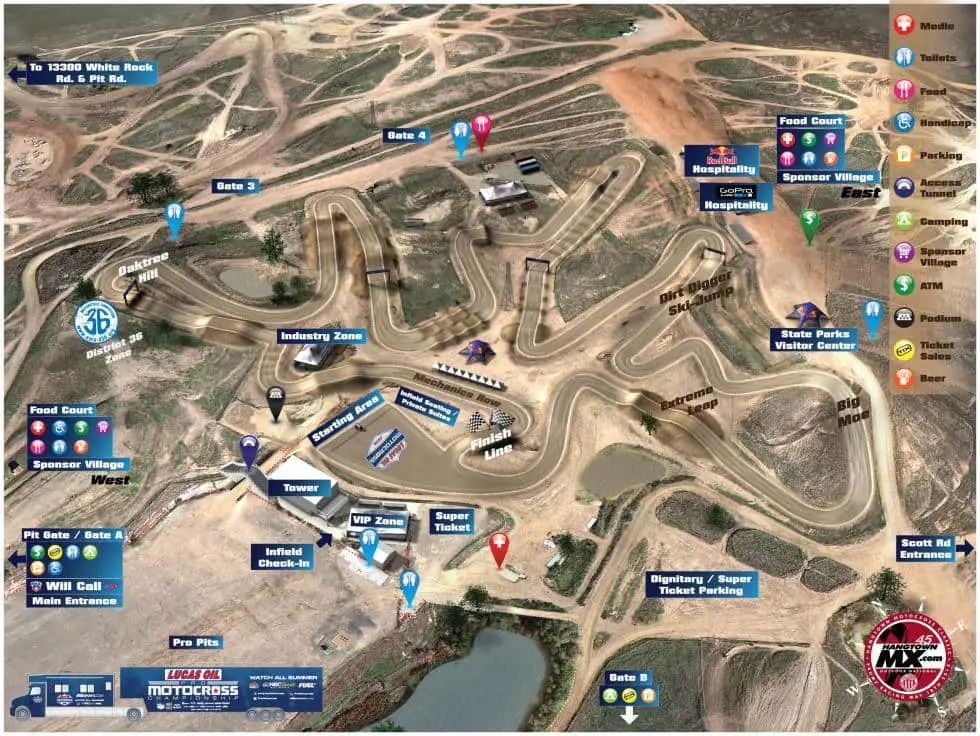 The 2016 Hangtown track layout.
BASIC STATS

The 2016 series is 0% complete coming into Hangtown which gives everyone a fresh start.
Hangtown was added to the schedule in 1974–a mere two years after the AMA National series started in 1972. It has been consistently on the schedule since then.
Hangtown in 1974 was also the first time a 125 class race was added to an AMA sanctioned series. The 125 class would go on to become the 250 class once four-strokes became the standard.
The first ten years Hangtown was on the schedule it was the season opener. It would be 21 years before the season would start back at Hangtown in 2004.
The Fly Racing 150-foot triple is one of the longest in the series.
There are 40 flaggers that will be present at Hangtown. Hopefully that is not 40 potential bad decision-makers.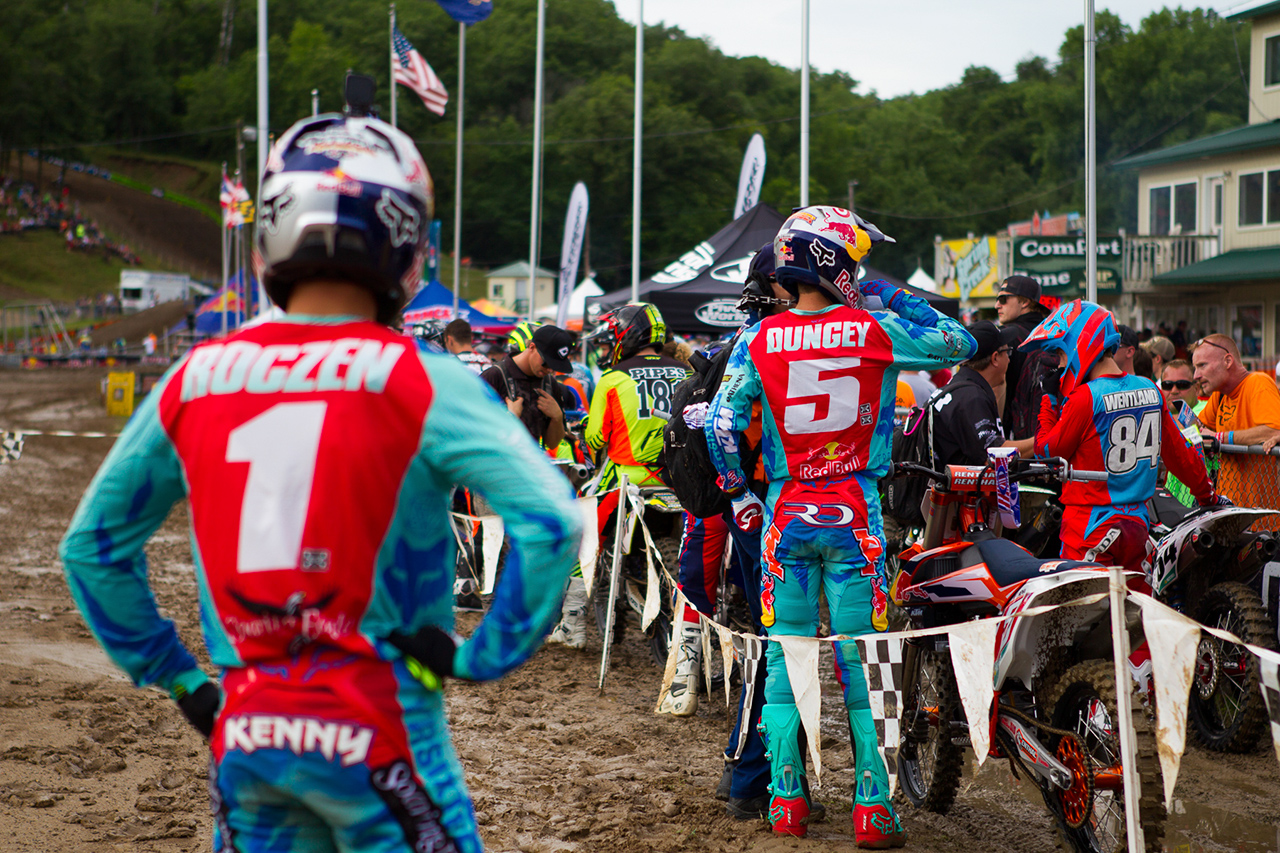 Ken Roczen wasn't able to defend last year. Will he be able to take the title back this year? Photo: Scott Mallonee

450 CLASS NOTES
Gary Jones won the first AMA National at Hangtown in 1974. While he would go on to win four premier class National Championship, Jones never won the overall in Hangtown again.
Seventeen times a racer who won Hangtown would go on to win the 450 Championship. James Stewart, 

Rick Johnson

Ken Roczen, Chad Reed, Ricky Carmichael, Bob Hannah and Gary Jones are among the racers to do so.
Ryan Dungey has never won the overall in Hangtown. Surprisingly, Mike Alessi has more first place moto finishes than Ryan Dungey. Dungey has finished 2nd place in eight motos. Miker Alessi isn't racing the Nationlas…at least not the American national Championships. He's going to Canada.
Eli Tomac won the race with a lap time that was 5.35 seconds faster than Ryan Dungey in 2015. By the checkered flag, Tomac was over a minute and a half ahead of the competition.
2010 was the last time a 250 two-stroke raced in the 450 class. British rider, Steven Clark, placed 28th aboard an RM250
~FASTEST 450 MAIN EVENT LAP TIMES
Hangtown Moto 1– Tune in next week

Jeremy Martin has won Hangtown twice. He is also the defending champion for the second year in a row.

250 CLASS NOTES
Broc Glover, Mark Barnett, Ricky Carmichael and Ryan Villopoto all have three championships in the 125/250F class. If Jeremy Martin wins the 2016 championship he will be fifth to do so.
In 2010 Eli Tomac became the first rider to win at his professional debut race in the history of the series. He was riding a Honda CRF250.
 Northern California local Steve Lamson has the most wins at Hangtown in the 250 class, at a total of four. The only other rider to have four wins is Mark Barnett, and he won his four races consecutively.

 Quite a few first-time 125/250F wins happened at Hangtown. Marty Smith, 

Bob Hannah, 

Doug Henry, 

Steve Lamson, 

Jeremy McGrath, 

Mike Alessi, B

en Townley, E

li Tomac, 

Blake Baggett and 

Ken Roczen are among the riders to have won their first 250 National at Hangtown.
FASTEST 250 LAP TIMES
Hangtown Moto 1– Tune in next week