YOU GOTTA READ THIS: WHY THE DUNGEY PENALTY WAS STUPID

Click on images to enlarge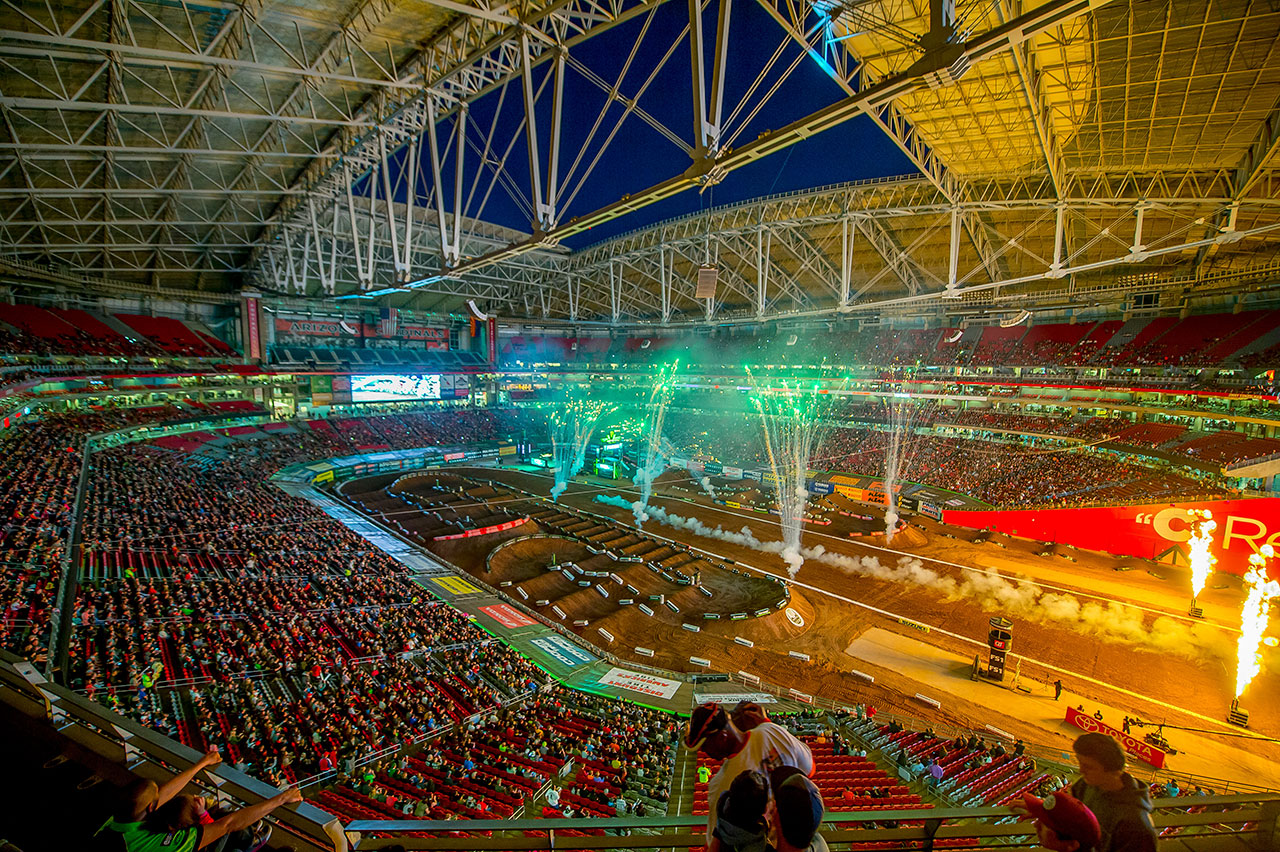 SEEING RED: RED CROSS AND RED FLAGS

The AMA has gone flag crazy. There have been more red flag restarts in the last three years, than in the previous 39 years of Supercross. The AMA have started throwing the red flag for crashes that could easily be handled by yellow flags and well placed Tuff Blocks. To the casual viewer the AMA officials, who seem to answer to no one, have inserted themselves in the events in an intrusive way. Additionally, they have been red flagging starts and claiming gate malfunctions, when replays show no malfunction, only over-anxious riders who jumped the gate (and occasionally caused riders around them to jump also). These restarts were unnecessary, time wasting, not in the spirit of the sport and unfair to the riders who didn't jump the start. If jumping the gate always draws a red flag, riders will begin anticipating the starts because the worse that will happen is a second chance.
As for the Red Cross flags, the AMA always points the finger at the rider, whether Jason Anderson in San Diego or Ryan Dungey in Detroit, but does not accept any fault on their own part. It is a given that both riders jumped the jumps, but why did they jump? The official Red Cross flaggers, in both cases, were poorly position (one ran across the track to wave a flag for a rider, Jake Weimer, who was already off the track and hardly in need to a Red Cross flag in the first place), another who was out of the line of sight of riders (who have tunnel vision coming into and out of turns), and, in some cases, flaggers who haven't been putting much effort into waving their flags.
Worse yet, they punished Dungey after the fact, without a formal protest for an infraction they had not seen. Then, while watching the replay to see if Dungey did indeed do what they hadn't seen, they ignored video evidence of other riders who obviously committed the exact same infraction, but didn't give them the same penalty as Ryan Dungey. What's good for the goose is good for the gander. The obvious extension of the Detroit happenings, from the AMA's position, would be to get an AMA official in the video booth to watch every lap of every race after the race is over, and hand out penalties to every rider who jumped a Red Cross flag that night. And no results would ever be official until they have had their AMA post-race video slumber party. Yes, we know the AMA didn't see these other riders jump the Red Cross flags until they watched the video, but that didn't matter in Dungey's case, so it shouldn't matter in the case of every rider who broke the same rule. Not to do this is unfair punishment of Dungey. Nothing more than "selective enforcement" of the rulebook.
Watching video after the race, in an effort to catch a rider breaking a rule, is a can of worms that the AMA should put a stop to immediately. They will live to regret the decision to change the outcome of a race for a long-time in the future. If an infraction occurs, and an AMA official doesn't see it, did it really occur? That is the mantra the AMA officials have handed down for the past 40 years — now, all of a sudden, we are getting the world's slowest instant replay-type of officiating. It's cheap and insulting. When the checkered flag falls, if the AMA official hasn't seen a violation, the results should never be changed. Imagine if the NFL officials watched a post game video in search of a lineman holding an opposing player—then reversed the play, canceled the touchdown and the win went to the other team. Football fans would revolt. As in football, the Supercross fans in the stands and those at home watching on TV want to know that what they paid for or spent their time watching is, in fact, as it appeared. What the Dungey incident now means is that no race is official, until every yahoo in the pits is through complaining about every infraction they think they saw, and demanding that the AMA watch the video.
Yes, some guilty riders will slip through the AMA's amazingly porous net, but that's better than damaging the image of  the sport because the AMA is flag crazy. Gentlemen, put your flags away! Better yet, use the yellow flags as intended — and maybe even enhance the yellow flag rule, but making is a hold your position, no-passing fag, as it is at most Amateur motocross events.
The AMA should overturn the Dungey penalty and then fix their own flaws—which is the positioning of flaggers, lacksdaical flag waving, sudden interest in being the center of attention and listening to post-race hearsay from outside sources that have an axe to grind. We are not saying that heads should roll at the AMA for this lack of judgement, only that heads should be used.
Straighten up AMA—this started back at Hangtown in 2009, when seven riders were penalized for ignoring what was then a red-and-yellow flag—waved by a flagger who was on the wrong side of the track, about 50 feet away from the drop-off that the riders couldn't afford to take their eyes off of. The ruling was wrong then—and the ruling is wrong now. The AMA official didn't think they were to blame back at Hangtown, but they were. And, guess what, those seven riders were penalized one position—not two. So much for consistent enforcement of the penalties. Snap out of it. You need to fix the AMA system before altering the outcome of a race after the fact. Get your house in order—then enforce the rules from a position of righteousness.
MID-SEASON ROUNDUP
This Saturday is the one break in the Supercross season every racer gets. Injuries have greatly thinned the 450 field while the 250 East has had a different winner every week. The 250 West has been on hiatus, but come April 2nd they unfreeze for one more West coast round of racing before the finale in Las Vegas.
This year has revealed many new developments. Starts have been more important than ever, as more and more competitors have been focusing on improving them. In the 2015 season Ken Roczen dominated largely due to his great starts. Dungey, on the other hand, had trouble getting towards the front off the gate. This season Dungey has dominated the starts often overtaking the lead within the first few turns. Dungey's teammate, and 450 rookie Marvin Musquin went from barely making the top 10 to consistently nabbing podiums thanks to better starts. The 250 West initially was dominated by Cooper Webb until he made things interesting with a DNF. Christian Craig and Joey Savagty have been able to made ground, while the 250 East has had a flurry of unpredictability. Lets see the facts below.
BASIC STATS

The Supercross season is 64.7% complete. Detroit was race 11 of 17.
The first AMA sanctioned Supercross season featured three races in 1974. This season it is a 17-race series.
When Supercross started in 1974 they only had had classes; the 250cc class and the 500 class (which was only held at two f the three races). Back then two-strokes lined the gate.
KTM team manager, Roger Decoster raced the first Supercross race in Los Angeles. He placed second behind Jaroslav Falta from the Czech Republic. But, he won the 500class in Daytonathree months earlier.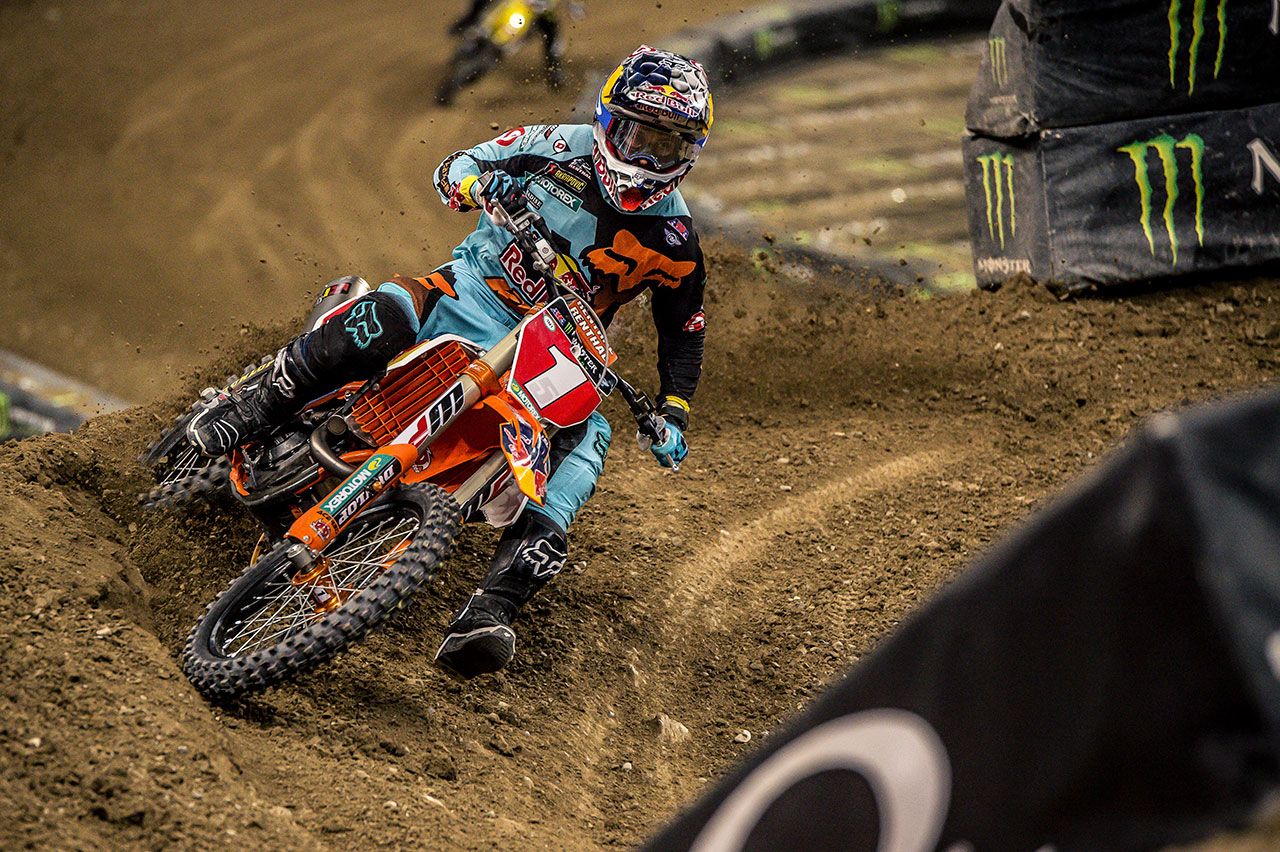 Ryan Dungey has shown a dominating performance this year. The AMA's performance, not so good.
 450 CLASS NOTES
Ryan Dungey has still never won the 450 class in Detroit. He did cross the finish line first, but got docked two position for jumping on a red cross flag.
Three of the 42 riders who have competed in the 450 class have amassed over 200 points. Ryan Dungey, Ken Roczen and Jason Anderson.
In 2006 the 250 class was termed the "Supercross class" and the 125 class the "Lites class."By 2012 the Supercross promotrs came to their senses and changed the names to 450 and 250 classes . then changed back to the more traditional displacement name 450 class and 250 class.
So far there have been four different riders with a win under their belt and five in the runner-up position.
FASTEST 450 MAIN EVENT LAP TIMES
Anaheim 1 – Tomac 1:01.954.
San Diego 1 – Dungey 48.794.
Anaheim 2 – Tomac 57.202.
Oakland – Dungey 53.229.
Phoenix -Tomac 1:02.602.
San Diego 2 – Dungey 57.995.
Arlington – Dungey 50.754.
Atlanta – Dungey 45.943.
Daytona – Dungey 1:04.851.
Toronto – Dungey 54.604.
Detroit – Dungey 46.808.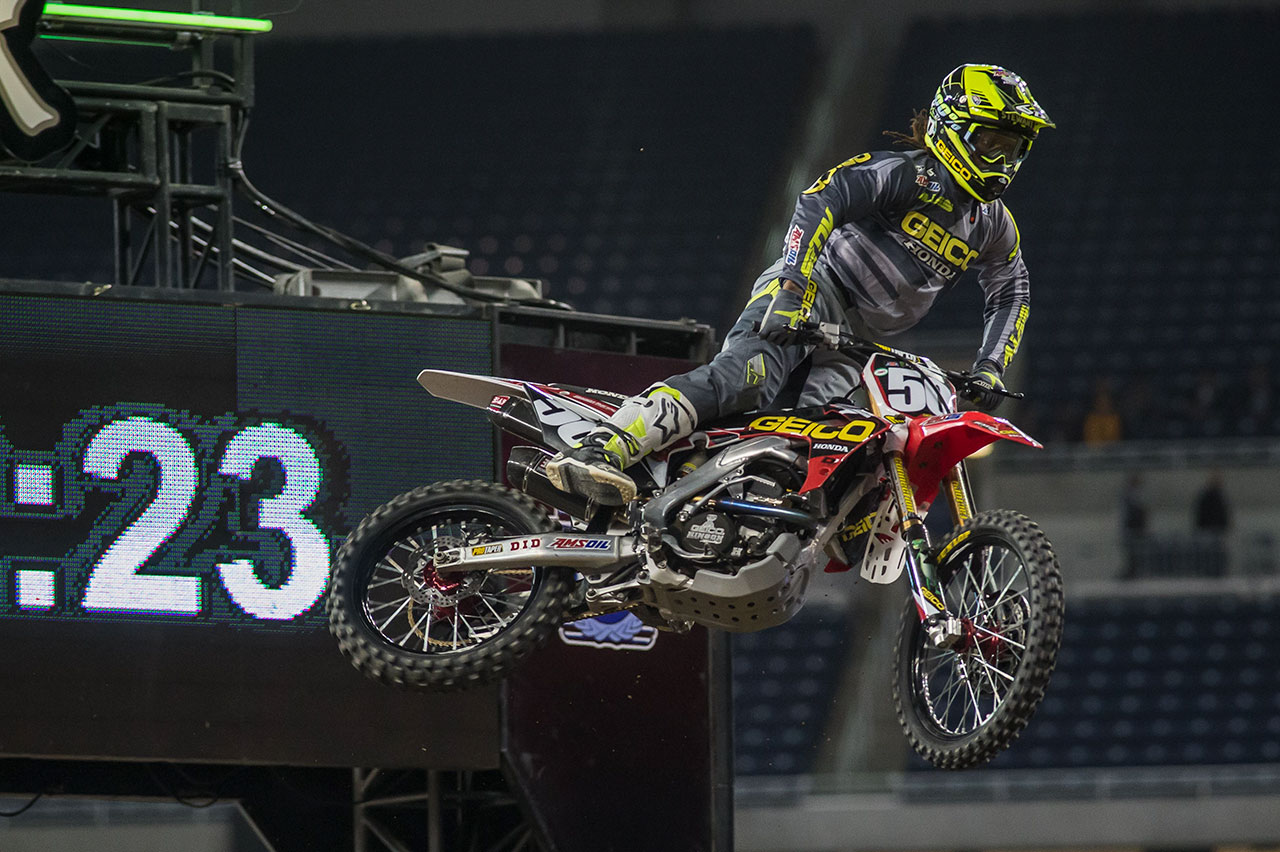 Malcolm Stewart got his first win in of 2016 in Detroit's 250 class.
250 CLASS NOTES
The top five of the 250 East has earned a podium this season.
The 125 East/West series were added in 1985, but they are not considered AMA National Championships—just regional championships.
 Ryan Dungey started his 250 Supercross career on a Suzuki, while Ken Roczen started on a KTM. Now, they have switched. Kenny is on a Suzuki and Dungey went to KTM.
FASTEST 250 EAST MAIN EVENT LAP TIMES

Atlanta – Davalos 47.027.
Daytona – Hill 1:07.740.
Toronto – McElrath 56.279.
Detroit – Stewart 48.190.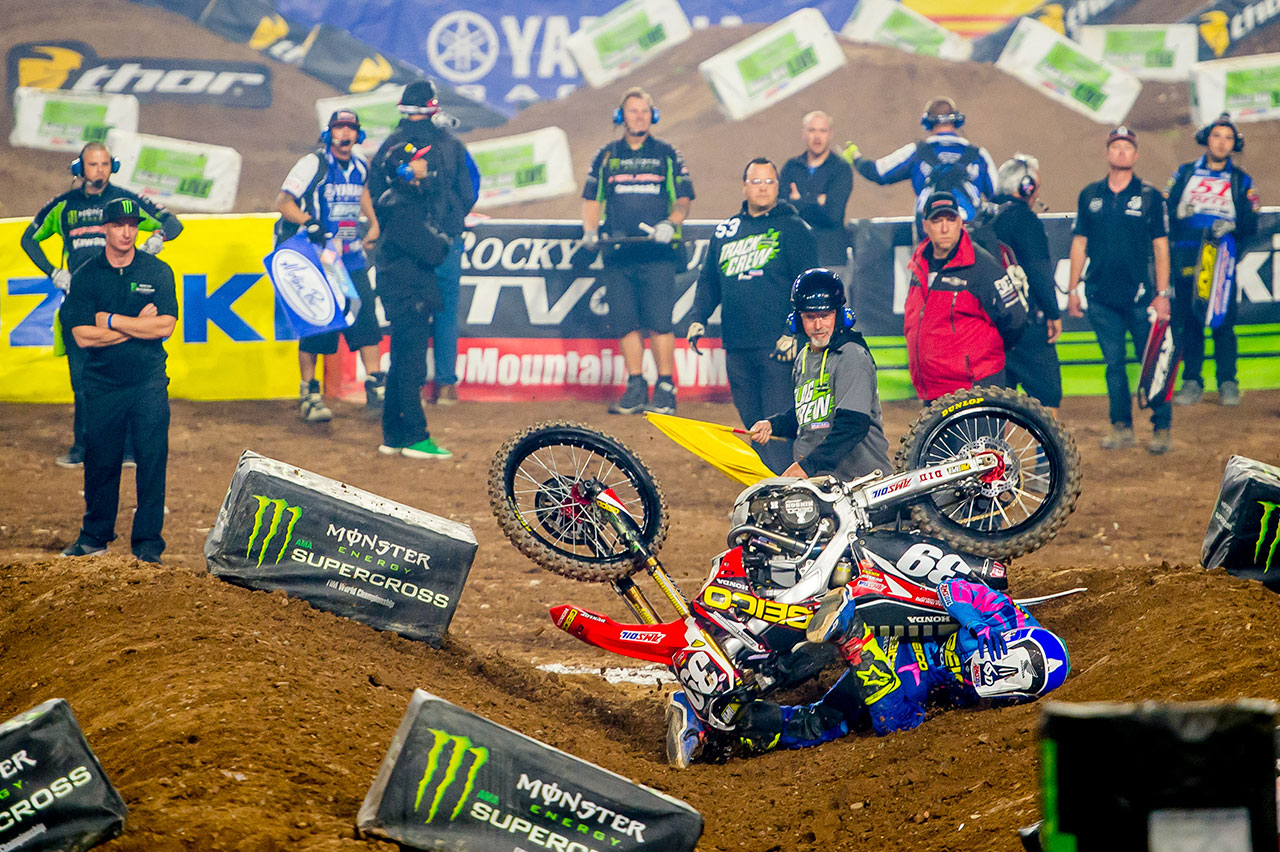 Jordon Smith is down.                                                                                                  
450 Class
James Stewart- Bruised back. He probably should sit out until the 450 Nationals start to heal completely.
Davi Millsaps – Broken ribs and a collapsed lung.
Kyle Cunningham – Injured wrist.
Christophe Pourcel – Broken neck. May be back in Santa Clara.
Will Hahn – Broken collarbone, torn labrum and a broken scapula.
Tommy Hahn – Injured foot. May be back in Santa Clara.
Andrew Short – Concussion from the three-way crash between him Will Hahn and Phil Nicoletti. Retiring after this season.
Phil Nicoletti – May not race if knee isn't 100%.
Justin Barcia – The pins are out of his thumb, but he has yet to start riding.
Ronnie Stewart – Also recovering from a broken wrist. 
Kyle Chisholm – Recovering from a broken humerus, dislocated shoulder and concussion.
Dusty Pipes – Like Chisholm, he is recovering from both a broken humerus and dislocated shoulder.
Tyler Enticknap – Broke his thumb at the first San Diego round.
Tevin Tapia – Broken wrist from preseason still healing.
Dean Wilson – Out for the 2016 season with a torn ACL and meniscus.
Adam Enticknap – Out for the season due to a broken femur.
250 Class
Dakota Tedder – Concussion, broken scapula and fractured ribs.
Luke Renzland- Broken collarbone.
Marshal Weltin- Dislocated shoulder.
Nick Gaines – Out of the 2016 Supercross season with a broken femur.
Adam Cianciarulo – Still recovering from a broken wrist.
Jordan Smith – Injured shoulder.
Zach Bell – Still healing from a broken collarbone, but may not finish the 250 West series if his infection isn't taken care of.
Jessy Nelson – Out of Supercross with a shoulder/back injury and concussion.
Luke Clout – Out of with a broken femur.
Mark Worth – He dislocated a hip and broke his elbow on the first lap of practice at Anaheim 1.
Daniel Baker – Done for the 2016 Supercross season after tearing his ankle.
Josh Osby – Broke some ribs and punctured a lung.
Jimmy Albertson – Out with broken sternum.