HAVE YOU SEEN MXA'S YZ250 VERSUS YZ250F SHOOTOUT ISSUE?
Click on images to enlarge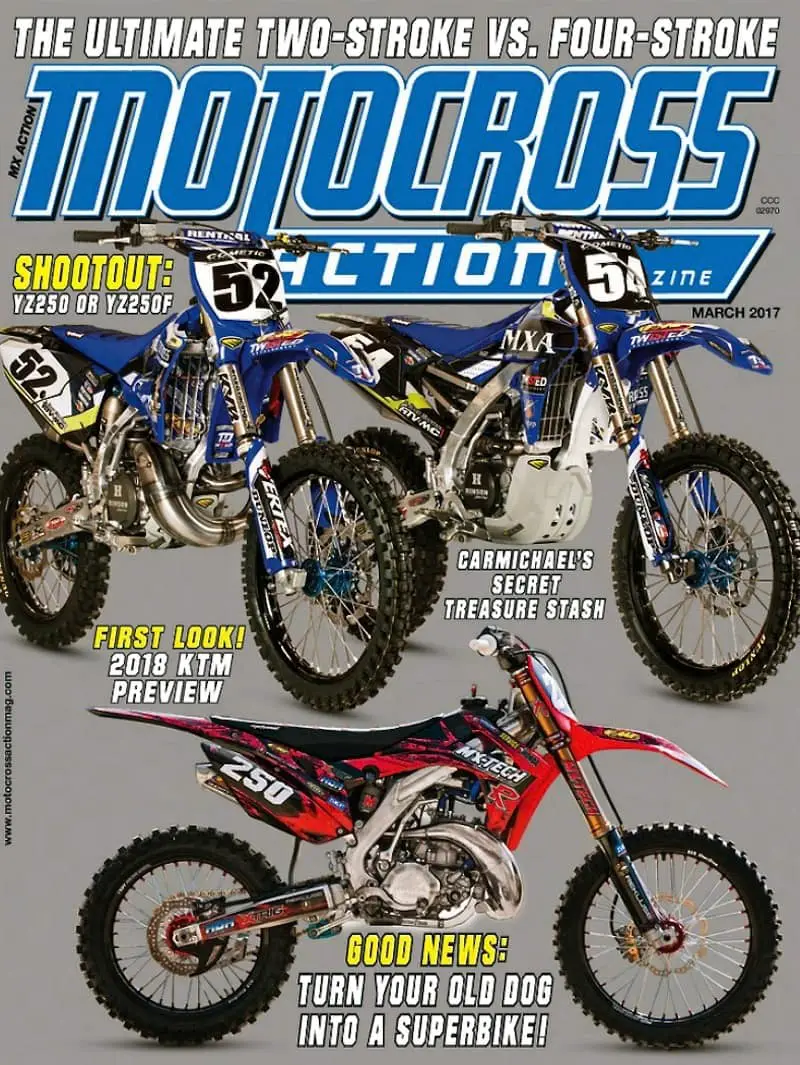 MXA's March 2017 cover features our YZ250 two-stroke versus YZ250F four-stroke shootout, plus a 16-yearold Honda CR250 that was turned into a superbike with loving care and oodles of money.

MXA decided to take the lowly Suzuki RM-Z250 and fix everything that was wrong with it, no matter how long it took or how much money it cost. Were we happy or sad when we were done?

It's always a bittersweet moment when a racer you saw grow up on the circuit calls it quits. We sat down with Wil Hahn to discuss his highs and lows.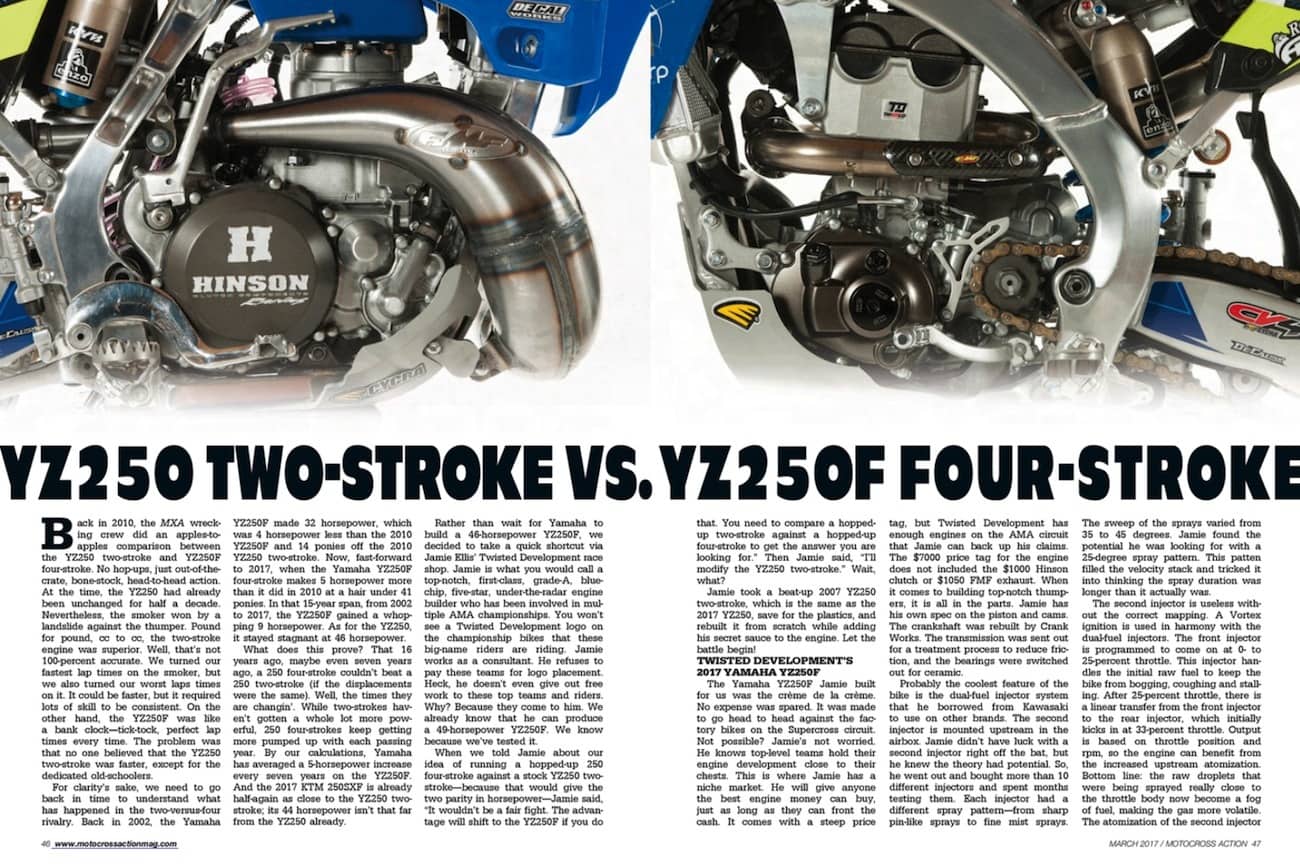 This is exactly what it says it is—a YZ250 Two-Stroke VS. YZ250F Four-Stroke shootout. But there is a twist…a Twisted Development twist.

Before we started the YZ250 versis YZ250F shootout, we sent both bikes to Jamie Ellis at Twisted Development to hop them up. We wanted them both to make the exact same 49 horsepower, so that the two machines would start off on the same foot.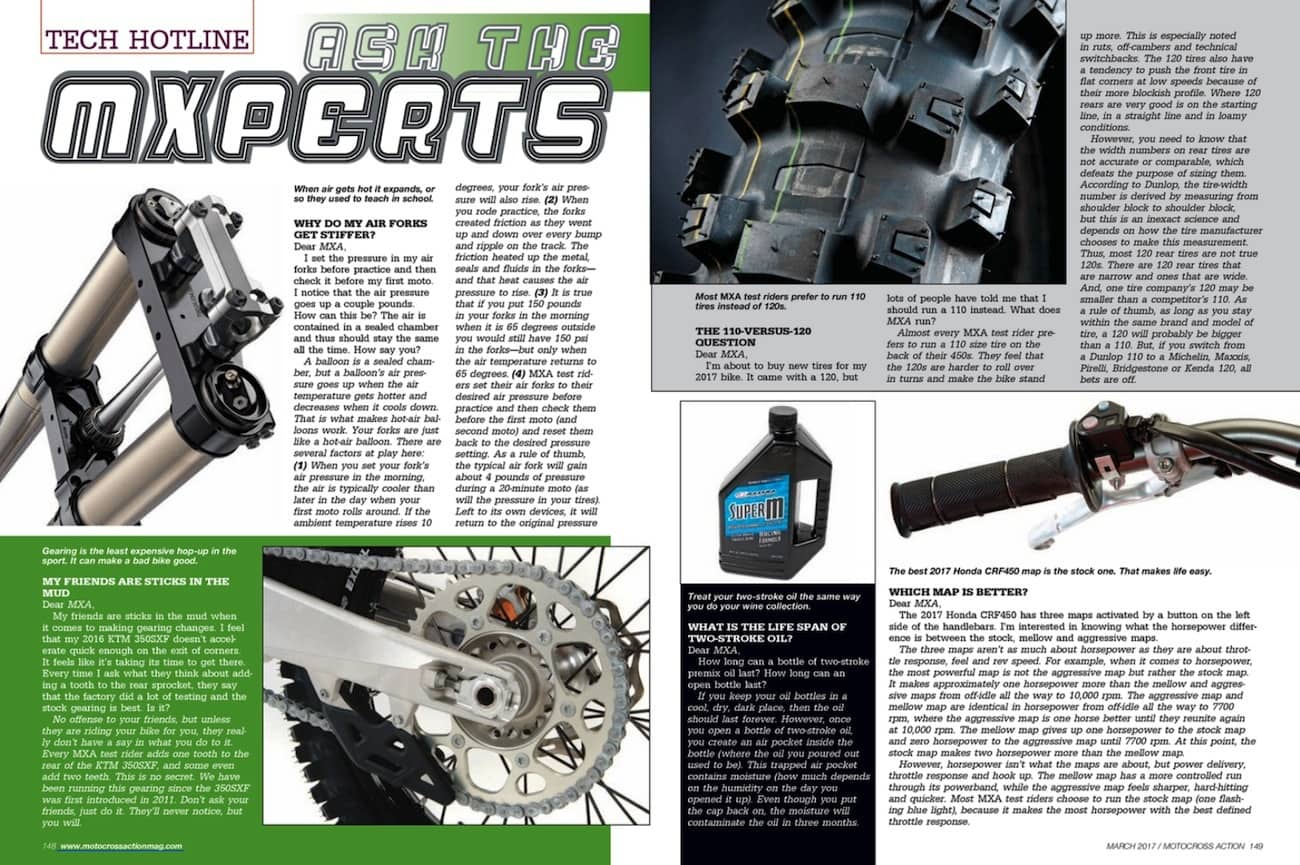 Got a question you need answereds? Our advice is to put it in a chat room and be amazed at how many different and wrong answers you get. Then, send it to the MXperts for the correct answer.

MX-Tech's Honda CR250 is the ultimate extension of what you can do to your trusty, but rusty, Honda CR250 two-stroke. They clicked off all the boxes and made the perfect choice on engines by starting with a 2001 CR250 mill.

If you work on your own bike, then you love tools. The more the merrier. The MXA wrecking crew tested Motion Pro's tire changing station and KTM PowerParts' 38-piece took kit. One we liked and one we thought was a waste of money.

Got milk? Got a used YZ250 two-stroke that has seen better days? Why not give it a new lease on life by bumping it up to a YZ300. L.A. Sleeve turned their 250cc engine into a 300cc engine for $1140. That's cheap for the giant increase in torque and ponies. Oh yeah, the also went all out and every other part of the bike while they were at it.

The MXA wrecking crew has raced this race. Thankfully, we were lucky enough to get a start spot near the front. The poor saps starting in the 60th row are happy to get to the finish line before the tide comes in.

If you struggle with the angled air valve on the WP AER air forks, Works Connection has a solution. Plus, if your elbow is hamburger from your last crash, consider Leatt's new Armourgel Airflex sleeve-style elbow guards.

When we showed a few photos of Ricky Carmichael's version of Al Capone's vault on our website the demand to see more was so great that we put 14-pages worth of photos in the March issue.
Because we got the 2017 Honda CRF450 in time for the 2017 MXAa 450 Shootout issue last month, we felt like we were cheating both Honda and the readers by not giving the CRF450 a full, stand-alone, seven-page bike test (as we had been able to do with every other 2017 450). So, we rebuilt had Honda rebuild the engine and we started all over.

PLUS, THESE AND OTHER STORIES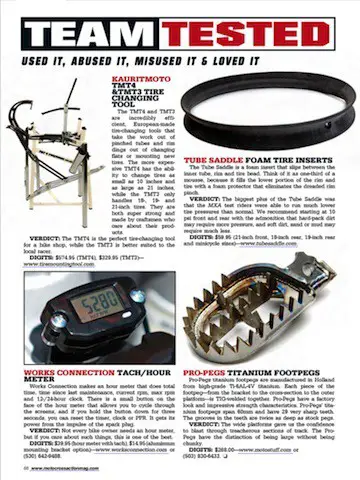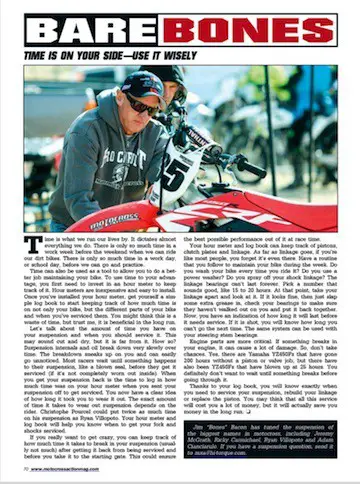 In these stories we have Bones Bacon give you wise counsel and we show you four tricks products.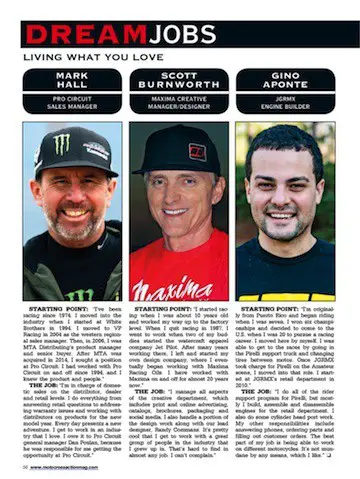 Want to work in the motocross biz, these three guys do, plus the forgooten art of cylinder fin design.


Ten things you need to know about that pain in your back, plus, we go back to Roger's first year at KTM in "Great Moments"
Do you subscribe to MXA? You should. We know that you think that print magazines are dead and that the internet will fill the void, but most of the stuff in the current issue of MXA won't appear on the web for several months, if at all. If you want to know it, you need to read it now! Luckily, you can get all of MXA on your iPhone, iPad, Kindle or Android by going to the Apple Store, Amazon or Google Play. Better yet get the Digital desktop version at https://hi-torque.com/product/motocross-action-digital-edition/ for $9.99 a year. The MXA test riders prefer the print version and not just because it is delivered by a uniformed employee of the U.S. Government, but because for only $19.99 you get 12 issues and a free $25 Gift Card from Rocky Mountain ATV/MC. That means that there is a profit to be made in this deal for you. For the Print magazine go to: http://hi-torque.com/product/subscribe-to-motocross-action-magazine/