HAVE YOU SEE THE NEW MXA? THE APRIL ISSUE IS OUT NOW! DON'T MISS IT
HAVE YOU SEEN THE APRIL 2021 ISSUE OF MXA? WHATEVER YOU DO DON'T MISS IT

What's in the newest issue of MXA? How about complete and thorough 2021 450 Shootout with all seven modern 450 four-strokes. Or a complete test of the Beta 300RX motocross bike. How about coming with us when he got to ride Mike Alessi's awesomeYamaha YZ134 Cross-Country, 2021 Yamaha YZ250 two-stroke, 2021 KTM 150SX two-stroke.We also took our KX450FX to Lake Havasu to put 131 minutes on t the Lake Havsu WORCS race (and we show you everything we did to make it cross-country-worthy and every thing we broke during the race. Not enough? We also tested the 2021 GasGas MC 250F and went back in time to retro test Grant Langtson's 2004 KTM 250SX. And that's just the bikes we tested, there is a lot more inside the April 2021 issue of MXA.

This isn't the typical 2021 450 Shootout. Not only did we test all seven 2021 450s, but we spent enough time racing each one to get a different take on how they perform. This shootout is 20-pages long—so you know it is jam-packed with details.

In this spread you can see one page of two pages of MXA's dyno charts and rider comments . The MXA 450 Shootout covers all of your questions.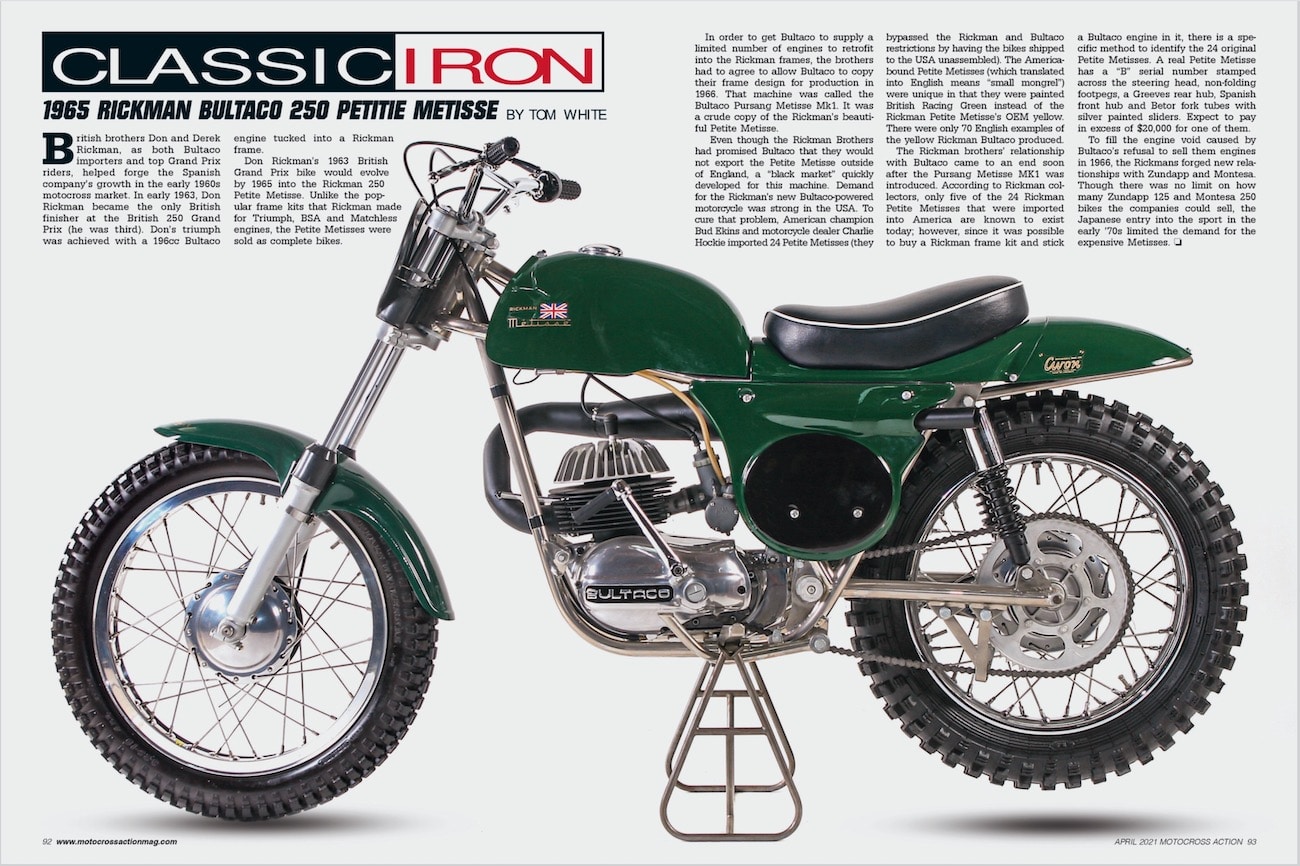 The 1965 Rickman Petite Metisse was a collab with Bultaco to allow the Rickman Brothers to sell complete motorcycles. They got the engines from Bultaco, but the deal went sour when the Spanish brand made a poor copy of the Rickman frame for 1966.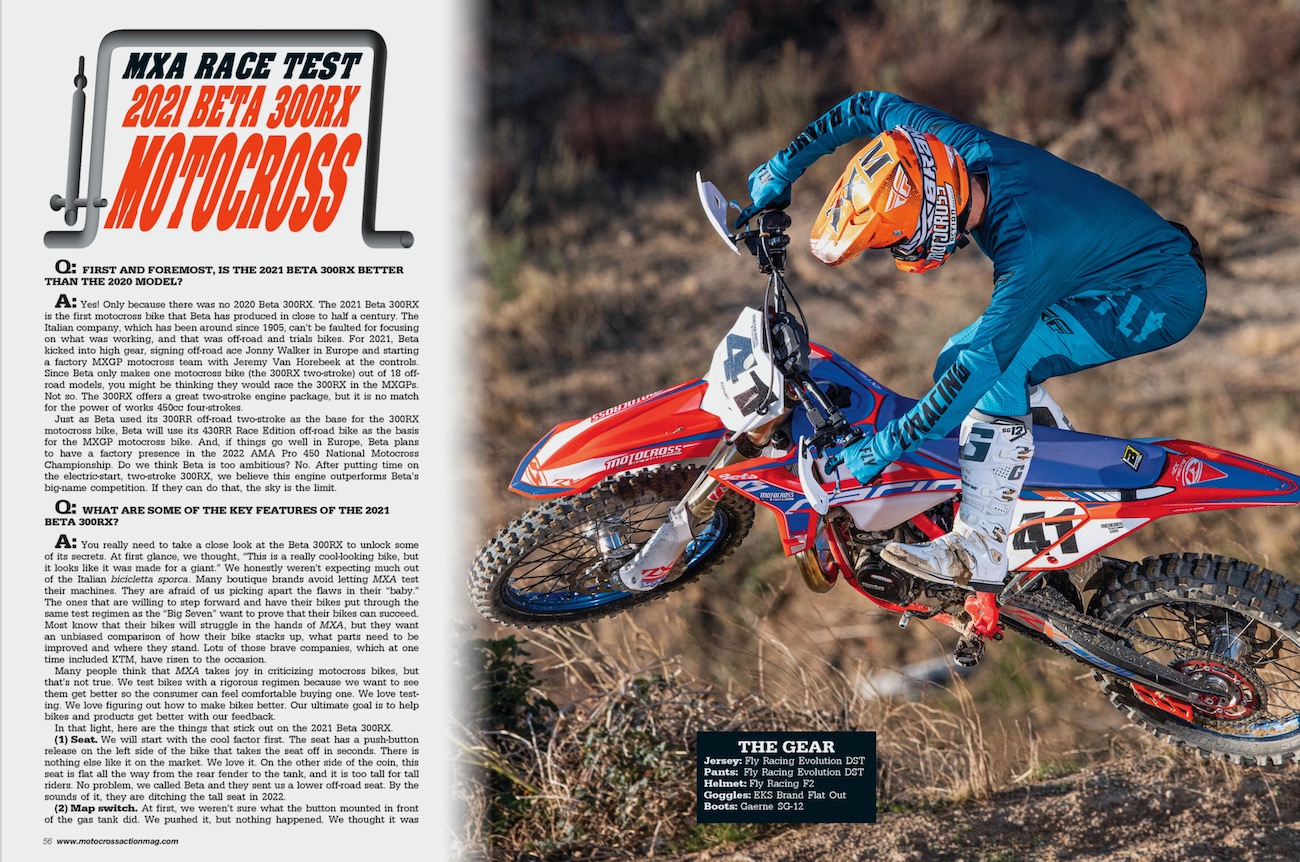 We loved riding the 2021 Beta 300 RX two-stroke. It isn't technically Beta's first-ever motocross bike, but it is the first one that any one in America has ever seen. The 300RX is set to get wider release in 2022, but we can tell you that's it's a very good smoker.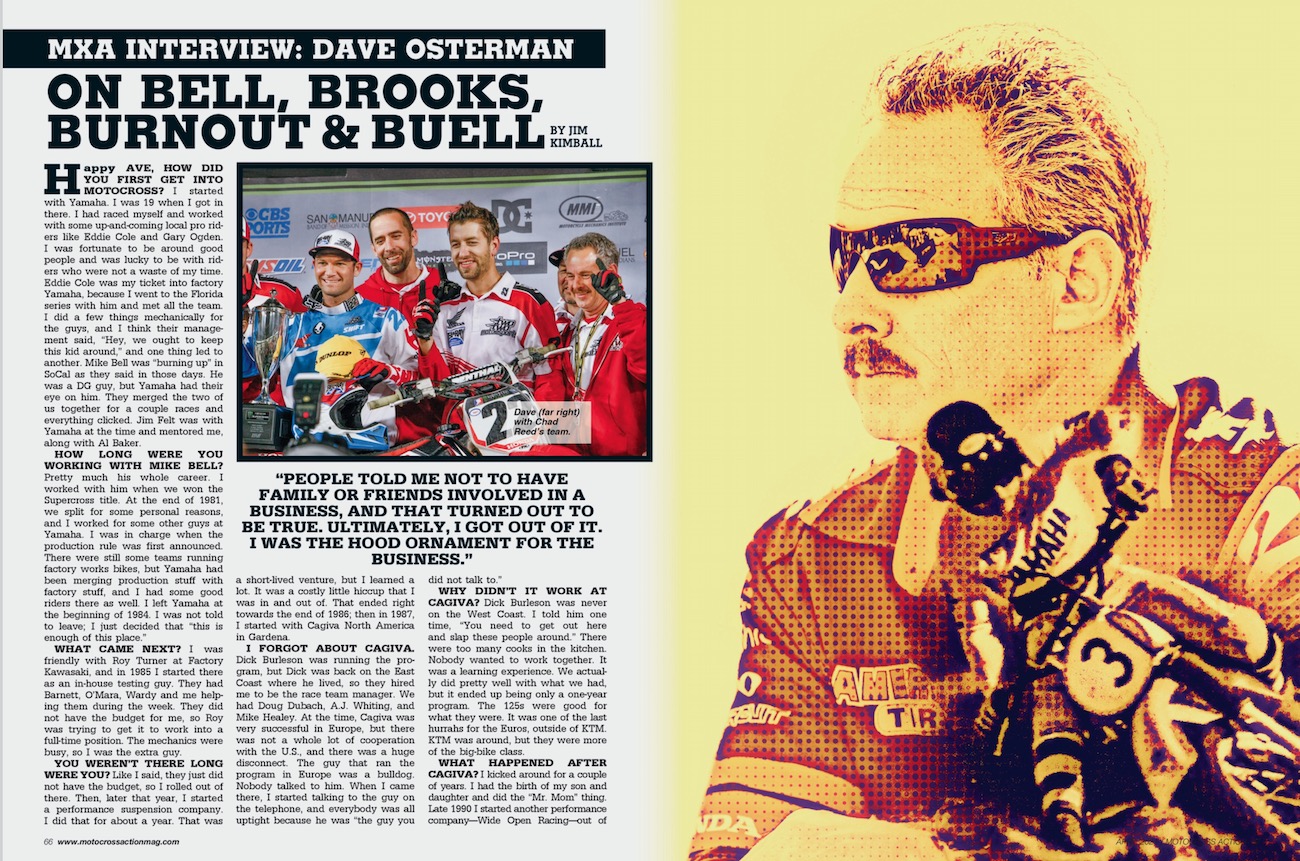 We sat down with "Dave O" to chronicle his travels through the motocross world. Dave Osterman rose to fame as the late Mike Bell's factory mechanic, did some work for Team Kawasaki in 1985, moved to Cagiva for a year, before starting Wide Open Racing, which didn't last long because he moved over to Team KTM, from there he went to Pro Circuit Kawasaki, which was followed by a stint at Yamaha of Troy. Then he got a call to move to Wisconsin to become the technical advisor on the ultra-secret Buell 450 Griffin project—which never saw the light of day (although we have a photo of the prototype in this issue).

GasGas has made an impressive debut for a bike that was built on the collapse of a Spanish off-road brand less than a year earlier. We test the 2021 GasGas MC 250F. You could call it a red KTM, but GasGas was not built to steal sales from KTM or Husky, it was designed and priced to steal sales from Honda, Yamaha, Kawasaki and Suzuki.
What are the differences between a KTM, Husqvarna and GasGas? MXA breaks it down in one comprehensive analysis of how the three brands have dialed-in the power and suspension to meet the needs of  three different demographic groups. This should answer all your questions.

Wanted see something cool? Flip this photo of MXA's Josh Mosiman jumping the Lake Havasu Lagoon on a 2021 Kawasaki KX450X upside down and you'll see that the photo looks the same, but now the words are upside down.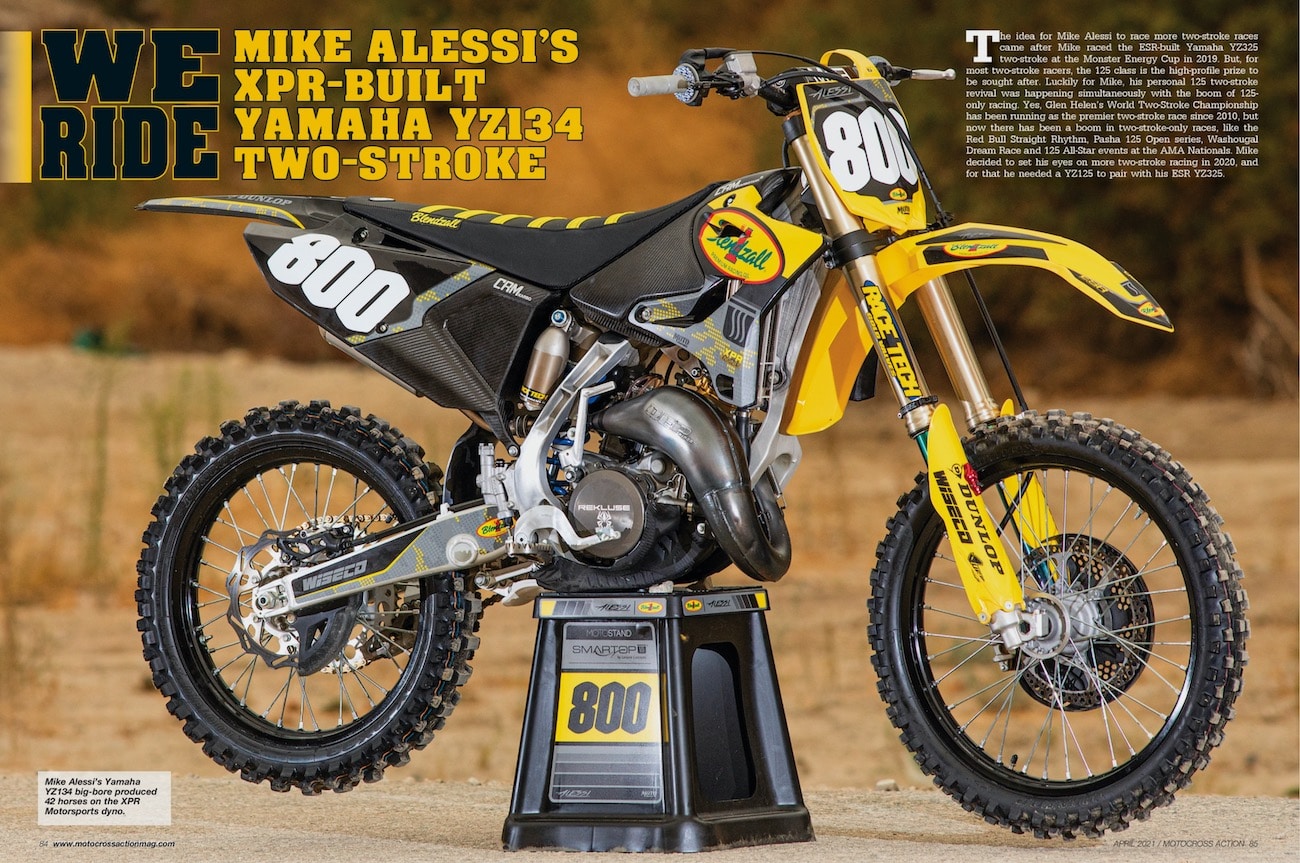 Mike Alessi has been tearing the two-stroke race circuit up over the last year. He has been making good money for having fun in the Pasha 125 Open series, World Two-Stroke Championship and any place where he can race his Yamaha ESR-equipped YZ325 or XPR-built Yamaha YZ134. MXA tested both of Mike's bikes. We loved them. This issue has his YZ134 test.

When Grant Langtson made the moved from the 125 class to the premier 250 class in 2003, he had more than his fair share of teething problems. Between the 2003 and 2004 seasons, KTM hired a full-time test rider (Casey Lytle) to iron out the issues. And, as the icing on the cake, MXA got to test Langtson's 2004 KTM 250SX. We loved it.

With two-stroke booming, the pipe manufacturers can't keep exhaust systems in the warehouse. And so it was with Fly Racing's all-new DST Evolution gear. You can tell a lot about Fly's new gear by finding out that the DST acronymn stands for "Durable Stretch Technology."
We love an underdog. We love a comeback. We love a rider who wins the first race he enters on a new brand. We loved Justin Barcia.
HOW TO SUBSCRIBE TO MXA SO THAT YOU NEVER MISS ANOTHER ISSUE, PLUS GET A $25 ROCKY MOUNTAIN GIFT CARD TO COVER YOUR COSTS
If you subscribe to MXA you can get the mag on your iPhone, iPad, Kindle or Android by going to the Apple Store, Amazon or Google Play or in a digital version. Even better you can subscribe to Motocross Action and get the awesome print edition delivered to your house by a uniformed employee of the U.S. Government. Did we mention the $25 gift card for any part you want from Rocky Mountain ATV/MX? You can call (800) 767-0345 or Click Here (or on the box at the bottom of this page) to subscribe.