HAVE YOU SEEN THE JULY 2020 ISSUE OF MXA? YOU DON'T KNOW WHAT YOU'RE MISSING
If you are interested in motocross bikes, not just talking about them, but riding, racing and building them, then Motocross Action's July 2020 issue is written just for you. And that goes double if you like two-strokes.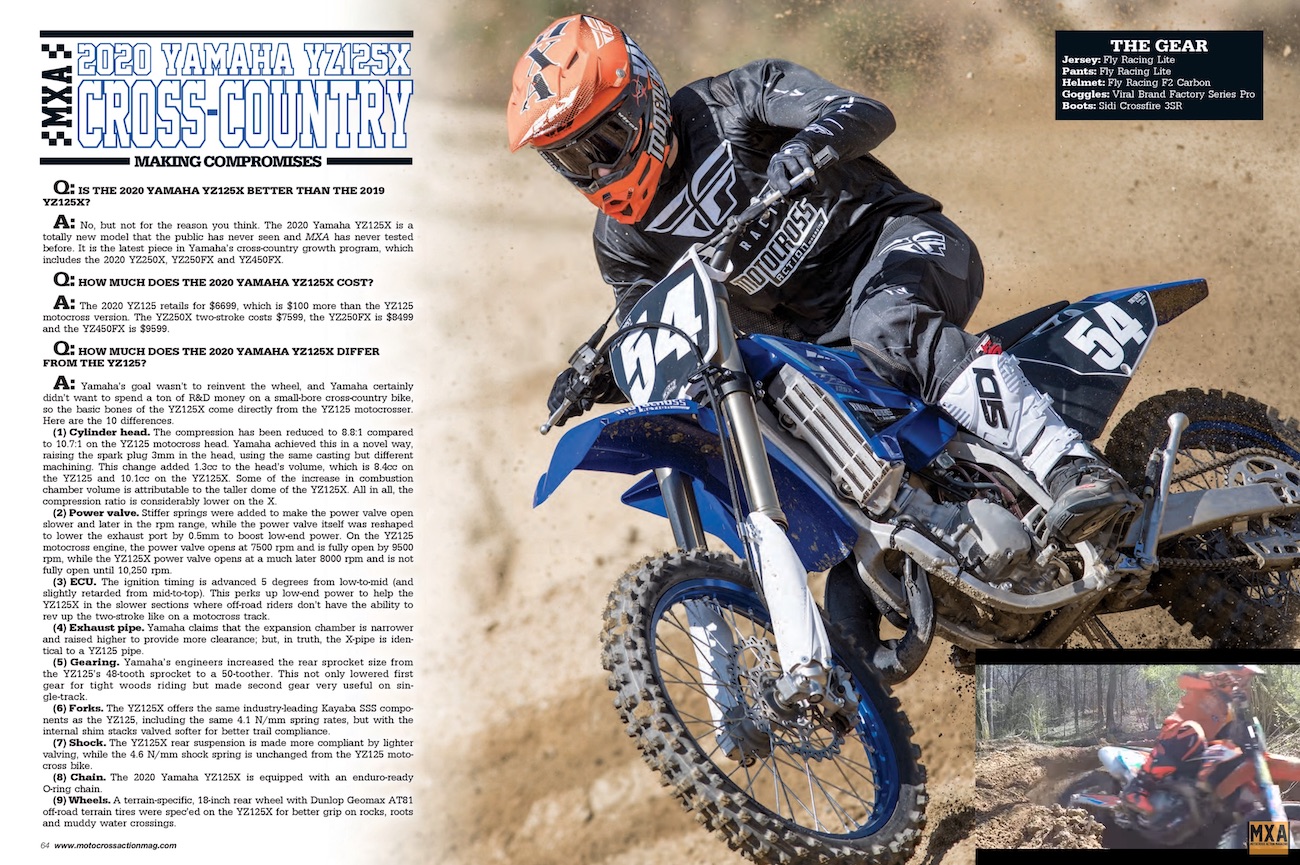 We like what Yamaha has been doing over the last few years. They aren't rolling over in the face of the KTM/Husqvarna onslaught. They are fighting back. Not just with the YZ450F and YZ250F, but with their X-models. The X stands for cross-country, but we think of the YZ125X and YZ250X as dual-sport bike—if  the two sports are cross-country and motocross.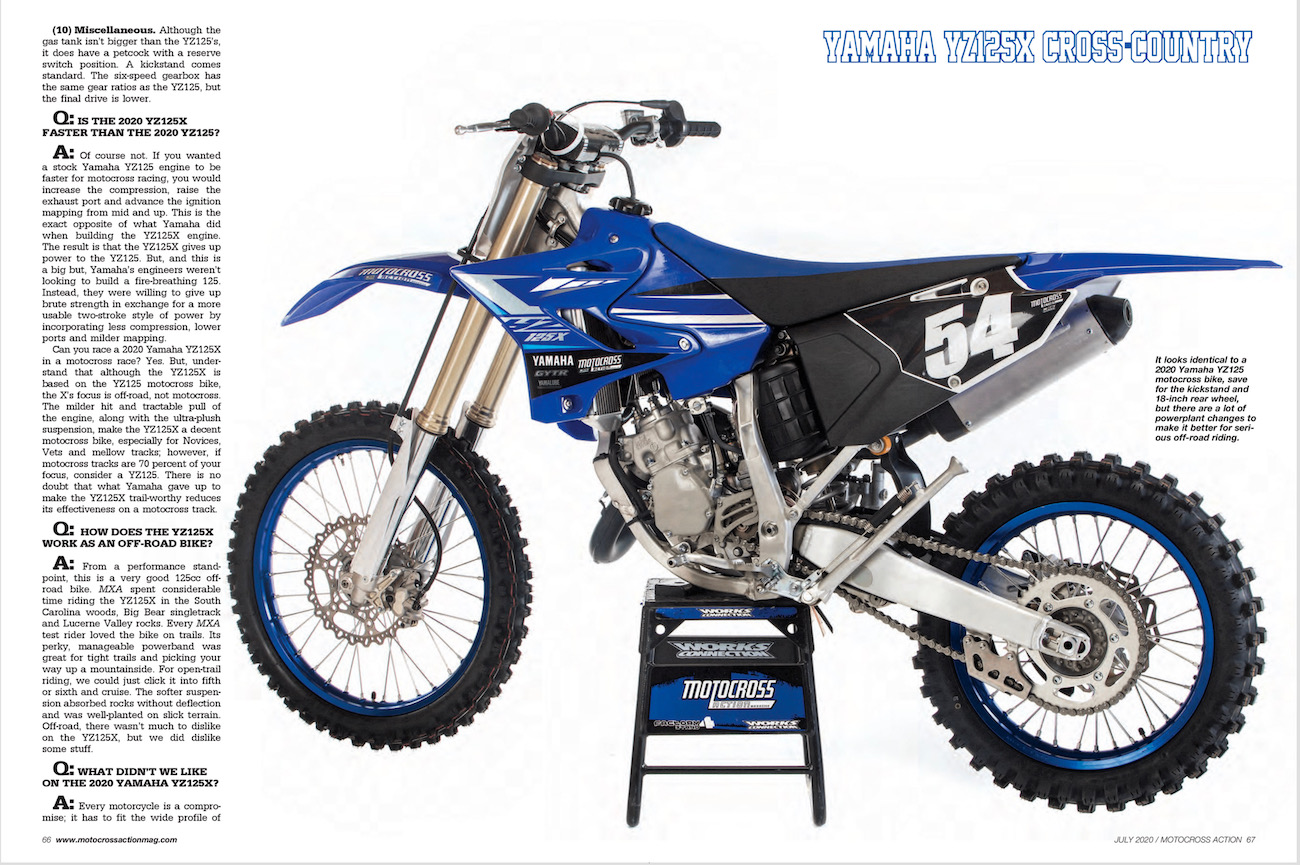 MXA's 2020 Yamaha YZ125X test covers not only all the ways that the X is different from the motocross YZ125, but where it's better and where it's worse.
While MXA is waiting for the delayed 2020 World Two-Stroke Championship to happen, we took the opportunity to start building special race bikes for the MXA test riders to race at Glen Helen. Dennis Stapleton elected to start with a 2020 Husqvarna TC250 and go from there.
Dennis' TC250 got a 300cc engine kit, but better than that, the Rockstar Husqvarna team gave him the engine they built for Jason Anderson to use at the Red Bull Straight Rhythm race. Jason pulled out of the race and Dennis got the Factory Services TC300 powerplant.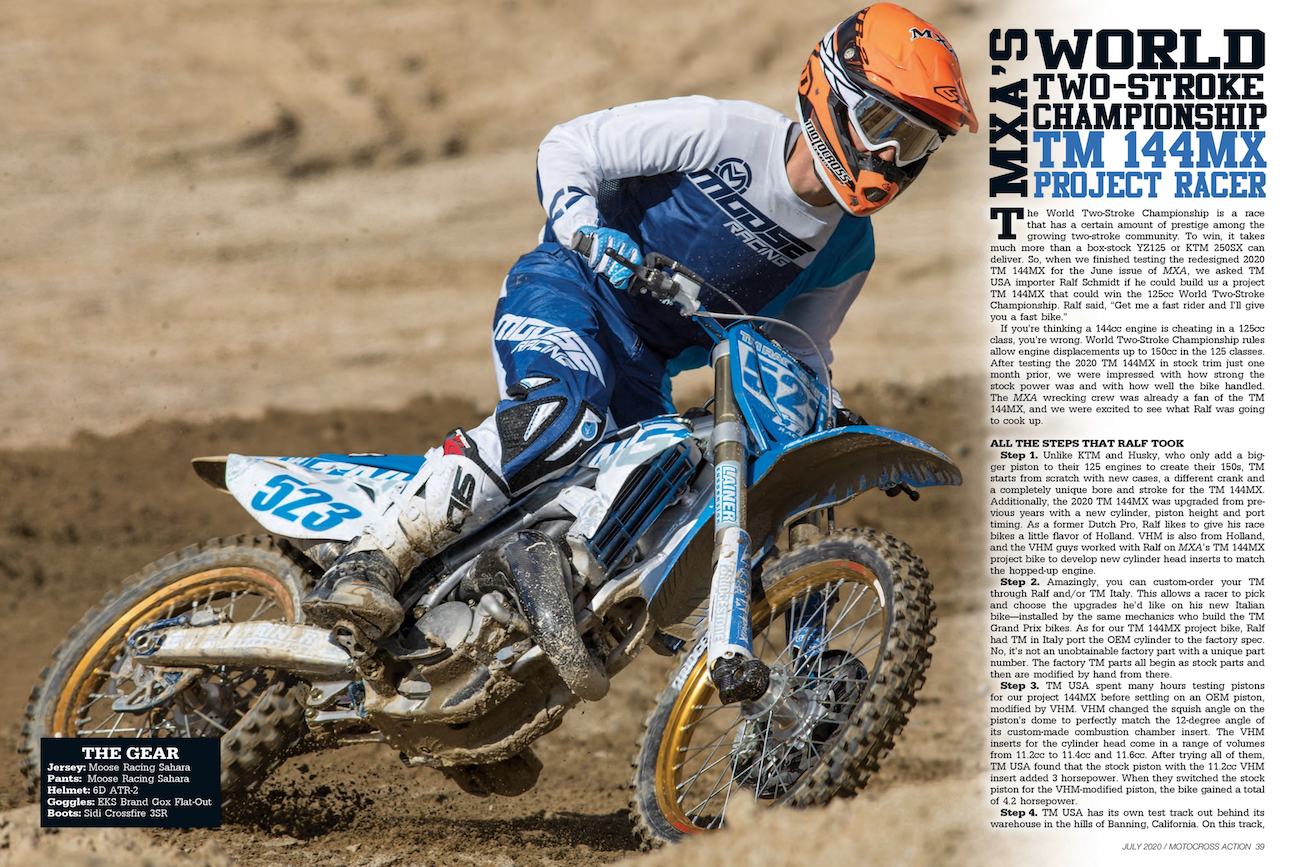 Since the World Two-Stroke Championship's 125 class is open to engines up to 150cc, that fits right into the wheelhouse of two of the largest selling small displacement bikes made — the KTM 150SX and the TM 144MX.  TM takes the two-stroke race seriously and built MXA a special, very special, TM 144MX.
The 2020 TM 144MX is not a big-bore TM 125MX. The Italian factory builds a true-to-life 144cc engine with new cases, updated parts and a special bore and stroke. You gotta love the old school gold rims.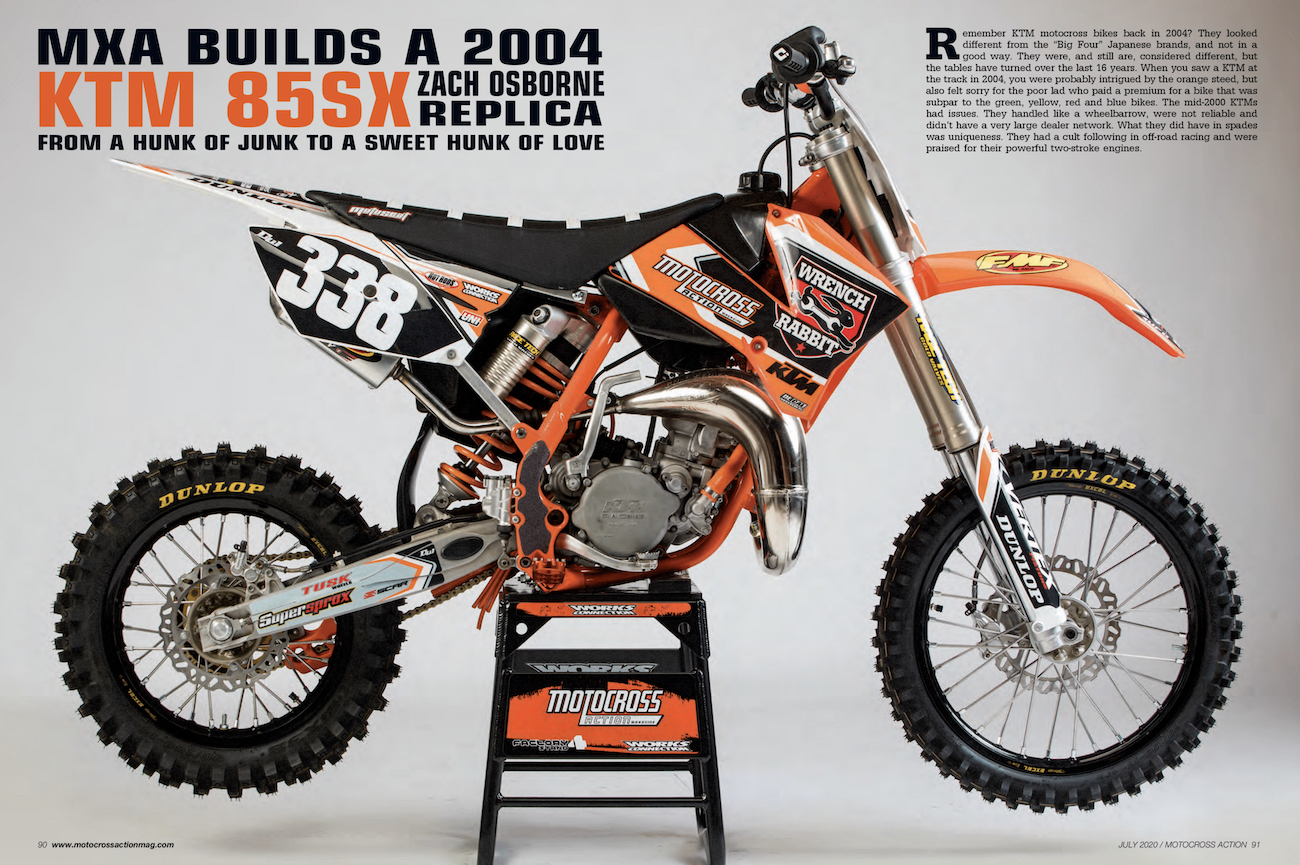 For no reason, other than to see if it could be done, we took a well-used, hunk of junk, 2004 KTM 85SX minicycle and rebuilt it. This was the model that Zach Osborne raced to fame—the glory came later when he won the 250 Supercross and National Championship. When it came time to test the bike, we were shocked by how good a 16-year-old KTM 85SX was.
We even called Zach up to get his opinion on racing the KTM 85SX back in 2004. Guess what? He loved that bike. And now we love it.
The most unusual dirt bike ever made was the Husqvarna Automatic. From its beginning as a military bike for the Swedish Army to its total dominance to the AMA off-road scene for five straight years, to its Grand Prix works bike, to Arlo Englund's National effort on a 390AE to Husky's purchase by Cagiva , the Husky Auto was like no other race bike ever made.
Although designed and soldas an off-road enduro bike, Husqvarna decided that what they needed to push Automatic sales over the top was a FIM 500 Grand Prix team. So, in 1982 they built a Grand Prix works bike for Swedish racer Bo Edberg and flew MXA's Jody Weisel into Sweden to test Edbergs factory 488cc two-stroke.
The works Husky 488 Auto disappeared after the 1982 Grand Prix season, but it proved the capabilities of an automatic transmission in motocross. Oh yeah, it also proved that a bike could have brake pedals on both sides of the engine—if it didn't have a shift lever.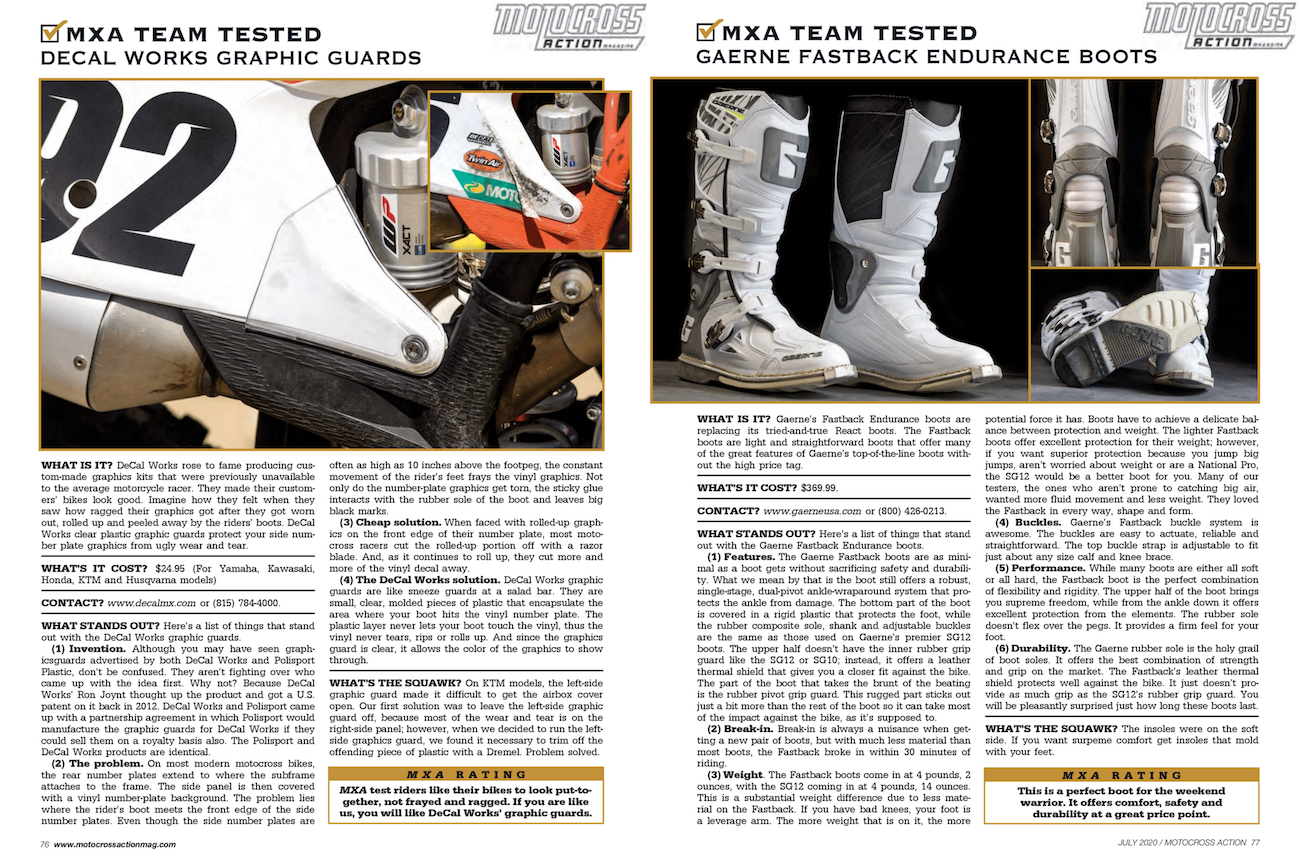 (Left) Not only did we test Decal Works Graphics Guards on our KTM 350SXF, but we can tell you how to stop the left-side guard from making it impossible to open the KTM airbox cover. (Right) The Gaerne Fastback boot is a lighter, more flexible and cheaper version of Gaerne's high-end premium SG10 and SG12 boots. It has all the good stuff from the high-priced boots without the big price tag.
MXA tested Ricky Carmichael's 2007 Motocross des Nations winning Suzuki RM-Z450 on the Budds Creek MXDN track. Since we had tested everyone of Ricky's bikes starting with his  KX85 through his last race bike (theeone he raced at Loretta Lynn in the Vet class), it was a thrill to his MXDN winning bike.
When you Ask the MXperts, you get advice from virtually every person in the motorcycle industry. If you have a question that we can't answer,  we know someone who can. Send your questions to www.hi-torque.com.
Jeff Emig doesn't pull any punches in his MXA interview. He opens up about the trials and tribulations that he went through on the road to stardom. If you think a National Champion's life is all roses, Jeff can tell you that roses have thorns.
Moto in Motion—James Stewart at warp speed  during the 2011 Phoenix Supercross.
HOW TO SUBSCRIBE TO MXA SO THAT YOU NEVER MISS ANOTHER ISSUE& GET A $25 ROCKY MOUNTAIN GIFT CARD TO COVER YOUR COSTS
If you subscribe to MXA you can get the mag on your iPhone, iPad, Kindle or Android by going to the Apple Store, Amazon or Google Play or in a digital version. Even better you can subscribe to Motocross Action and get the awesome print edition delivered to your house by a uniformed employee of the U.S. Government. You can call (800) 767-0345 or Click Here (or on the box at the bottom of this page) to subscribe.