HAVE YOU SEEN THE NEW MXA? A MOTOCROSS MAGAZINE FOR GUYS WHO LOVE BIKES AS MUCH AS WE DO
HAVE YOU SEEN THE NEW MXA? A MOTOCROSS MAGAZINE FOR GUYS WHO LOVE BIKES
The December 2022 issue of MXA is jam-packed full of stuff you need to know—especially about the motocross bikes tested inside, but also because we provide you with a wealth of information that you'll never see anywhere else. We tell you, not just what's new on the 2023 bikes, but how they work, why they made the changes they did and whether or not they are as advertised. MXA is all about motorcycles—if you don't want to know everything about how motorcycles works, we aren't for you.

MXA's Josh Mosiman set out to do a four-race arc at the Pala 1, Hangtown, Washougal and Pala II AMA 450 Nationals. The kicker was that he raced a different MXA test bike at each race—a Honda CRF450 at Pala I, a Kawasaki KX450SR at Hangtown, a Husqvarna FC450 at Washougal and a KTM 450SXF at Pala II. Inside the magazine he takes you along as he and his trusty mechanic Josh Fout live the adventure that every rider wishes they could do–well, maybe not when it is 105-degrees outside.

Josh Mosiman hadn't raced an AMA National since 2018 (when he suffered a serious shoulder injury) and went to work for Motocross Action. With his shoulder healed up and a wealth of machinery to choose from he threw himself into it whole-heartedly. You need to read the stories and watch the videos.
Pala II was a challenge. It was hotter than imaginable on the barren flat floor of  the Indian Reservation track. Plus, to make sure the track didn't get too dusty during the long hot day, they watered it like it was rice paddy for time qualifying (note the Dunlop MX12 scoop tire that Josh used for timed qualifying). But Josh had a plan on how to stay cool and finish each moto with energy to spare. Learn his secrets in the magazine.

Looking for new gear? The price of an MX14? Want to get a Urmosi handlebar mount? How about Fasthouse Air Cooled gear? While you're here, you might as well check out DeCal works hottest selling products.

Eventually someone was going to make an electric Pee-Wee that wasn't designed to be a race bike. Guess who did it? If you think it was Honda, you are wrong! But it looks like a Honda and has Honda logos on it. However, it is a Honda licensed product built by Greenger. Definitely not a race bike, it is half the price of a KTM, GasGas or Husqvarna Pee-Wee. Perfect for the sons of mothers who don't want Junior going too fast.

We love this bike. It is a 450 that is pleasant to ride. It is plenty fast, but it delivers that power in a nonconfrontational manner. Plus, we love the lowered chassis because it makes the Husky the best handling 450 on the track. However lots of Pros don't like it. That should be a Vet endorsement.

Learn the story of how this blue Monark became a green Lito and won a couple of 500 World Championships in the process.

In 2013 Adam Cianciarulo was about to set the motocross world on fire. He had the skill and determination to do it and all the know-how and expertise of Pro Circuit behind him. Adam's race engine had a two-hour lifespan, Mitch Payton handed it to MXA with 40 minutes left on the clock before it was due to be rebuilt.
The 2023 GasGas MC250F didn't get any mechanical updates for 2023. It is a repeat of the 2022 model, but that is not a bad thing because it is a proven package that is much cheaper than its KTM and Husqvarna stablemates.

Hakan Andersson was the first rider to win a World Championship on a single-shock bike. Amazingly enough, he refused to race it in the first two 250 GPs of 1973 because he didn't trust it. But from round three on it carried him to the 1973 250 World Championship.
Since this is the December issue of MXA, we thought it was the perfect time to show you 30 products that the MXA wrecking crew likes, uses and trusts. This Christmas Buyer's Guide is 12 pages long and covers everything from inexpensive life savers to ultra-expensive must-haves (if you can afford them). Below are two more spreads of products—but there are plenty more in the magazine.
If there is something on a page that you'd like to get as a Christmas present, you can casually leave the magazine opened to that page on the coffee table. If no one gets the hint, circle what you want in red marker. If your family still doesn't catch on, buy it for yourself.
We love Cylinder Works KTM/Husky/GasGas 366 kit, O'Neal Prodigy gear, Gaerne SG-12 boots and UFO's GasGas vented airbox cover.
As an added bonus, we asked the MXA wrecking crew to tell us their favorite aftermarket products. You might think they would pick some exotic and horribly expensive parts or hop-ups as their personal favorites, but Jody, Josh, Dennis, Daryl, Brian, Dan and Randel were amazingly practical with their choices.

HOW TO SUBSCRIBE TO MXA SO THAT YOU NEVER MISS ANOTHER ISSUE, PLUS GET A $25 ROCKY MOUNTAIN GIFT CARD TO COVER YOUR COSTS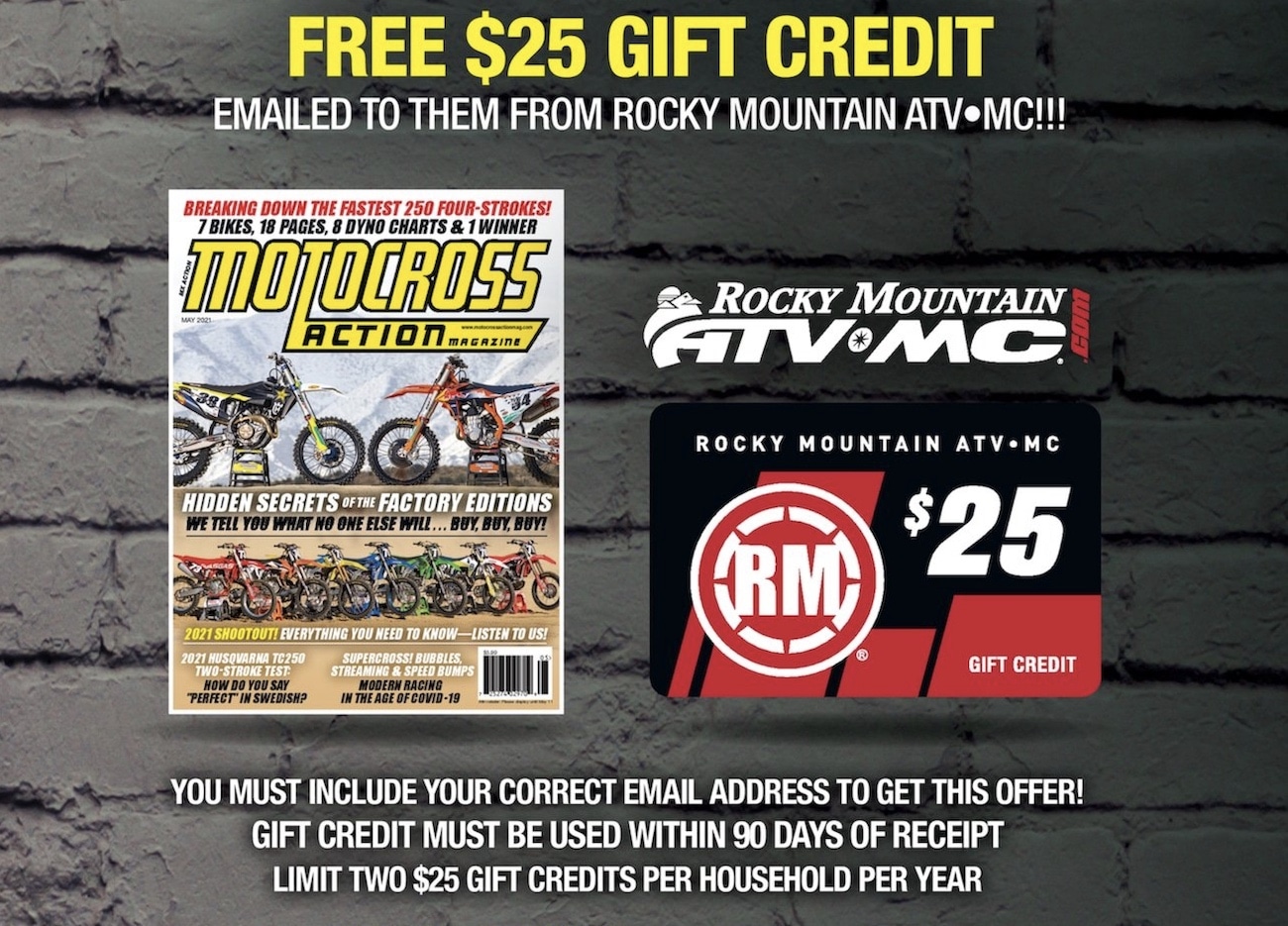 If you subscribe to MXA you can get the mag on your iPhone, iPad, Kindle or Android by going to the Apple Store, Amazon or Google Play or in a digital version. Even better you can subscribe to Motocross Action and get the awesome print edition delivered to your house by a uniformed employee of the U.S. Government.
Did we mention the $25 gift card for any part you want from Rocky Mountain ATV/MX? They will email you a $25 credit to order anything you want (be sure to include your email address and check your emails to receive your $25). In short, subscribing to MXA for one full year, won't cost you anything! You can call (800) 767-0345 or Click Here.