HAVE YOU SEEN THE NEW MXA? A MOTOCROSS MAGAZINE FOR GUYS WHO LOVE BIKES
HAVE YOU SEEN THE NEW MXA? A MOTOCROSS MAGAZINE FOR GUYS WHO LOVE BIKES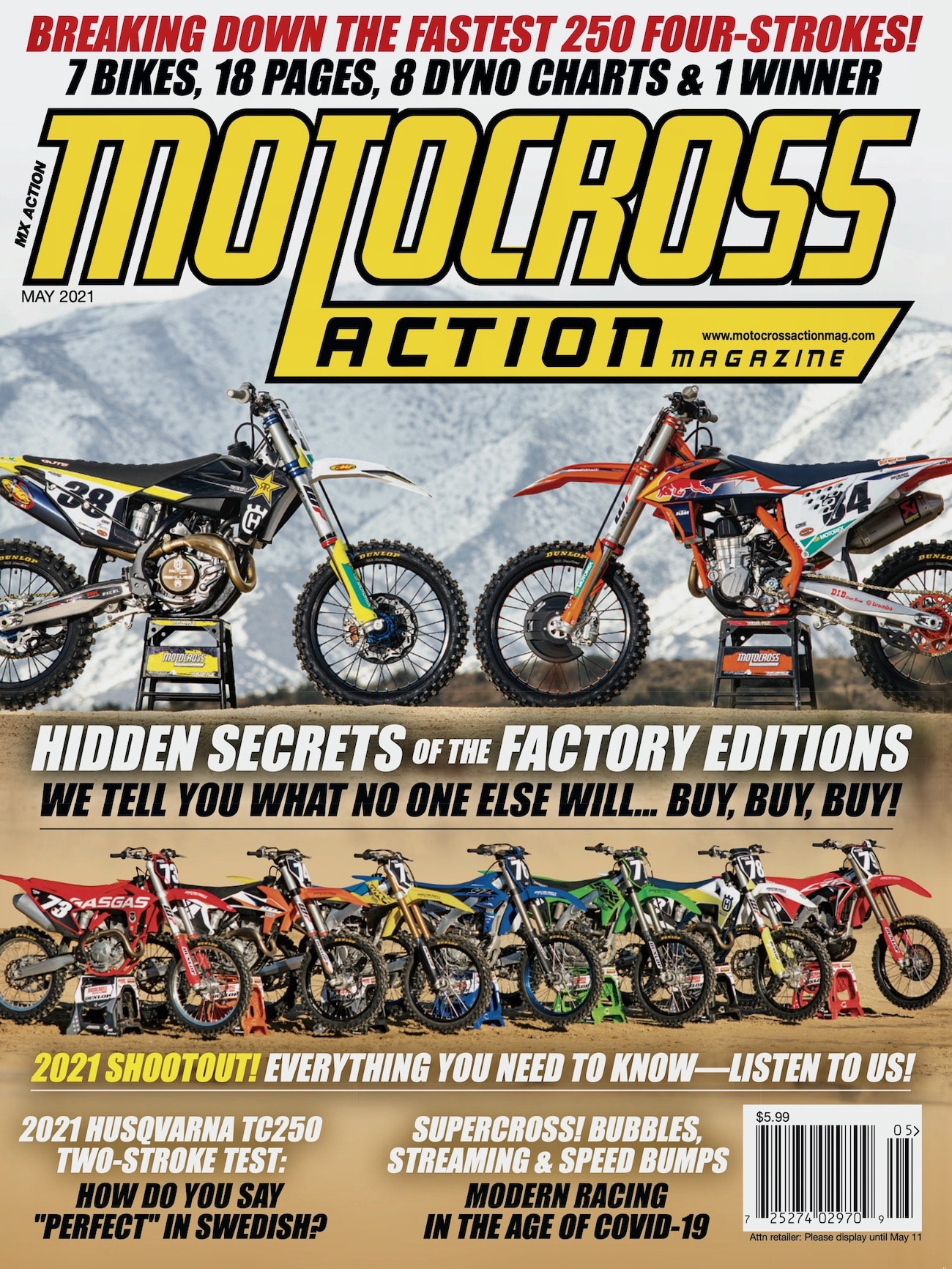 What's in the newest issue of MXA? There is an 18-page 250 four-stroke two-stroke  with the top seven 2021 250s, plus there accurate weights, prices and dyno charts. We also test the 2021 TM 250X cross-country two-stroke, 2021 Husqvarna TC250 two-stroke and do a complete comparison between the 2021-1/2 KTM 450SXF Factory Edition and the 2021-1/2 Husqvarna FC450 Rockstar Edition. And those are just the bike tests! We also have an in depth interview with Joel Smets, who helped usher in the four-stroke era, by winning the 500 World Championship on a Husaberg three years before Yamaha released the YZ400 four-stroke. And, much more!
If you want to make people upset, all you have to do is not choose their bike as the winner of your 250 shootout. This is especially true to the perennial last place Suzuki RM-Z250 owners. We spent months racing these seven bikes in order to insure that we made almost everyone angry. The truth hurts.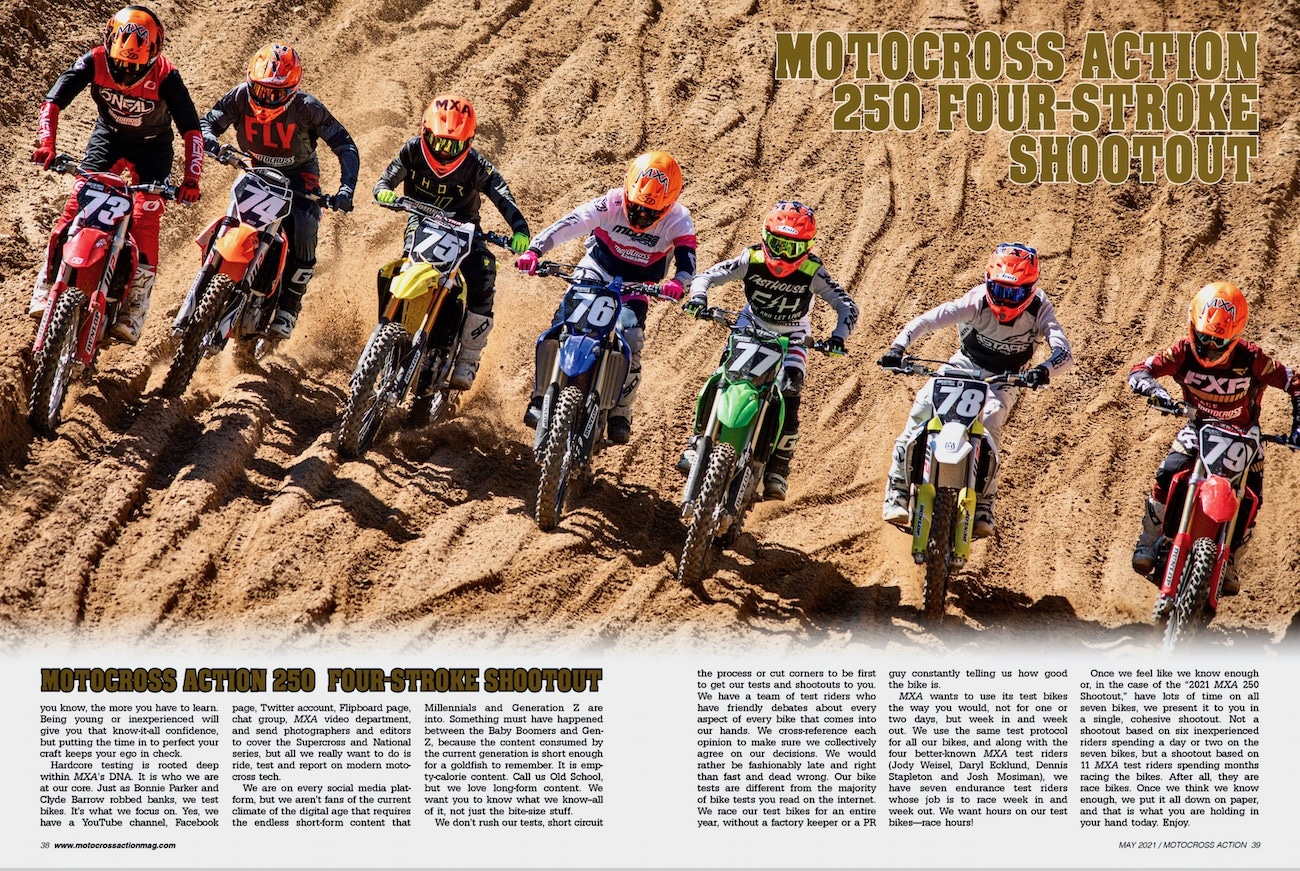 These are the seven 2021 250cc motocross bikes in action. There are complete tests on every bike that MXA rides in the "Bike Test" section of our website  if you want to learn more about the winners, losers and also-rans.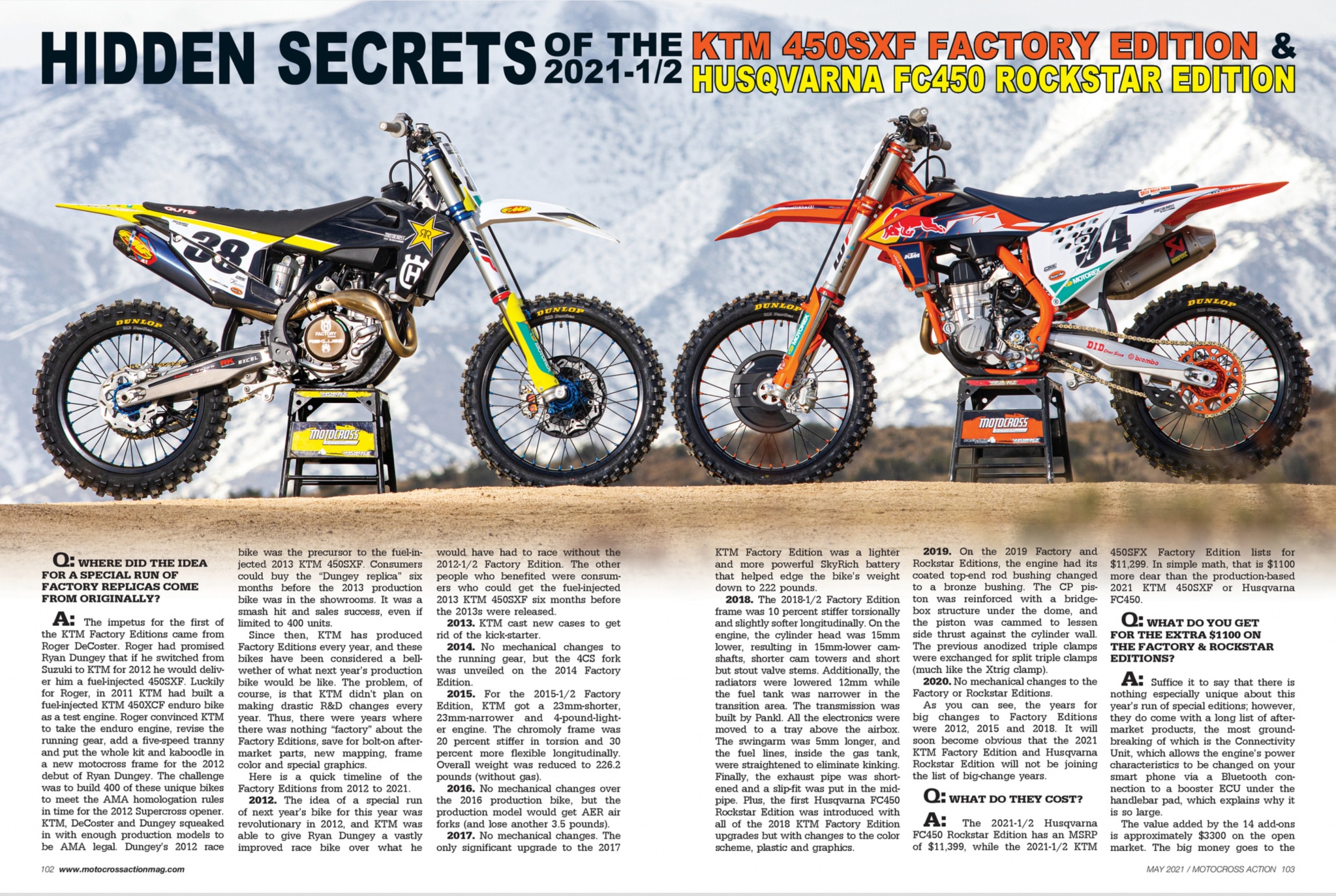 The racers who buy Works Editions, Factory Editions or Rockstar Editions don't really care if they are worth the money, however, in this test, we tell you the three model years when the Factory Edition was actually a good buy.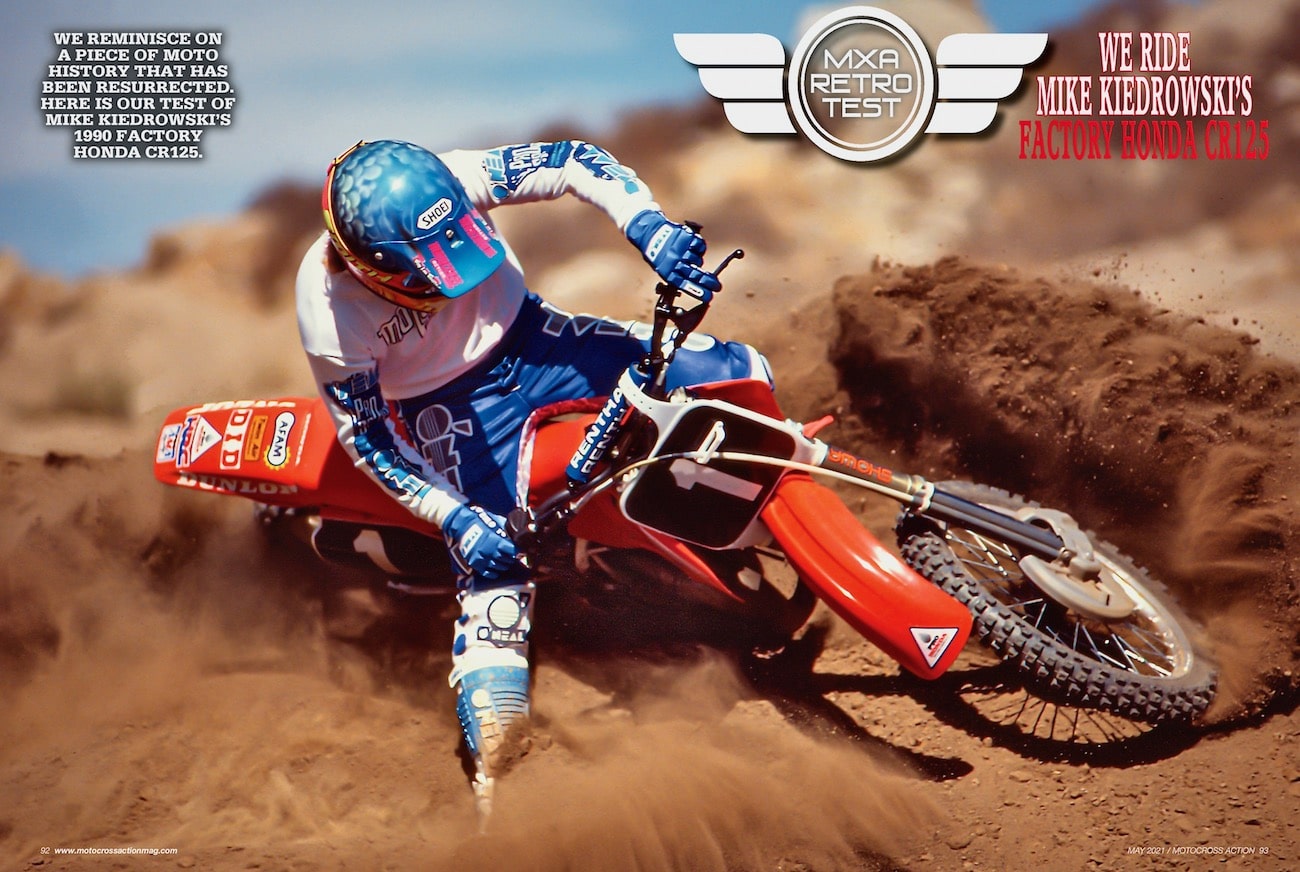 We asked Roger DeCoster, who was Honda's motocross boss at the time, if he would let us rider Mike Kiedrowski's 1990 works Honda CR125 two-stroke. Even we were surprised when he said yes. Take this opportunity, to see what it was like to ride a Honda factory CR125 during the glory days of the two-stroke.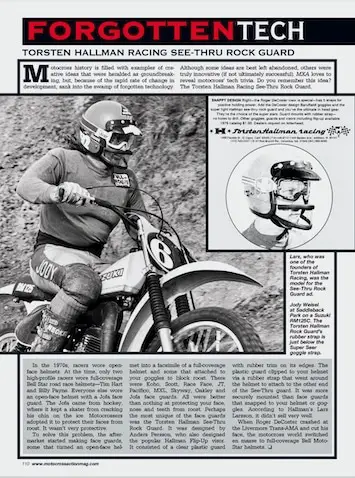 Learn every thing you need to know about the KTM Connectivity Unit and the long forgotten Hallman See-Thru Rock Guard.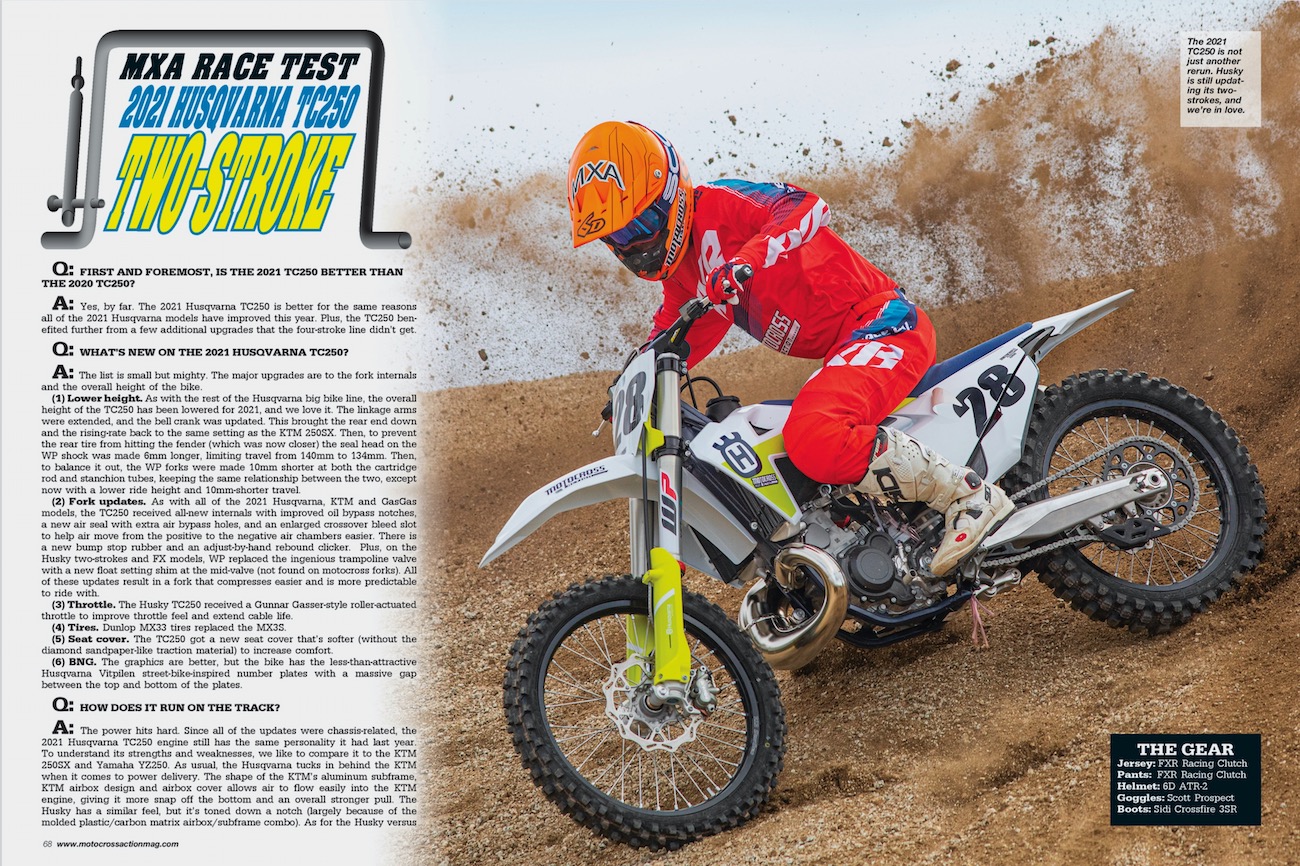 Husqvarna's decision to lower the overall height of their 2021 four-strokes and two-strokes was a win-win for Husky buyers. The 2021 Husqvarna TC250 is an awesome bike. You have to ride a lowered bike to feel the difference.

If no one knows the answer to your pressing questions, Ask the MXperts. Why? Because if we don't know the answer we will call the man who designed it at the factory to get the full skinny.

Joel Smets is a four-time FIM 500cc World Champion (and he has an FIM MX3 650cc World Championship also). You are gonna like Joel after reading his life story.

Twisted Development's Jamie Ellis tells you all about data logging, while we tell you "Ten Things" about boot design philosophy.

The 1961 Jawa Type 554 ISDT, which we incorrectly called the Type 553, was based on the Type 353 model that was built in Czechoslovakia, China and India. It was a twin-pipe, 248.5cc, single cylinder,  two-stroke fed by an Jikov carb hidden behind the cylinder.


Don't just dress for the ride, dress to look like a mean machine. Plus, in "Team Tested" we recapped our tests on  Fly, Pro Circuit and Works Connection products.

The 2021 TM 250X two-stroke is their cross-country version of their 250MX motocross bike. You can even special order it from the TM factory with a wide variety of  option, which is where the MXA wrecking crew made its biggest mistake.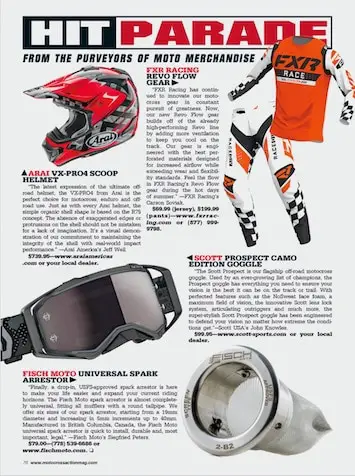 You gotta love Ricky Johnson on the May 1991 cover, and the FXR, Arai, Fisch and Scott products in MXA's "Hit Parade."
How soon we forget! MXA didn't want to run our 2021 MXA 250 Shootout in this issue without showing you exactly where the same seven bikes finished in the 2021 450 Shootout.

If Ken Roczen (94) gets the jump off the gate, he is only gonna be caught by a super human effort.


The Slater Skin High-Flow YZ-F airbox cover improves throttle response, while Derek Keyes, Jason Gerald and Brian Medeiros are living life and lovin' it.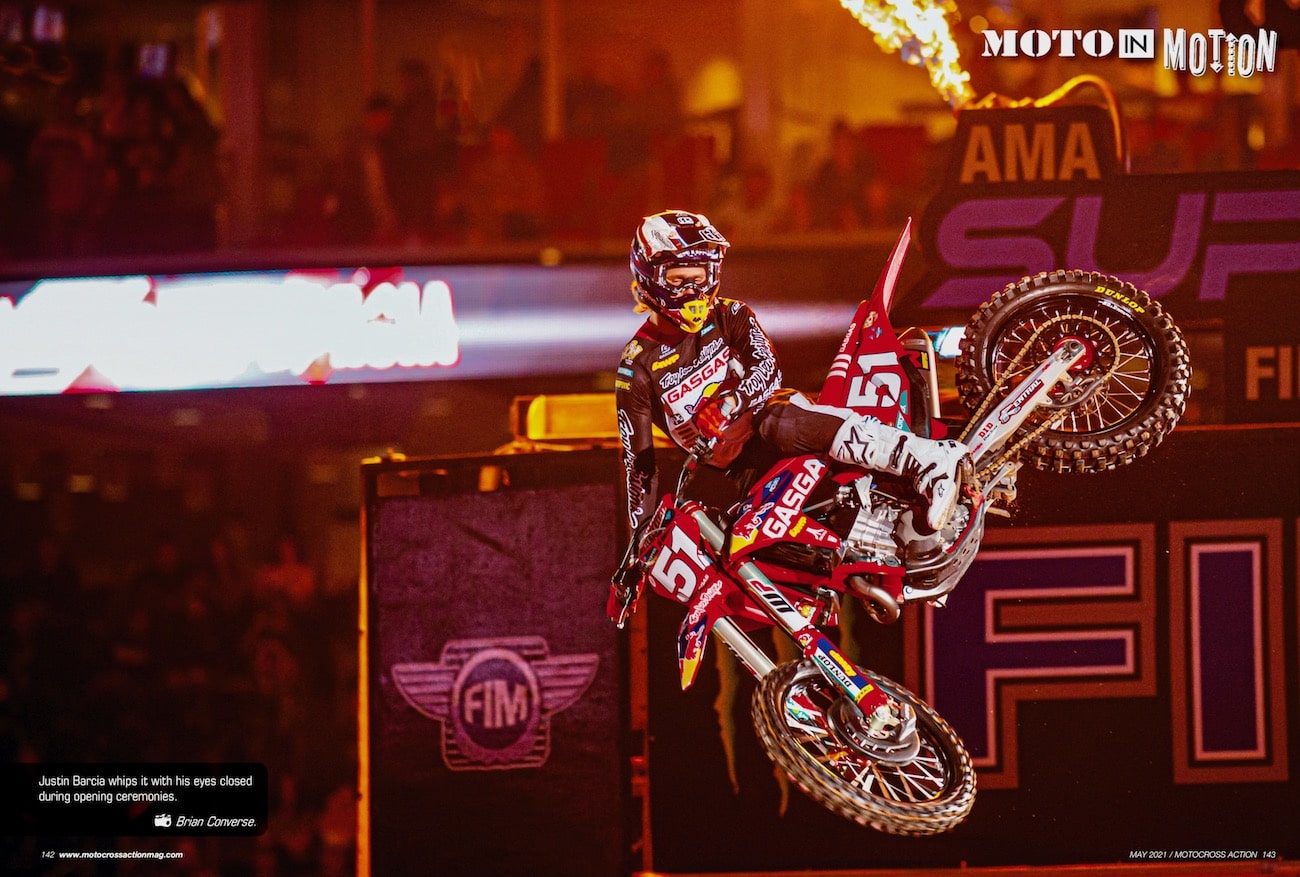 You may think that you are good, but could you do a big whip at the finish line of an AMA Supercoss with your eyes closed? Justin Barcia can.
In less than two weeks, Colt Nichols (64) and Christian Craig (29) will settle the AMA 250 East Supercross Championship in Salt Lake City.


HOW TO SUBSCRIBE TO MXA SO THAT YOU NEVER MISS ANOTHER ISSUE, PLUS GET A $25 ROCKY MOUNTAIN GIFT CARD TO COVER YOUR COSTS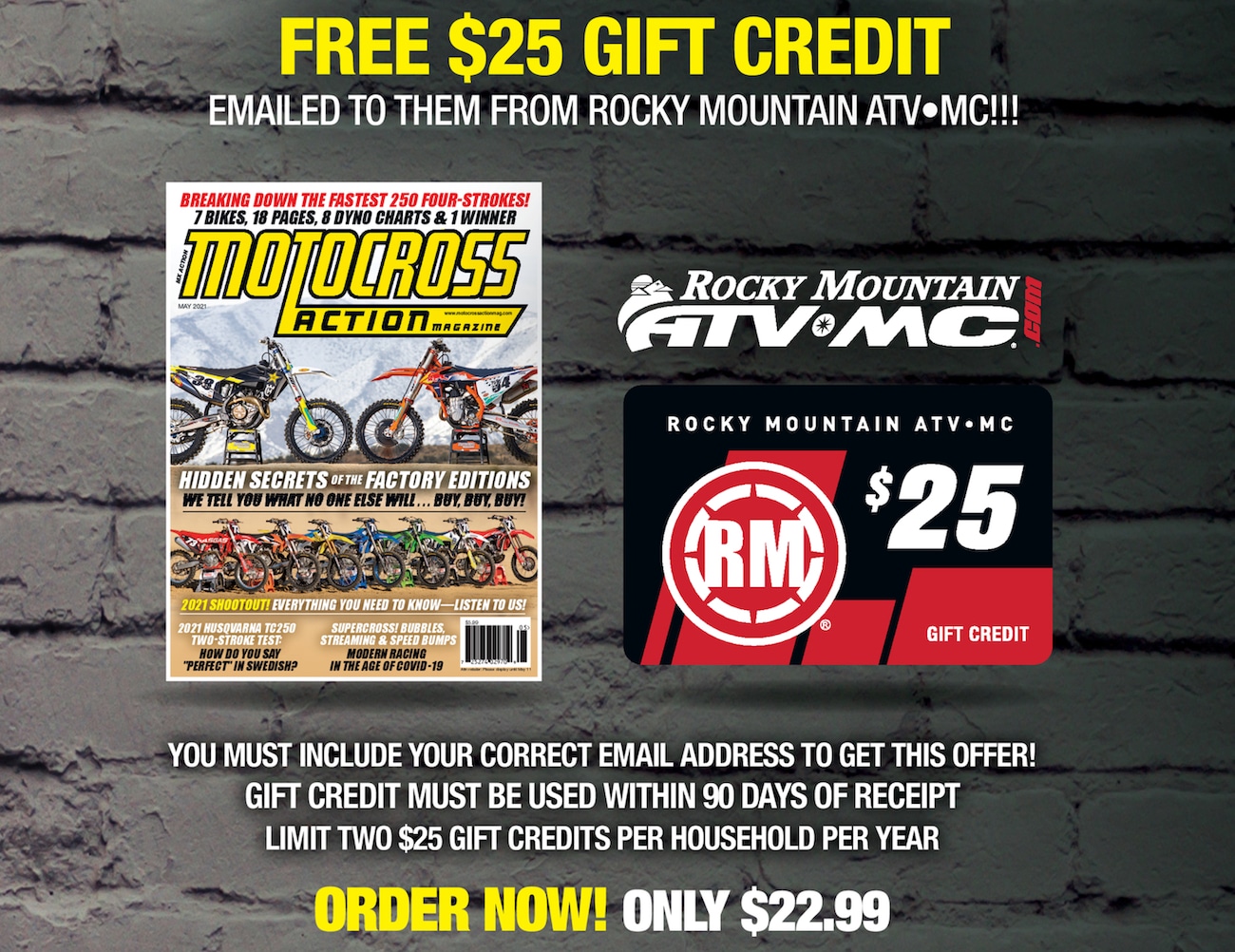 If you subscribe to MXA you can get the mag on your iPhone, iPad, Kindle or Android by going to the Apple Store, Amazon or Google Play or in a digital version. Even better you can subscribe to Motocross Action and get the awesome print edition delivered to your house by a uniformed employee of the U.S. Government. Did we mention the $25 gift card for any part you want from Rocky Mountain ATV/MX? They wil email you a $25 credit to order anything you want (be sure to include your email address and check your emails to receive your $25). You can call (800) 767-0345 or Click Here (or on the box at the bottom of this page) to subscribe.