HAVE YOU SEEN THE NEW MXA? AUGUST OUT NOW!
Click on images to enlarge
It's time for the 2018 bikes to start hitting the showrooms. Before you go in to look at them, learn as much as you can about what's new and what's not.
When Mutch Payton gave us the engine that Dean Wilson used at the start of the 2017 Supercross — the engine that got him a Husqvarna factory ride in four races — we decided to build a Dean Wilson Replica YZ450F. Take a journey with us as we track down all the parts, including works Kayaba Suspension, to build a true-to-life replica that anyone can build (with enough money).
If ther eis a drought somewher ein the world, it can be alleviated by holding a round of the World Championships there. Julien Lieber demonstrates his rain making skills.
|
(left) Meet three people who make a difference in the motocross world. (right) Remember the "Maytag?" Oops! We mean Yamaha WR500.
The MXA wrecking crew irons out the wrinkles in the 2017 Yamaha YZ450F. We give you 14 pages worth of tech tips, pratical advice, proven solutions and multiple maps to make your YZ450F perfect for you.
You may be the macho four-stroke pilot at your local track on your CRF450, YZ450F, KTM 450SXF, KX450F or RM-Z450, but how would you do on the 1976 Yamaha TT500? This was the best Yamaha four-stroke made at the time…it was also the only Yamaha four-stroke motocross bikes made at the time. It may look crude, but riders won on these beasts.

(left) Remember when KT<'s came with wrap-around fork fuards. They still can. (right) Factory Connection converts our WP AER forks to coil springs.
Do you know why your bike does the things it does? It's all physics and it would serve you well to understand the physics involved. In this chapter we explain the panic rev.
Jamie Ellis from Twisted Developmet is the master of black box magic. His Husvarna FC450 engine makes 65 horsepower on the start, but two laps late rit mellow out into an easier to ride lap-time engine. How does he do it? Electronic wizardry.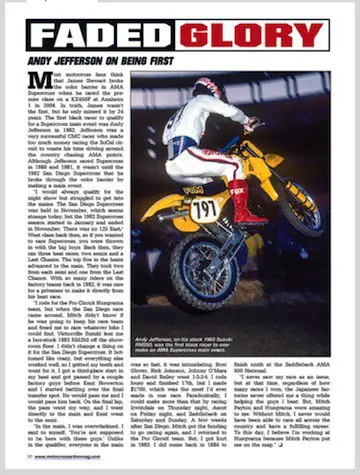 (left) Andy Jefferson made Supercross history at San Diego Stadium in 1982. What for? (right) Axerbis may not be the first thing you think of when it comes to motocross boots, but maybe it should be.
The MXperts don't know everything, but they know a guy who knows a guy who can fill in the blanks.

(left) Someone bid $25,000 for this Steve McQueen owned 1974-1/2 Yamaha YZ250B. That didn't ome close to meeting the reserve price. (right) Bones tell syou the harsh reality of sending your suspension out.
Ryan Hughes has been a great motorcycle racer, but he never got the breaks…or worse, he got bad breaks when he was at his greatest. Let him tell you his story. You'll be surprised.
Do you subscribe to MXA? You should. We know that you think that print magazines are dead and that the internet will fill the void, but most of the stuff in the current issue of MXA won't appear on the web for several months, if at all. Luckily, you can get all of MXA on your iPhone, iPad, Kindle or Android by going to the Apple Store, Amazon or Google Play. Better yet get the Digital desktop version at https://hi-torque.com/product/motocross-action-digital-edition/ for $9.99 a year.
The MXA test riders prefer the print version and not just because it is delivered by a uniformed employee of the U.S. Government, but because right now you can get 12 issues for $19.99 and a free $25 Gift Card from Rocky Mountain ATV/MC. That means that there is a profit to be made in this deal for you. For the Print magazine go to: https://hi-torque.com/product/motocross-action/