HAVE YOU SEEN THE NEW MXA? BIG BUCKS BBR CRF190, WE RIDE PHIL NICOLETTI'S YZ450F, MAKE YOUR KTM 250SX TWO-STROKE BETTER, TROY LEE GEMS & MUCH MORE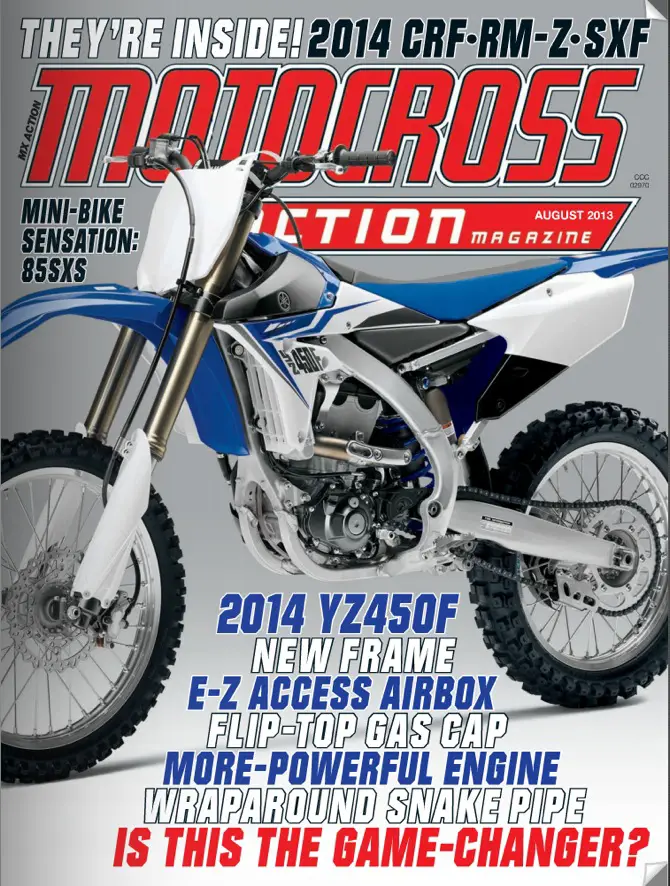 On the showroom floors now, the 2014 Yamaha YZ450F graces the August 2013 cover of MXA.

If you designed and built your own frame, spec'ed the best suspension you could imagine and had a special 190cc engine built ? you could be a Brown Brother.

The 1975 CR125 red striper and the men who live your dream.

A close-up look at the 2014 CRF250 and CRF450. What's new, what's not, what's hot and what's coming in 2014.

We test the FMF Factory 4.1 KTM 450SXF exhaust and the Millennium KTM 270SXF big-bore kit.

Phil Nicoletti has been tearing the AMA 450 Nationals up on his N-Fab/TiLube YZ450F ? we just had to test it.

We give you 20 tips on making the most of your 2013 KTM 250SX two-stroke.

Almost forgotten in the buzz about the 2014 Yamaha YZ250F and YZ450F are the 2014 Suzuki RM-Z250 and RM-Z450.

We love John Slater's creativity, but we didn't like his Slater EZ sprocket. Plus, we give you ten important tips about cornering.

It took a lot of pages to run giant photos of all the 2014 KTM motocross bikes ?no sweat, we gave it to them.

You may not know the difference between a KTM 85SX and an 85SXS, but that's because you aren't 13 years old.

We sat down with Troy Lee to have him tell us about his 16 most popular helmet paint designs for everyone from Magoo to McGrath to Henry or Chicken to Glover.

Everybody wants to know how much money the other guy makes ?this story fulfills that desire with the top ten Supercross riders.

Four pages of up-close-and-personal photos of the 2014 Yamaha YZ450F?with all the technical details.