HAVE YOU SEEN THE NEW MXA? IF NOT YOU ARE MISSING OUT ON THE BEST BIKE MAG IN THE WORLD
Notice anything totally different about the cover of the February 2020 issue of MXA? Every bike on the cover is a two-stroke. Including two 500cc two-stroke built by the smartest big-bore builders in the sport, the all-new fuel-injected Husaqvaran FX300 and a unique look at the 2020 Yamaha YZ250. If that's not enough, we have the first look at the complete line to Italian-built TM two-strokes (and four-strokes). Who said that two-strokes were dead?

What if you could get the two top 500cc builders to build you the best CR500 and KX500 powered machine on the eartrh? MXA did just that. We had a blast, as in a blast of power, hammering the two Open class smokers in a one-of-a-kind comparison test titled "Dr. Jekyll & Mr. Hyde Shootout."

You may be too young to remember Zundapp. You may wonder why they would name their 1972 MC125 the Detonator. You may be surprised to know that Zundapp won the FIM 125 World Championship for two years before the classt was recognized as a World Championship. You will find out this and more in February's "Classic Iron" story.

Husqvarna isn't let the grass grow between their feet. They are moving quickly to make fuel-injected two-strokes a reality. In fact for 2020, Husky only makes two full-size two-strokes with carburetors. The 2020 Husqvarna TX300 is all-new—and that means the frame, suspension and layout have been updated. Of course the EFI engine has been improved also.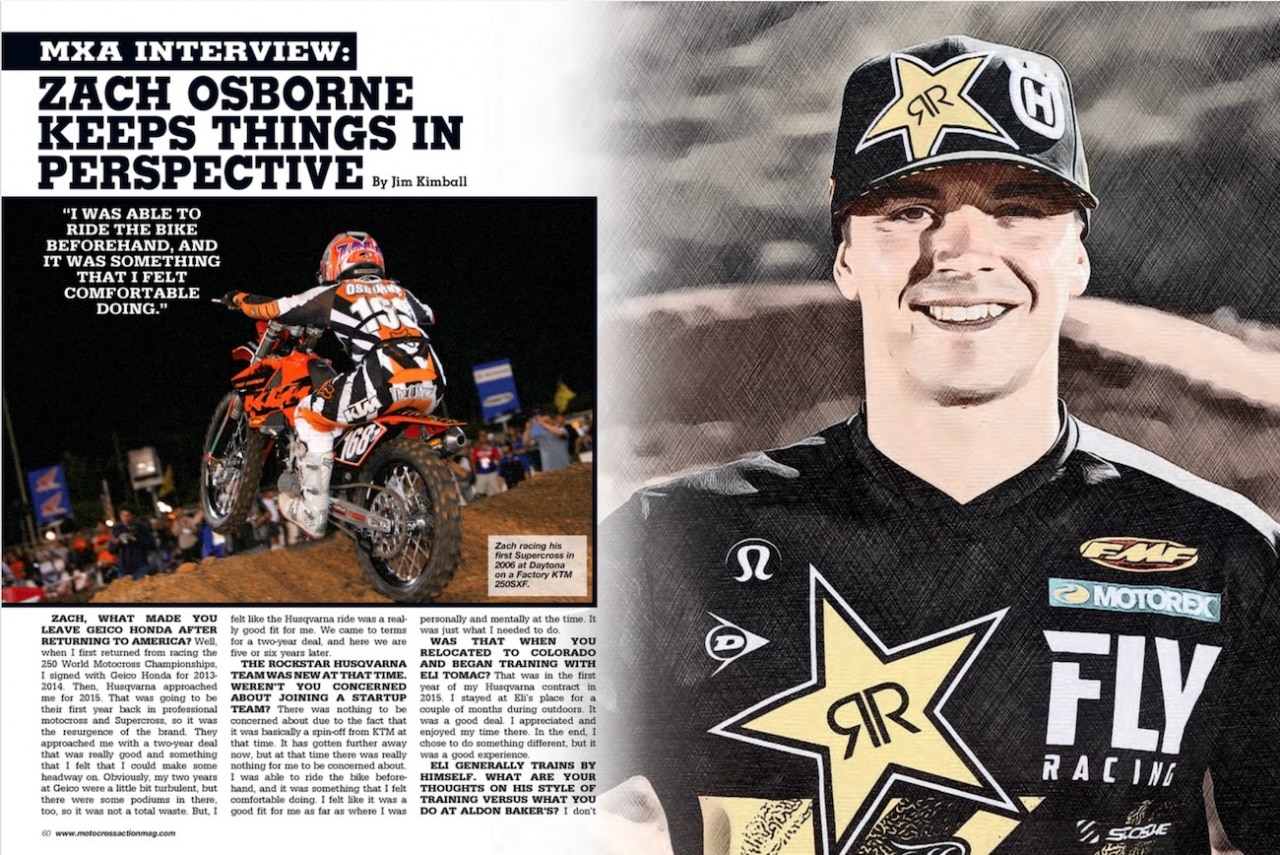 To lots of Supercross and motocross fans Zach Osborne is one of the new generation of  factory stars. Not true. Zach raced his first AMA Supercross in 2006 — 14 years ago. His rise to the top has had lots of dips and valleys, but the 30-year-old has no regrets about the long road to the top.

A lot of people question why MXA tests the latest YZ250 two-stroke, every year, when it has barely changed over the last 14 years. We test it because the motocross world doesn't revolve around people who aren't interested in the YZ250, but instead is thrives on people who are interest in all the options that the motorcycle manufacturers offer. We assigned MXA's Josh Mosiman to test the 2020 Yamaha YZ250, in largeg part because he was only 10 years old when the current YZ250 two-stroke was designed. We wanted the opinion of an AMA National rider who never threw a leg over a YZ250. You'll be excited to read his opinion.

What you don't know is a really good thing when it comes to politics, corporate greed, the food you eat and who designed the "Orange Crush" freeway intersection. However, when it comes to your bike, what you don't know can really hurt you. That's why the MXperts are here to put you on the straight and narrow path to understanding what's going on underneath you at speed.

If you are over the age of 30 and want to prove that you are the "Grand Poobah" of  motocross, you need to be at Glen Helen Raceway for the "Dubya World Vet Championship" weekend. It is the FIM World Championship, AMA Supercross crown and AMA National Outdoor Championship all rolled into one for for the riders from 30 to 80 years old .

You haven't lived all that motocross has to offer until you hit Glen Helen's Talladega first turn at 70 mph next to riders from 25 different nations. The best thing about Talladega is that you have a 3-minute lap time to think about what line you're are going to take the next time you come around.

The World Vet is the feel-good race of the year. It's a chance to meet old friends, and we mean old, and ride every day for four straight days. Or, if you are like former Grand Prix star Kurt Nicoll, save yourself for when it counts. With classes in 5 year age intervals, and skill levels from Novice to Pro, a 45-year-old racer doesn't have to worry about some young whippersnapper taking him out in the hairpin (another 45-year-old will do it instead).

At this year's World Vet Championship each country in attendance had the opportunity to choose three-man teams, made up of a 30-year-old, 40-year-old and 50-year-old, to represent their country in the World Vet Cup of Nations. Each rider wore a color-coded bib that signified their country and their age (and stated in waves by their age groups). It incredibly close racing.

Before you buy motocross gear, parts or hardware check to see what the MXA wrecking crew thought of it.

In this months retro-test we flash back to when we test the 2007 Factory Kawasaki KX450F—the four-speed KX450F that he raced bike, not only  in the AMA Nationals but won the 2007 Motocross des Nations on with teammates Ricky Carmichael and Ryan Villopoto.

Back in 2009 Chad Reed was racing for Suzuki and Josh Grant was on a JGR Yamaha. My how time flies.

Have you ever wondered how to get a job in the high-profile world of motocross? We wish we could tel you the tried-andtrue way to get tot he top, but instead asked these three men how they did it. One made it from Wales, one from the California desert and one after 7 years in the  Army.

(Left ) The 1968 Husqvarna KAF256A was built for speed. It was built for stealth, snow and the Swedish Army. (Right) Everything you need to know about your 2020 Kawasaki KX450 in one easy to read page.
SUBSCRIBE NOW FOR A CHANCE TO WIN AN ISAW 1080P HD CAMERA

And, even if you don't win the camera, you will still receive a $25 gift card from Rocky Mountain ATV/MC. All this for only $19.99 for 12 jam-packed issues. You can subscribe  by calling (800) 767-0345 or CLICK HERE or click on the box at the bottom of the page.
MXA ISSUES YOU MAY HAVE MISSED

If you subscribe to MXA you can get the mag on your iPhone, iPad, Kindle or Android by going to the Apple Store, Amazon or Google Play or in a digital version. And the awesome print edition will be delivered to your house by a uniformed employee of the U.S. Government. All for only $19.99 for 12 jam-packed issues. You can call (800) 767-0345 or CLICK HERE or click on the box below.