THE NEW MXA IS JAM-PACKED WITH 2016 BIKE TESTS & MORE

Click on images to enlarge
If you had subscribed to MXA, the October 2015 issue would be winging its way to your mailbox right now. It's chock full of good stuff.  Plus, subscribers get a $25 Rocky Mountain gift card that pays for their subscription and then some.

Do you subscribe to MXA? You should. We know that you think that print magazines are dead and that the internet will fill the void, but most of the stuff in the current issue of MXA won't appear on the web for several months, if at all. Luckily, you can get all of MXA on your iPhone, iPad, Kindle or Android by going to the Apple Store, Amazon or Google play, but better yet get the Digital desktop version at https://hi-torque.com/product/motocross-action-digital-edition/ or click on the link below to get the print version delivered to your door for only $19.99 (plus you get a free $25 Gift Card from Rocky Mountain ATV/MC just for subscribing). There is a profit to be made in this deal for you. For the Print magazine go to: http://hi-torque.com/product/subscribe-to-motocross-action-magazine/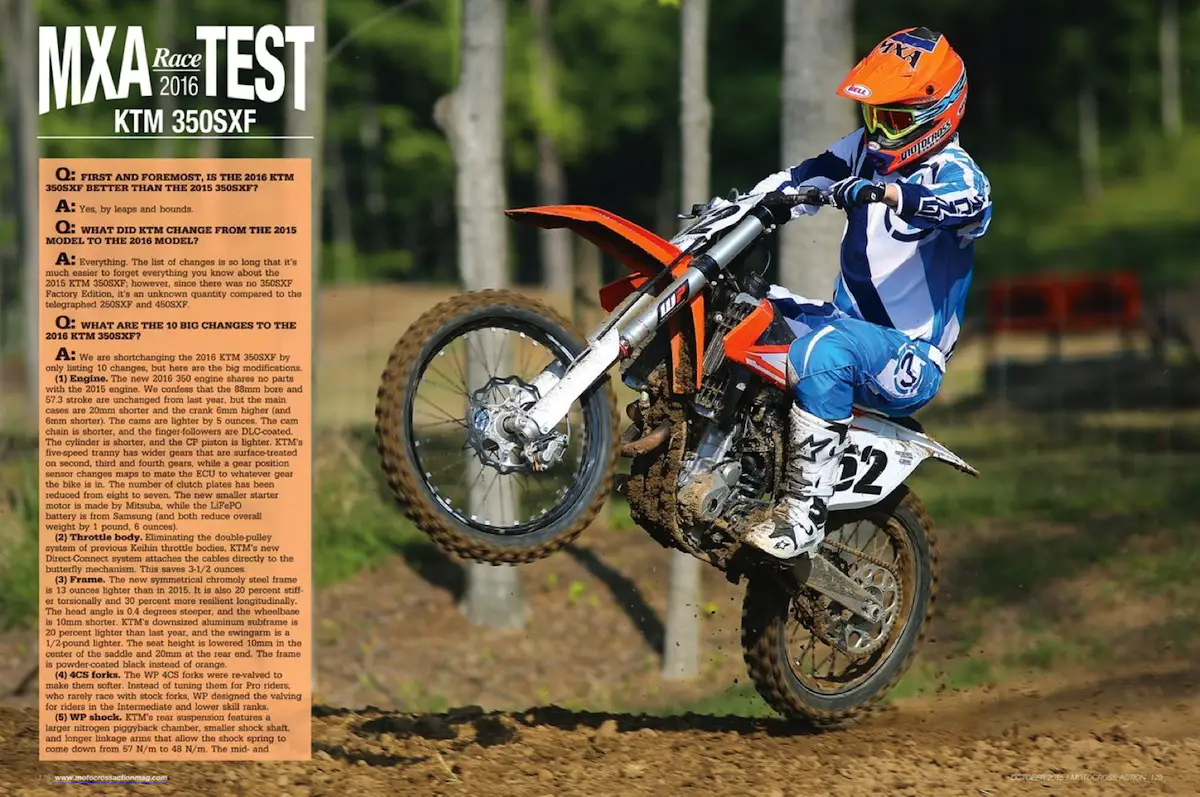 It has taken six years of development, but the KTM 350SXF has become the cause celeb in motocross. More and more Vet riders are looking at the new and improved 350 as the mid-size Open bike they haven't had since the 1998 Yamaha YZ400. But, is it a mid-size Open bike or an upsized 250? Find out in this test.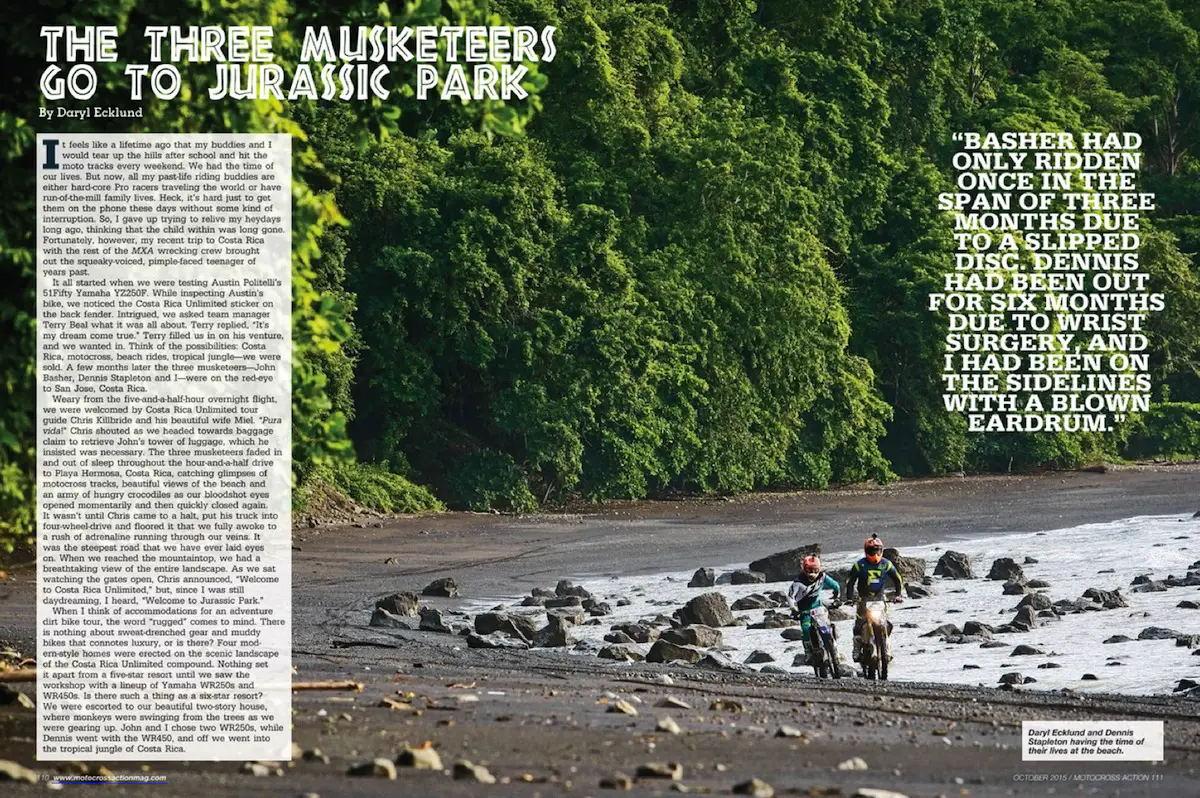 The MXA gang not only spent the month testing in Indiana, Maryland and SoCal, but took time off to go riding in Costa Rica. It was a little vacation from racing, but not from amazing riding.
The 2016 KTM 450SXF already makes the most horsepower of any bike in the 450 class, but what if you could bolt on a pipe and turn it into a 61-horsepower machine—one that was still easy to ride. Pro Circuit's new T6 exhaust romps.
More and more race teams are building two-strokes for their young riders to race. The Cycle Trader team commissioned this Yamaha YZ250 for up-and-comer Timmy Badour to race at the Glen Helen National two-stroke race. It gave Timmy a chance to race on a full-blown AMA track and a full blown two-stroke at the same time.
Did you know that Maico made a 125? Did you know it used a rotary valve engine? Did you know that the Maico MC125 engine was really Maico's 125cc road race engine? This is you chance to answer yes to all of these questions.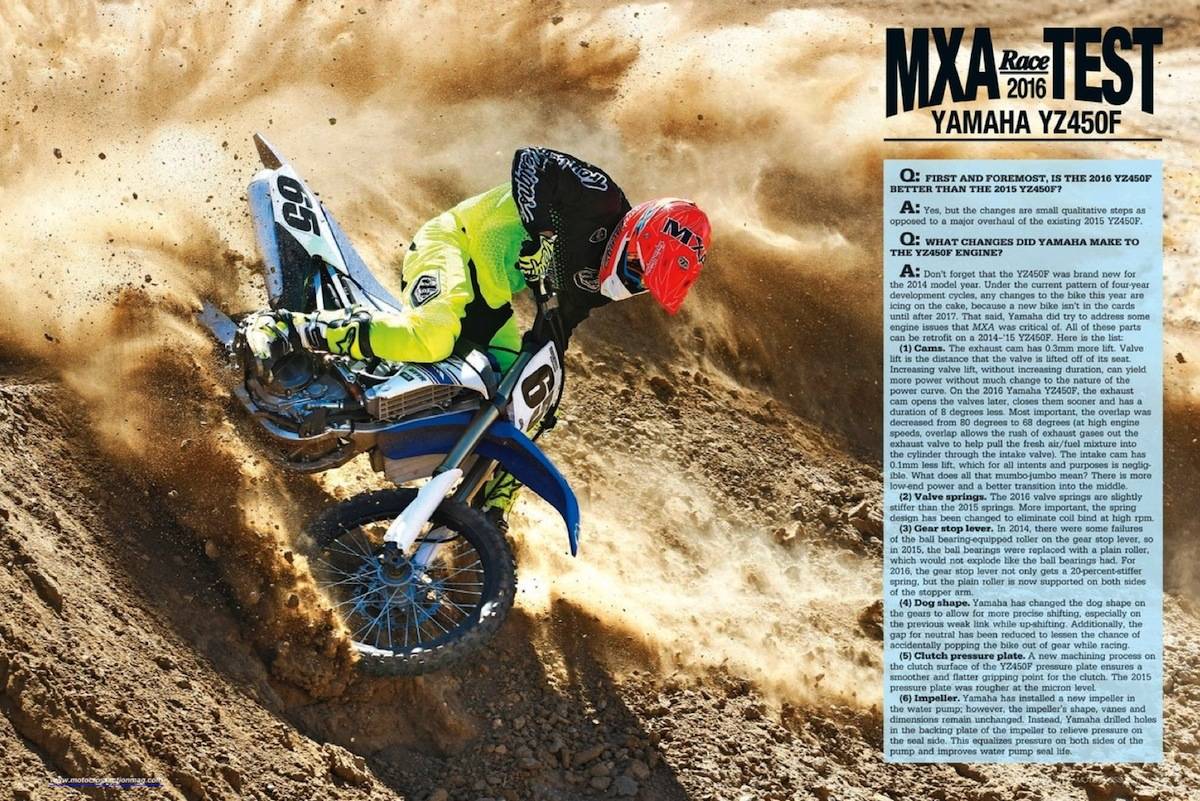 Yamaha changed the cams, moved the footpegs, lowered the rear spring rate, put the old offset back on the triple clamps, beefed up the frame at the swingarm pivot, developed a creative new take on launch control and added a 270mm front brake, but did they improve the 2016 YZ450F? You'll want to read the complete test to find out.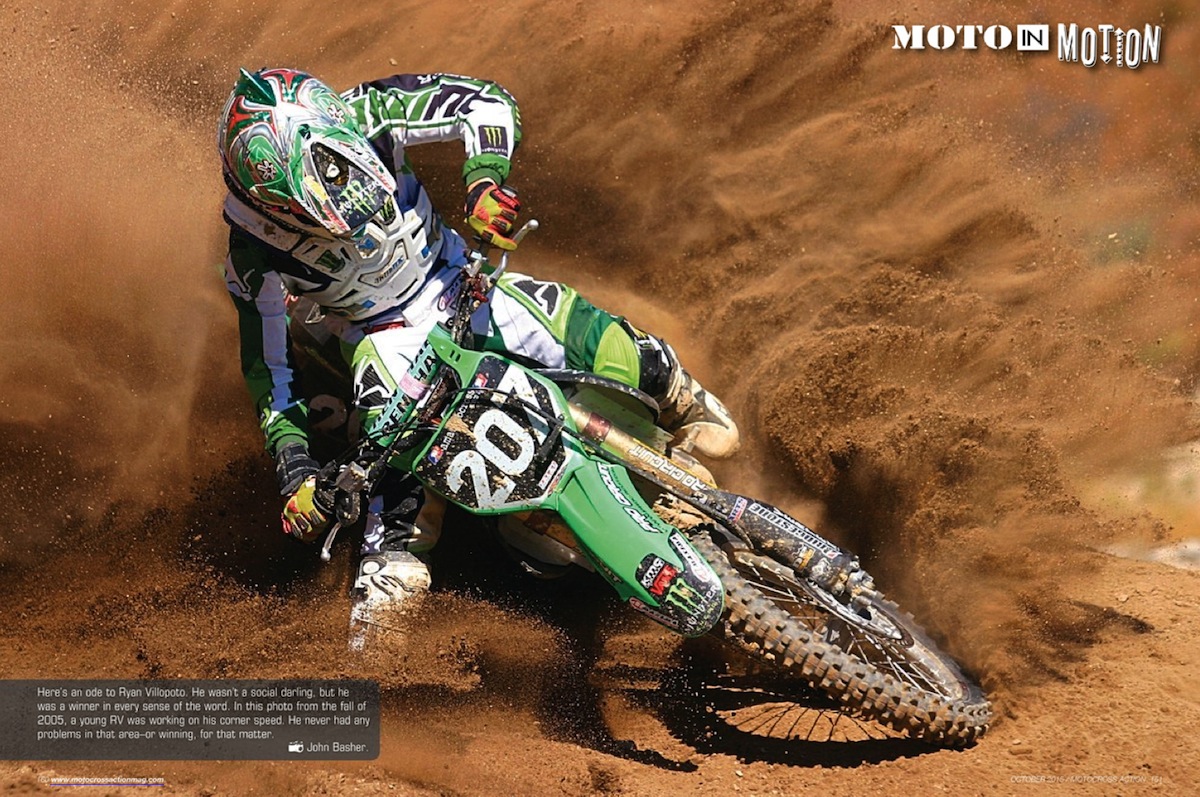 John Basher penned a farewell to Ryan Villopoto in this issue and included this classic shot of Ryan busting a Glen Helen berm ten years ago.
Nothing changes faster in motocross than product design and this month's Hit Parade focuses on Next's $299.95 seat foam, O'Neal's new generation Hardwear gear, Faast's suspended Impact footpegs and Pro Taper's $149.95 Strider.
This is a love letter to Giuseppe Luongo, but you'll want to read it also (before there are no factory stars left in MXGP). It's not mean, it just details changes that need to be made to help improve Grand Prix motocross. Yeah, you're right, Giuseppe isn't going to like it.
It's rare that you find a factory mechanic telling you to cut back on working on your bike. You'll find Bones Bacon's logic to be inescapable.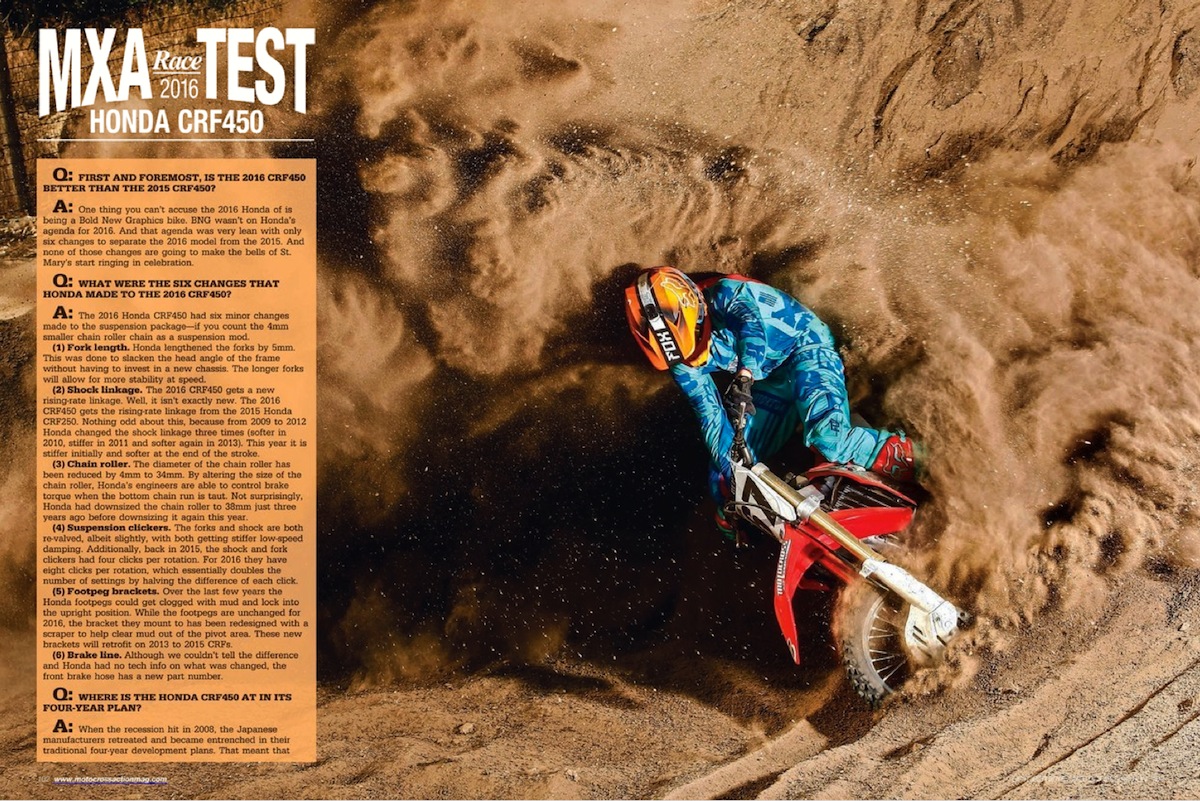 Want to know the truth about the 2016 Honda CRF450. No sugar coating. No ambiguous dancing around the hard questions. This is the test you've been waiting for. Detailed and in depth.