HAVE YOU SEEN THE NEW MXA? JAM-PACKED FULL OF 2017 BIKE TESTS
Click on images to enlarge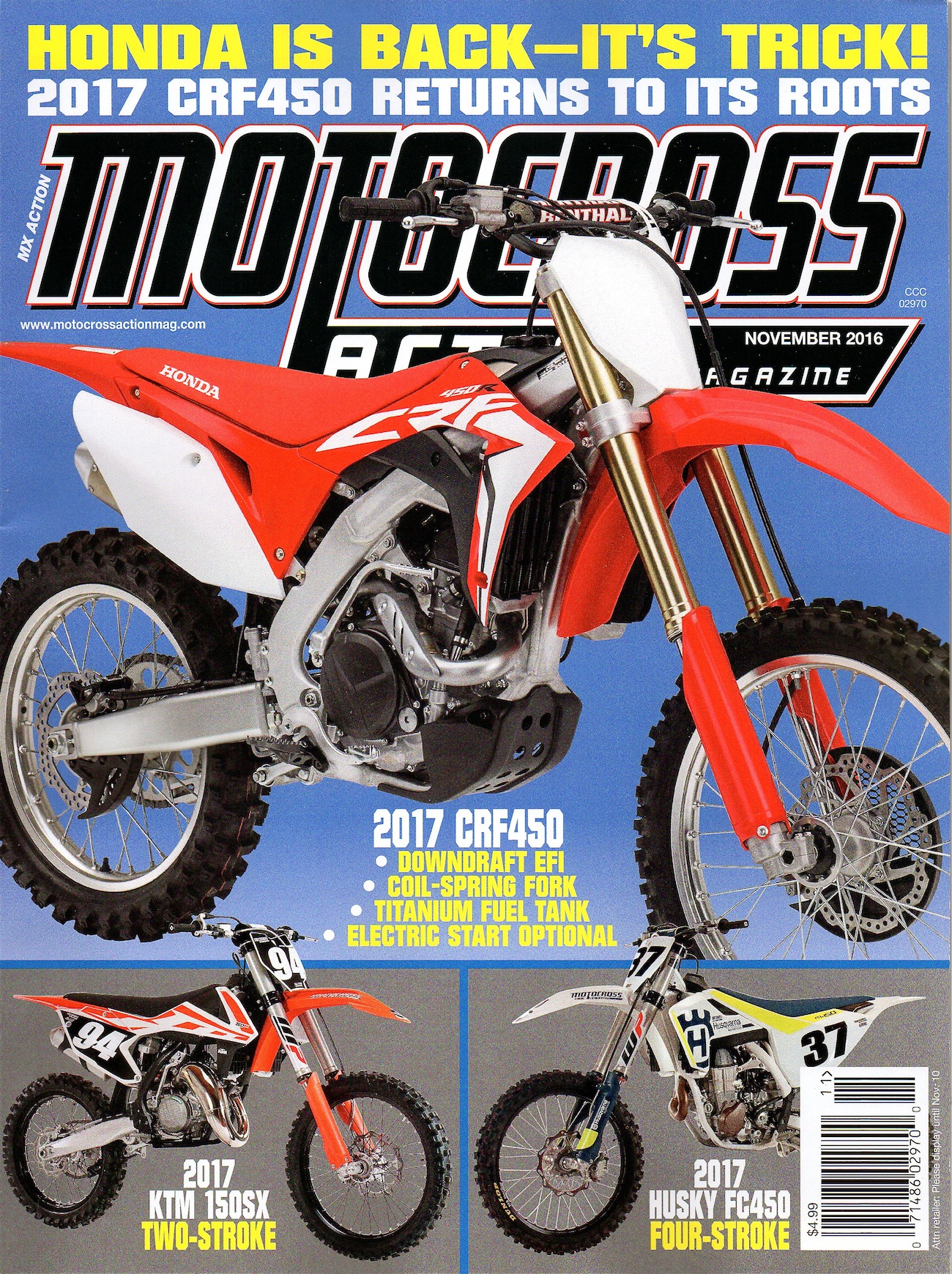 The November 2016 issue of MXA is on newstands now, but it could have been in your mailbox already if you had subscribed. We know you think you get all the motocross news you need on the internet, but the 2017 bike tests in this issue will not be on the MXA website for two months. If you want to know now, you need the print version.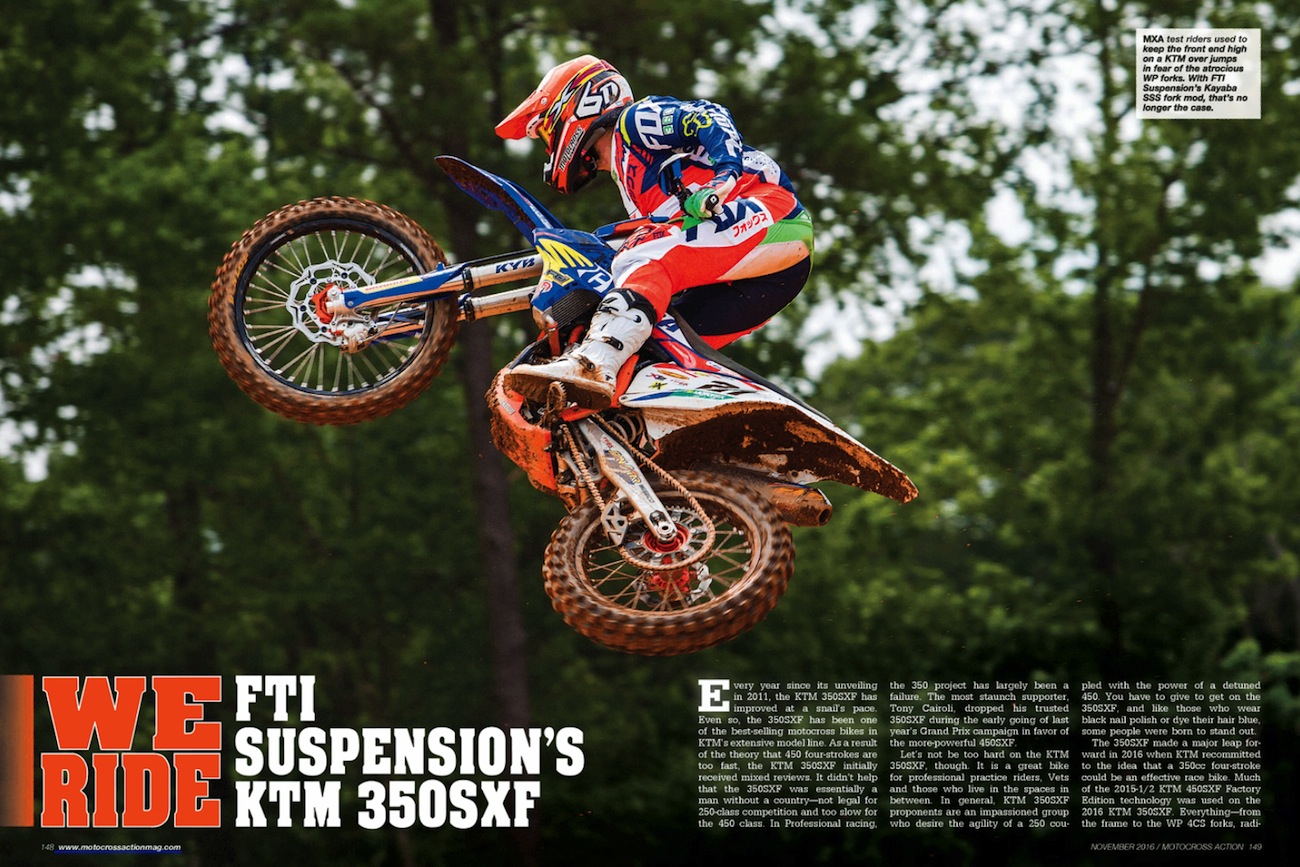 Ever seen a blue KTM 350SXF? We hadn't either, but FTI built us a Kayaba SSS-equipped Katoom to test. They can build the same suspension for you..
Remember when Kevin Windham was tearing up the track on his Yamaha YZ250 two-stroke. We do! So, we decided to build a replica of K-Dub's 1998 race bike, but with modern bells and whistles.
What changes did you think that Yamaha was going to make to the 2017 Yamaha YZ450F? Sorry Charlie, but we do tell you the real world changes that they did make to Big Blue.
Swiss GP rider Arnaud Tonus has had a tough couple years in the USA. He made the move from the GPs to the Pro Circuit team, but spent most of his time sick. Now, Arnaud has to find his way without any buzz.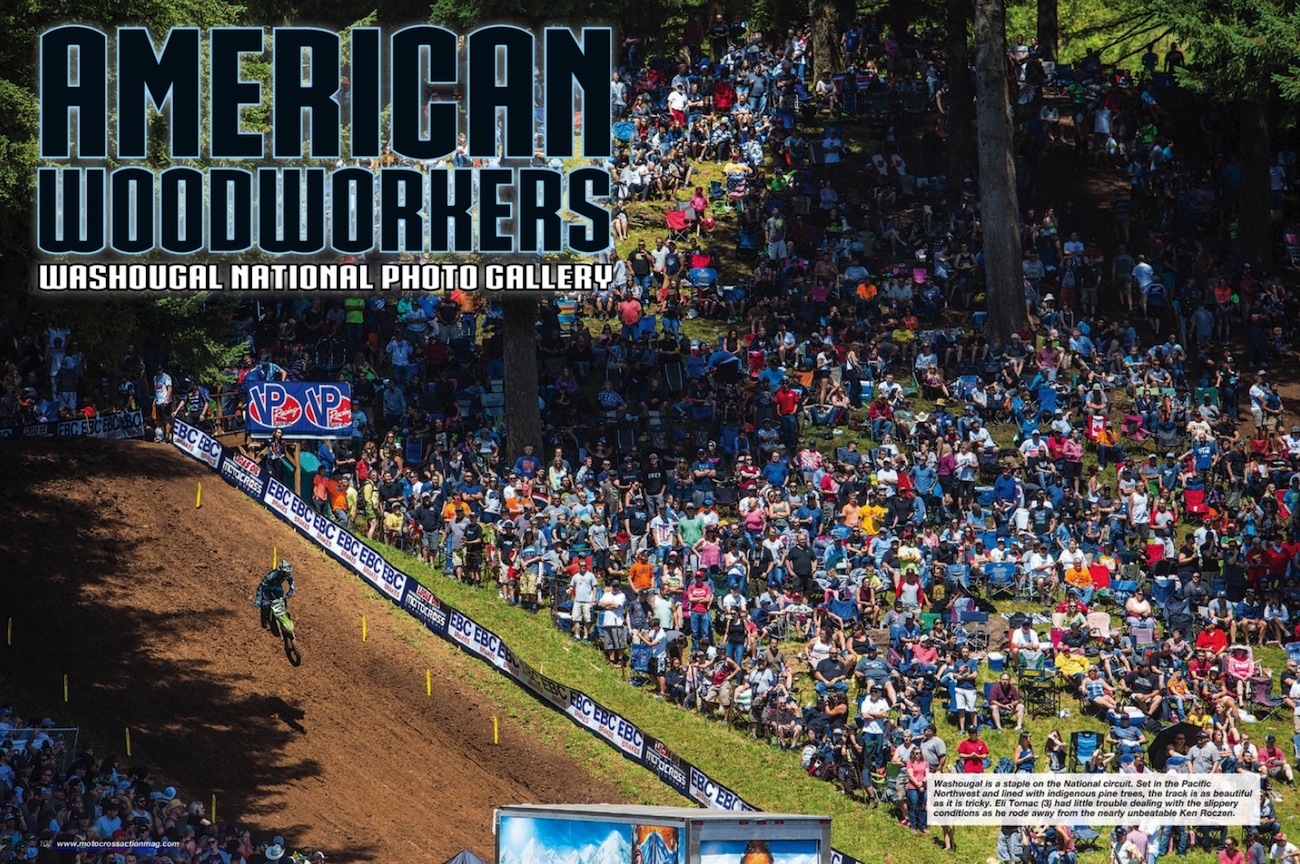 Washougal is beautiful. Don't believe us? Wait until you see MXA's photos from the 2016 AMA Washougal National.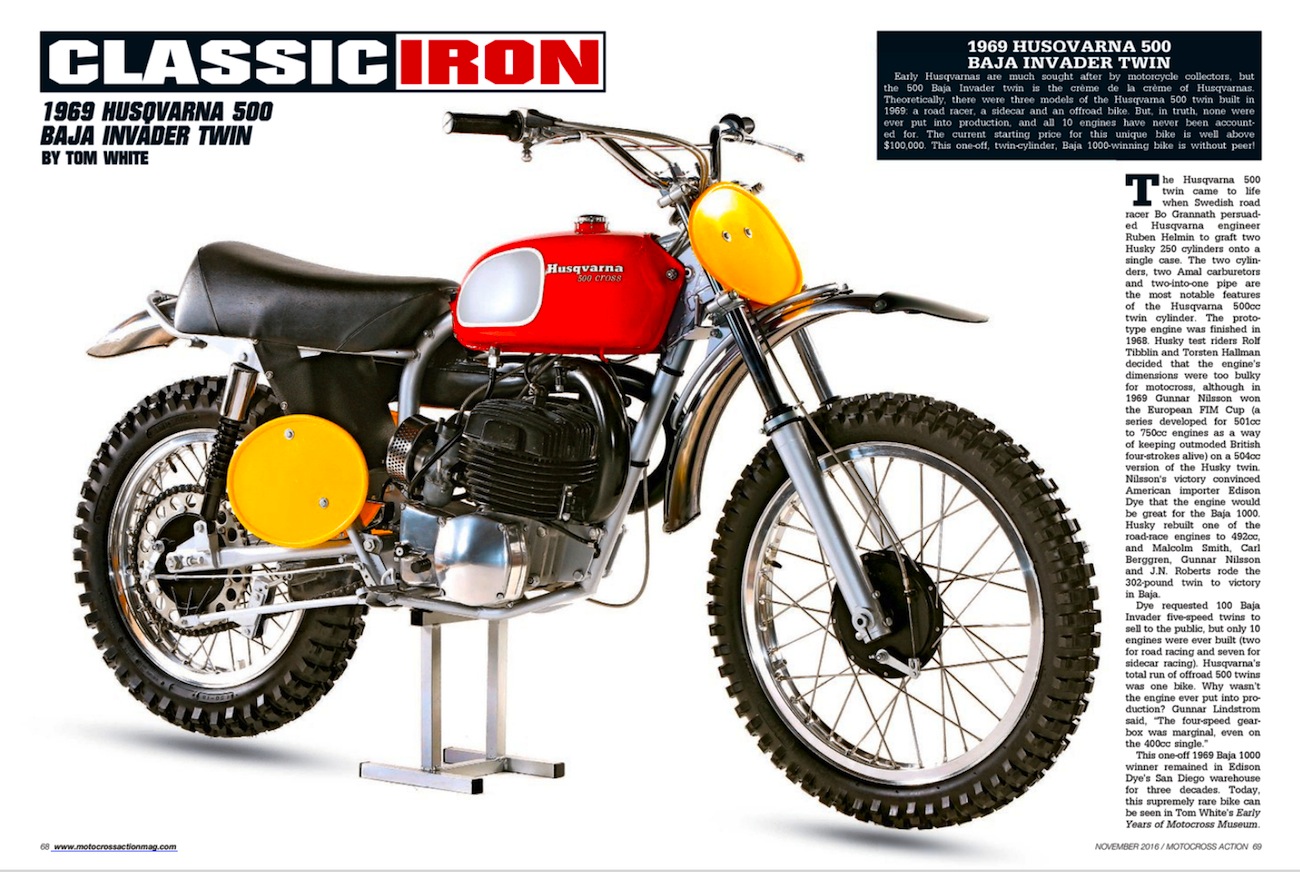 One of the rarest, if not the rarest, of all motocross bikes, this twin-cylinder Husqvarna 500 Baja Invader is the only one in captivity.
We keep waiting for a new Suzuki, but all we got in 2017 was a new yellow fender. Is the 2017 RM-Z450 obsolete, or is it a sleeper.
Need answers to the pressing questions of the day? Ask the MXperts.
Is it possible that the clone-like Husqvarna FC450 could actually be a better race bike than its orange brother. We tell you why some MXA test riders think it is.

Built for play riders and jumpers, the 2017 KTM 150SX two-stroke has the one thing that all riders love—more power. The added 25cc gives the little KTM the juice to get over the big booters.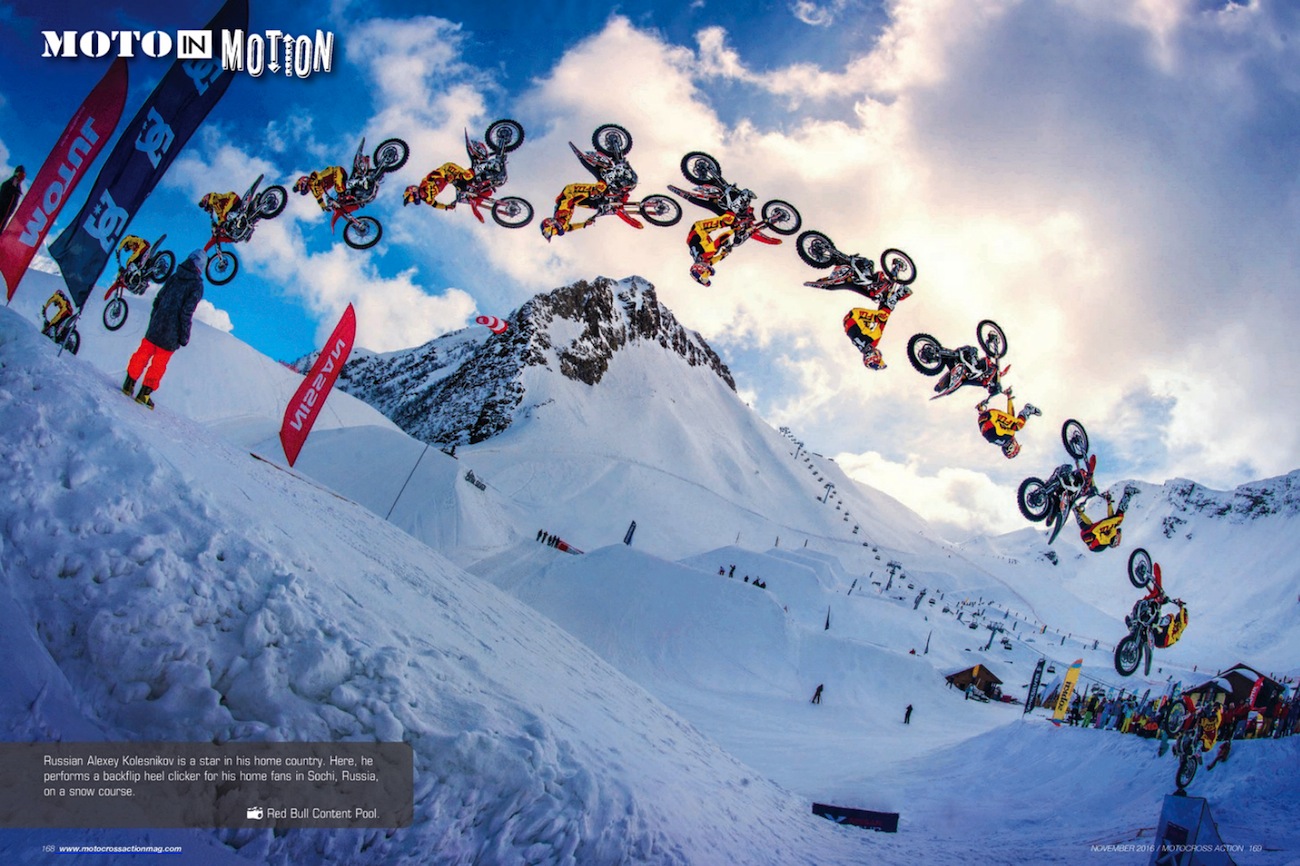 Those Russians are crazy! Alexy Kolesnikov does a backflip heel clicker on snow.
Are you crazy like a Russian? If you are you can take the 2017 KTM 250SXF all the way to its 14,000 rpm rev limiter and then slam in another gear. If you try to cruise on this bike, you'll be disappoint in its power. It is a rev ranger.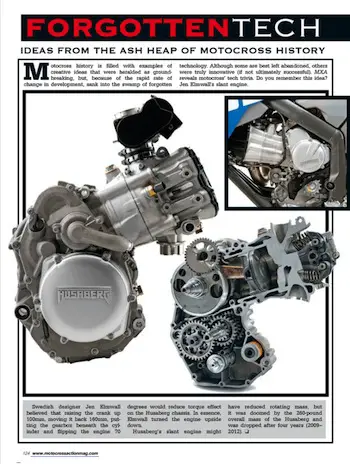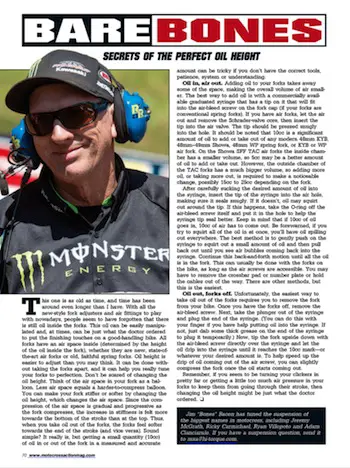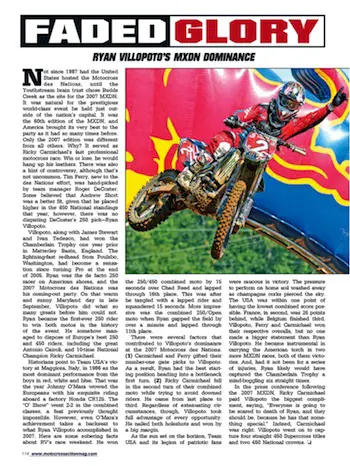 Creative ideas, Bones' advice, a story from the past and ten high-tech facts await you inside the November 2016 issue.
Do you subscribe to MXA? You should. We know that you think that print magazines are dead and that the internet will fill the void, but most of the stuff in the current issue of MXA won't appear on the web for several months, if at all. Luckily, you can get all of MXA on your iPhone, iPad, Kindle or Android by going to the Apple Store, Amazon or Google Play. Better yet get the Digital desktop version at https://hi-torque.com/product/motocross-action-digital-edition/ for $9.99 a year. The MXA test riders prefer the print version and not just because it is delivered by a uniformed employee of the U.S. Government, but because for only $19.99 you get 12 issues and a free $25 Gift Card from Rocky Mountain ATV/MC. That means that there is a profit to be made in this deal for you. For the Print magazine go to: http://hi-torque.com/product/subscribe-to-motocross-action-magazine/