HAVE YOU SEEN THE NEW MXA? JAM-PACKED FULL OF FUN & MUST-KNOW KNOWLEDGE
The August 2019 issue of MXA is out now. MXA is the most comprehensive analysis of modern motocross machines possible. We are a true-to-life motorcycle magazine. Take a look below to see a small sample what's in the August issue, you'll be impressed.
You can't tell how modern your current race bike is until you know what came before. Take this 1967 Greeves 250 Challenger as an example. Your eyes will immediately turn to the leading link forks, but did you see that the front half of the frame is aluminum? Or that it was bolted top and bottom to a chromoly steel frame cradle and backbone?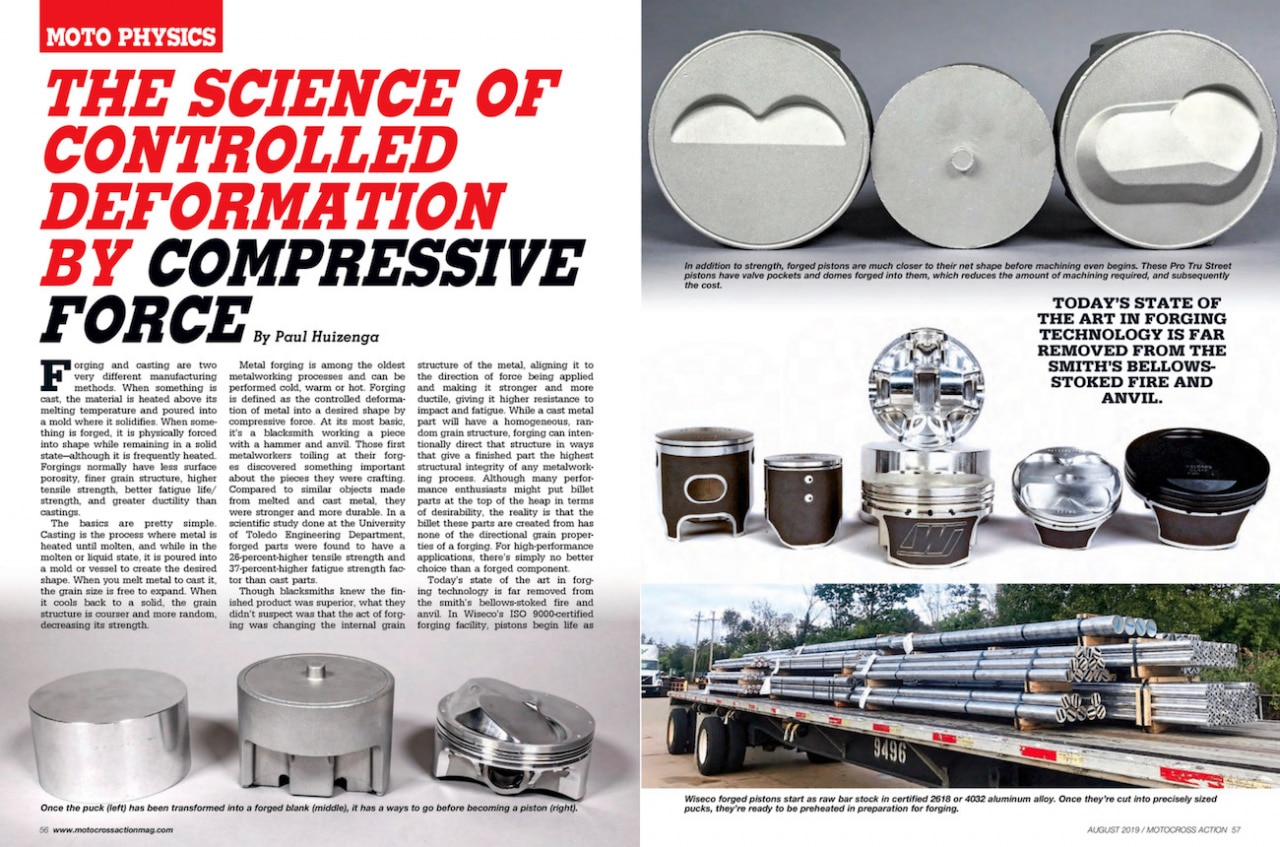 There is no doubt that you know what a forged piston is, but do you really? MXA takes you deep behind the aluminum curtain to explain everything you need to know about the difference between a forged and cast piston. And specifically about the controlled deformation of aluminum by compressive force.

Did you ever think about buying a Limited Edition Honda CRF450WE, better known as the "Roczen Edition"? The MXA wrecking crew spent two months racing both the Roczen Edition and the stock CRF450 in multiple races, at several different tracks and with four test riders (from slow to pro). We tell you whether the Roczen Edition is worth the extra $2400.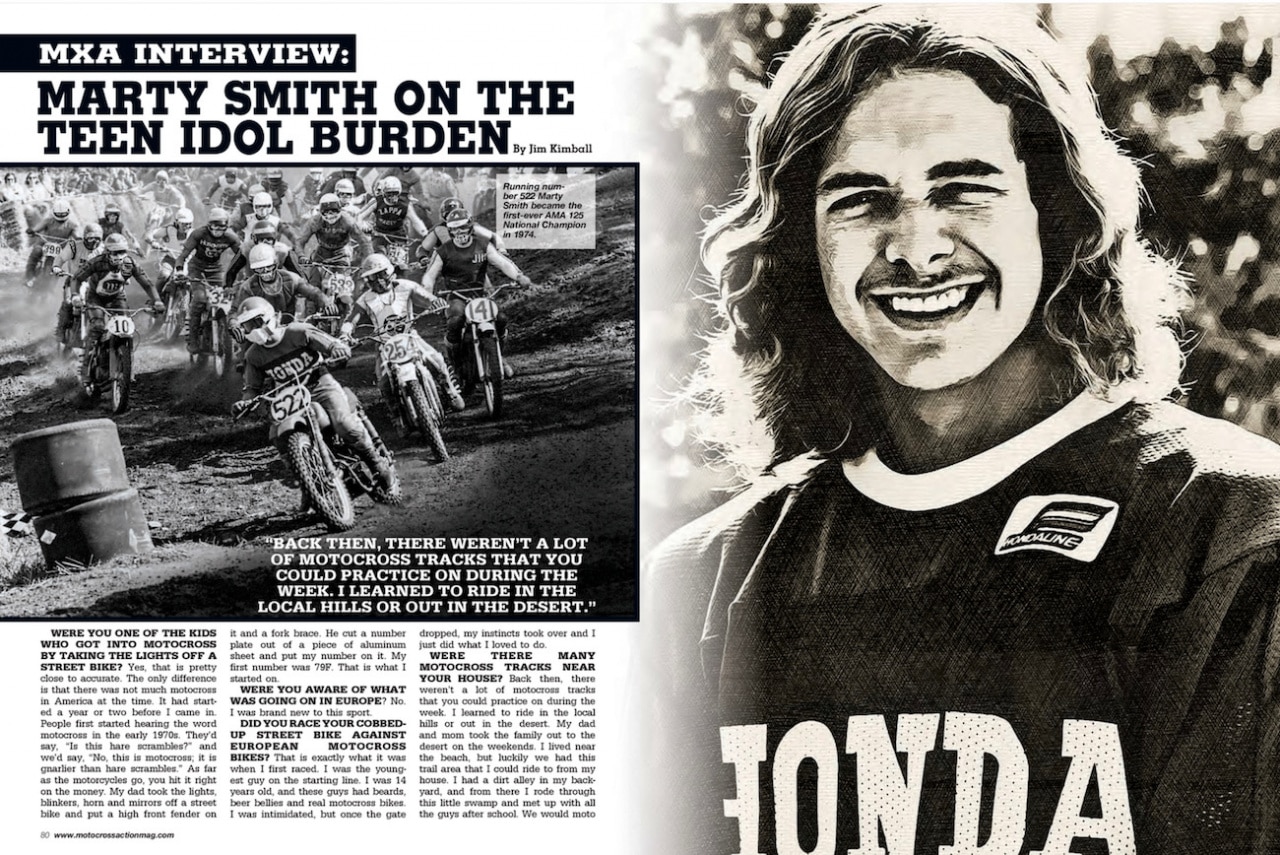 Although we've known Marty Smith since 1973, we decided to sit down for an engaging talk with one of the nicest guys in the sport. We cover his life as a teen idol, factory Honda racer, his time on a 200cc Cagiva and life after fame.
This is MXA's Performance Guide to all of the 2019 two-strokes that we tested over the past year. That includes an analysis of the good and bad of the YZ125, KTM 125SX. TC125, YZ250, TC250,  250SX and TM300MX.

MXA tests products by racing with them and, in the August issue, we went head-to-head against two of the most popular Honda CRF450 mods—the FMF 4.1 RCT exhaust and the Rekluse TorqDrive clutch kit.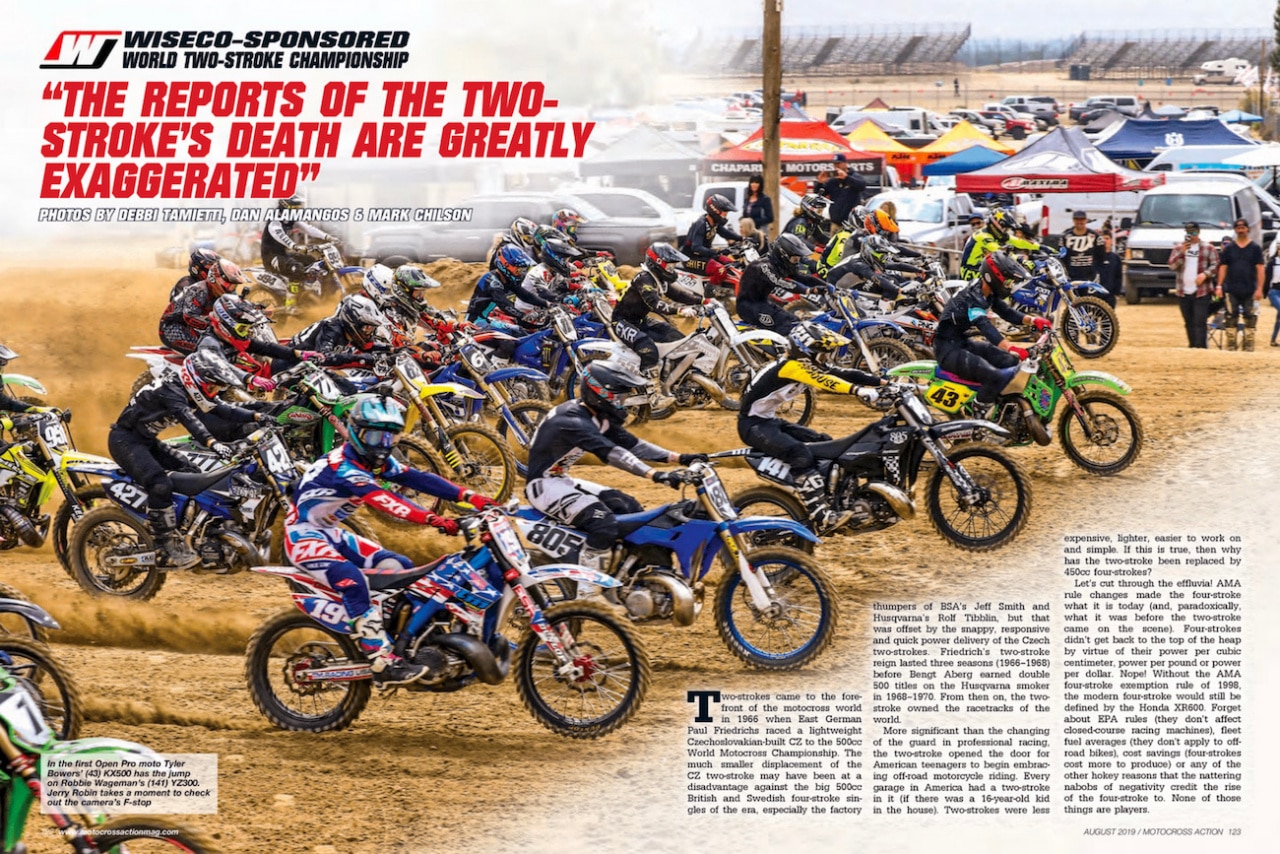 The 2019 Dubya USA World Two-Stroke Championship was open to anyone who wanted to the race. The Pro classes were divided into 125cc and Open (Open meant any thing from a 125 to a 500—as long as they were smokers). The race was a big success, the track had 3 minute lap times and Glen Helen was packed with riders of all ages and all skill levels.
When Husqvarna off-road team manager Timmy Weigand said that he was going to race a 112cc Husqvarna SuperMini in the 125 Proc class at the World Two-Stroke Championship, we  were shocked. When he finished sixth overall we were on the phone to get our hands on Timmy's two-stroke pop gun.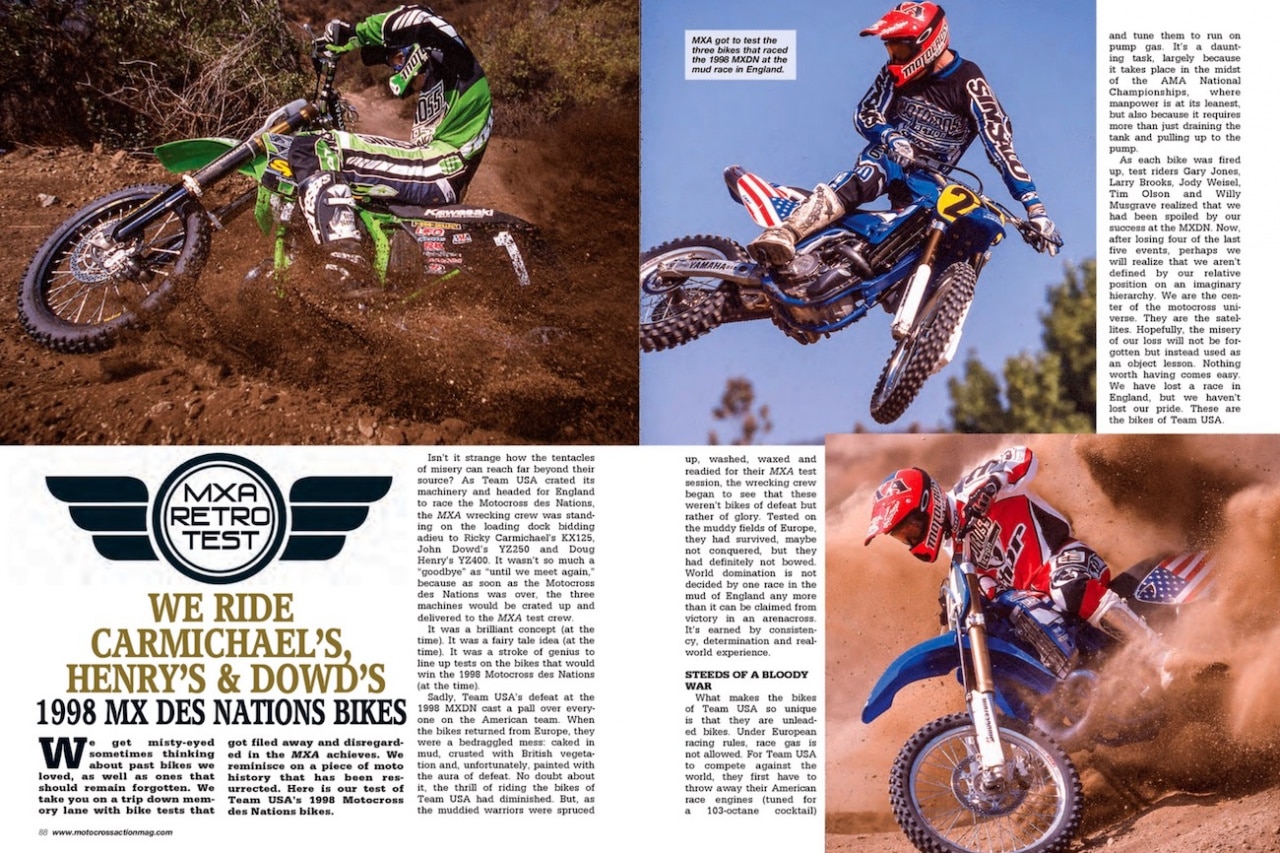 After the 1998 Motocross des Nations was over, MXA rounded up John Dowd's, Doug Henry's and Ricky Carmichael's MXDN bikes for a chance to test Team USA's bikes. This is a retro test of those three machines.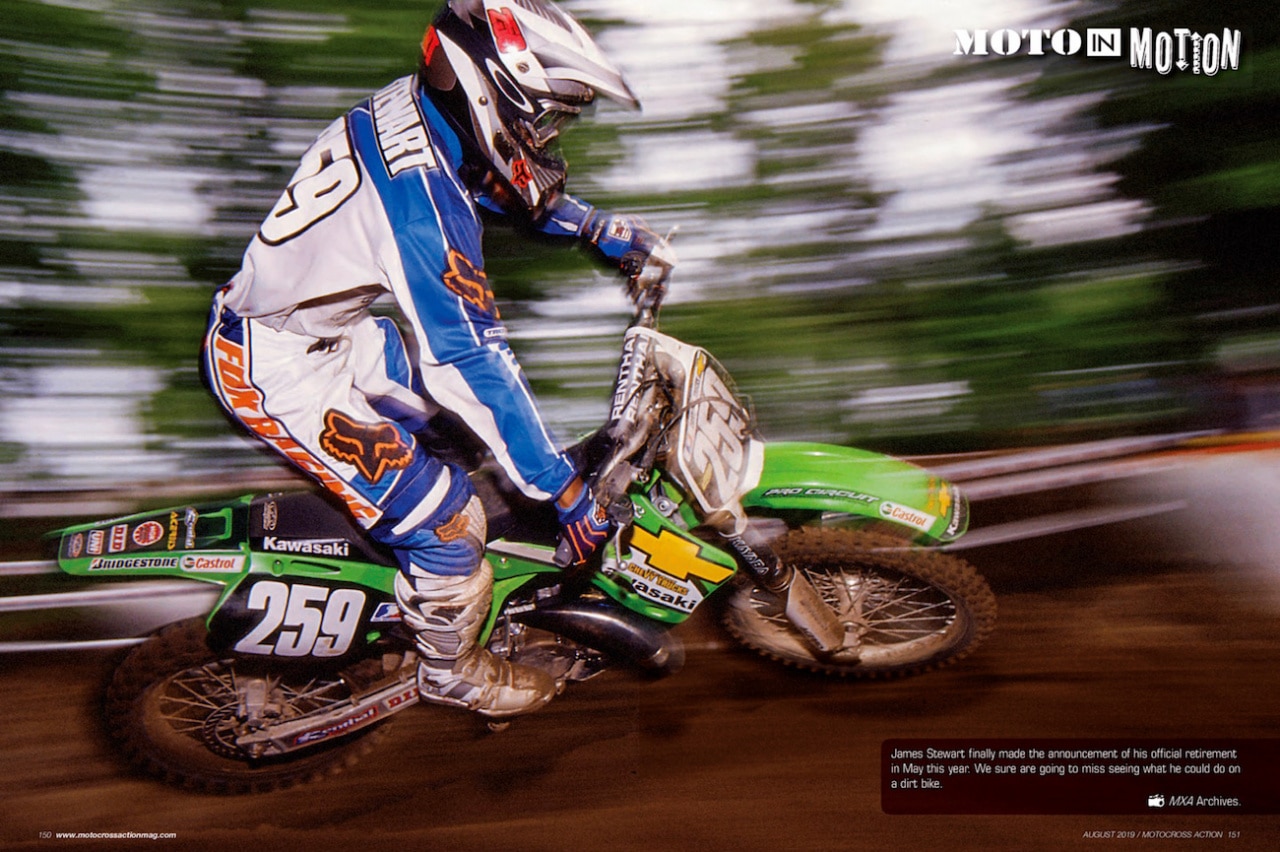 In honor of James Stewart finally making a public statement about his retirement, we dug into the archives to find a photo of James on his Chevy Trucks, Pro Circuit, Kawasaki KX125 two-stroke.  We picked an artsy-fartsy shot for giggles.
PLUS, EVEN MORE STORIES
THE BEST WAY TO GET ALL OF THIS EVERY MONTH IS TO SUBSCRIBE…IT WON'T COST YOU A CENT
You can get all of this 12 times a year (along with a $25 Chaparral gift card to use on whatever gear, parts or accessories you need) delivered to your mailbox, computer or phone by calling (800) 767-0345 or CLICK HERE or click on the box at the bottom of this page.