HAVE YOU SEEN THE NEW MXA? JAM-PACKED FULL OF INFO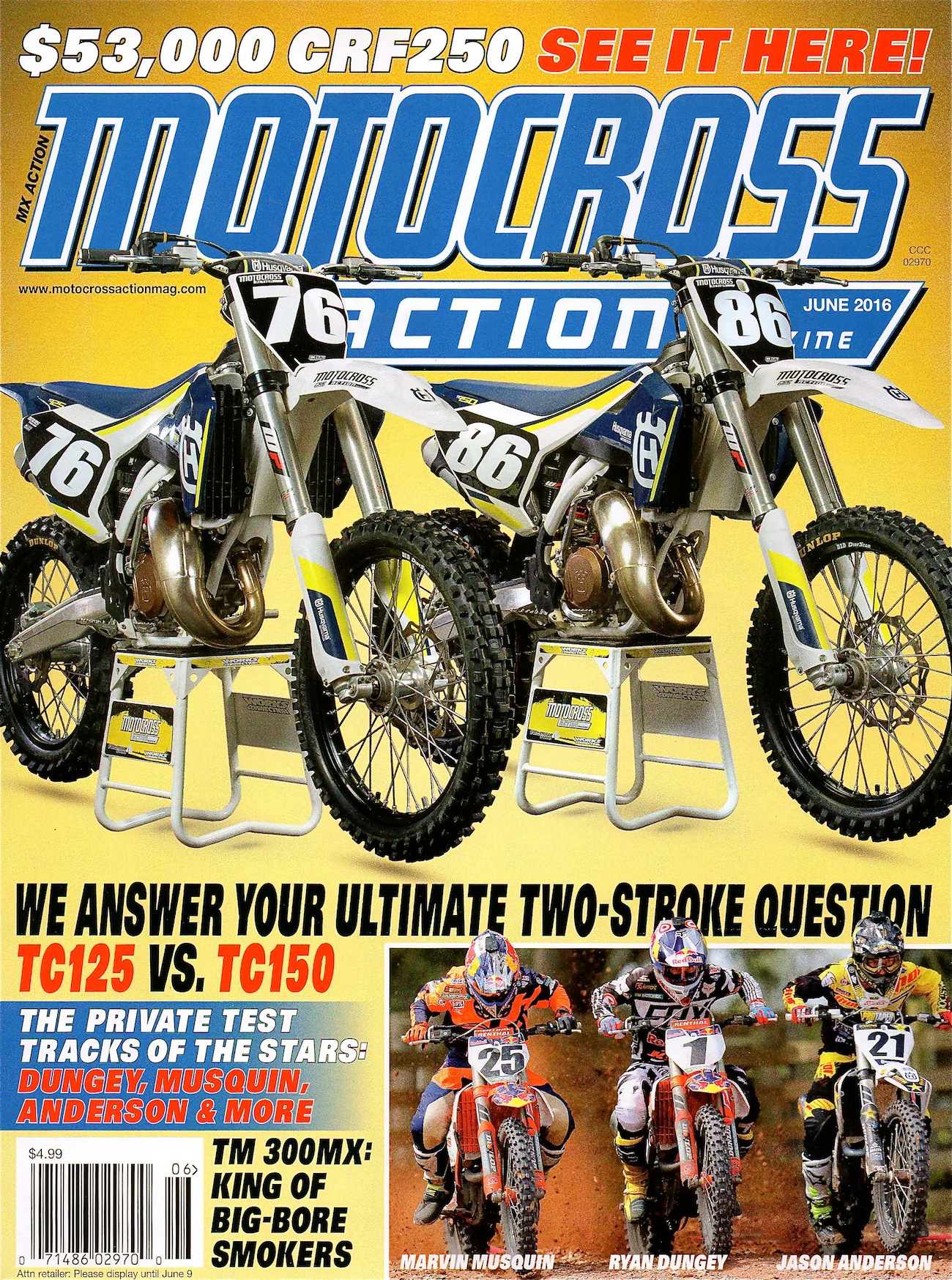 You probably haven't seen the June 2016 issue of MXA yet, but if you had subscribed a trusty agent of the U.S. Government would have put it in your mailbox already (or taken it home to read first). If you feel that you can learn everything you need to know on the internet, that's your chocie, but most of the info in MXA does not appear on the web and the stories from this issue that do go up on the MXA website will not go up for more than a month.
When looking for bikes for a 125 two-stroke shootout, the MXA wrecking crew decided to test the 2017 Husavarna TC125 against the 2017 Husqvarna TC150. Surprise! There is no such thing as a TC150. So, we built one—and then shot them out.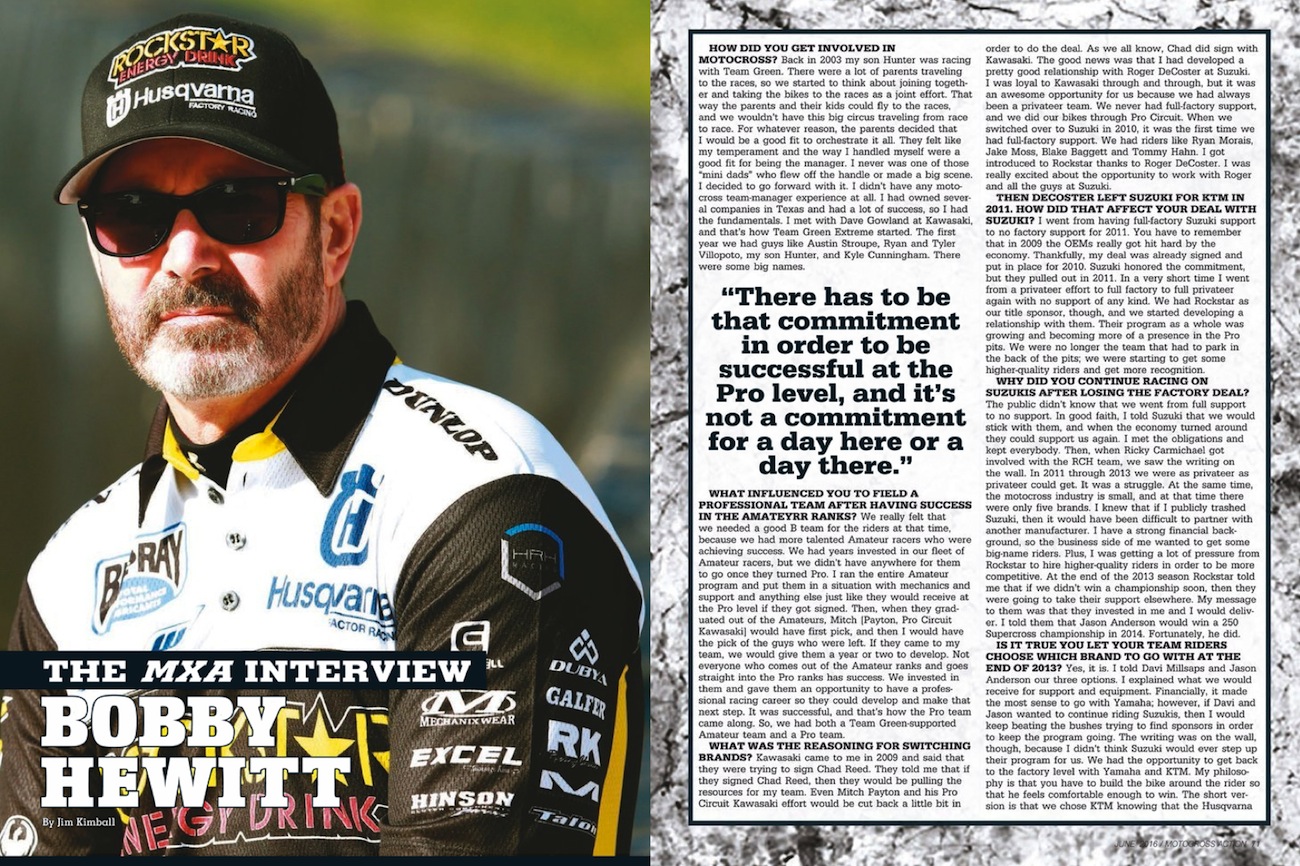 Bobby Hewitt is not a household name, but he is one of the best team owners in the sport. You'll be impressed.
Tired of getting blown away on long straights and steep hills, we decided to go all out to build a 44-horse Honda CR25oF that could run with a KTM 250SXF. It's a pretty bike and pretty fast also.
This is a very trick bike and while Aussie Hayden Mellross may have gotten hurt early in the Supercross season, he will show what it can do in the AMA 250 Nationals.
In a way this is a retest of JGR's YZ450F handiwork. But, we thought that we could do some of our original YZ450F the mods for less money and improve the powerband at the same time. Meet the X2 by Xceldyne Yamaha YZ450F.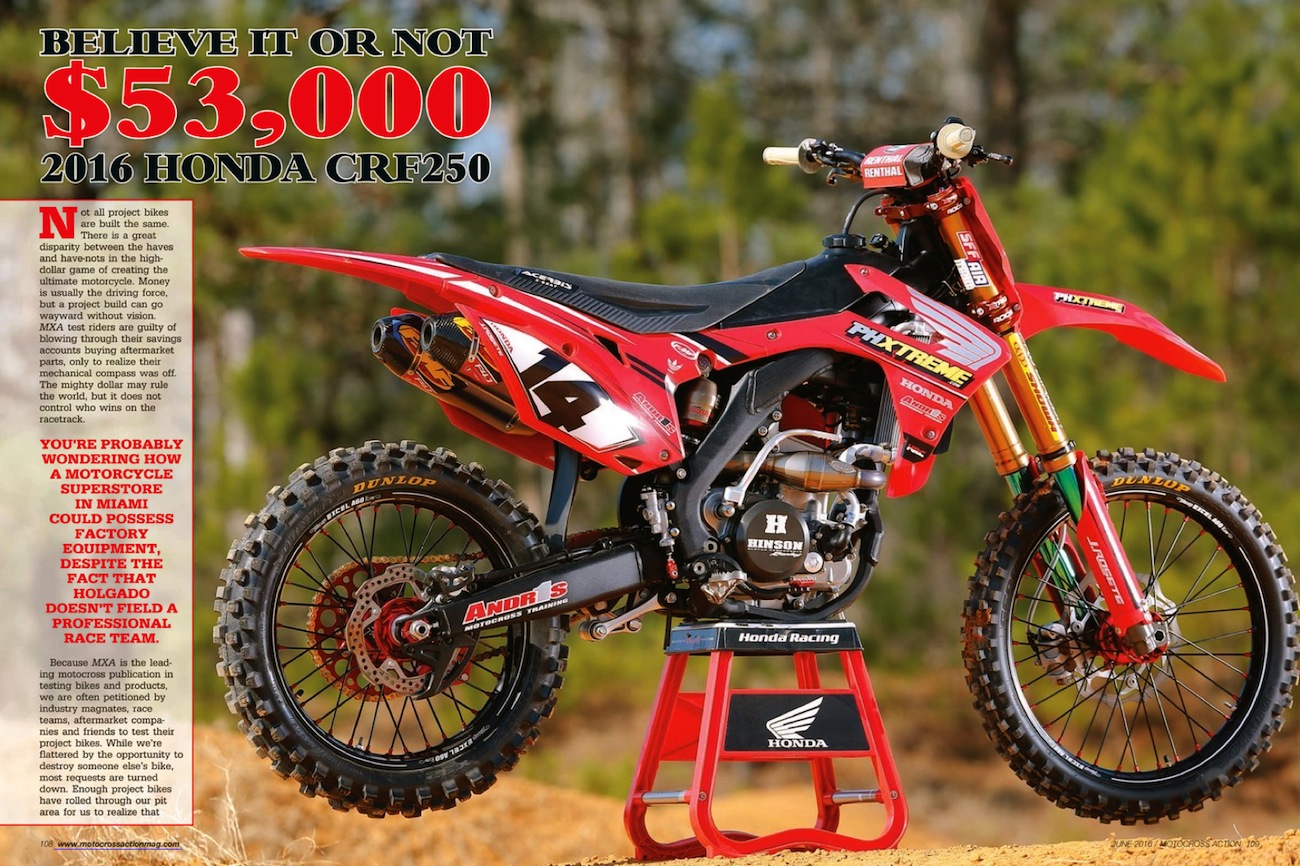 Is it possible to spend $53,000 on a Honda CRF250? Yes it is—if you start by buying factory-backed race bikes direct from the race teams—and then using their works parts to build the bike of your dreams.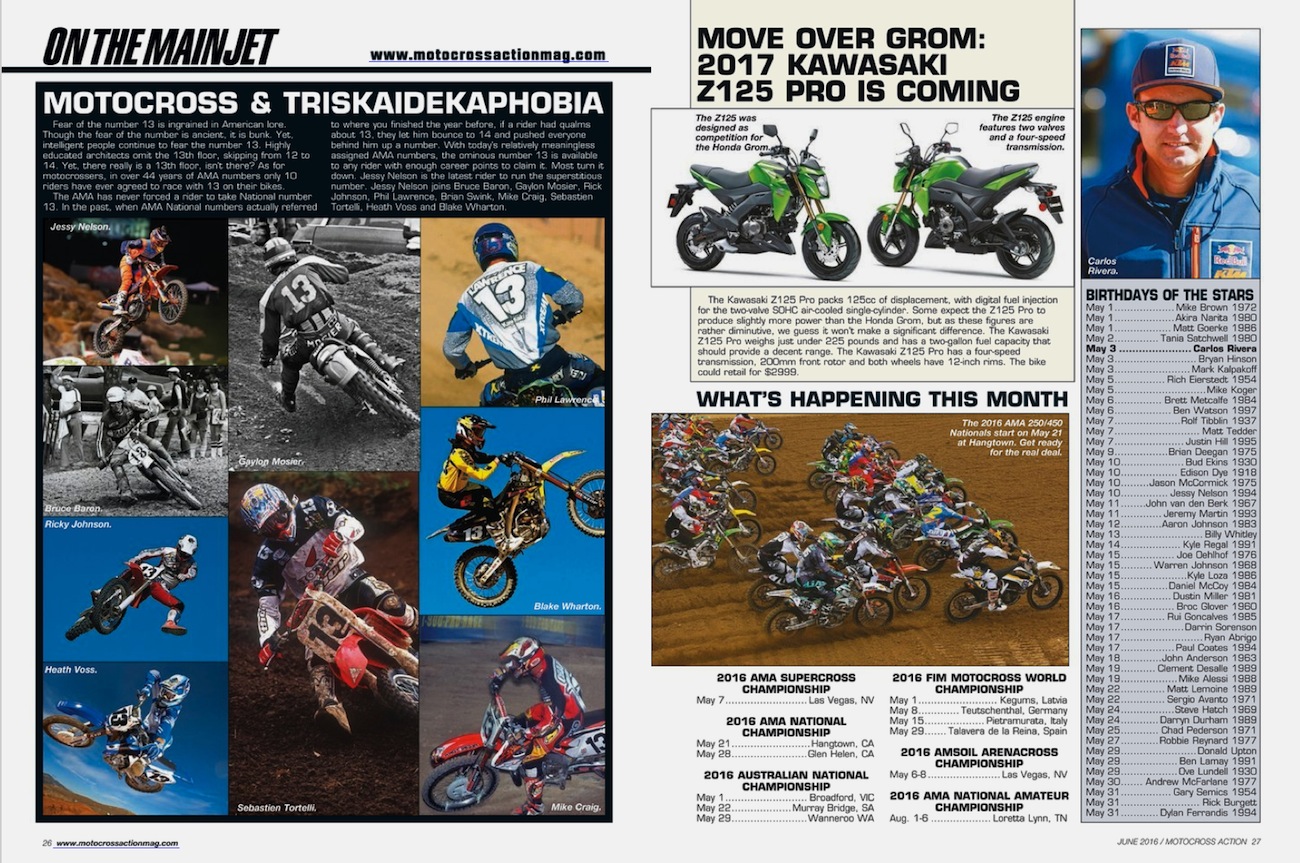 The motocross pipeline lives on rumors and gossip, but it is also an excellent source of both historical and factual info. That is what "On the Mainjet" is for.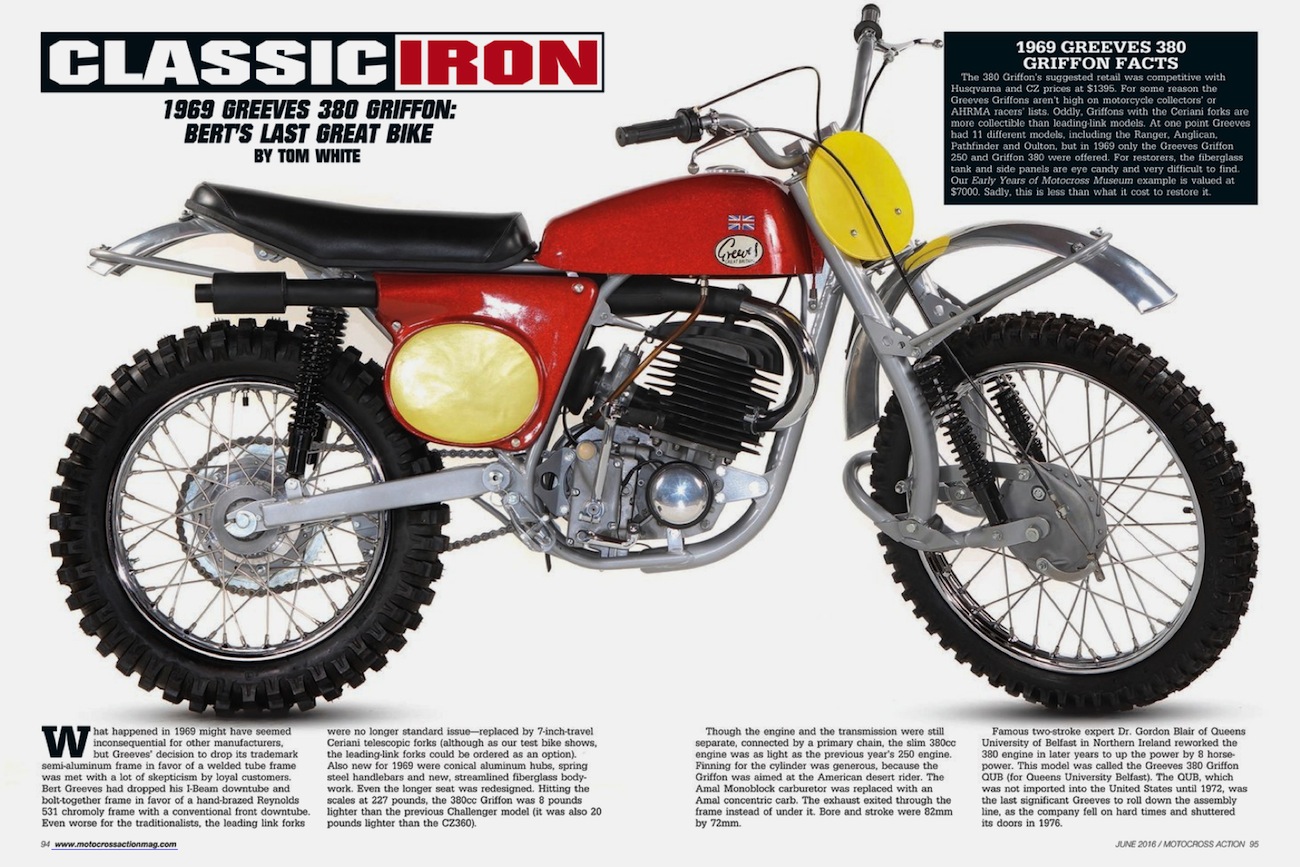 Bert Greeves may not be a big name in America, but in 1960's motocross circles he was a power player—thanks to his creative and effective designs.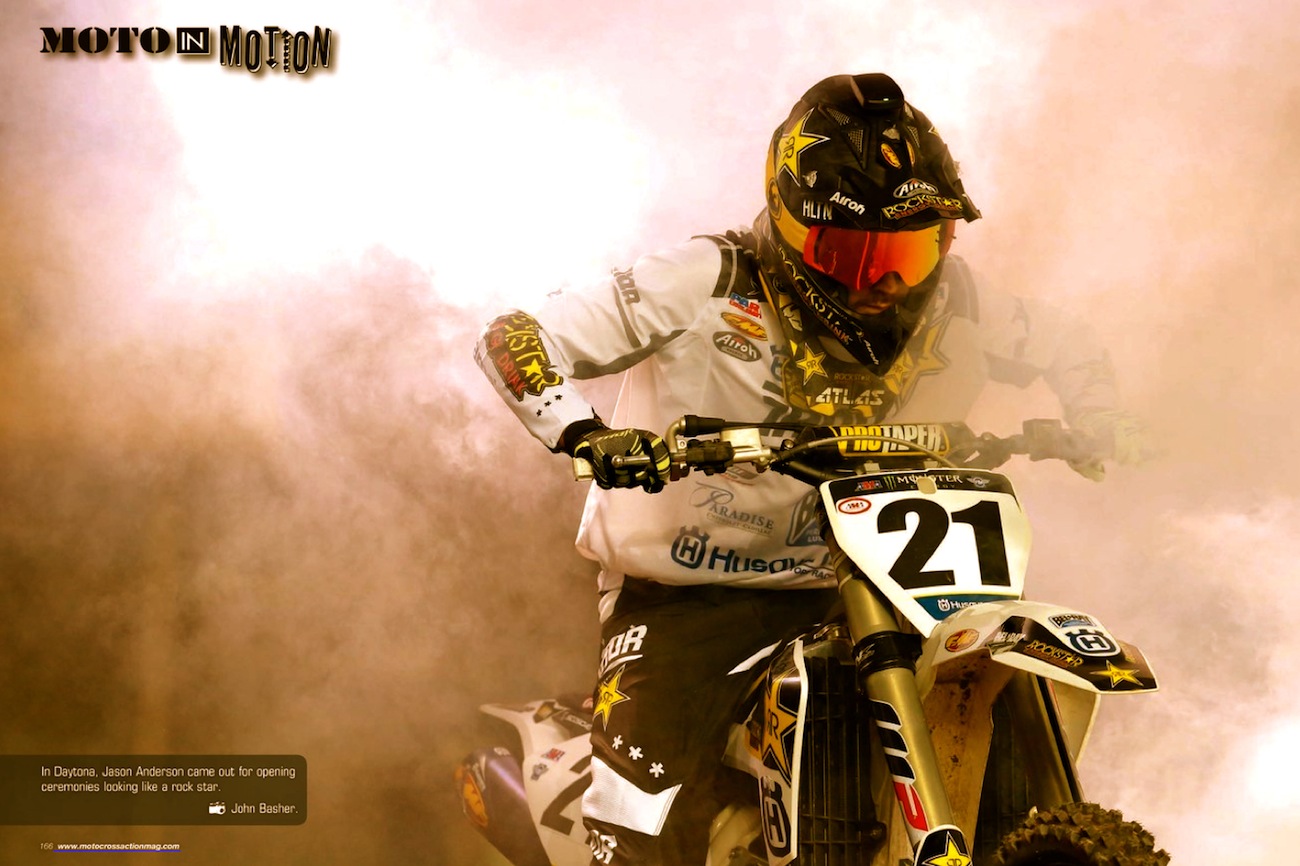 Jason Anderson, who just happens to credit Bobby Hewitt with his career arc, surrounds himself in smoke during opening ceremonies.
You could ask anyone your motocross questions, but before you do take a close look at them. Do they look like they know the answers? The MXperts do.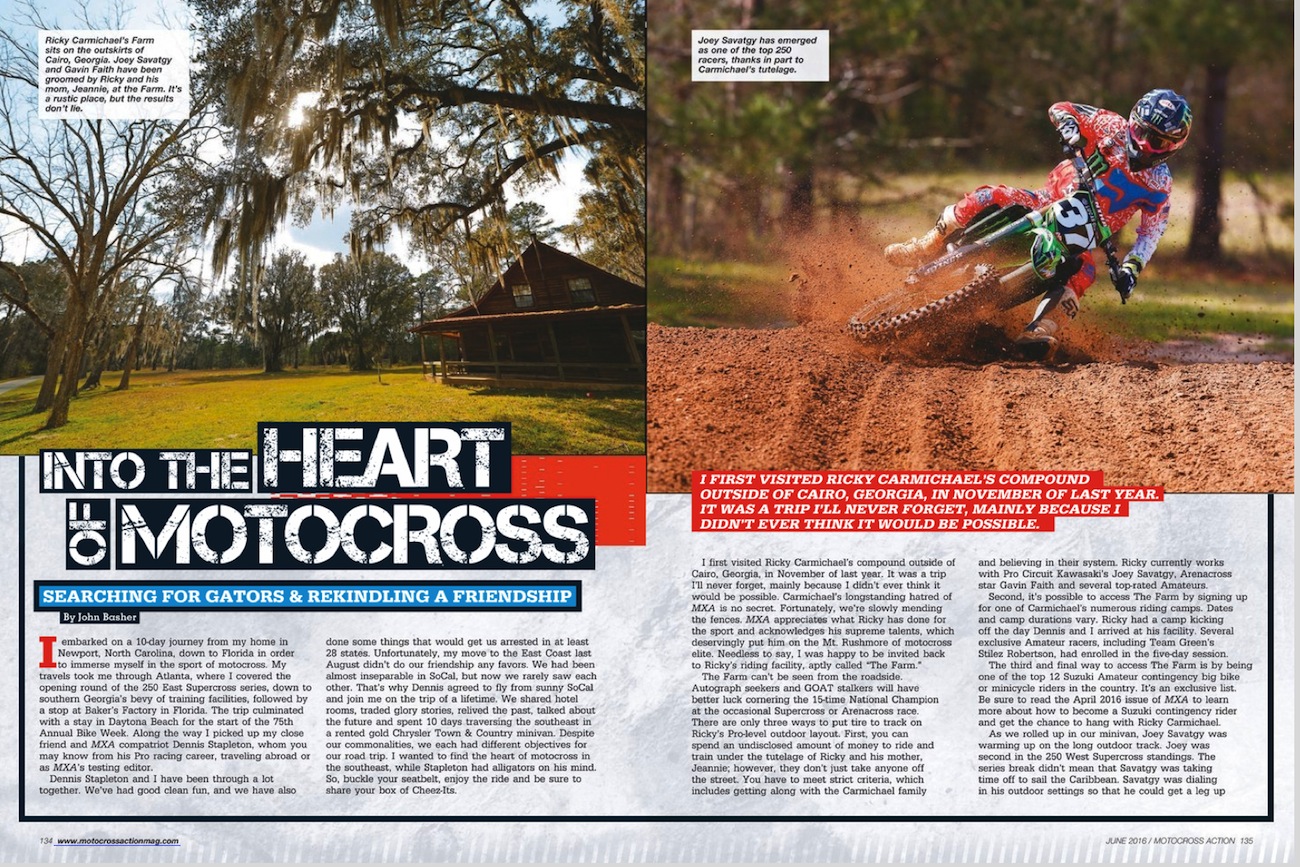 MXA's John Basher and Dennis Stapleton ran away from home and spent the winter hanging out at all the motocross training camps in Florida and Georgia, including MTF, GPF, the Farm and Baker's Factory. In their spare time the yfollowed the Supercross circut. Read all about it.

It's rare to even see a TM 300MX at your local track, so imagine our joy at having the opportunity to test the full-race, totally modified TM300 of the American TM importer. Ralf Schmidt knows everything there is to know about TM's and how to make them work better.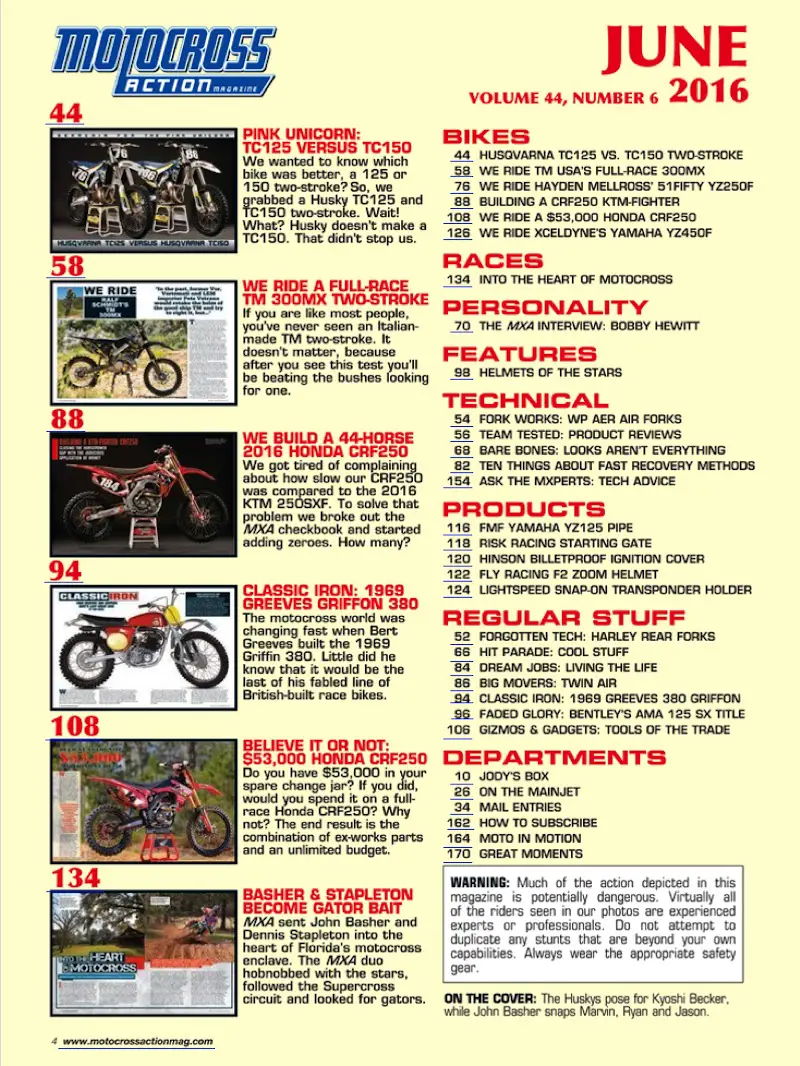 We only touched on a few things in the June 2016 issue of MXA—here's a complete list of stories.
HOW TO SUBSCRIBE TO MXA ON YOUR PHONE, TABLET, COMPUTER OR IN PRINT
Do you subscribe to MXA? You should. We know that you think that print magazines are dead and that the internet will fill the void, but most of the stuff in the current issue of MXA won't appear on the web for several months, if at all. Luckily, you can get all of MXA on your iPhone, iPad, Kindle or Android by going to the Apple Store, Amazon or Google Play. Better yet get the Digital desktop version at https://hi-torque.com/product/motocross-action-digital-edition/ for $9.99 a year. The MXA test riders prefer the print version and not just because it is delivered by a uniformed employee of the U.S. Government, but because for only $19.99 you get 12 issues and a free $25 Gift Card from Rocky Mountain ATV/MC. That means that there is a profit to be made in this deal for you. For the Print magazine go to: http://hi-torque.com/product/subscribe-to-motocross-action-magazine/