HAVE YOU SEEN THE NEW MXA? JAM-PACKED FULL OF TESTS, PRODUCTS & STUFF YOU NEED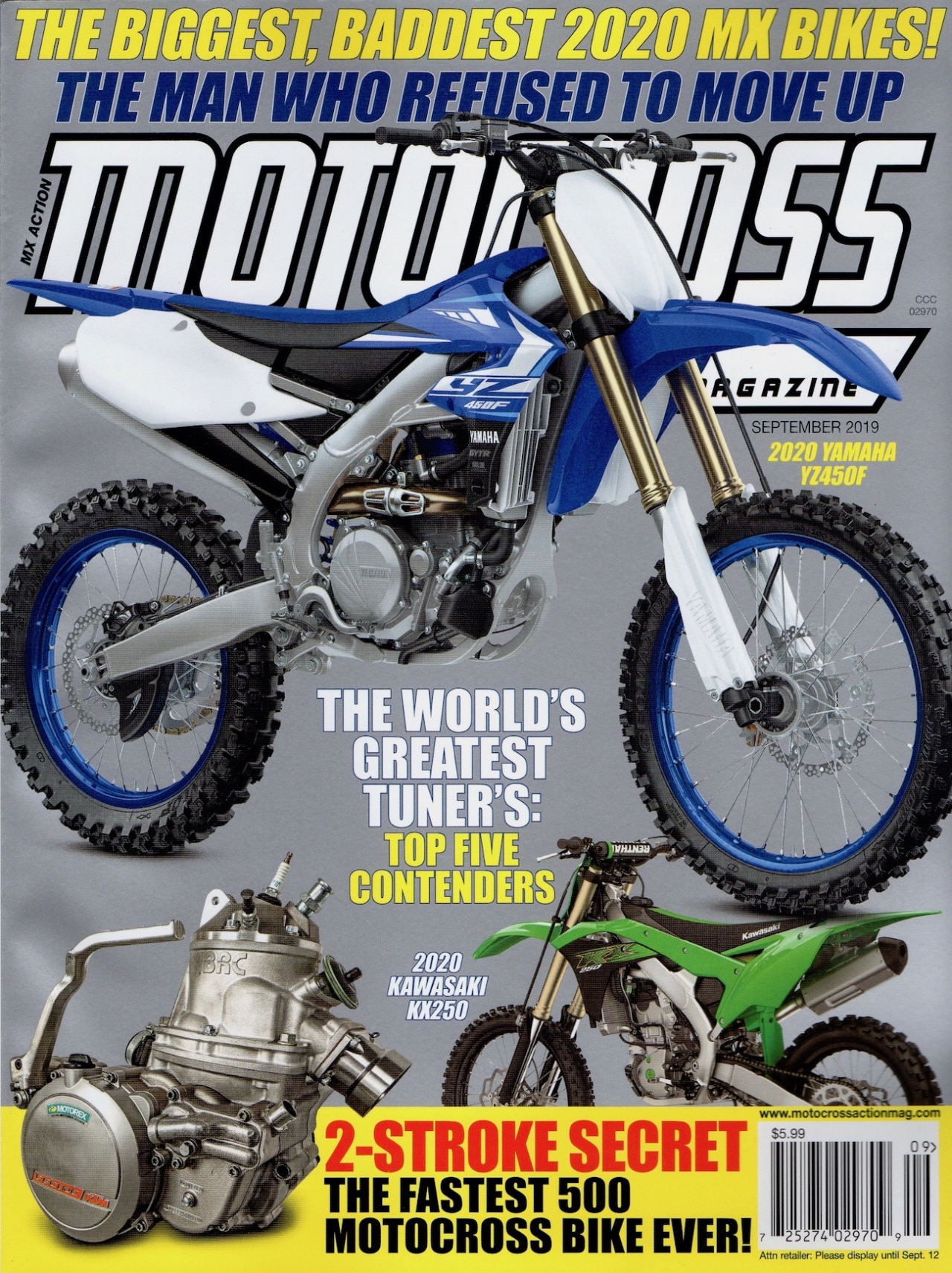 The September 2019 issue of MXA is out now. MXA is jam-packed full of nothing but motocross info. MXA is a true-to-life motorcycle magazine—in that it goes indepth on bike tests and tech articles. Take a look below to see a small sampling what's in the September 2019 issue, you'll be impressed.
The Table of Contents is a great place to start your journey through MXA. It gives you a rundown of the stories, a sneak peak at the layouts and all the page numbers so you don't have to thumb your way through the pages.

This is Dave Miller's DMC 1969 Hodaka Super Rat 100. It may look like a typical Super Rat from the side view, but Dave has never done any thing typical in his life. You gotta read the story to learn all of Dave's tricks.

In the September issue we flashback to riding Ryan Dungey's 2009 Championship winning Suzuki RM-Z250. Back then, ten years ago to be exact, he was a star on the rise. Now he has risen and retired, but his bike is still a gem.

If you've never heard of a BRC 500, you soon will. KTM may not be willing to make a 500cc two-stroke engine, but BRC is. They have gone all-out to cast their own 500cc engine—all you have to do is plunk it into your KTM two-stroke frame.

This is what a BRC 500 engine looks like when it is all torn-down. It could easily be mistaken for a production engine from the Mattighofen factory line. The castings and workmanship are first-rate.

Mitch Payton took the time to show us his five favorite race bikes and tell us the story behind the bikes and the men who rode them. This is Christophe Pourcel's 2010 Monster Energy/Pro Circuit KZ250F.
Mitch loves to talk about Jimmy Gaddis' 1993 Kawasaki KX125 two-stroke. Not only had Mitch just switched from Team Peak to Team SplitFire, but he left Honda for Kawasaki. No one believed that Jimmy Gaddis could win the 125 West Supercross Championship—except Mitch Payton. And Jimmy did just that.

Motocross history is full of bikes that failed to set the world on fire, but none have the story line of the 1992, really the 1991-1/2, Yamaha WR500. It combined the "Air Hammer" Yamaha YZ490 engine with a modified 1991 YZ250 chassis to produce a bike that was quickly forgotten in the annuals of motocross history.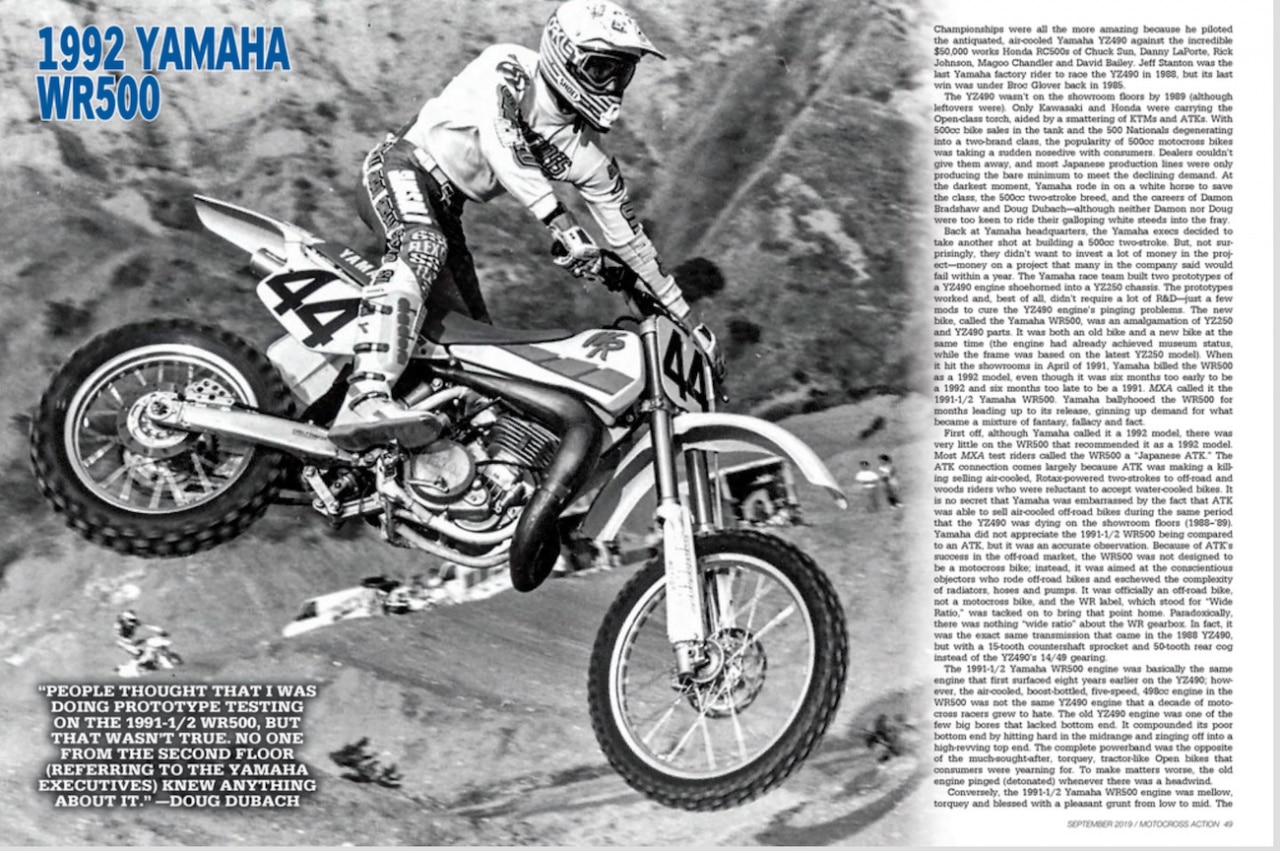 MXA test rider Larry Brooks sails the Yamaha WR500 over a jump, looking to all the world like he's enjoying himself. Nobody really enjoyed the WR500. Least of all Damon Bradshaw and Doug Dubach who were forced to race the 500 Nationals on them.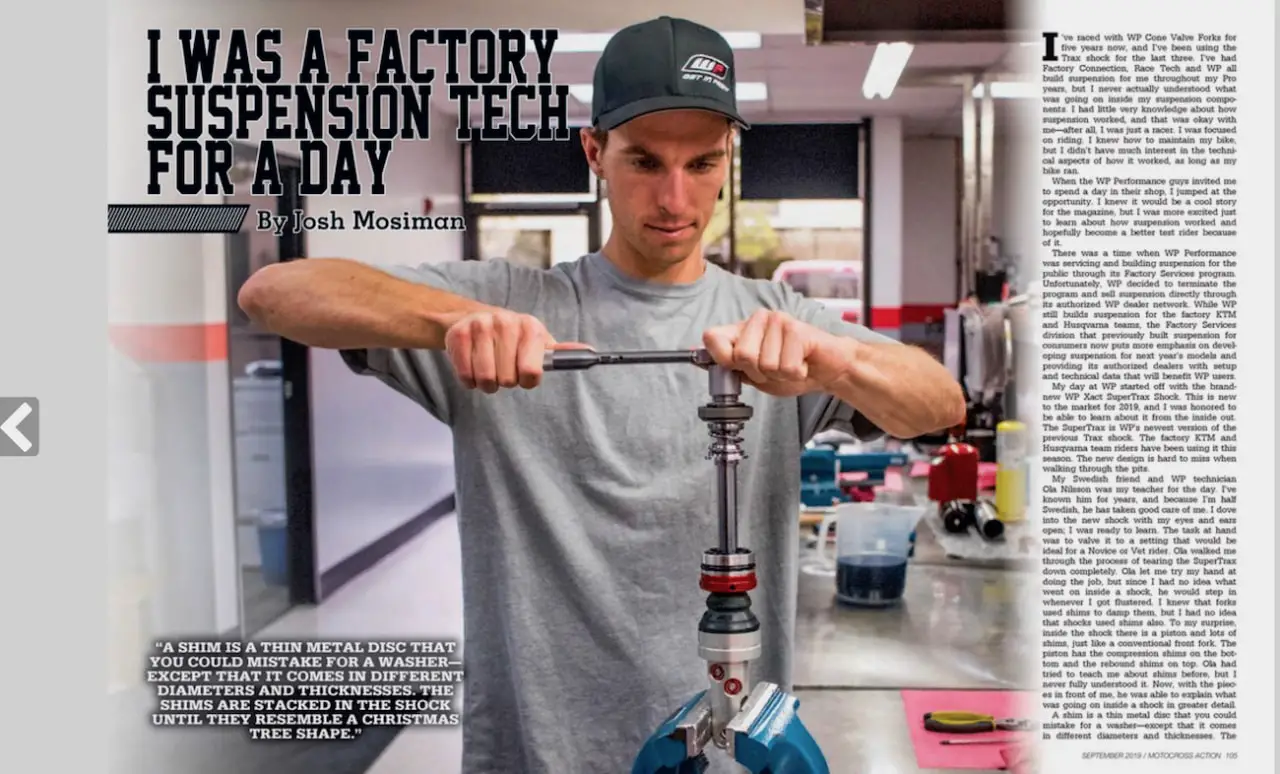 MXA sent test rider Josh Mosiman to WP to learn all about building the perfect fork and shock. The big incentive to do a good job, was that he'd have to race with the suspension he built.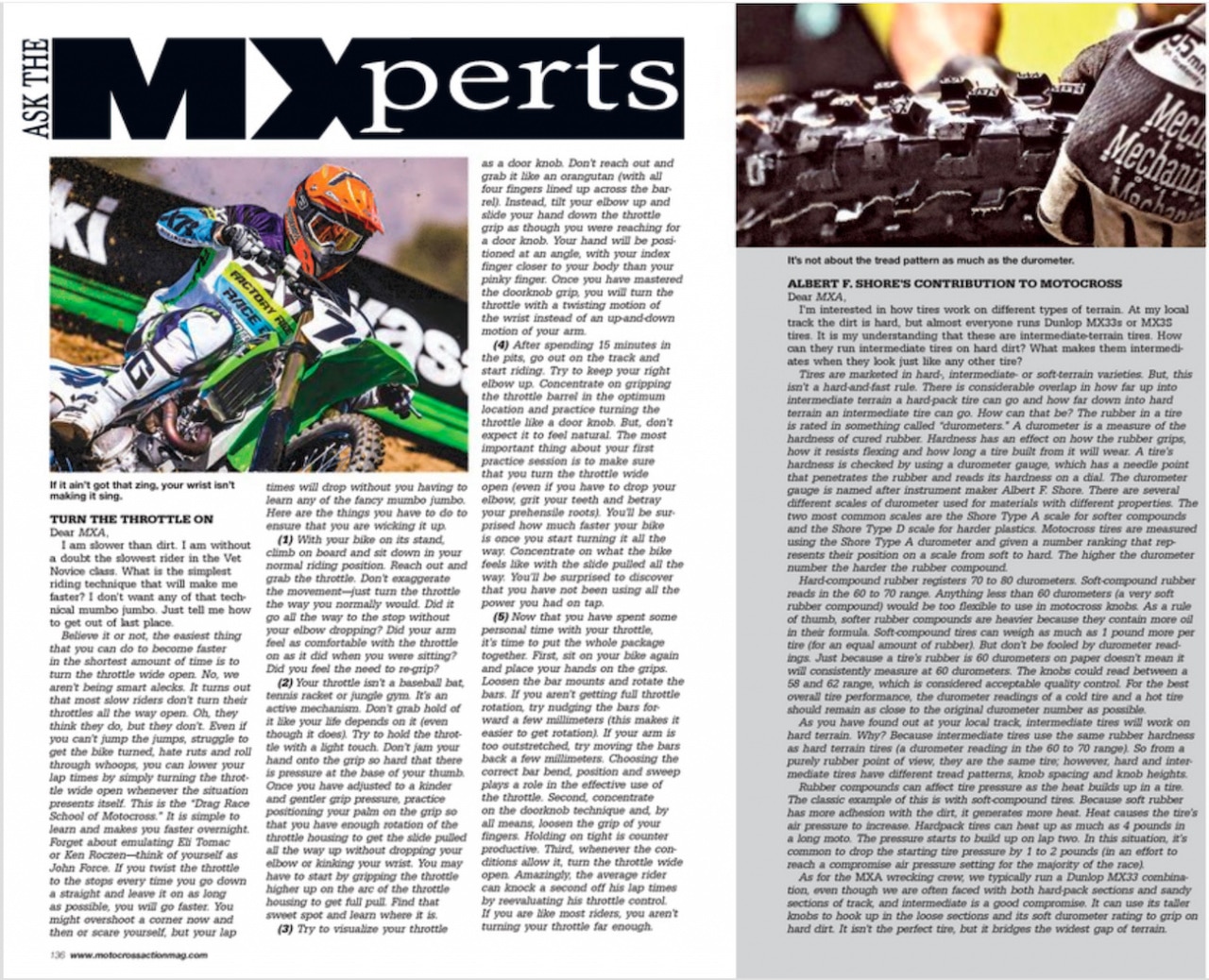 You don't always know what you don't know, until someone asks you a question and you stand there with the your mouth open. Let the MXperts give you something to say.

PLUS, EVEN MORE STORIES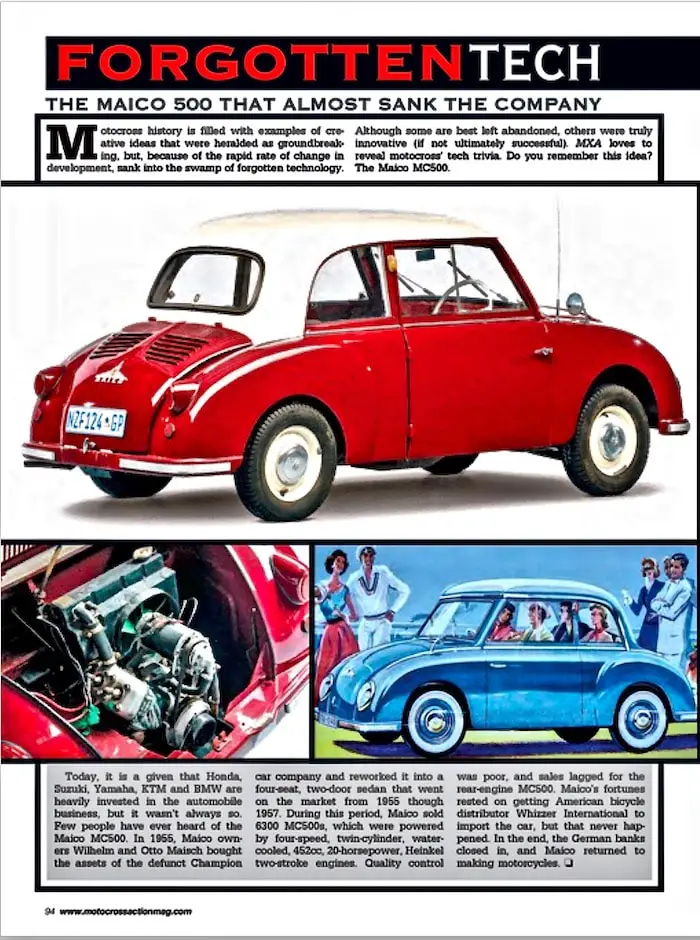 Did you know that Maico made a car?


When the time comes to buy Junior a starter bike, do you know what's available?


There is no life harder on the AMA circuit than being the brother of a super star. Dewayne Jones knew the pain.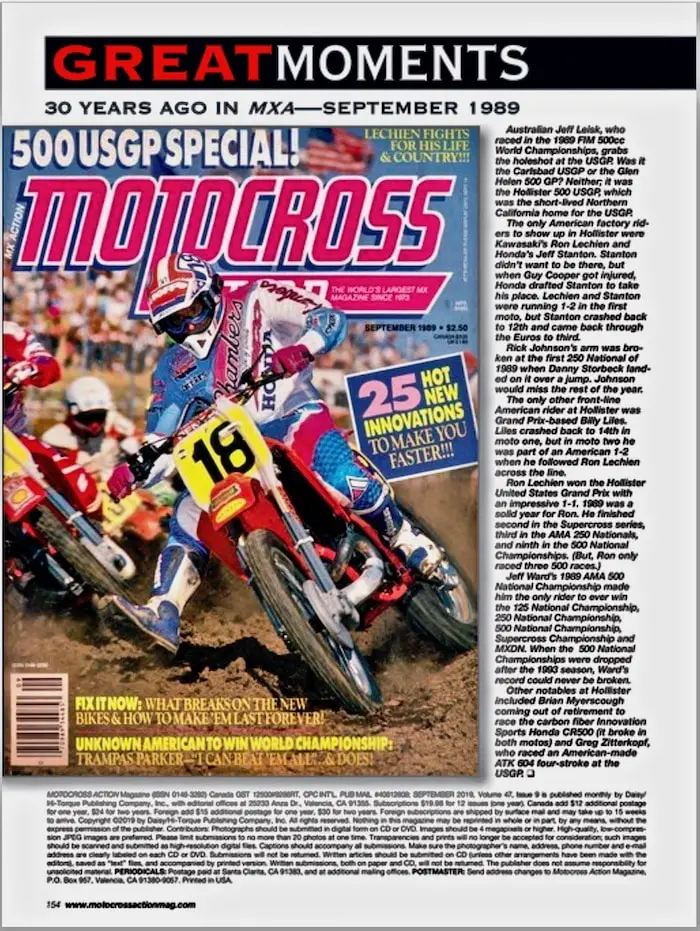 That's Jeff Leisk on the cover of the September 1989 issue. It wasn't the "Bounders" only MXA cover.
THE BEST WAY TO GET ALL OF THIS EVERY MONTH IS TO SUBSCRIBE…IT WON'T COST YOU A CENT
You can get all of this 12 times a year (along with a $25 Chaparral gift card to use on whatever gear, parts or accessories you need) delivered to your mailbox, computer or phone by calling (800) 767-0345 or CLICK HERE or click on the box below.