HAVE YOU SEEN THE NEW MXA? JAM-PACKED FULL OF 2017 BIKE TESTS
Click on images to enlarge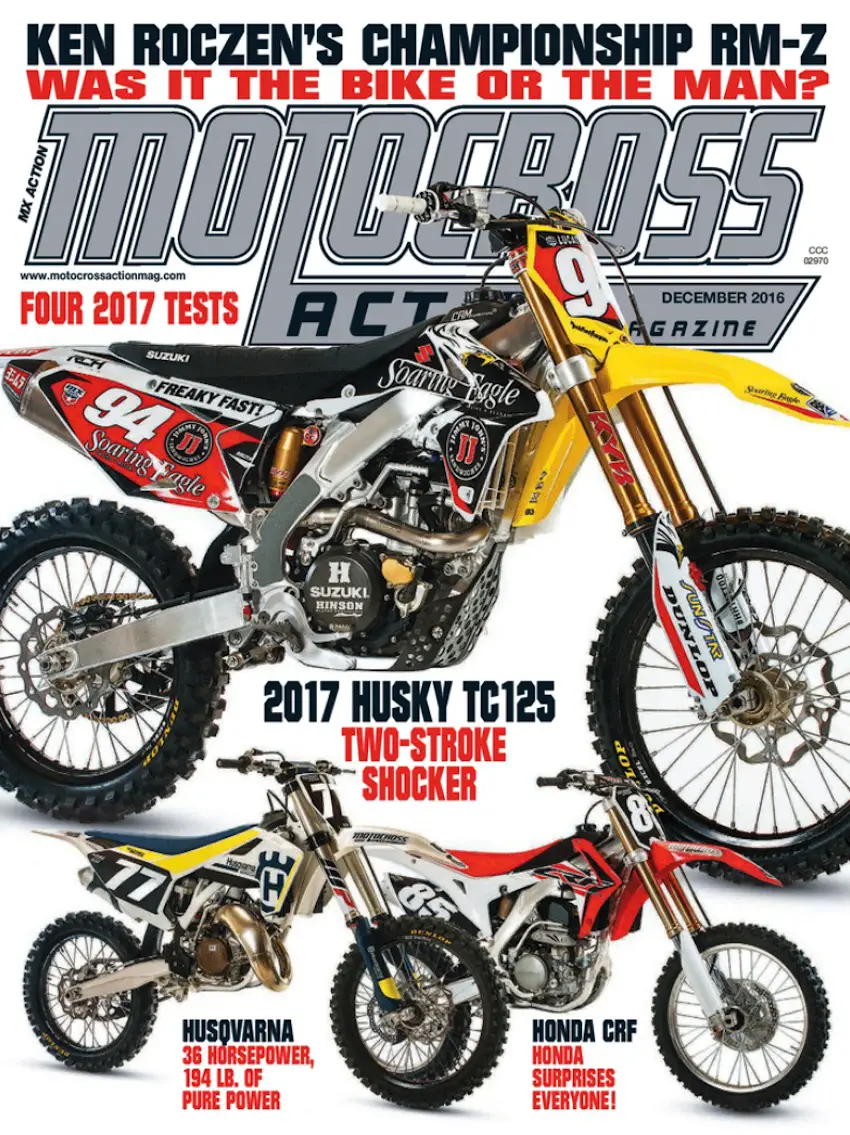 Someone had to get to race Ken Roczen's AMA 450 National Championship RCH Suzuki RM-Z450. If it wasn't going to be K-Roc, then it might as well be the MXA wrecking crew. See whAt made Kenny's Suzuki tick.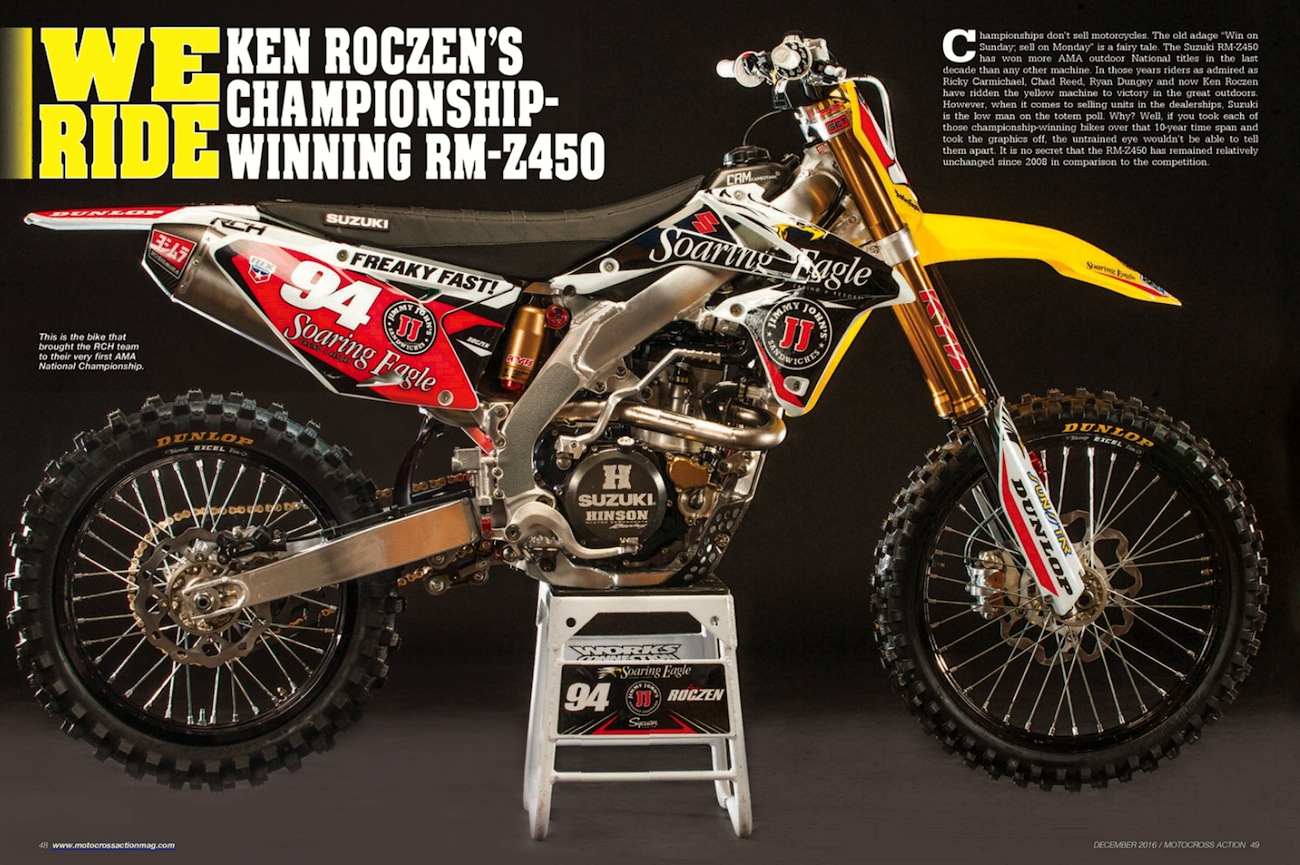 You'll be surprised by how Ken Roczen set-up his RM-Z450. We were and the RCH team said that they were too.
Dennis Stapleton and Daryl Ecklund raced the bike at the Soaring Eagle race in Michigan at the end of the AMA Nationals.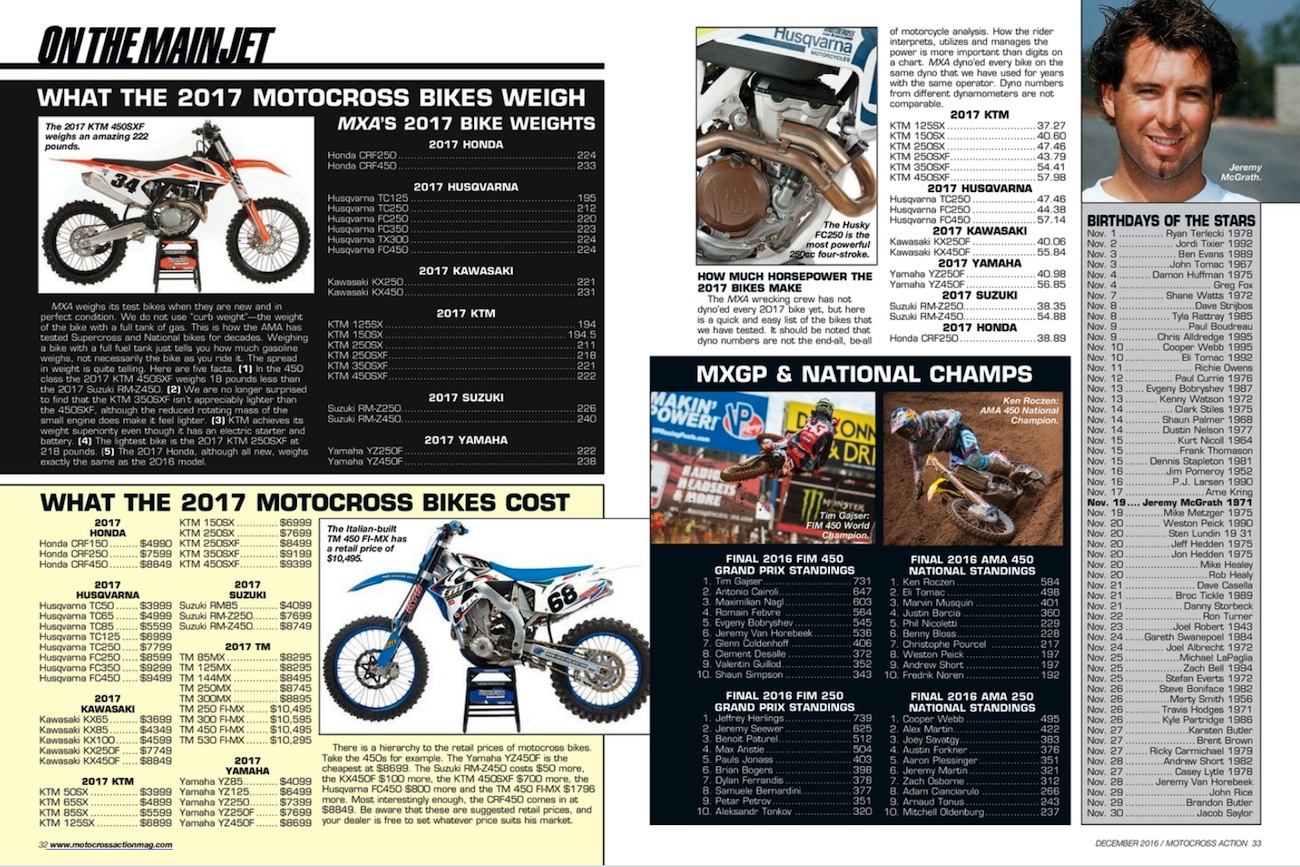 We give you the prices, weights and horsepower numbers of the 2017 motocross bikes—along with the birthdays of Cooper Webb aNd Eli Tomac (Thursday) and Jeremy McGrath (Nov. 19).
How many of these motocross greats can you name? Don't worry, we name all of them in this special Lars Larsson interview on the eve of his Edison Dye Lifetime Achievement Award. See the video on the homepage.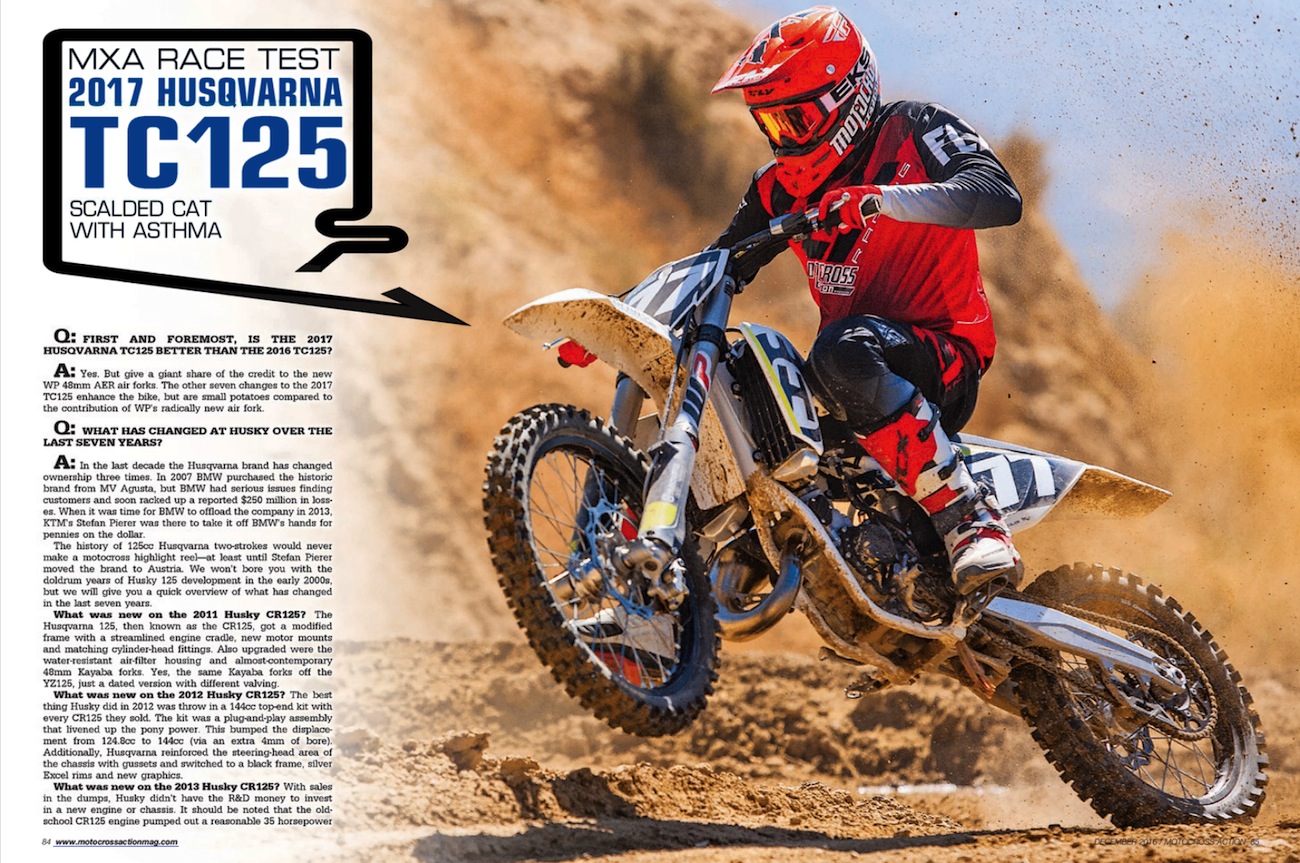 No matter how young or old you are there is nothing like going flat out on a 125 two-stroke. Thankfully, Husqvarna knows what consumers want and builds a high-tech smoker.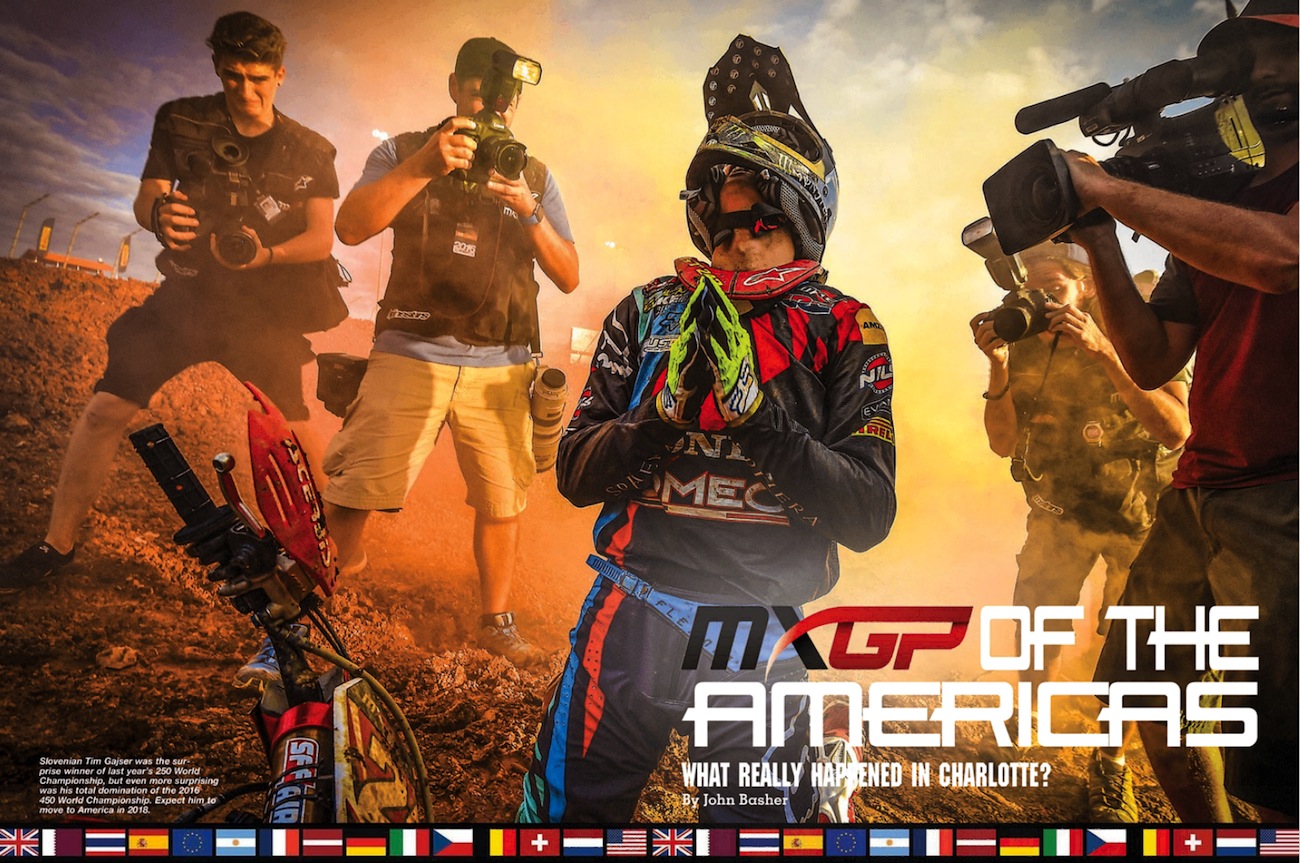 If this Massimo Zanzani photo of Tim Gajser celebrating his 2016 FIM 450 World Championship with a prayer doesn't get to you, then you don't know great photography.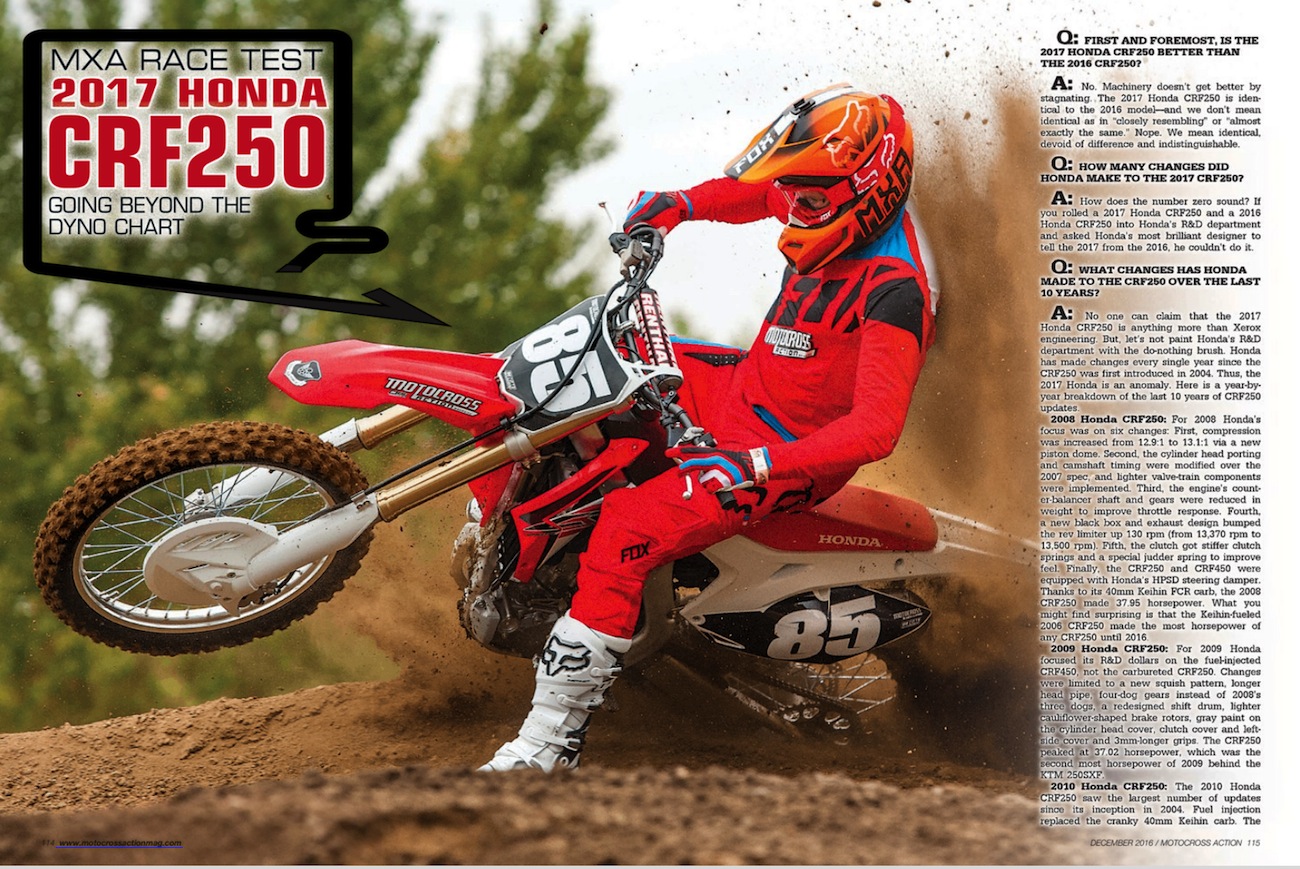 While everyone waits for the new 2017 CRF450, the venerable Honda CRF250 is biding its time until it gets a make-over in 2018.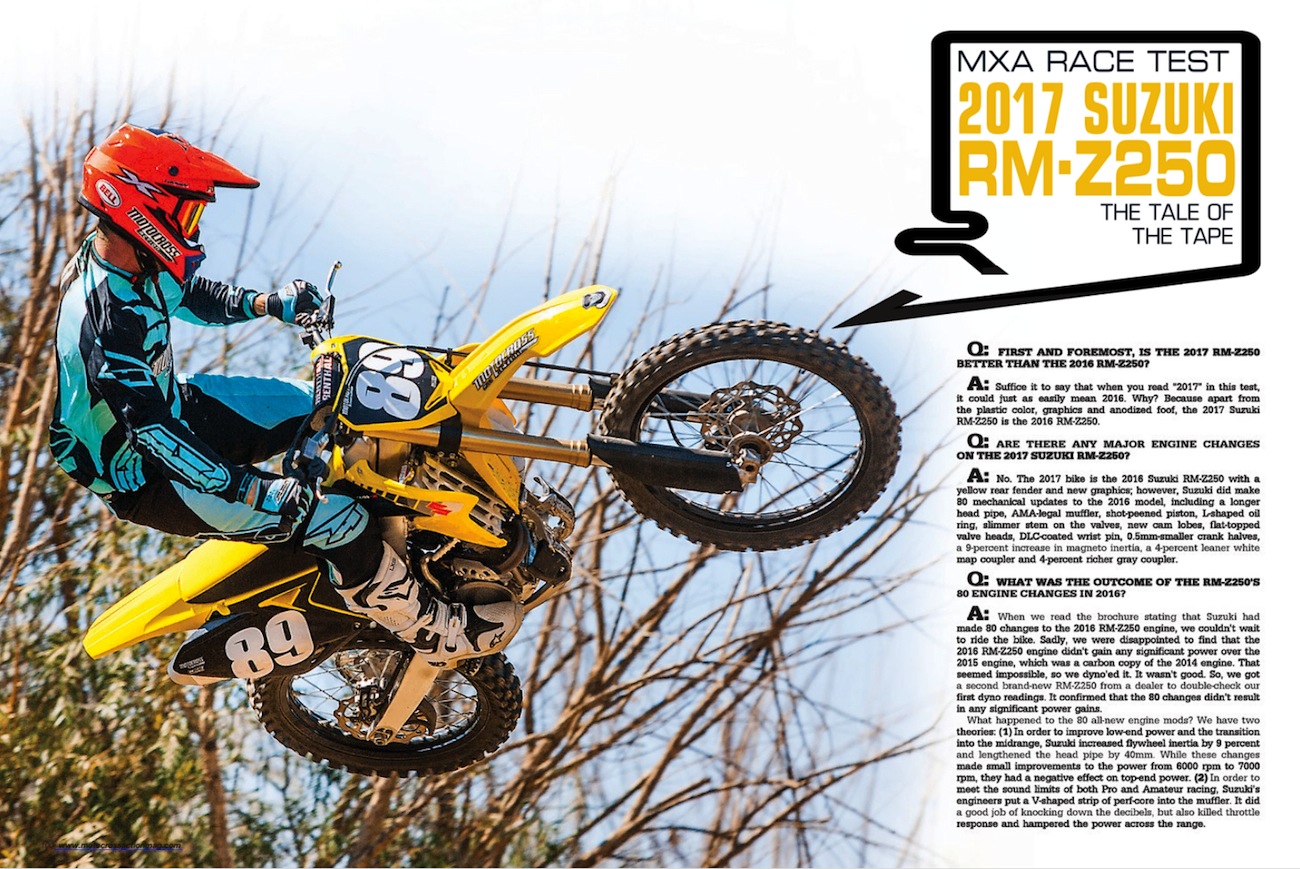 According to sources close to Suzuki, they have big plans scheduled for the future and for the 2017 Suzuki RM-Z250, that means JGR fielding a 250 team in this year's AMA series.
If you didn't go to the Charlotte or Glen Helen USGPs you missed two incredible performances by Eli Tomac (3). He made mincemeat out of Europe's best, including Tony Cairoli (222).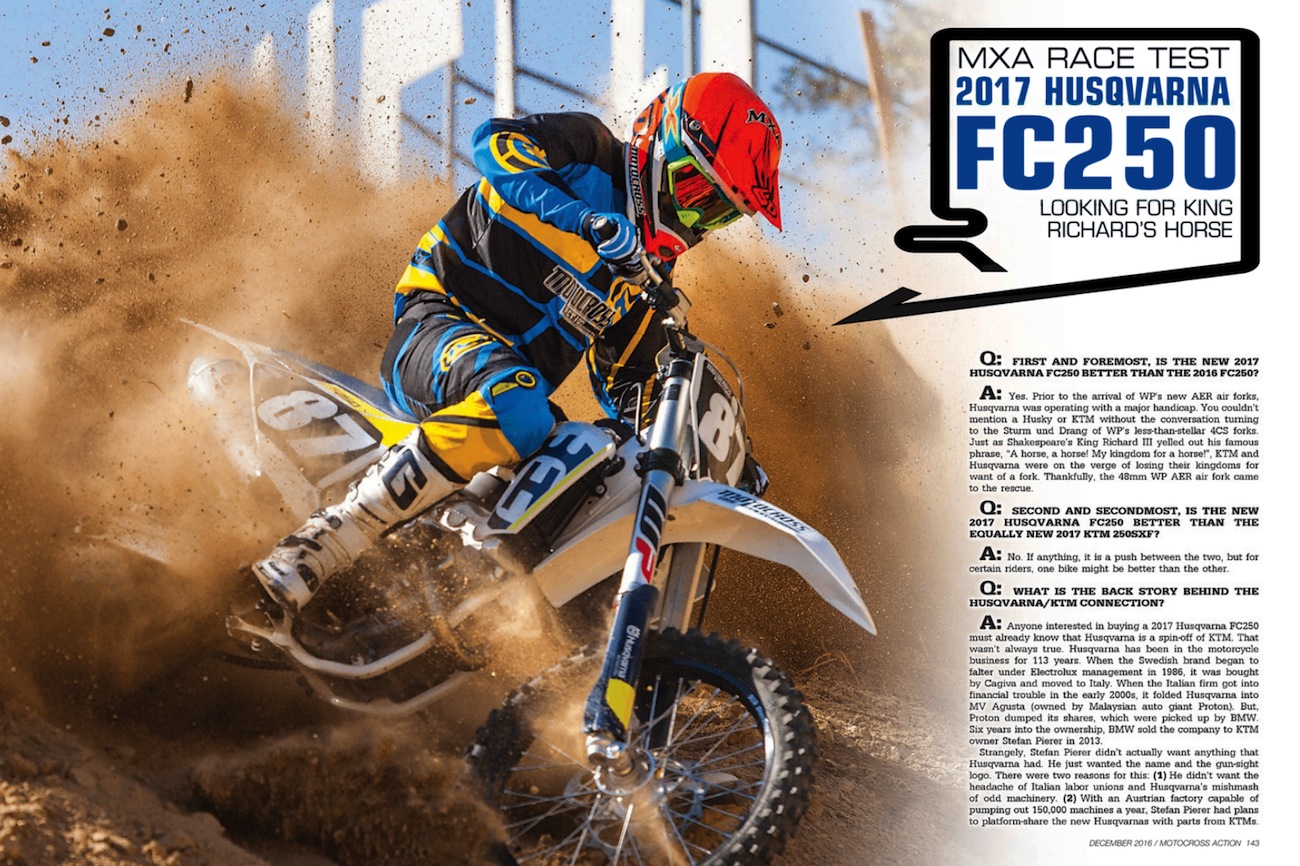 The 2017 Husqvarna FC250 is a really good bike—thanks in no small part to the best air forks ever put on a production bike.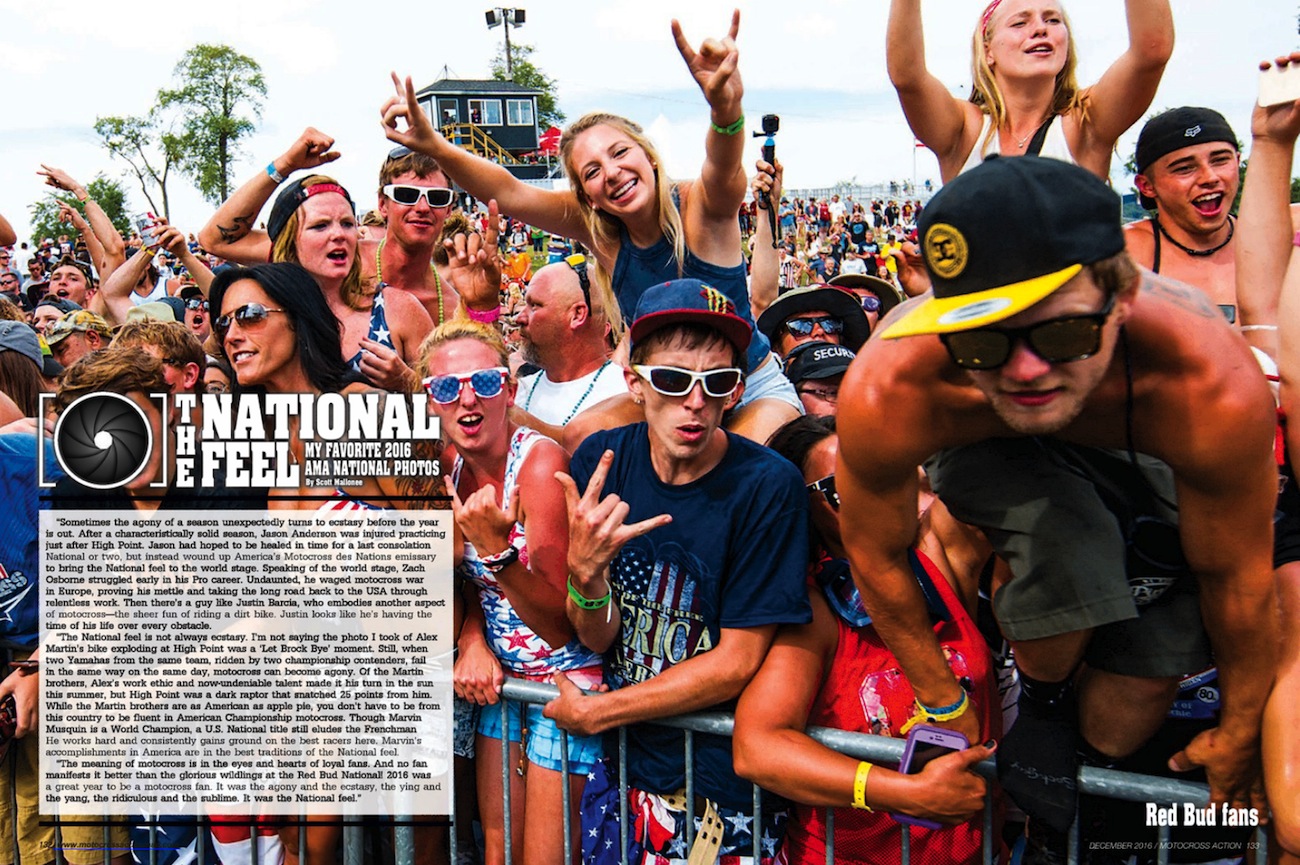 MXA asked photographers Brian Converse and Scott Mallonee to chose their favorite photos of the 2016 AMA Nationals—and write a description of how their year of following the Nationals went.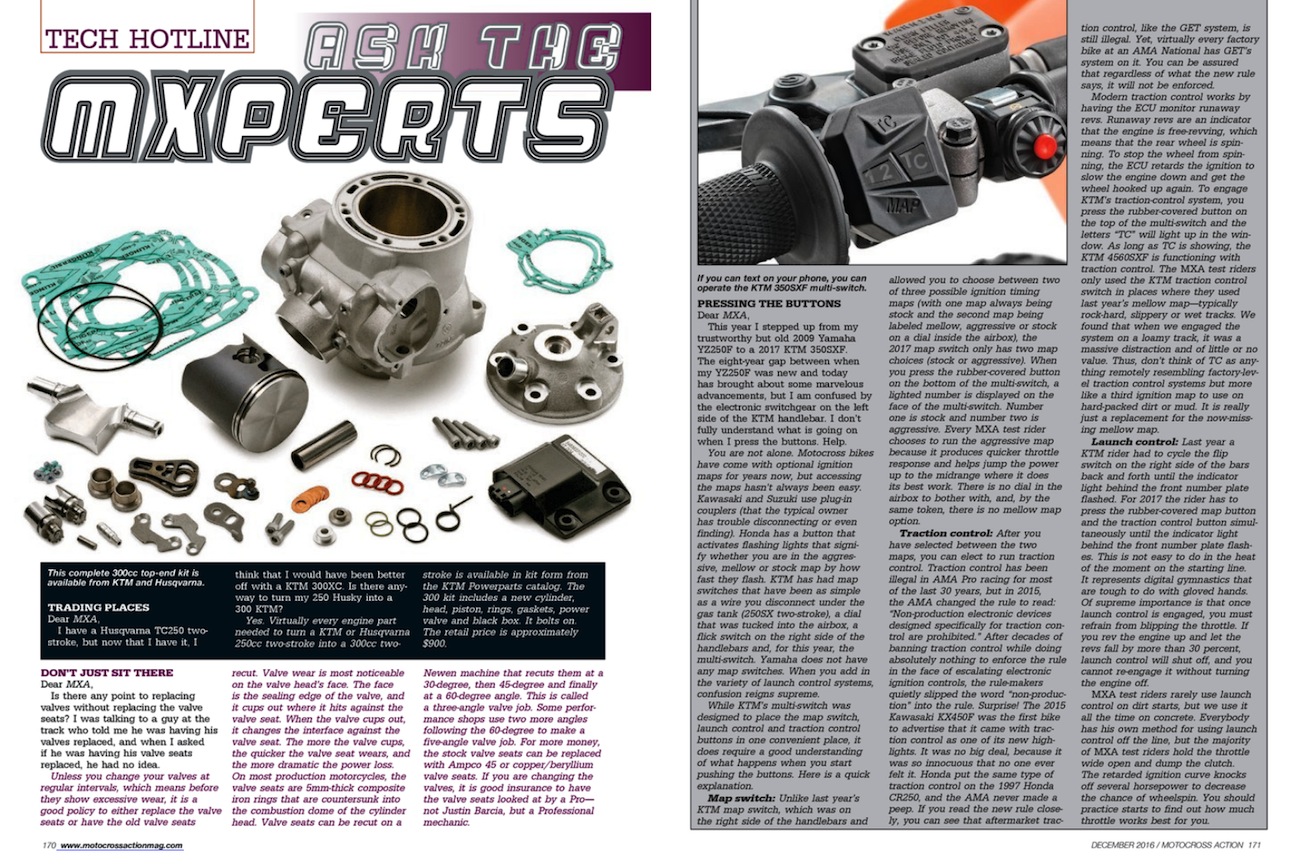 Advice is free. Good advice hard to come bike. Wise counsel very rare. You can trust the MXperts.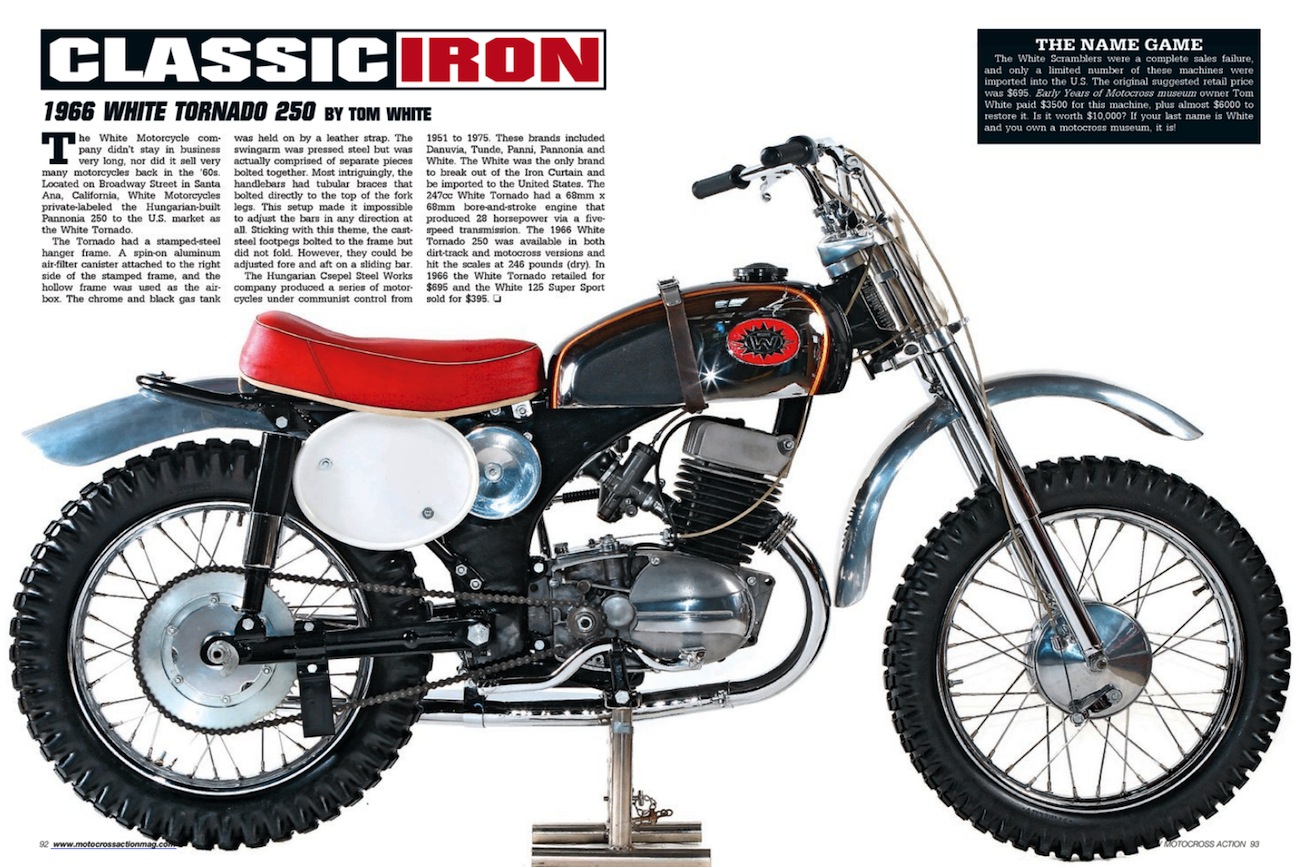 We know that you've never seen a 1966 White Tornado 250. It didn't have a long lifespan in the USA. So, who would $9500 restoring one? Tom White, of course.
OTHER STORIES YOU MIGHT LIKE IN THE DECEMBER ISSUE
Do you subscribe to MXA? You should. We know that you think that print magazines are dead and that the internet will fill the void, but most of the stuff in the current issue of MXA won't appear on the web for several months, if at all. Luckily, you can get all of MXA on your iPhone, iPad, Kindle or Android by going to the Apple Store, Amazon or Google Play. Better yet get the Digital desktop version at https://hi-torque.com/product/motocross-action-digital-edition/ for $9.99 a year. The MXA test riders prefer the print version and not just because it is delivered by a uniformed employee of the U.S. Government, but because for only $19.99 you get 12 issues and a free $25 Gift Card from Rocky Mountain ATV/MC. That means that there is a profit to be made in this deal for you. For the Print magazine go to: http://hi-torque.com/product/subscribe-to-motocross-action-magazine/