HAVE YOU SEEN THE NEW MXA? "NO" IS NOT AN ACCEPTABLE ANSWER—YOU DON'T KNOW WHAT YOU ARE MISSING
HAVE YOU SEEN THE NEW MXA? A MOTOCROSS MAGAZINE FOR
GUYS WHO LOVE BIKES
The January 2022 issue of MXA is jam-packed full of stuff you need to know—especially if you're sitting at home looking out at the frozen tundra and wishing you could get a taste of motocross to warm you up. MXA is all about motocross, and pretty soon Supercross. Below is a sampling of what's inside the new issue of Motocross Action.

We alway have hopes that Honda will get back to their glory days. Last year the Honda suffered teething issues, which Honda set out to fix for 2022. Did they? You gotten read the test to find out.

In 1968 Bultaco wanted to build an Open Class two-stroke and the MK2 360 Bandito was it. It was never popular with American motocrossers, but it sold in droves to scrambles and dirt track racers, where its slack 31-degree head angle made it a natural slider. In 1972 the 360 Pursang found the motocross following that Bultaco wanted in the Open class.

Jo Shimoda got cast aside when the Geico Honda team folded at the end of the 2020 AMA 250 Nationals, but he found a home at Pro Circuit Kawasaki as the fifth member of their four-man team. It's a good thing that Mitch Payton made room for Jo because he was the best rider on their team by the end of the 2021 season.

We tracked down the "Sugar Bear" for a revealing look at the life and times of Billy Grossi. Although his brother was Factory Husqvarna rider Bob Grossi, Billy set his own course through Husqvarna, Kawasaki, Honda, Suzuki,  Maico, KTM and, believe it or not, Carabela. You'll agree that it's a uplifting story after you read it.

They said it couldn't be done, but a small conglomerate of industry veterans, including team manager Larry Brooks and engine builder Jamie Ellis, pulled a rabbit out of the hat, by giving Dilan Schwartz a Suzuki RM-Z250 that was capable of making the top ten in the AMA 250 Nationals. Schwartz became an underground hero for his hard charges through the pack every week and his bike ought to go the Suzuki museum for doing the impossible.

It's no secret that the MXA test crew believes that the 2022 Husqvarna FC450 is the best handling, easiest to ride and most versatile 450 on the track. The key to its success? They built it for Vets, Novices, Intermediates and regular folks—not for Pros who would change every  thing on it any way. This is one awesome machine.
MXA went to the EKS Brand goggle headquarters to meet the Taylor family. The Taylors have what it takes to succeed in the motocross business. Grandpa Hook Taylor was a 1980's goggle genius, dad Rich was an AMA Pro, the youngsters are up and coming Pros and, best of all, Mom Melissa keeps the books.
Back in 2001, James Stewart was still racing in the mini class, but there wasn't a person in the sport who didn't know that he was going to be the next big thing. The last bike on his way out of the minicycle class was this 2001 Pro Circuit Kawasaki KX85—actually a 2000 KX80 bored out to 85cc. The next step was stardom.

Thanks to great Kayaba SSS suspension, class leading reliability, WiFi mapping and a strong top-end powerband, the 2022 YZ450 is able to overcome its reputation for being big, wide, tall and heavy. It as a great buy for working class racers who don't want a finicky machine. Learn all about it in this test.
The best thing about a Kawasaki KX500 two-stroke is that you can break the rear wheel loose whenever you want. The worst thing about the Kawasaki KX500 two-stroke is that it can break the rear wheel loose whenever it wants.

MXA tests 75 bikes a year, in this issue alone we tested six bikes. That means that we have lots of experience with what breaks and, better yet, the MXperts are willing to answer all your questions (and if we can't, we call an industry insiders who can).

Are you looking for a Christmas gift for a friend, relative or yourself? MXA rounded up 20 great gift ideas for this holiday season, but you better hurry.
"Team Tested" is a brief summary of products that we have tested in the past and you might have forgotten about, while "Big Movers" lets a company insider, like Engine Ice's Bryan Emrich, tell you about their Best Selling, Best Value and Most Unique products.
The Corner Coach  is a strap-on seat bump that let's motocross coaches or riders unsure of where to sit, learn the benefits of moving forward, while "Dream Jobs" chronicles how three industry insiders got their jobs in the motorcycle business. We offer it as a guide to how you might follow in their footsteps.

Product tests are the bread and butter of the MXA wrecking crew. This month we tested the Corner Coach, Luxon Gen2 Split triple clamps (for GasGas) and the Arai VX-Pro4 Stanton model.

"MXA Gear Guide" features the latest riding gear—this month it is FXR Helium MX gear, Gaerne SG-12 boots and FXR's Race Div 6D ATR-2 helmet. "Hit Parade" is one of four separate stories highlighting new products or racers.

HOW TO SUBSCRIBE TO MXA SO THAT YOU NEVER MISS ANOTHER ISSUE, PLUS GET A $25 ROCKY MOUNTAIN GIFT CARD TO COVER YOUR COSTS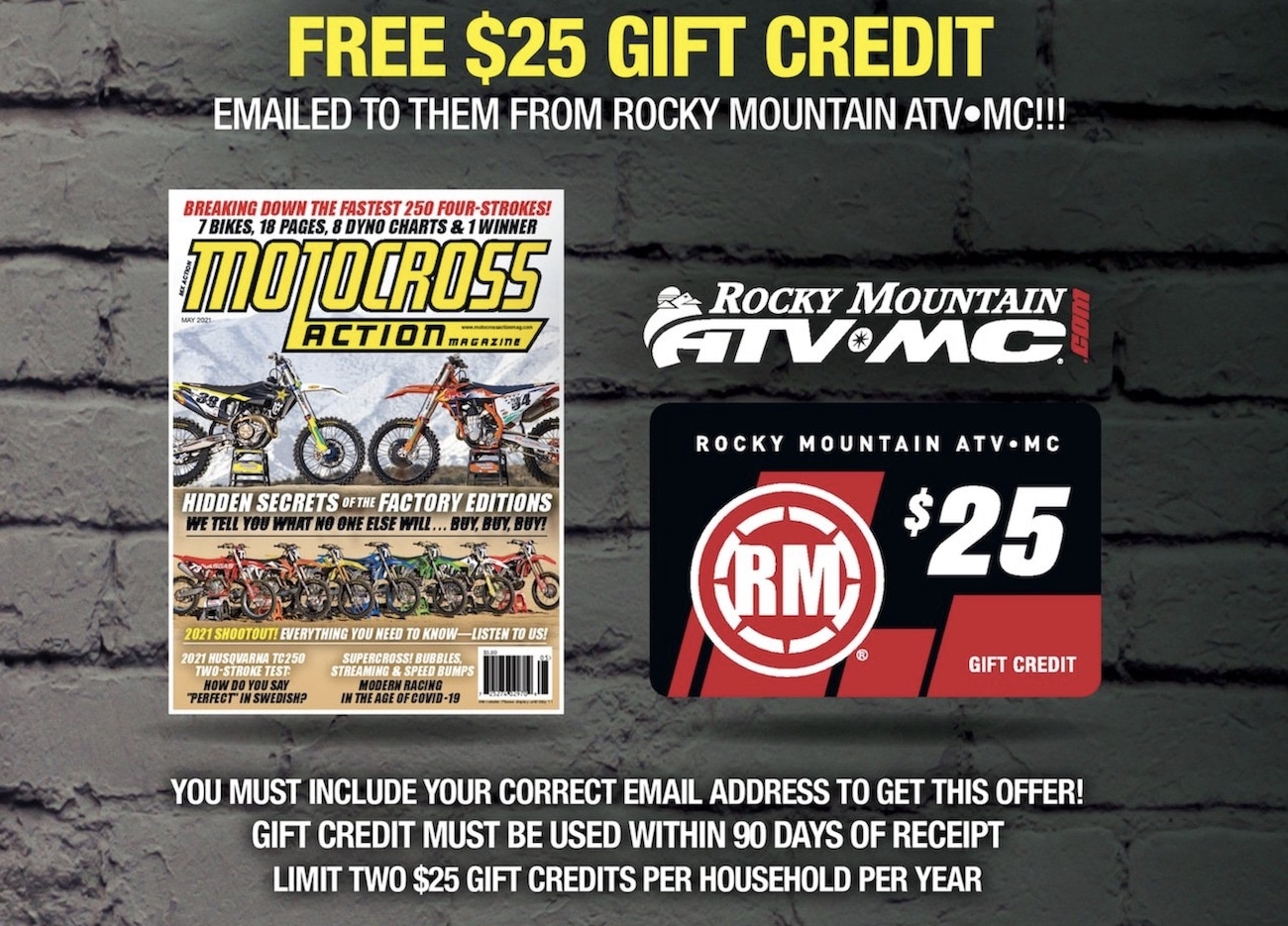 If you subscribe to MXA you can get the mag on your iPhone, iPad, Kindle or Android by going to the Apple Store, Amazon or Google Play or in a digital version. Even better you can subscribe to Motocross Action and get the awesome print edition delivered to your house by a uniformed employee of the U.S. Government.
Did we mention the $25 gift card for any part you want from Rocky Mountain ATV/MX? They will email you a $25 credit to order anything you want (be sure to include your email address and check your emails to receive your $25). In short, subscribing to MXA for one full year, won't cost you anything! You can call (800) 767-0345 or Click Here.