HAVE YOU SEEN THE NEW MXA? A MOTOCROSS MAGAZINE FOR GUYS WHO LOVE BIKES & THE JUNE ISSUE HAS TONS OF THEM
HAVE YOU SEEN THE NEW MXA? A MOTOCROSS MAGAZINE FOR GUYS WHO LOVE BIKES
The June 2022 issue of MXA is jam-packed full of stuff you need to know—especially about the six bikes tested in this issue, but also because we provide you with a wealth of information that you'll never see anywhere else. For example, how much do you know about the AMA's "Concussion Protocal " test? We tell you how it works and how riders are able to beat the protocol so they can return for racing even if their brains are mush. Additionally, we have Jamie Ellis explain why dynos aren't all they are cracked up to be, well, the dynos are good, but the numbers aren't. How about a brief history of brands that have turned their cylinders or cylinder heads around backwards—some decades before the idea of "centralization of mass" was part of the vernacular. Have you ever wondered why one tire labeled as a 120 is smaller than another brand's 110? Wonder no more. MXA is all about motorcycles—if you don't want to know everything about how motorcycles works, we aren't for you.

Want a quick thumbnail sketch of what we thought of the 2022 Kawasaki KX450 Special racer? We said, "If the KX450SR had been in the 2022 450 Motocross Shootout, it would have stood a good chance of winning." Sounds great and it is, but we added that it would never win shootouts until the Kawasaki engineers spec'ed a smaller rear rotor, contemporary ECU switchgear,  longer-lasting chain roller, higher-pressure radiator cap, higher quality plastic parts and improved durability. But, the "Special Racer" has the bones of great race bike.

The first Montesa motocross bikes were imported into the United States in 1963 by Kim Kimball. As a side note, race car drivers Dan Gurney, Ritchie Ginter, Mickey Thompson and Phil Hill were shareholders in Montesa USA. The first U.S. model was the Impala 175 Cross, which was called the "Scrambler" in America. The Impala Scrambler was eventually replaced by the new 250cc and 360cc Cappra models. Today, Montesa is owned by Honda and they produce small street bikes, mopeds and Honda trials bikes.
Honda has struggled with finding balance on the CRF450 ever since they introduced the ill-fated "Cab Forward" design in 2009. But what is more surprising is that when they modify the CRF450 to turn it into the limited-edition Honda CRF45o Works Edition almost all of the flaws disappear. The ECU mapping and engine changes fill in the stock engine's short-comings, not by making the Works Edition faster or more powerful, but by making it broader and easier to use. The 2022 Honda CRF450 is a step in the right direction for the star-crossed CRF450. And there is a message in what we learned from the CRF450WE that could help the stock production CRF450—don't go looking for more power, seek out smoother power. It will help calm down the chassis.

His early career Jim Gibson started with amazing success. He went straight from the local tracks to the 1978 500cc Trans-AMA series. In 1980 Honda signed him to race the 125 Nationals, but at the end of a test day at Carlsbad he hopped on a CR500 and set the fastest lap times of all the Honda riders, and suddenly they moved him to the 500 Nationals, where he finished 5th overall. Then, they moved him back to the 125 class for the next two years (where he finished fourth and third in in 1981 and 1982). He was named to the 1982 Trophee and Motocross des Nations teams and impressed Yamaha enough for them to offer him a 125 Grand Prix ride for 1983. He won the Finnish 125 GP and ended up third in the 1983 125 World Championships. He had a two-year contract with Yamaha, but Yamaha pulled out of the Grand Prix series in 1984 and left him hanging. Honda offered Jim a deal to ride the 1984 Supercross series, but Jim turned it down and quit racing. You'll have to read the interview to find out why.

We had issues with our 2022-1/2 KTM 40SXF Factory Edition when we first started testing it. We struggled with the more rigid frame, finding the proper fork set-up and coming to terms with the added weight. KTM brought us a second 450SXF Factory Edition to test to see if something was wrong with our original test unit. They were identical. Most test riders said that they would rather race their 2022 KTM 450SXF than the 2022-1/2 Factory Edition, but then something strange happened. From race weekend to race weekend, the test riders began to change their minds. Riders who said they "hated"  the Factory Edition when they raced it with 2 hours on the clock, suddenly loved it at four hours and even bought one at eight hours.  The all-new frame needs time to break in, the WP XACT air forks started to work better at 5 hours, the handling came around to "KTM perfect" at 10 hours. It was a different bike once it broke in.

When GasGas was introduced under the Austrian umbrella, they didn't included the MC 250 two-stroke in their first model year's line-up. Two-stroke riders were bummed out, but for 2022 (and on into future production) they have added the GasGas MC250 to the list. Under the red plastic is a KTM 250SX, but with enough modification to make the MC250 more comfortable, and $600 cheaper than its orange brother. We liked the look, the comfortable suspension valving and the fact that for a first-year model, it had years of R&D behind it. How much did we like it? MXA's Josh Mosiman selected it to race in the Open Pro class at the World Two-Stroke Championships (with a few mods).

Back in 2003 the FIM World Championship were a different animal. They were experimenting with new formats and new rules. One of those changes was that Grand Prix riders could ride the 250 and 450 class on the same day. It should come as no surprise that Stefan Everts was more than willing to accept that challenge. Yamaha of Europe flew MXA's Tim Olson to the Asti track near Milan, where they had Stefan Evert's YZ250FM and YZ450FM waiting for him to ride—and Stefan Everts was there to give Tim any help he needed. This is Tim's story, which was capped off when Yamaha accidentally left Tim stranded at racetrack and he had to take $256 cab ride back to Milan.

The name Pasha Afshar is normally associated with Hollywood movies to the outside world and to 125cc two-stroke racing to the motocross crowd. MXA races with Pasha almost every week, so we are able to get a pretty good look at his stable of 125 two-strokes on a regular basis, but every now and then, he throws us a curveball.  Which is where Pasha's Twisted Development KTM 270SXF came into our radar. Pasha owned a new KTM 250SXF, but since he races in a class that has no displacement limit, he is often lined up against 30 guys on 450s. His 250SXF was out-gunned. That is where Twisted Development's Jamie Ellis, Cylinder Work's Jay Clark and N2Dirt's Brian Bolding came into the picture. They joined forces to build Pasha a full-race KTM 270SXF that could keep pace with 450s. MXA took Pasha's kitted 270SXF away from him, spiffed up the graphics and went racing. Our verdict? This is the perfect bike for a guy who has a 250SXF, but wished he's bought a 350SXF.

We know that new model season brings out all the new improved bikes that are littered with all of the new bells and whistles, but the one brand that we didn't want to see any changes on for 2023 was GasGas. Why not? First, it is a pretty sweet machine as it sits (and it is only just starting its third year of production). Second, it has a retail price that matches what Yamaha, Kawasaki and Honda sell their competing models for and if the Gas Gas engineers started added extra foof on their 2023 machines, the price would go up. We didn't want that…and we don't think potential GasGas buyers do either.
During this Spring, the MXA gang decided to do some of the West Coast's big-time off-road races—WORCS, NGPC, SRA and the Lake Havasu GP. So, we sent Josh Mosiman and Josh Fout, who have plenty of off-road experience, off to spice up our racing life. But we didn't send them empty handed, we had equipped our Honda CRF450RX and Yamaha YZ450FX for the task at hand—but before we got to the first race 11-time Baja Champion Johnny Campbell offered us a full-race JCR Honda race bike. We couldn't say no to a factory bike, full pit support and a bevy of mechanics. Here is the full story.

Modern motorcycles bring with them lots of mysteries. It is hard to keep up with the changes the manufacturer make and how to access all of the features.  MXA tests 75 bikes a year, every year, and in this issue alone we test six bikes. That means that we have lots of experience with what breaks and, better yet, the MXperts are willing to answer all your questions (and if we can't, we call an industry insiders who can).
HOW TO SUBSCRIBE TO MXA SO THAT YOU NEVER MISS ANOTHER ISSUE, PLUS GET A $25 ROCKY MOUNTAIN GIFT CARD TO COVER YOUR COSTS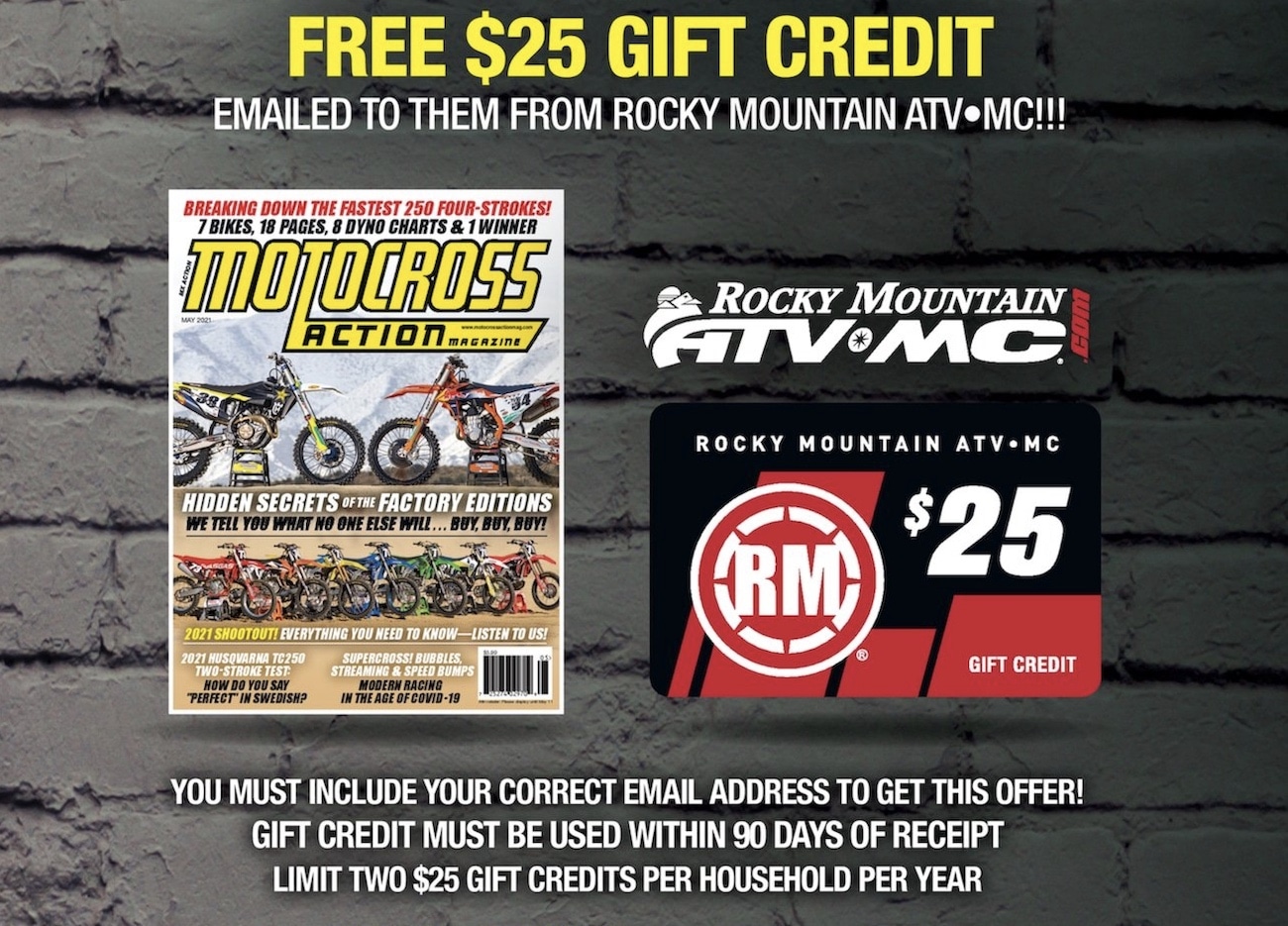 If you subscribe to MXA you can get the mag on your iPhone, iPad, Kindle or Android by going to the Apple Store, Amazon or Google Play or in a digital version. Even better you can subscribe to Motocross Action and get the awesome print edition delivered to your house by a uniformed employee of the U.S. Government.
Did we mention the $25 gift card for any part you want from Rocky Mountain ATV/MX? They will email you a $25 credit to order anything you want (be sure to include your email address and check your emails to receive your $25). In short, subscribing to MXA for one full year, won't cost you anything! You can call (800) 767-0345 or Click Here.