HAVE YOU SEEN THE NEW MXA: OCTOBER ISSUE IS OUT NOW
Click on images to enlarge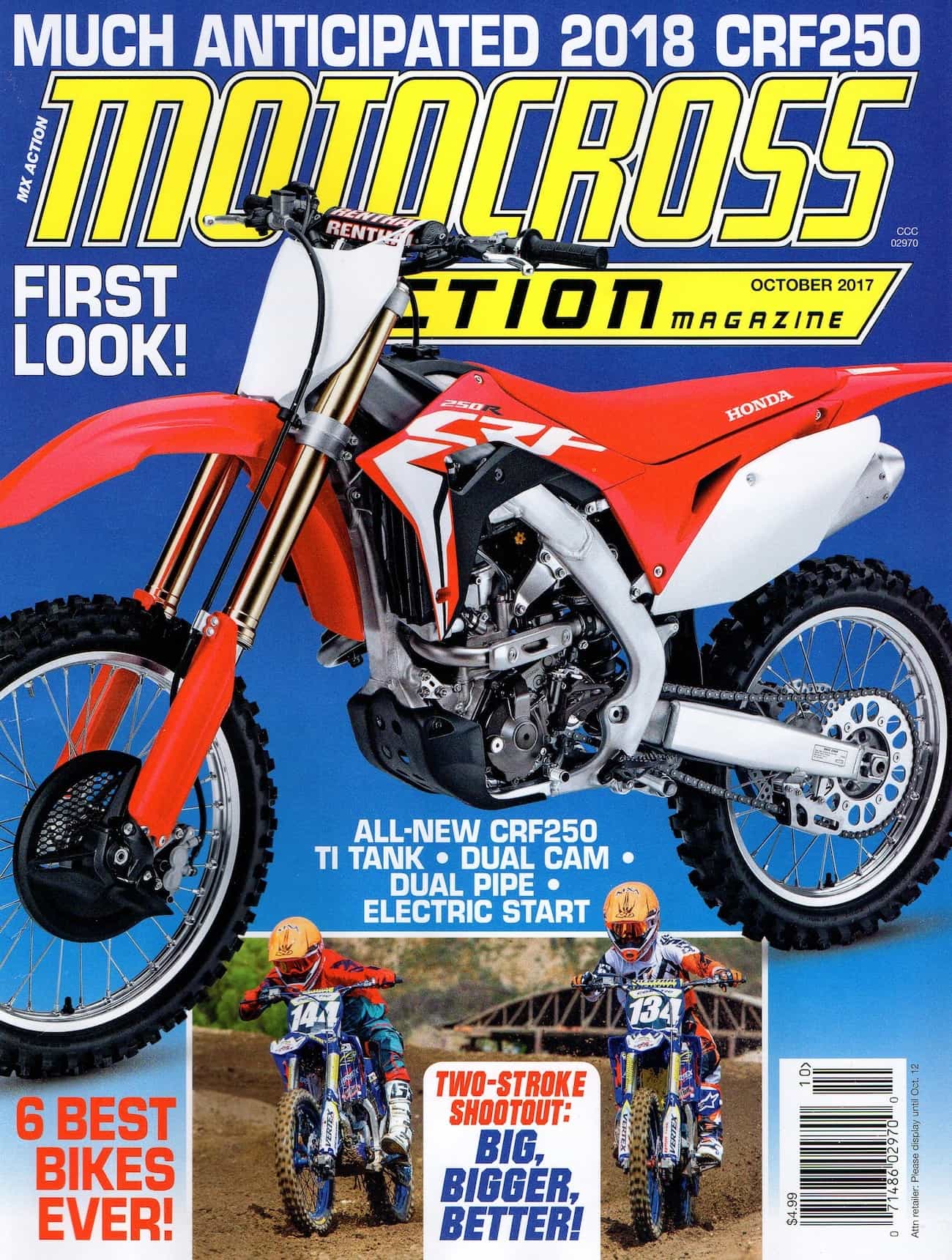 The whole world, at least the part that dresses in red, is waiting for the release of the 2018 Honda CRF250. We give you detailed photos of all the major changes on the new CRF.
The MXA wrecking crew loves the KTM 350SXF. It's not everyone's cup of tea, but it is a great Vet bike and the perfect Professional Practice Rider steed.

Everything you need to know about the 2018 Honda CRF250 in one place—with easy to decipher copy and lots of photos of the working parts.

(Left) Doug Dubach was a factory Yamaha rider and AMA Supercross winner, but he found his greatest fame after he retired from AMA racing. (Right) Bones goes to Mammoth (without his fishing pole) and tells you what he saw there.
When you hear the name Puch you automatically think of Harry Everts' twin-carb, magnesium Puch MC250. But, if you were racing in the 1970s, Puch was most famous for its 125s.

MXA sends a moto-photographer to every FIM Grand Prix. We decided to let him choose the photos he liked the most from the 2017 World Champiunship series.

This is another sample of the photos that Massimo Zanzani shot for MXA's Grand Prix photo essay.

(Left) Parked outside for 40 years, this Greeves found a home at a museum. But you'll never guess where they display it. (Right) Looking for the cheapest way to stay cool on a broiling hot day. This is it.
All the mysteries of modern motorcycling are solved by the MXperts. Ask them anything.
Got an old Yamaha YZ125 that you'd like to breathe new life into. How about going big? Or better yet, how about going bigger? We built a YZ134 and a YZ144 with identical suspension and components to find out which is better.


(Left) This isn't your father's Asterisk knee brace. It's been redesigned, reinforced and improved. (Right) Who's the crazy guy pitching it in to the first turn at the 1997 Brazilian Grand Prix? We tell you.

Honda was under no obligation to make any changes to the 2018 CRF450—after all, it was brand spankin' new in 2017. Thankfully, they didn't listen to the pencil pushers.

How to look at the jumps at your local track and decipher what's wrong with them in 10 seconds.

(Left ) Three people who have jobs that you would love. (right) One of the rarest parts in motocross-dom was also the most unique.
Lots of stuff you never knew about Grant Langtson—like having no money, winning the World Championship, moving to America, losing by a hair, winning by a hair and going blind.


(Left) We were surprised by the Metzeler MC360. (Left) Alex Martin, Dakota Alix and Jonny Oler tell their tales.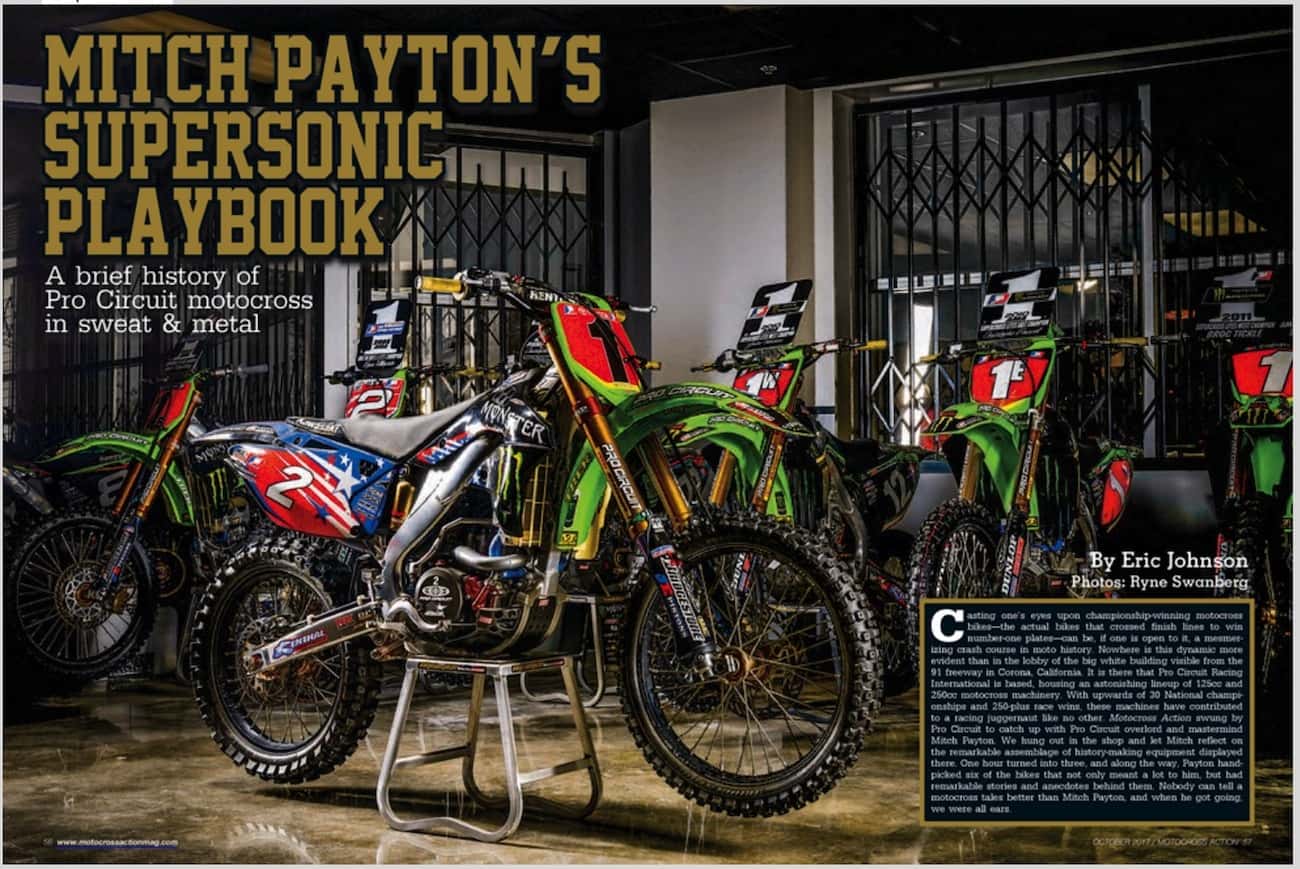 We visit a museum that only has bikes that won AMA Championships—all built by the same man. Let him tell you about them.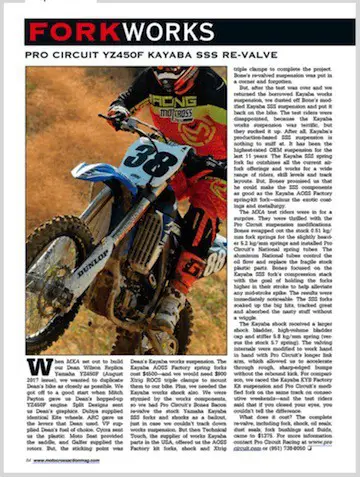 (Left) When we built our Dean Wilson Replica YZ450F, we used works Kayaba forks. Which meant that we had stock Kayaba SSS forks sitting on the shelf. We sent them to Bones to fix. (Right) Four products get used, abused and tested.

HOW TO SUBSCRIBE TO MOTOCROSS ACTION MAGAZINE

Do you subscribe to MXA? You should. We know that you think that print magazines are dead and that the internet will fill the void, but most of the stuff in the current issue of MXA won't appear on the web for several months, if at all. Luckily, you can get all of MXA on your iPhone, iPad, Kindle or Android by going to the Apple Store, Amazon or Google Play. Better yet get the Digital desktop version at https://hi-torque.com/product/motocross-action-digital-edition/ for $9.99 a year.
The MXA test riders prefer the print version and not just because it is delivered by a uniformed employee of the U.S. Government, but because right now you can get 12 issues for $19.99 and a free $25 Gift Card from Rocky Mountain ATV/MC. That means that there is a profit to be made in this deal for you. For the Print magazine go to: https://hi-torque.com/product/motocross-action/