HAVE YOU SEEN THE NEW MXA? PREVIEW THE COMPLETE 2020 MXA 450 SHOOTOUT IN ITS FULL GLORY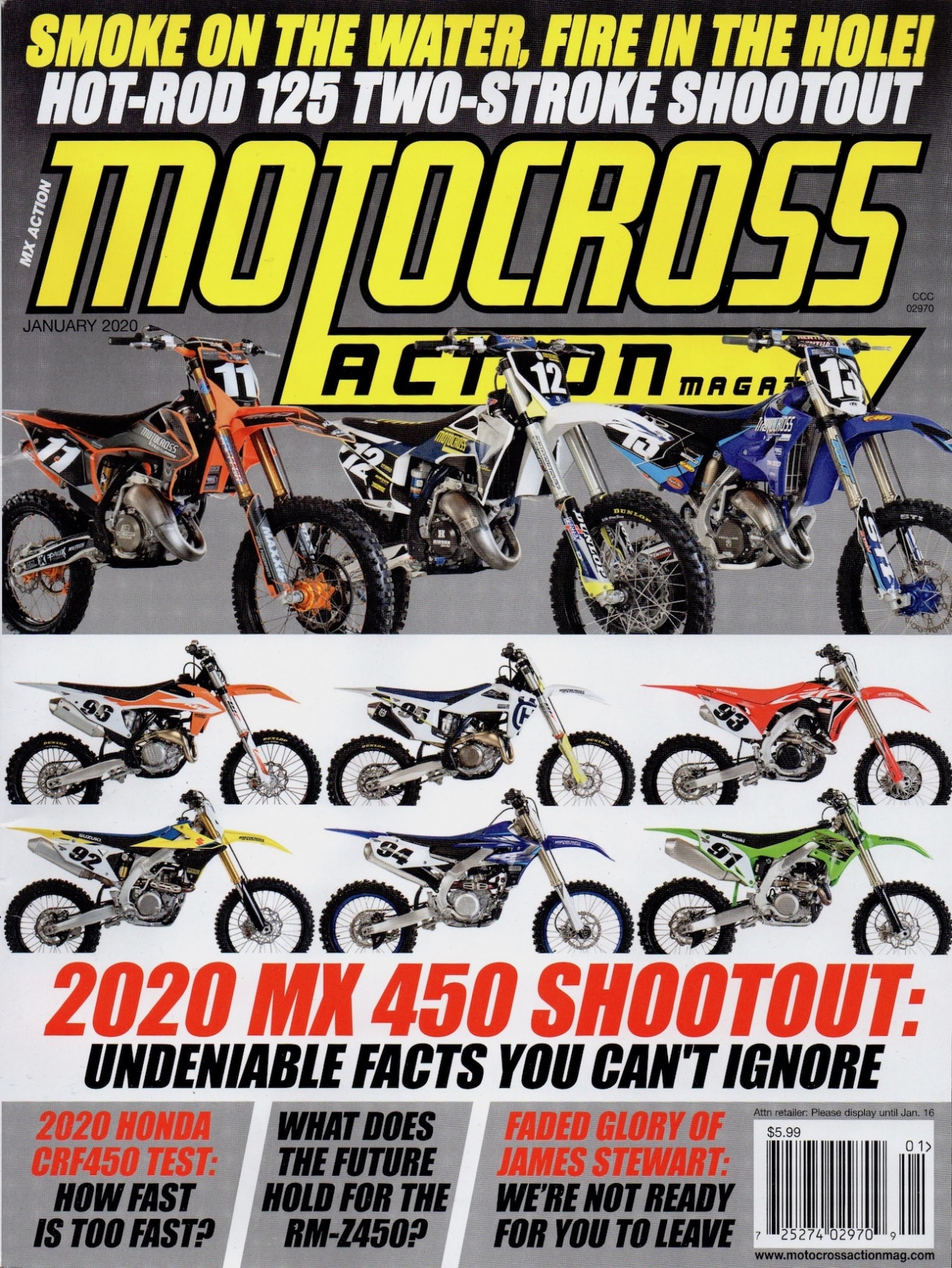 The January 2020 issue of MXA is out. Have you seen it, because if your haven't you are missing a boatload of valuable information about the bikes you care about. What follows is a quick overview of just some of the things that are in this issue.
This is not your normal run-of-mill 450 shootout. It is long, detailed and includes things you don't know about the six bikes in the test. What you'll learn in this Shootout will serve you well in the future.
We aren't afraid to tell you that we narrowed the six bikes down to the two best and then did another 450 shootout that only included the 2020 Yamaha YZ450F and 2020 KTM 450SXF. This "Final Showdown" lays out the foundation of why one of these bikes won and one came close.
If you want to know the technical aspects of what's wrong with your bike, you should "Ask the MXperts." They have the answers and if they don't they call the industry expert that know the subject in detail.
What if you took a truck full of 125s, including a 2020 YZ125, 2020 Husqvarna TC125 and KTM 125SX and drove them all over SoCal to get them to the hottest tuners on the planet. Oh yeah, we also brought along a detailed list of what we were looking for (and a boatload of money). When they were done, we went racing.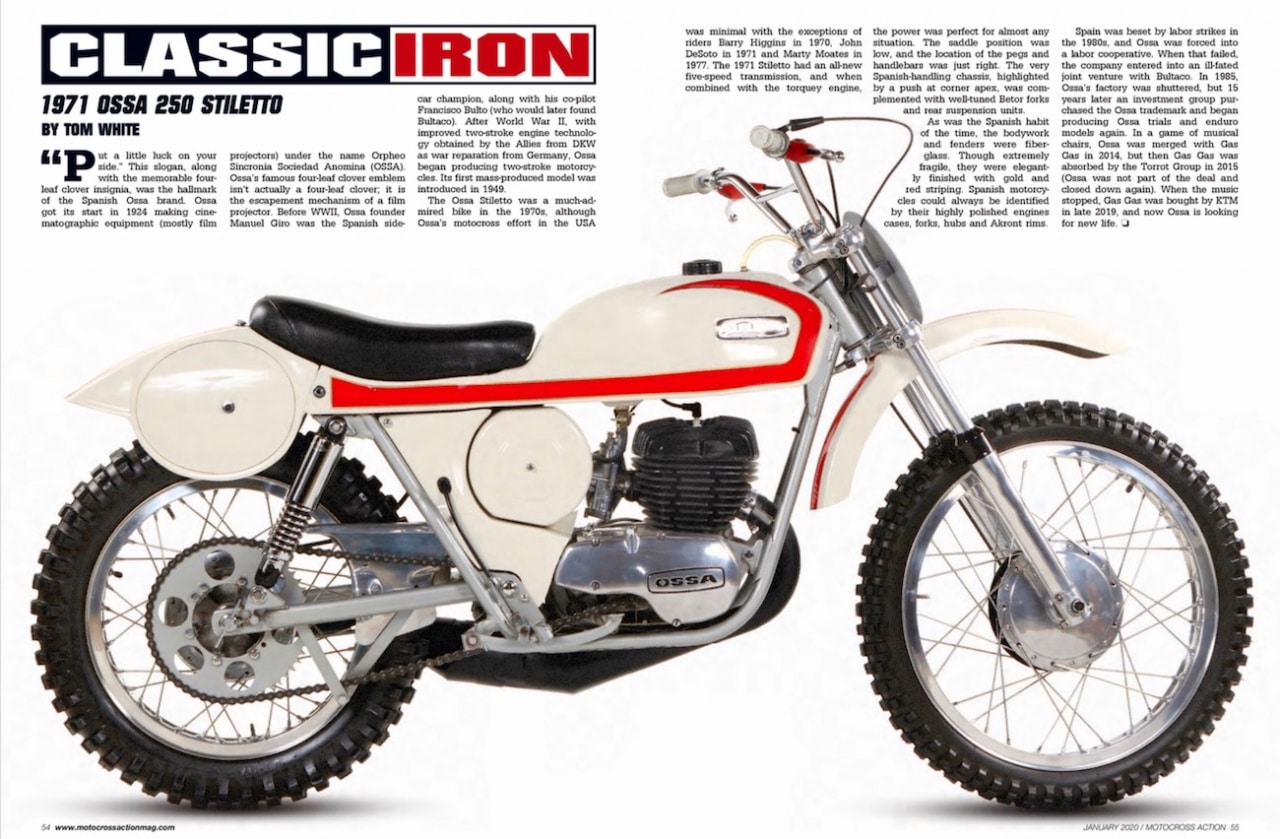 Back in 1971 Ossa wrapped the Stiletto in fiberglass bodywork. The Spanish bikes, Bultaco, Ossa and Montesa, were works of art with their polish engine cases and classic lines. Find out why Ossa failed, came back and failed again in this edition of "Classic Iron."

There is a lot to like about the 2020 Honda CRF450. It is without a doubt the most powerful 450 production motocross bike on the track. That is the good news, but paradoxically, it is also the bad news. All that power demands a bike that is more balanced.

2010 is the year that Yamaha turned the YZ450F engine around backwards. Was it the right thing to do? Has it proven its centralization of mass claims? Is it better now than it was then?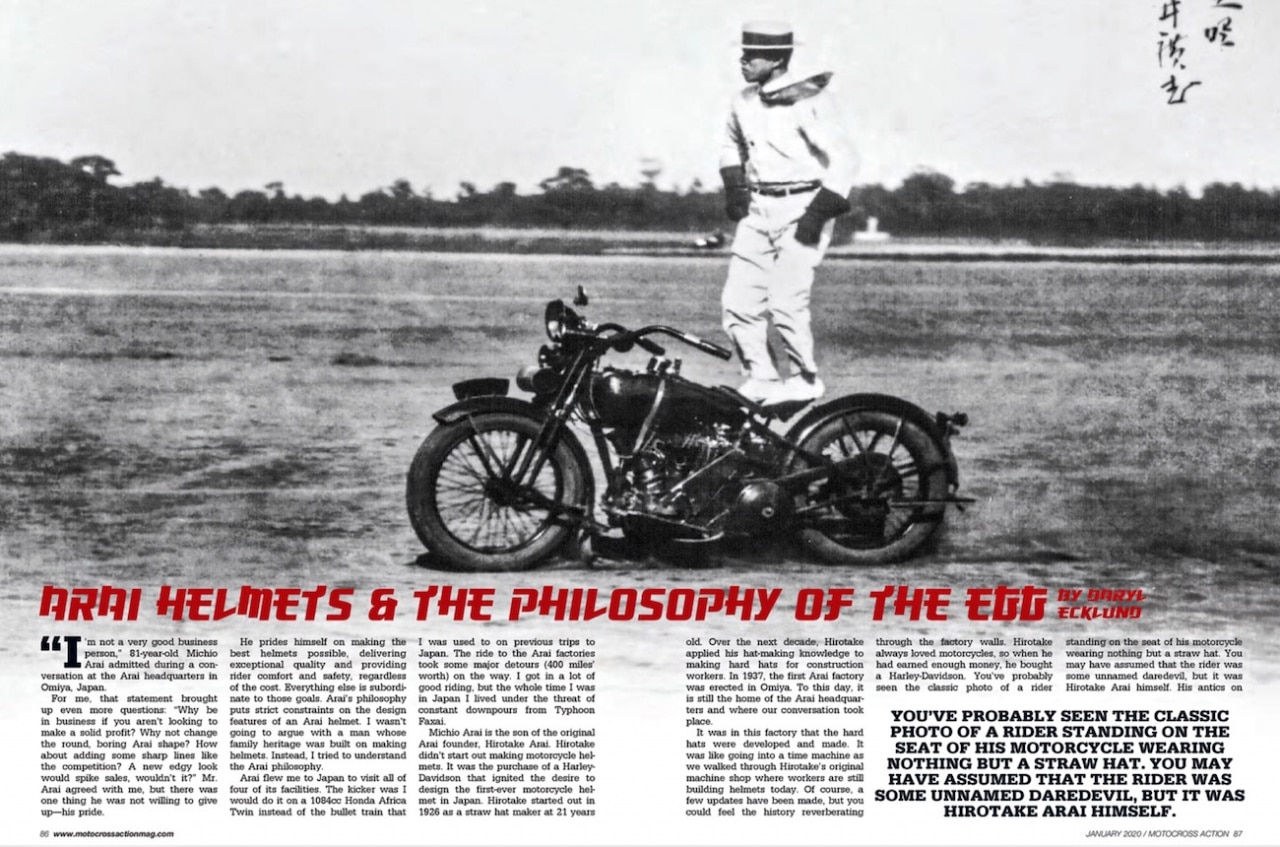 The coolest thing about the photo illustrating MXA's trip to Japan to visit the Arai factory (four of them actually) is that the rider on the Harley-Davidson is actually Arai founder Hirotake Aria himself. Let's see Elon Musk stand the top of Tesla.

The MXA wrecking crew wants Suzuki to come to the front of the pack, but we are beginning to doubt that they want to. This is a bike that could win Shootouts if Suzuki engineers made good decisions in the near future.
Remember Primal Impulse? Remember Ryan Huffman? Remember the Suzuki RM125 two-stroke? Primal didn't make products, they were just a race team—and a pretty good one. Ryan Huffman was a AMA National contender—especially at Washougal which his parents owned. As for the RM125, it needs no introduction.

We sent MXA editor Josh Mosiman to the WORCS series—not just to race the Pro class, but to track down all of the former AMA Supercross riders who have found greener pasture in off-road racing.

We forgive you if you think that we printed this photo upside down because it fools almost everybody at first glance. Travis Pastrana doesn't like to keep the wheels on the ground.
(Left) James Stewart lives in a bubble of time—he explains what that means. (right) These three men are living the dream.

(Left) Not a lot of thought goes into crossbar pads—except for the Gold Belt DeBruzer. (Right) The rules and regs of making a motocross tire.

If you subscibe now you could be in the running to win an Arai VX-Pro4 Justin Barcia Replica helmet. All you have to do is use the postage-paid envelope inside the mag or call (800) 767-0345 and pay the inexpensive $17.99 rate for 12 jam-packed issues of MXA.

SUBSCRIBE NOW FOR A CHANCE TO WIN AN ARAI VX-PRO4 JUSTIN BARCIA REPLICA HELMET
If you subscribe to MXA you can get the mag on your iPhone, iPad, Kindle or Android by going to the Apple Store, Amazon or Google Play or in a digital version. And the awesome print edition will be delivered to your house by a uniformed employee of the U.S. Government. All for only $17.99 for 12 jam-packed issues. You can call (800) 767-0345 or CLICK HERE or click on the box below.