HAVE YOU SEEN THE NEW MXA? SEE WHAT YOU'RE MISSING HERE!

Click on images to enlarge.
If there is one bike on everybody's wish list, it is the KTM 150SX. The MXA wrecking crew spent the last three month putting it through its paces. Find out if the dream and reality align.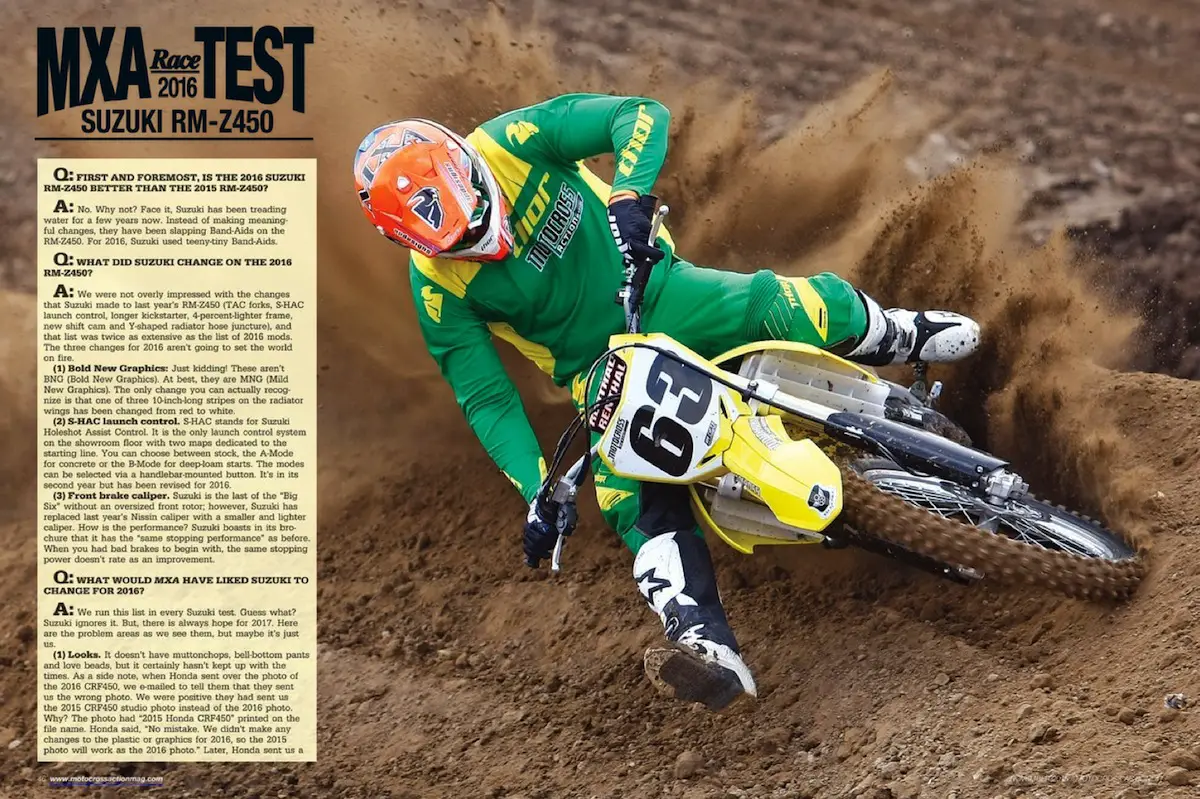 The Suzuki RM-Z450 got a small grab bag of changes for 2016. We dissect every aspect of the 'Zook to give you an accurate portrait of what it's like to race.
Looking for titanium footpegs that are big, wide, beefy and light. Oh yeah, and don't cost $350. Look no further than Pro-Pegs. Made in Holland, the 60mm wide footpegs are works of art.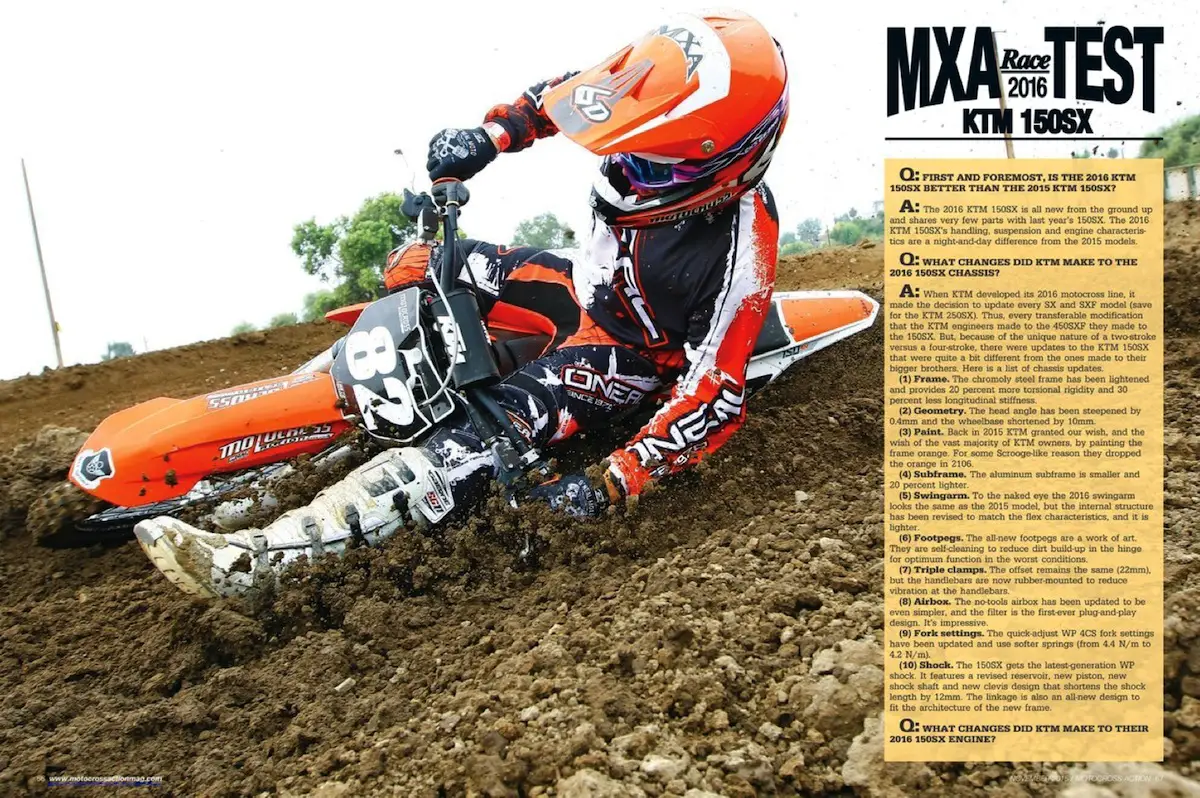 It's an amazing time. Most of the Big Four don't offer two-strokes, and even if they did it wouldn't be a 150, and the one that does hasn't redesigned the basic components in ten years. What's amazing then? The 2016 KTM 150SX is totally new from the ground up. New engine, new frame, look plastic, new suspension and a new horsepower record.
We sat down with Weston Peick to talk about the long hard road that he followed to get to the top. He didn't take the Loretta Lynn, motor home, million dollar, rich daddy route to JGR.
Our sport has some incredibly creative designers working in the trenches. R&D's Dean Dickenson and his Genius throttle body prove this point.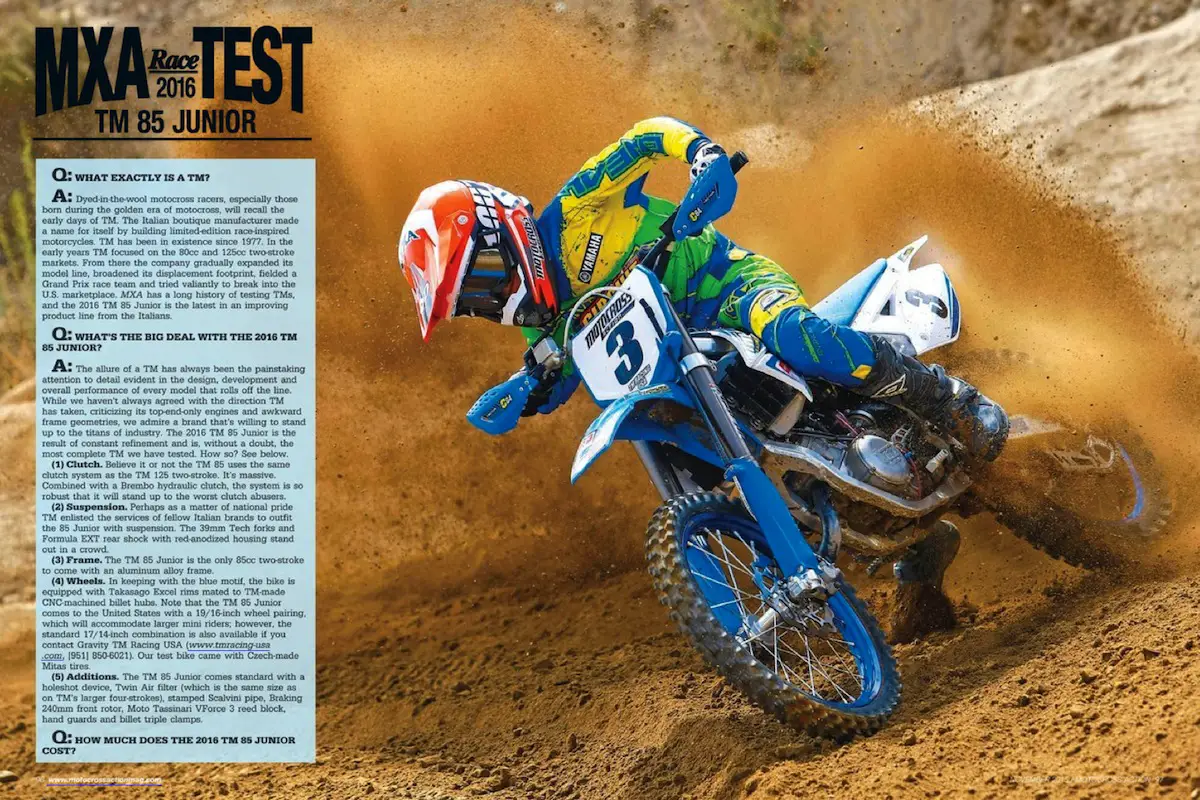 You never think of a KX85, Yz85, KTM 85SX or RM85 in the same way once you set eyes on the 2016 TM 85 Junior. It's a game changer.
Did you own a Dampf-Kraft Wagon? Tom White breaks it down for you and even though DKW is long gone from the American scene, but it's still an interesting machine.
If you race motocross then you know how difficult it is to live happily ever after with tear-offs. EKS Brand has a solution.
Ryan Dungey didn't have a cake walk to the AMA 450 National Championship. Well, he did, but this photo proves that it was a chocolate cake walk.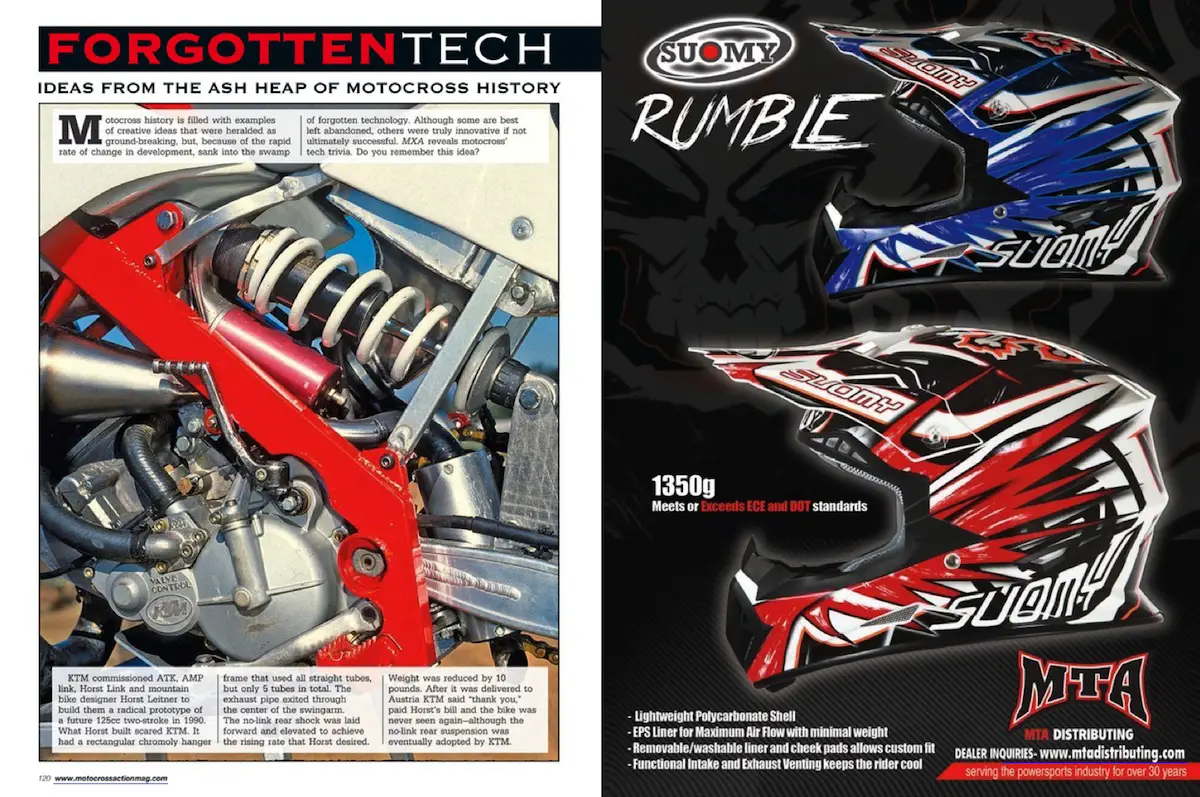 Horst Leitner built this unusual prototype for KTM 25 years ago. It would still be ultra-trick today.
The dirtiest word in motocross is "runner-up." You'll be surprised how many of the sport's stars have spent considerable time on the second step of the podium.
MXA has spent a week in Japan sight-seeing, going to races, visiting museums and going to the factories. Find out what it's like to time travel with the GOAT.
There is no doubt that 250 four-strokes need all of the power they can get. Twisted Development built one of the fastest YZ250F we have ever tested—and it has a secret inside.
Looking for a new set of knee braces? Mobius is here to help (and they only sell them by the pair).
Most AMA National riders live in the shadows of the big stars. It is rare that riders who aren't on the podium or battling for the title ever get their photos shown. This story is dedicated to ten of those "Other Guys" in the 250 class.
HOW TO SUBSCRIBE TO MXA
Do you subscribe to MXA? You should. We know that you think that print magazines are dead and that the internet will fill the void, but most of the stuff in the current issue of MXA won't appear on the web for several months, if at all. Luckily, you can get all of MXA on your iPhone, iPad, Kindle or Android by going to the Apple Store, Amazon or Google play, but better yet get the Digital desktop version at https://hi-torque.com/product/motocross-action-digital-edition/ or click on the link below to get the print version delivered to your door for only $15.99 (plus you get a free $25 Gift Card from Rocky Mountain ATV/MC just for subscribing). There is a profit to be made in this deal for you. For the Print magazine go to: http://hi-torque.com/product/subscribe-to-motocross-action-magazine/

OR YOU CAN CLICK ON THE BOX BELOW: