HAVE YOU SEEN THE NEW MXA: THE FEBRUARY 2021 ISSUE IS JAM-PACKED WITH BIKES, RACES & TECH
HAVE YOU SEEN THE FEBRUARY 2021 ISSUE OF MXA YET?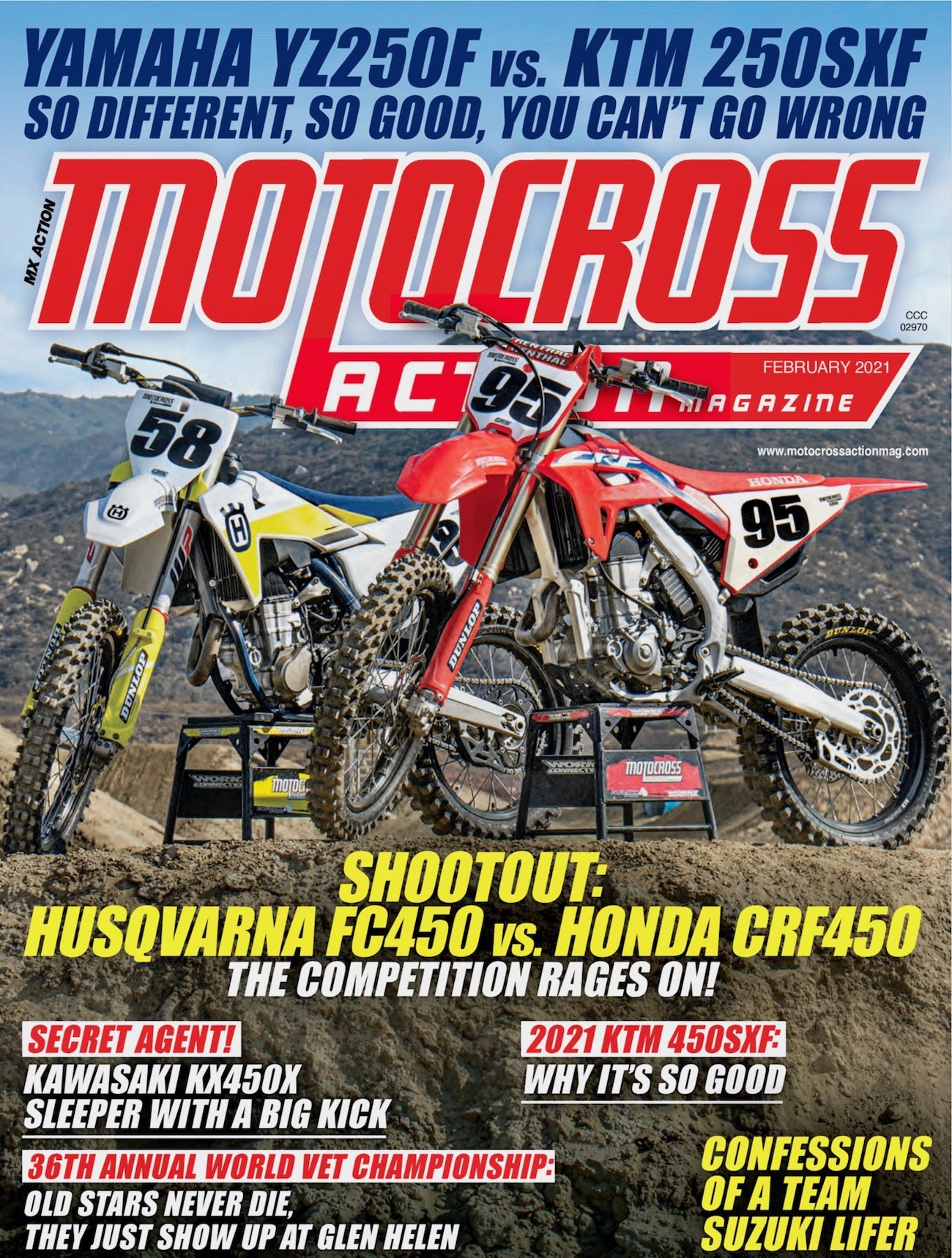 What's in the newest issue of MXA? How about Shootout between the 2021 Honda CRF450 and the 2021 Husqvarna FC450—go ahead and guess which one won, you have a 50/50 chance of being right. Or how about complete and thorough tests of the 2021 KTM 450SXF, 2021 Yamaha YZ250F, 2021 Kawasaki KX450F cross-country, 2021 KTM 250SXF and Carson Brown's BBR Honda 190.
We wanted to take a little confusion out of what is the most confusing shootout season ever by doing  shootouts against worthy contenders—this month it was the 2021 Honda CRF450 against the 2021 Husqvarna FC450.
You gotta see where you are going to get there. At the 2020 World Vet Championship conditions favored the Euros, but they were quarantined and locked down—so conditions favored the well-prepared. Without his Roll-Offs, he would have seen nothing.
Don't confuse this Yamaha DT1 with the white one from 1968. This is the 1971 Yamaha DT1 MX. That means that it had the GYT kit installed at the factory and the foof removed.
Why is MXA testing the 2021 Kawasaki KX450X cross-country bike? That's simple, we race cross-country races, SRA GPs, WORCS races and endurance races all the time. And since the KX450X is just a KX450 motocross model with a few off-road concession, we felt right at home on it.
Lee McCollum came to Suzuki in 1983 and never left—until they closed the doors and turned off the lights at the JGR Suzuki team a couple months ago.  If it happened at Team Suzuki in the last 38 years, Lee knows all about. We sat down to talk about his life in yellow. And that includes working for Roger DeCoster, Travis Pastrana, Tim Ferry, Ricky Carmichael and James Stewart.
The 2021 KTM 250SXF is a high-rpm rocket ship that just happens to be blessed with a strong midrange and usable low-end. This is the magic formula for success in the 250 class.
Thinking about buying new knee braces when the snow thaws? How about a pair of air-cooled boots for when the mercury hits 100-degrees. Read all about it here.
The 2021 Yamaha YZ250F has the perfect low-to-mid powerband for the average racer or play rider. It doesn't have the high rpm power of the KTM, Husky, GasGas and Kawasaki, but it gets out of tight corners better.
It has only rained in SoCal twice in the last ten months—once two weeks ago and once on the weekend of the World Vet Championship. The rain at the World Vet was a shame because for Friday practice the track was perfect—it didn't stay perfect for Saturday and Sunday.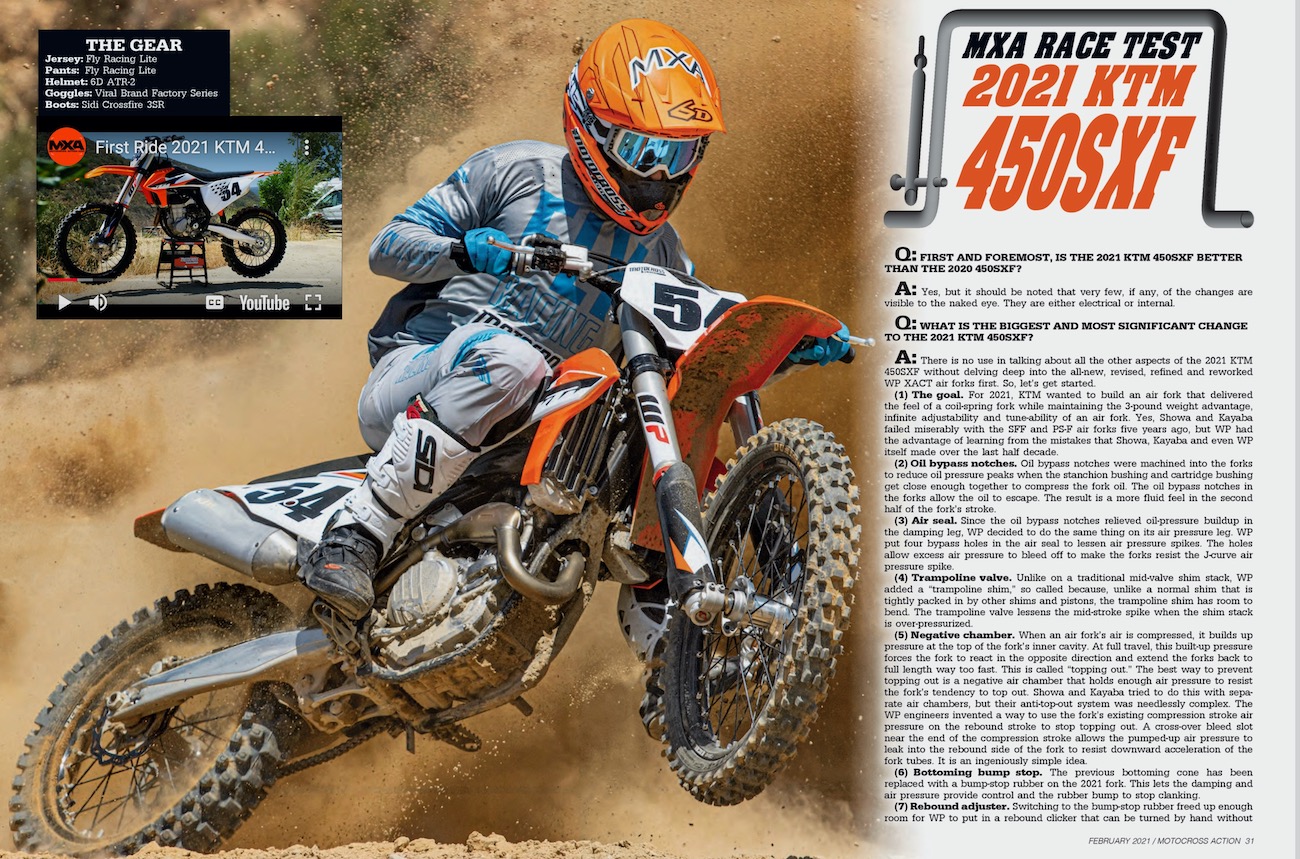 In the hierarchy of Austrian motocross bikes the 2021 KTM, 2021 Husqvarna FC450 and 2021 GasGas MC450F managed to use the same shared package three different ways. If you asked KTM what the 450SXF was designed for, they would tell you that it was "Ready to Race." We concur.
Back in 2007, when Mike Alessi was at KTM, MXA got to spend a day riding Alessi's works Katoom. It had an incredible engine, a weird Drop-Out shock and 52mm aluminum forks.

Here are two tech pieces that will have you looking at bikes in a different way.
When we were done testing Carson Brown's BBR CRF196F, we had to ask ourselves, "How great would this bike have been with a modern water-cooled engine in it, instead of an engine out of a Honda play bike?"
HOW TO SUBSCRIBE TO MXA SO THAT YOU NEVER MISS ANOTHER ISSUE, PLUS GET A $25 ROCKY MOUNTAIN GIFT CARD TO COVER YOUR COSTS
If you subscribe to MXA you can get the mag on your iPhone, iPad, Kindle or Android by going to the Apple Store, Amazon or Google Play or in a digital version. Even better you can subscribe to Motocross Action and get the awesome print edition delivered to your house by a uniformed employee of the U.S. Government. Did we mention the $25 gift card for any part you want from Rocky Mountain ATV/MX? You can call (800) 767-0345 or Click Here (or on the box at the bottom of this page) to subscribe.