HAVE YOU SEEN THE NEW MXA? IT'S WORTH A LOOK

Click on images to enlarge
If you had subscribed to MXA, the January 2016 issue would be sitting in the throne room right now. It's chock full of good stuff — including the only 2016 450 shootout worth reading.  Plus, subscribers get a $25 Rocky Mountain gift card that pays for their $15.99 subscription and then some.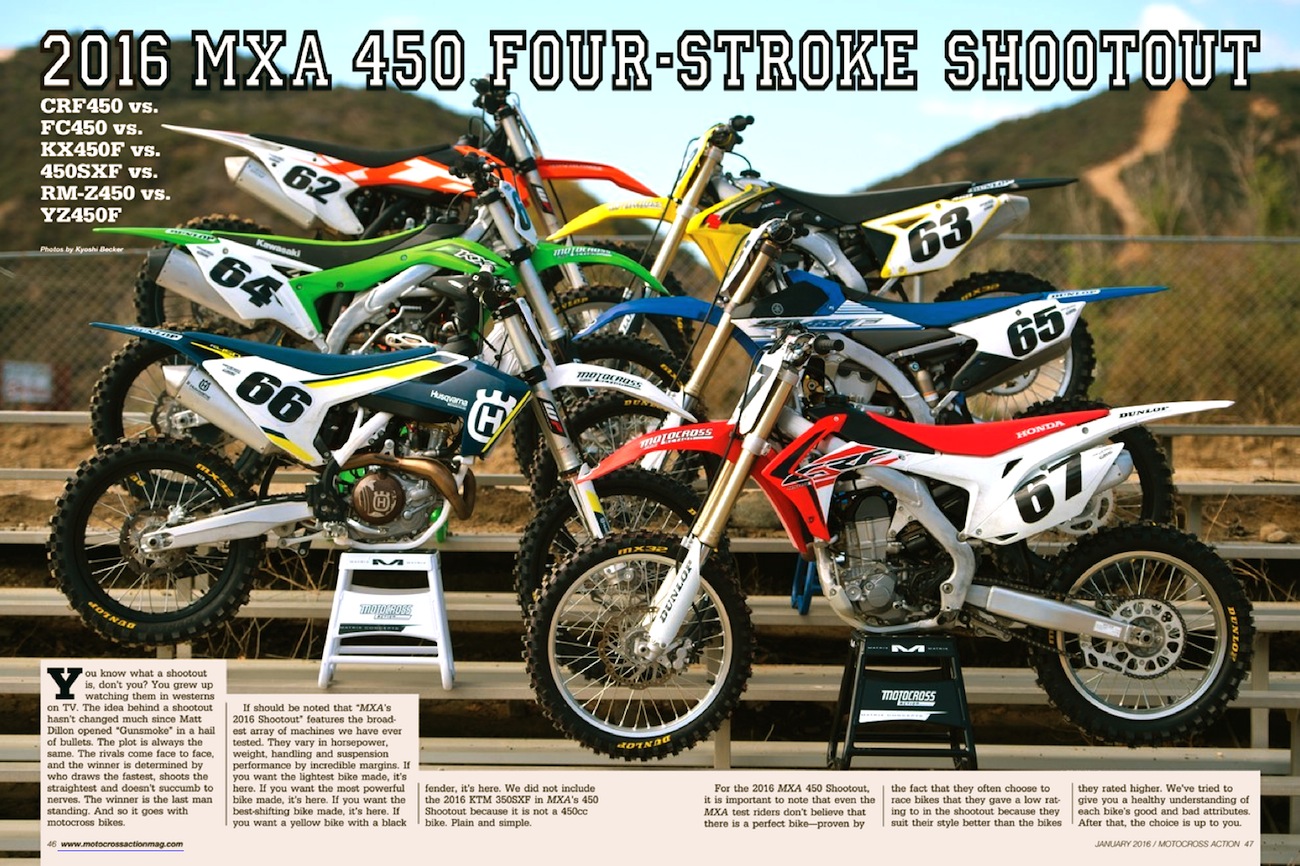 You may have already heard who won, but do you know why? We list why each bike should have won the 2016 MXA 450 Shootout…and why the shouldn't have. We didn't pull any punches.
Yamaha is on a roll. They are fighting back against the KTM orange crush. The Yamaha's offroad competition bike line-up now includes the Yz125, YZ250, Yz250X, Yz250F, YZ250FX, YZ450F and YZ450FX. We put the new two-stroke YZ250X cross-country bike through the MXA wringer.
Have you seen these new products? You should be on the lookout for Thor's new Core gear, Fixt's T-handle torque wrench, Systems electric bike stand and the history of Hodaka.
The more bikes the merrier. Husqvarna offers motocross racers a sixth choice of high-end race bikes (and more than a few talented riders factory support). But how good is the Husky FC250. You'll know after you read this test.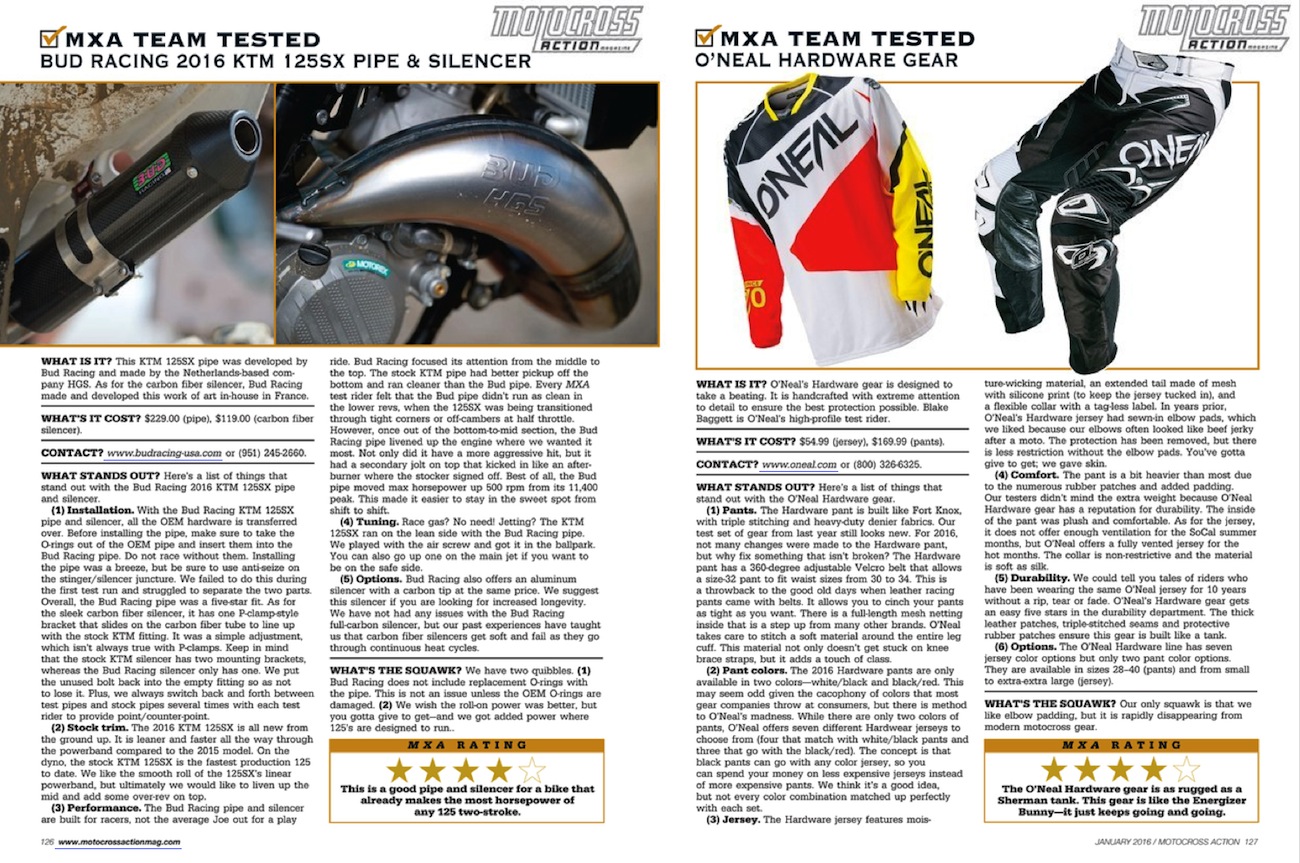 We test France's best exhaust system for Austria's best 125 two-stroke and Jim O'Neal's most durable motocross gear.
You'll have to read the whole test to find out what we really think of the 2016 Kawasaki KX250F, but we will tell you that one part of this bike is brilliant.
Living with motocross suspension is like having a cranky baby. Every month MXA brings the "Suspension Whisper" in to calm down the crying. Let Bones take care of your baby.
Surprise! You thought that Joe Gibbs Racing was just a race team. Wrong! They build complete race bikes for customers. We tested the JGR touch on a YZ250F.
Suzuki made 80 changes to the 2016 RM-Z250 engine. Read MXA's test to learn what a difference these mods made.
Tom White knows a little about vintage bikes. His 140-bike "Early Years of Motocross Museum" is jammed pack with them. Let him tell you about the history of the Montesa 360 Cappra.
Once the most popular bike in the 250F class, the Honda CRF250 has struggled for the last couple years to keep the imagination of American racers. Has the 2016 CRF250 turned this around?
We sat down with five of the best Grand Prix racers of 2015 to find out how they feel about their futures, last year's GP tracks and their plans to race in America.
HOW TO SUBSCRIBE TO MXA
Do you subscribe to MXA? You should. We know that you think that print magazines are dead and that the internet will fill the void, but most of the stuff in the current issue of MXA won't appear on the web for several months, if at all. Luckily, you can get all of MXA on your iPhone, iPad, Kindle or Android by going to the Apple Store, Amazon or Google play, but better yet get the Digital desktop version at https://hi-torque.com/product/motocross-action-digital-edition/ for $9.99 a year. The MXA test riders prefer the print version and not just because it is delivered by a uniformed employee of the U.S. Government, but because for only $15.99 you get 12 issues and a free $25 Gift Card from Rocky Mountain ATV/MC. That means that there is a profit to be made in this deal for you. For the Print magazine go to: http://hi-torque.com/product/subscribe-to-motocross-action-magazine/