HEADED FOR THE HALL: THE MAN WHO LED THREE LIVES
Tom White with his beloved Yamaha DT1.
The AMA Hall of Fame is really several different halls. There is one for road racers, one for motocrossers, one for dirt trackers, one for industry, one of land action, one for pioneers and one to catch anybody they missed. Inductees are nominated by the committees from each of these Hall divisions and then voted on by every Hall of Fame member. So, it is odd when one man has the capability of being voted in for almost every category.
Tom White was a Grand National dirt track racer, who started a successful business, who promoted races, who was a capable motocross racer, who opened a museum to save the artifacts of our sport and who brought the Glen Helen National back after a four-year hiatus. Forget about Tom's accomplishments, all you need to know about him is that he is still racing motocross every weekend —well into his 60s. MXA sat down with Tom White for a one-on-one on the brink of his induction into the AMA Hall of Fame this Friday evening in Orlando, Florida
Tom sliding sideways on his Triumph in 1973.
WHEN DID YOU START RIDING/RACING MOTORCYCLES? As soon as my brother Dan was old enough for a driver's permit he purchased his first motorcycle — a 1965 Yamaha 80. My surfer friends and I had a lot of fun picking on him, accusing him of becoming a Hell's Angel. Right about the same time, a friend let me take a ride around the block on his Honda 50 —well, almost around the block as I couldn't figure out how to slow the thing down and crashed into a parked Cadillac. After paying $65 in damages, my parents decided that I didn't have the necessary coordination to ride a motorcycle.
WHEN DID YOU GET YOUR FIRST REAL MOTORCYCLE? After owning a 1967 Yamaha 100cc Trailmaster when I was in high school, that I rode in a big dirt pile near our house in Huntington Beach, my brother and I went to the Anaheim Motorcycle Show where I laid eyes on the most significant motorcycle in my life to this date — the then-brand-new Yamaha DT1. I immediately ordered one from Rustan Motorcycle Sales, but had to wait four months for the first DT1 to arrive in the States. Rustan made me wait an additional two weeks (the longest two weeks of my life) so customers could come in and check out this exciting new motorcycle.
Giving it all he's got at Golden Gate Fields back in 1974.
WHAT HAPPENED AT YOUR FIRST RACE? I installed a GYT kit (Genuine Yamaha Tuning) on my DT1 and entered my first race at Huntington Beach Cycle Park. It was a TT Scrambles. They watered the track before my heat race and I crashed three times on the first lap. It began to look like my parents were right!
BUT THEY WEREN'T, WERE THEY? Well, if you stick with anything long enough you get good at it. A few years later I was AMA Grand National Number 80 and racing Miles, Half-Miles and TT's against Mert Lawwill and Kenny Roberts on a Harley Davidson XR750.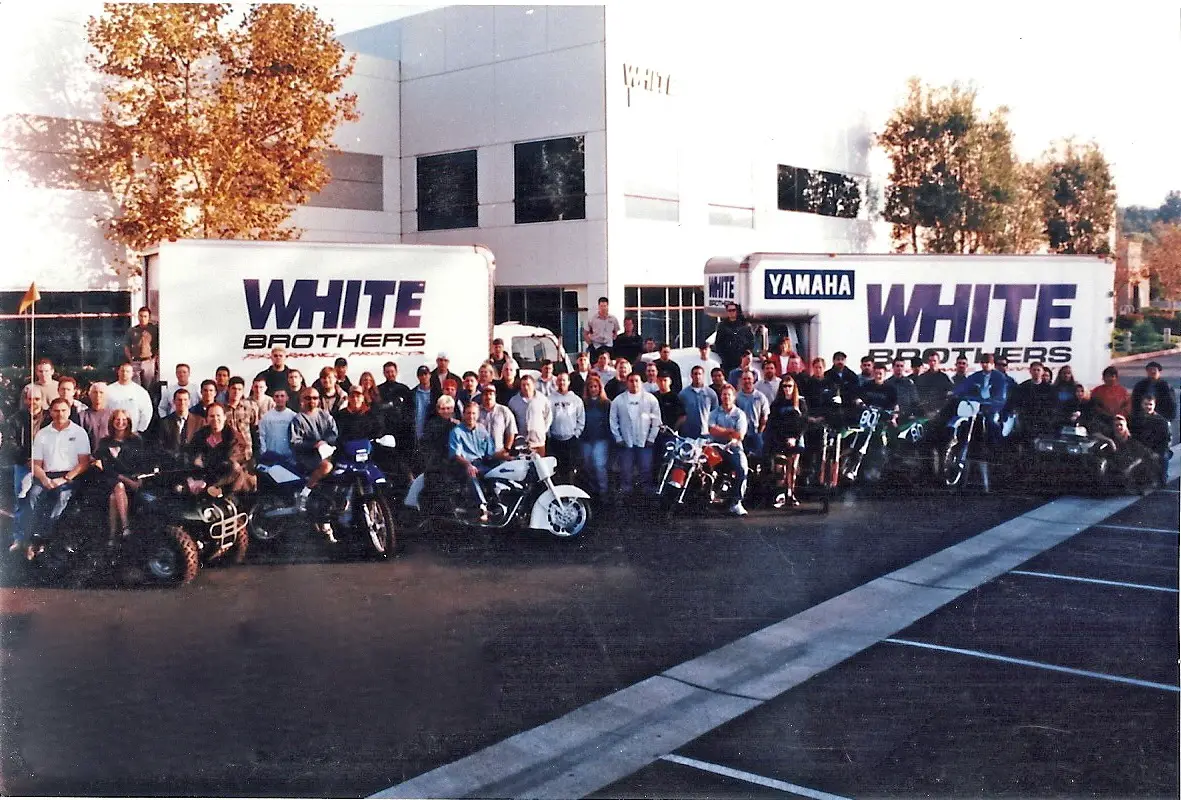 All of the White Brothers employees in front of the Yorba Linda building.
WHAT MADE YOU START WHITE BROTHERS CYCLE SPECIALTIES? Racing is a lot more lucrative these days than it was back then. Dan and I both worked in the motorcycle industry to support our racing. I worked at Orange County Cycle, the number one motocross dealership on the West Coast, and Dan worked for the Kawasaki factory in Tech Services. The skills we learned at these jobs became valuable in later life.
In 1975, I decided to start Tom White Cycle Specialties. My plan was to sell the products that I had designed at Orange County Cycle and still race professionally. That hope was dashed just after I signed the lease on the building. I hit a guy head-on at Saddleback Park and fractured my already plated arm. My brother Dan came to my rescue. He came to the shop at night and helped me get the jobs done and, by the end of 1975, Dan decided to leave Kawasaki and I changed the name to White Brothers Cycle Specialties.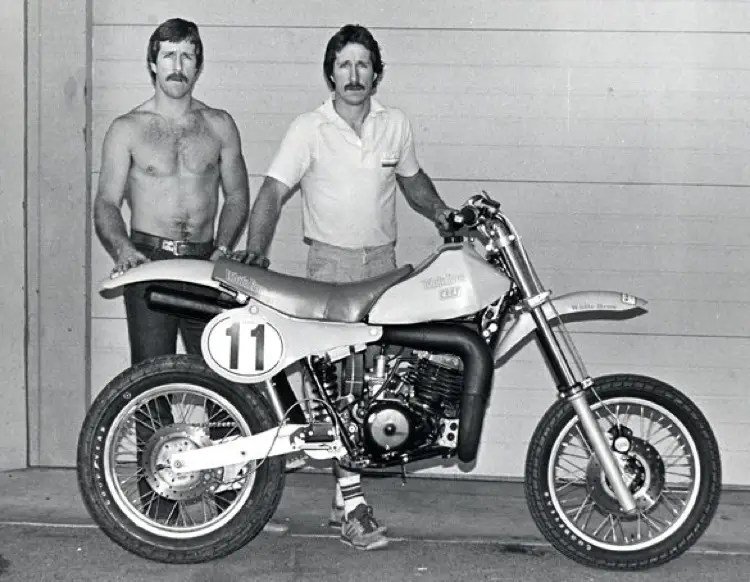 Tom (left) and Dan (right) with the bike they sponsored Brad Lackey on for the ABC-TV Superbikers race.
HOW DO YOU LOOK BACK ON YOUR TIME AT THE WHITE BROTHERS? Running the White Brothers encompasses the happiest and saddest parts of my life. The happy stuff was being involved with riders like Bob Hannah, Marty Moates, Brad Lackey, Scott Parker, Chris Carr and Scott Russell. The best part was having friendships with many of my heroes. The sad stuff was having very little time for my family, my son's tragic accident, my brother leaving the company and losing touch with so many people that helped the White Brothers grow.
Tom bought a Russian-made Ural sidecar so that he could take his paralyzed son Brad riding with him.
IS OWNING A COMPANY LIKE OWNING A BOAT, THE HAPPIEST DAY IS WHEN YOU SELL IT? Timing is everything in life. As I mentioned, my son Brad was tragically brain injured in 1997 when he rode his mini bike into a chain used to block a parking lot and crushed his larynx. He became 100% disabled and required full-time care. My wife and I brought him home and hired nurses to help us in our home seven days a week. Meanwhile, my brother decided to pursue his love for bicycles and left the company at about the same time.
I was kind of lost, but in January of 2000 I was approached by a San Francisco venture capital firm that wanted to buy my company. After 25 years in the motorcycle business I was ready to work on my surfing, build a first class motorcycle museum and spend more time with my family and friends. So, I sold it to them.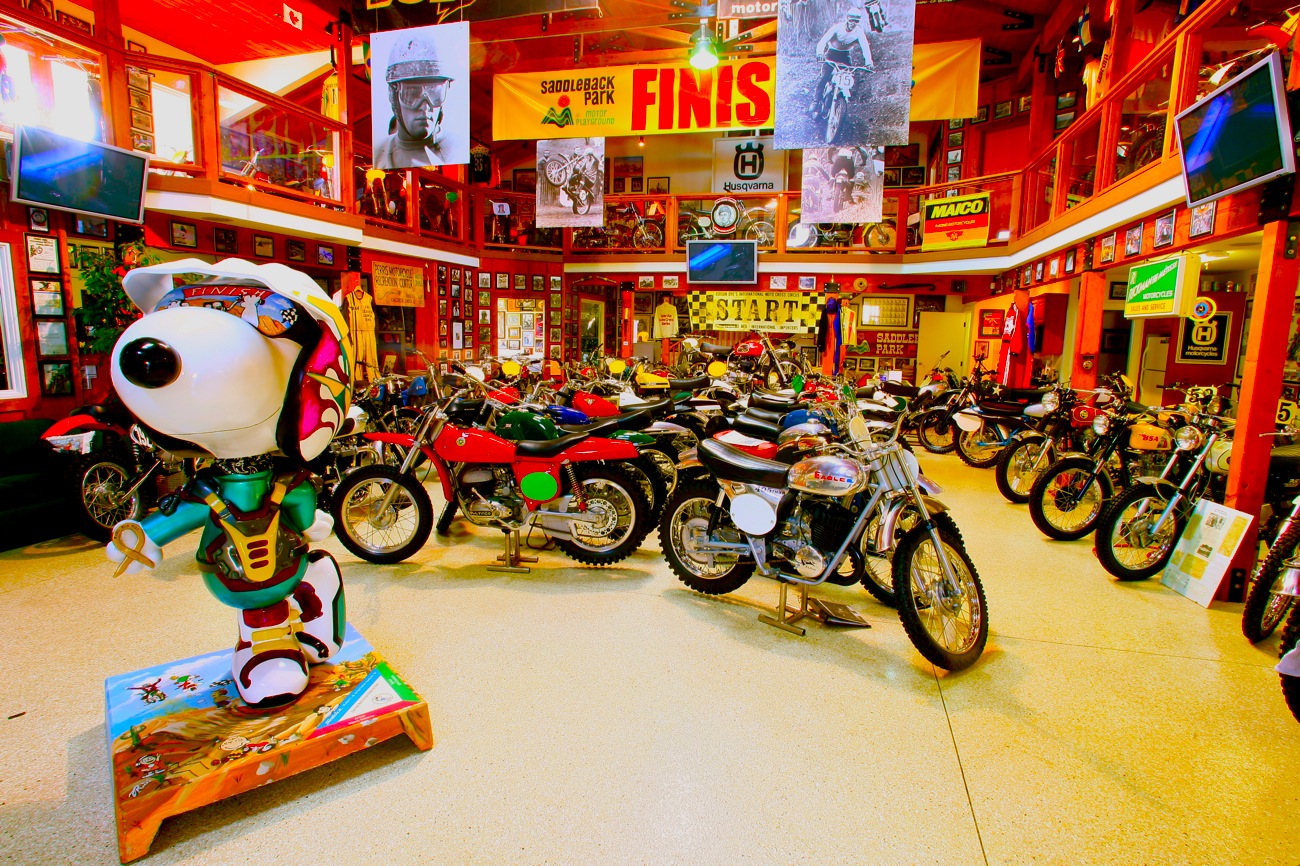 With a combined square footage of 10,000 feet, Tom's "Early Years of Motocross" museum is a thing of beauty. On the property there is a motocross museum, dirt track/enduro museum and Tom's personal collection.
TELL US ABOUT THE MUSEUM YOU BUILT. During my White Brothers years I started collecting vintage motocross bikes. The first was a Greeves that I planned to restore with the help of my young son Brad. Though I had never raced Greeves I just loved the look — so agricultural. Brad and I did manage to get it apart, but we soon realized it was more fun to ride them than to work on them, so a friend — Denny Berg — completed the restoration. By the early 1990's I had developed a focus on what I wanted to collect.
Tom showing Edison Dye the stories about him after he came out of a 30-year exile.

AND HOW DID THIS FOCUS COME FULL CIRCLE? By 1997, the White Brothers World Veteran Motocross Championships (founded in 1985) had grown to be a prestigous  event and I decided to honor a person each year that had made a large contribution to American motocross at the race. The first year we honored Roger DeCoster, and in 1998 it was the dynamic Rick Johnson. Two weeks before the 1999 event, I still hadn't decided who we would honor. Then I remembered a story that my friend Lars Larsson had shared with me about how he and Bengt Aberg had tracked down Edison Dye—the father of American motocross. Wham, it hit me! I needed to bring Edison Dye to the World Vet Championship and show him what his idea had grown into over the previous 30 years. This man was truly the father of motocross in America and the motorcycling people needed to remember him.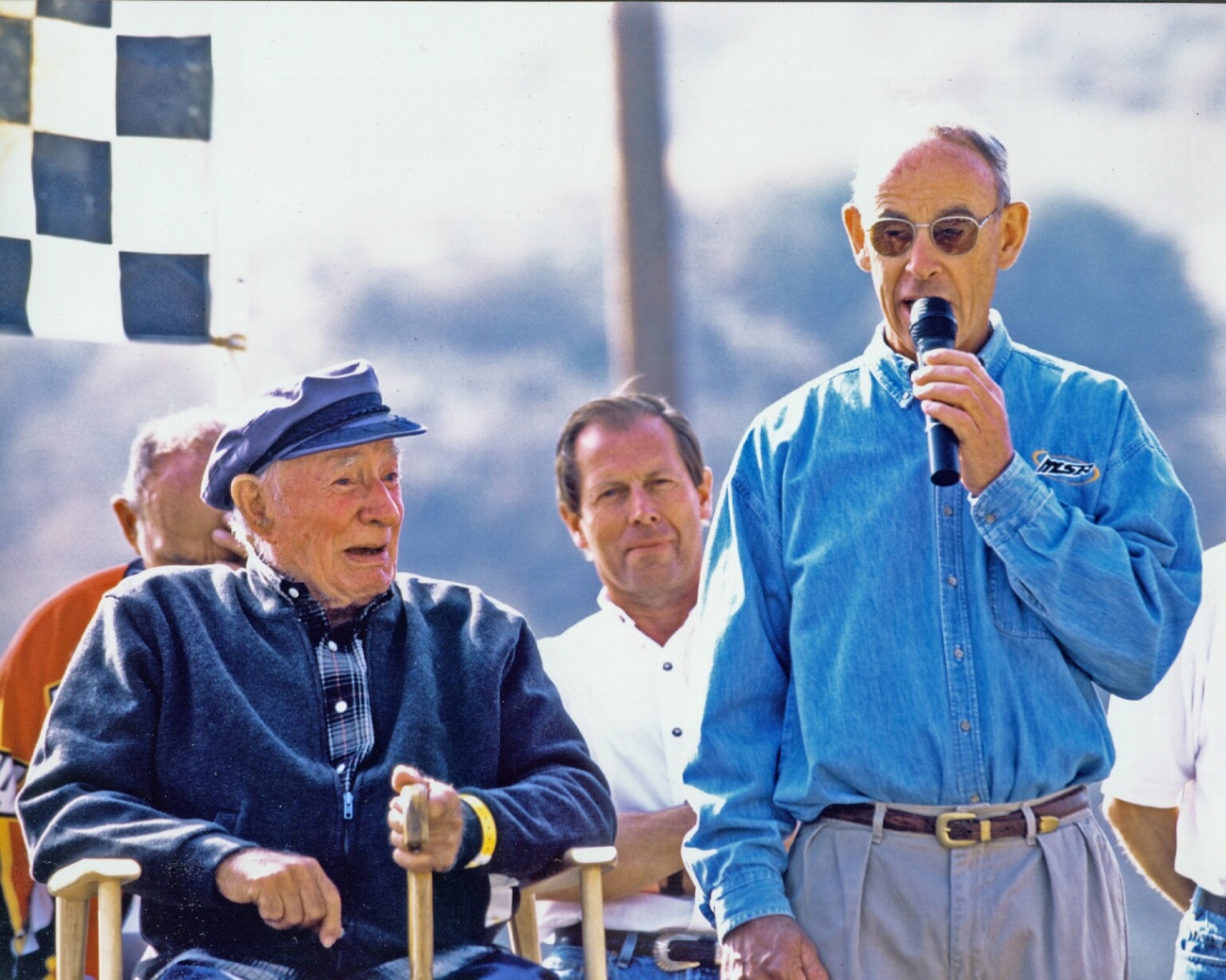 Malcolm Smith (with microphone), Roger DeCoster (rear center), Feets Minert (rear left) and Edison Dye at his Lifetime Achievement Award ceremony. All of these men were part of the Edison Dye legacy.
The event was a huge success! We brought Edison on to the track in a limo and he was joined in the presentation by Roger DeCoster, Malcolm Smith, Lars Larson, Joe Parkhurst and Feets Minert. Edison was very emotional on receiving this long overdue credit for his huge contribution to motocross. For me, I now had a real focus for my collection. It was going to be about Edison Dye and the "Early Years of Motocross" in America.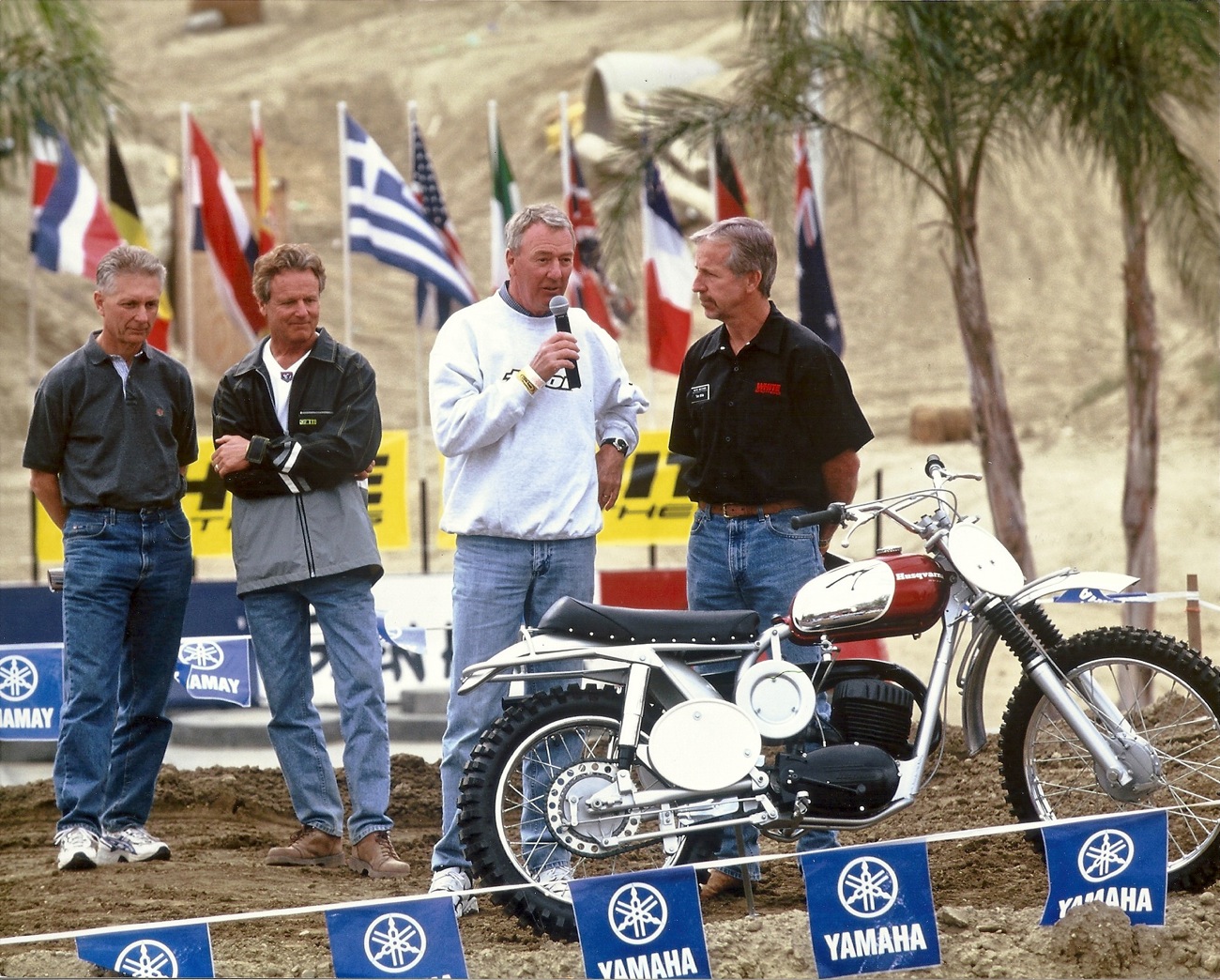 Tom White (right) with Torsten Hallman at Torsten's awards ceremony. In the background is Tom's old boss at Orange County Cycle Bob Maynard and Gunnar Lindstrom.
WHAT ARE YOUR FAVORITE BIKES IN THE MUSEUM? It probably doesn't surprise you that the 1968 Yamaha 250cc DT1 is my all-time favorite bike. The DT1 wasn't a great street bike, nor was it a great dirt bike or race bike, but it was way ahead of anything else as a true dual-sport bike. I have favorites after the DT1. Most notaably, a few year ago one of my closest friends spent 9 months building an exact replica of the bike I won my only AMA National Championship event on at the Castle Rock TT in 1972. The bike is a Redline 650 Triumph and is exact in every detail. This machine will always be my favorite race bike. The 1961 Lito 500 MX is among my loves, next to my 1959 Monark 500 MX and 1976 Puch Twin Carb 250.
I'm always surprised by how fast the collection grows. I currently have 160 motorcycles. There are 110 historic motocross machines displayed in the main museum, 17 flat-track and enduro machines in the new mini-museum, and the remainder are in storage or inside my house.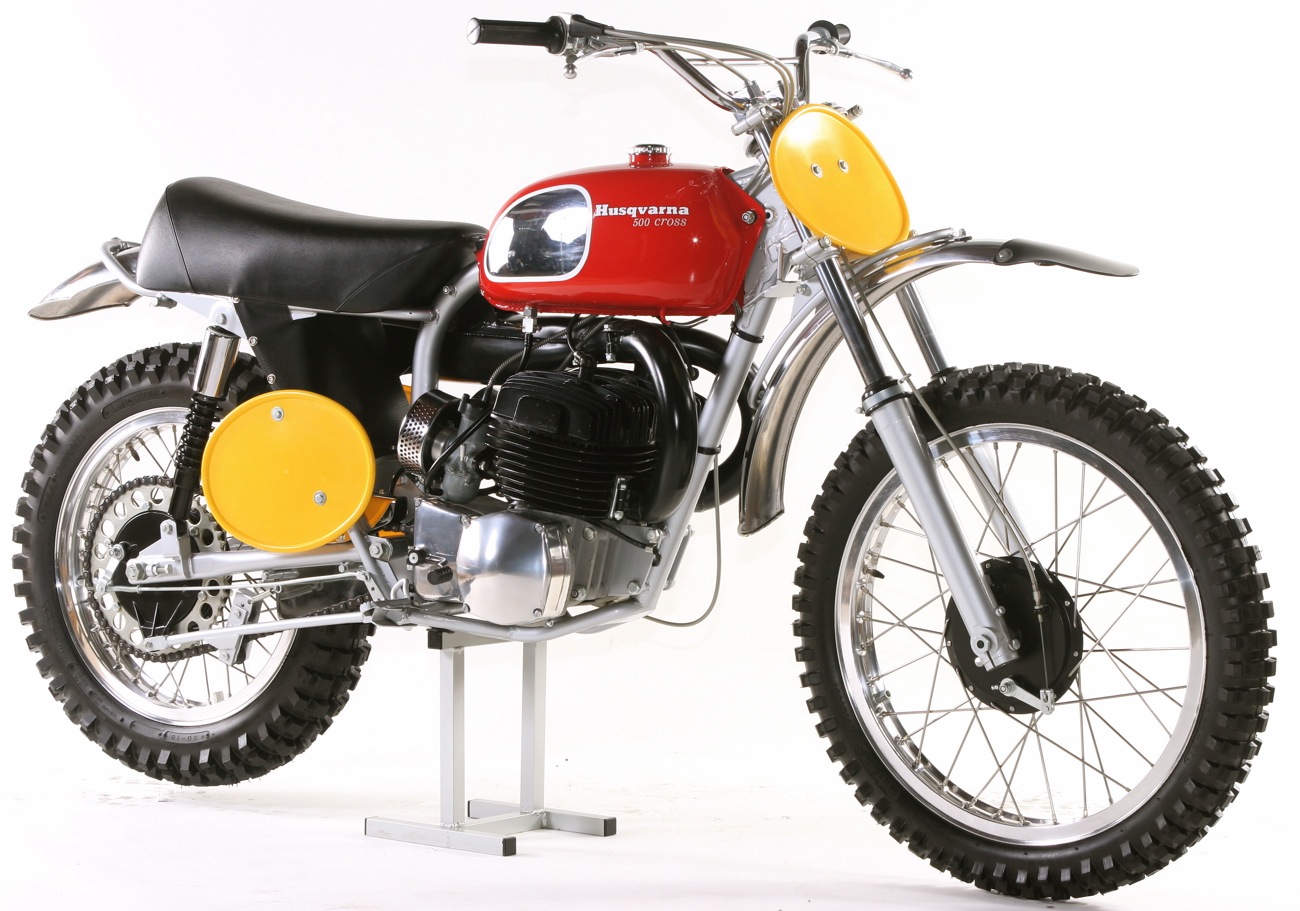 The Husqvarna 500 Twin Baja Invader. The only one in the world.
WHAT BIKE IS RAREST AND MOST VALUABLE? One of the only bikes in my collection that actually wasn't a production bike is my 1969 Husqvarna 500cc twin cylinder Baja Invader. It was the third and last prototype built by the Husky factory. It was shipped to the USA so that Gunnar Nilsson and J. N. Roberts could race it in the Baja 1000. Though they won the race, the 500cc twin never went into production as it was deemed too powerful and expensive for motocross. This is the only one left in the world. I estimate the value in the six figures.
WHAT IS IT ABOUT MOTORCYCLES THAT INSPIRES YOU SO MUCH? Wow, tough question! Where most stick and ball sports are about the team, motocross is an individual sport. When you watch automobile racing, you see the speed of the car, but you can't see what the driver is physically doing to make him faster than the other drivers. That's not the case with motocross! It's easy to see the difference in what a rider like Ricky Carmichael is doing on the bike compared to the other riders. Unlike the most extreme sports, a motocross race can go on for 35 plus minutes, and you can see how conditioning plays into the outcome.
The man and his museum.
AS A MAN WHO COLLECTS OLD MOTORCYCLES, WHAT DO YOU THINK OF NEW ONES? I consider the modern motocross machine to be a tool. Any of us, if we have the money; could buy a competitive bike right off the dealers showroom floor. These machines have been refined again and again over the last 40 years to the point where the rider usually breaks before the bike. All of the major brands of motocross machines are so similar that you can't tell one brand from another at a distance.
This isn't a bad thing, but in the early '60s and '70s, every manufacturer had a different idea on what made their machine competitive. Each brand was unique and very different from the others. Just looking at them takes older riders, like myself, back to the feeling I experienced when I first rode them. Having said that, I have no desire to ride or race them again! When the 2015 bikes came out, I couldn't wait to get off my vintage 2014 model.
Tom White hammers out laps every week at Glen Helen's REM races.
YOU STILL RACE EVERY WEEKEND, AREN'T YOU TOO OLD TO RACE MOTORCYCLES? If someone asked me why I still race motocross at 65 years of age, I tell them that since they asked that question would never understand the answer. I'm sure most of racers know what I mean. Most of us will never reach the level of today's professional motocross riders. That doesn't matter! When we blast into the first turn elbow-to-elbow with riders of similar skills, we are experiencing a thrill that very few people can relate to. On the track it doesn't matter how much money you make, how famous you are or what your job title is—you're just another racer. It's all about the rider. Motocross is throttle therapy for what ails you.