"HOPEFULLY THIS DOESN'T COME ACROSS AS ARROGANT, BUT I WILL BE UPFRONT CONSISTENTLY"- Jeremy Martin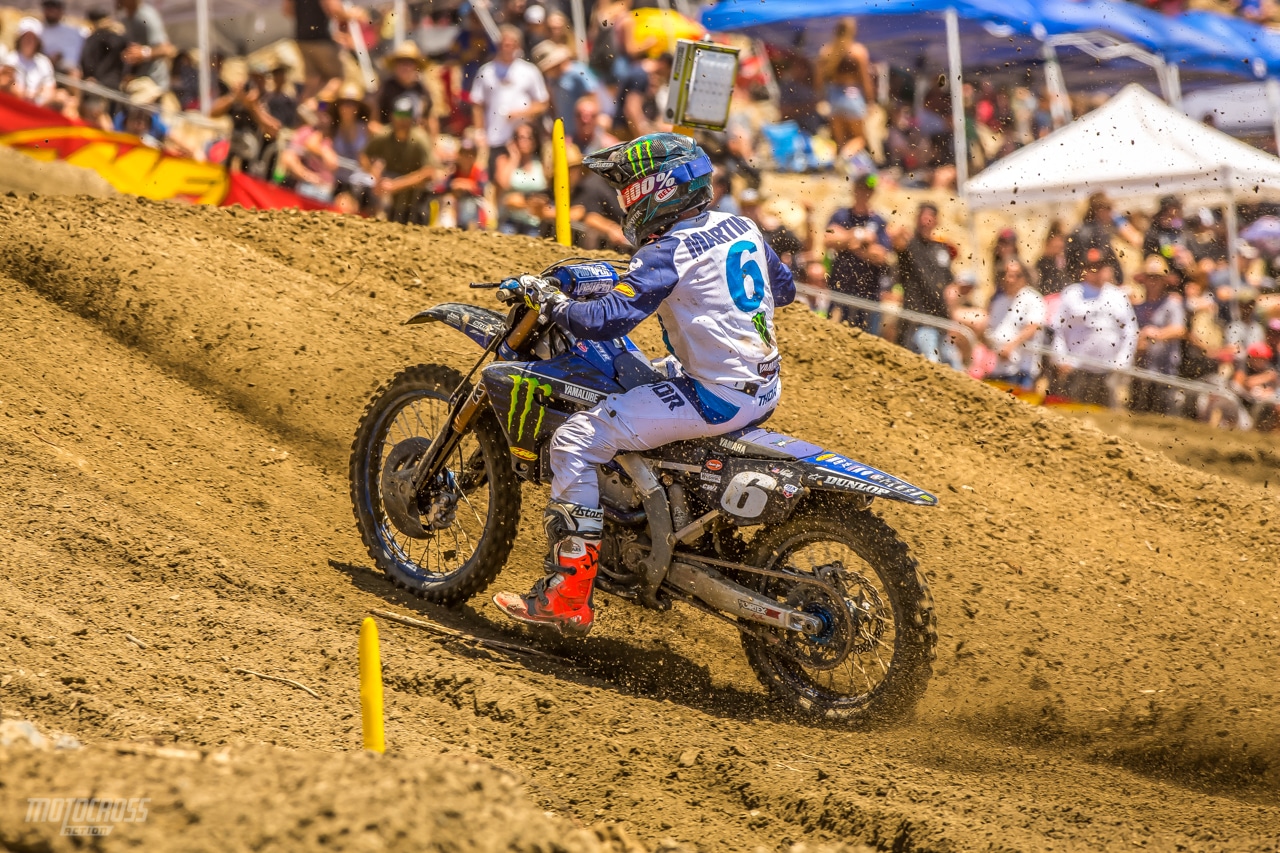 Jeremy Martin is proving to be a championship contender once again in the 250 class. Photo by Travis Fant
JEREMY MARTIN INTERVIEW: READY FOR 2021 THUNDER VALLEY NATIONAL
Jeremy Martin was so close to the 250 Outdoor Motocross Championship in 2020 that he could taste it. As runner-up to Star Yamaha's Dylan Ferrandis, it was clear that J-mart's Geico Honda may have not had the horsepower that the blue bike had. Geico Honda's sudden announcement of closing shop enabled Martin to look elsewhere. This looking elsewhere returned him to Star Yamaha where he had won the 250 National Championship in 2014 and 2015. Martin's return to Star Yamaha earlier this year was marred by a first-lap crash at the Supercross opener which ended up sidelining him until the recent Pala National. With a 1 -2 finish this early in the series, can the 28-year-old win the title again? We caught up with Jeremy after the race to hear his thoughts on the day and his mindset looking at the next 11 rounds. 
BY JIM KIMBALL
JEREMY, MAYBE NOT A PERFECT DAY BUT A PRETTY DARN GOOD ONE. Yes, I would say, obviously as you said, it was not perfect, but we went one/two for second overall.  I would have liked to have gone one/one that is for dang sure. But, hey, look at me from Orlando earlier this year in Supercross. I was fifteen seconds in the main, and then I was done for the whole season. I am thankful to be competitive and to get out of here [Pala National] healthy.
GETTING THROUGH ROUND ONE IS CRUCIAL, ISN'T IT? Yes, for sure. Obviously, I had that big crash a couple of years ago, and it still kind of haunts me. My speed is pretty good, and I showed that Jett and I were pretty close. We will just try to keep working on improving everything across the board.
Photo by Travis Fant.
WHAT ARE YOUR THOUGHTS GOING FORWARD? We can try to win next weekend, and we have a weekend off. I'll just try to just keep building throughout the year, so hopefully, we can have a pretty dang strong consistent pace.
JEREMY, IS THIS FIRST ROUND REALLY INDICATIVE OF THE NEXT COUPLE OF RACES? I guess we will find out. I believe there are going to be guys that peak at certain times throughout the season, and you will see some good rides here or there. But I do think that Jett is going to be upfront. Still, I would like to say and hopefully, this does not come across as arrogant, but I will be upfront consistently.
Jett came through today, and I came through, although not as far back as him, but we both came through today.  As I said, I think R.J. Hampshire and Forkner and all those guys will get better. My teammates will get better, so it is just up to me to try to keep getting better.
The start of the 250 moto with Jeremy in the front pack. Photo by Travis Fant
YOU ARE OFTEN IN FLORIDA OR CALIFORNIA, WHERE ARE YOU NOW? I am back home in Minnesota right now and have been there since April 14th.  I got back as soon as I could.  You know, I was out here in California for the winter, and I was just tired of it. California has a lot of really nice cool stuff, but it is just so busy. I am a small-town guy. I like to have some resources close by, but I also like getting in my truck and not having to worry about it being 3:00 in the afternoon and there are thousands of cars on the freeway, and you are going to be stuck (laughs).
DID YOU LEARN MORE ABOUT THE BIKE TODAY? Yes, absolutely. You do not get anything like this, you know from extreme muddy conditions in the morning to dry later in the day. Sometimes you will get it during the week, but you don't get the number of motorcycles out there on the track, lap after lap, and hitting lines. I learned quite a bit about the bike which is good.
HOW ABOUT YOUR FITNESS? The fitness was good. I can just tell that I have not raced in a while; with that high-speed intensity that you get. You cannot get that during the week. You can do motos and motos and motos and have a solid base, but that high-end aerobic recovery is different. I will definitely get more fit as the year goes on.
WHAT IS GOING TO BE THE KEY TO YOUR SUCCESS THIS YEAR? I think the key to success for me personally is that everybody is going to do what they are going to do. I can only control so much, so I just focus on myself.  Control what I can control and realize there are some things that I can't control. I will just put my blinders on and try to work on some weaknesses and go from there.
Photo by Travis Fant
HAS THE STAR YAMAHA TEAM CHANGED MUCH SINCE YOUR FIRST TIME HERE? The team is definitely a lot more different. Obviously, they want to win, and that same stuff is there. It has been great. It is business, and there is no doubt about that. Geico was definitely family and business at the same time. Star is definitely business.
HOW DO YOU VIEW DYLAN FERRANDIS' SUCCESS? IT WAS A GOOD DAY FOR YAMAHA. Yes, for sure. Dylan and I battled it out pretty hard last year, but what is pretty cool is that even right away when I came to this team, there was massive respect for each other. We text each other here or there just catching up and everything like that. I saw that he did well today, and I am happy for him.
THE LAST THING I WANT TO ASK IS HOW DO YOU FEEL ABOUT THE FAN SUPPORT TODAY AT PALA? It was crazy. It was really nice to have the crowd back, last year felt hollow. There were some people there last year. At Millville, when I was battling with Dylan in moto two, we got a master shout-out, but we did not get that everywhere. This year it has already started off with a pretty big bang, so we are very happy to have people at the races.
Photo by Travis Fant