HOUSTON SUPERCROSS RESULTS & SHOCKER: AT LEAST THERE WAS A STEWART AT THE FRONT FOR A FEW SECONDS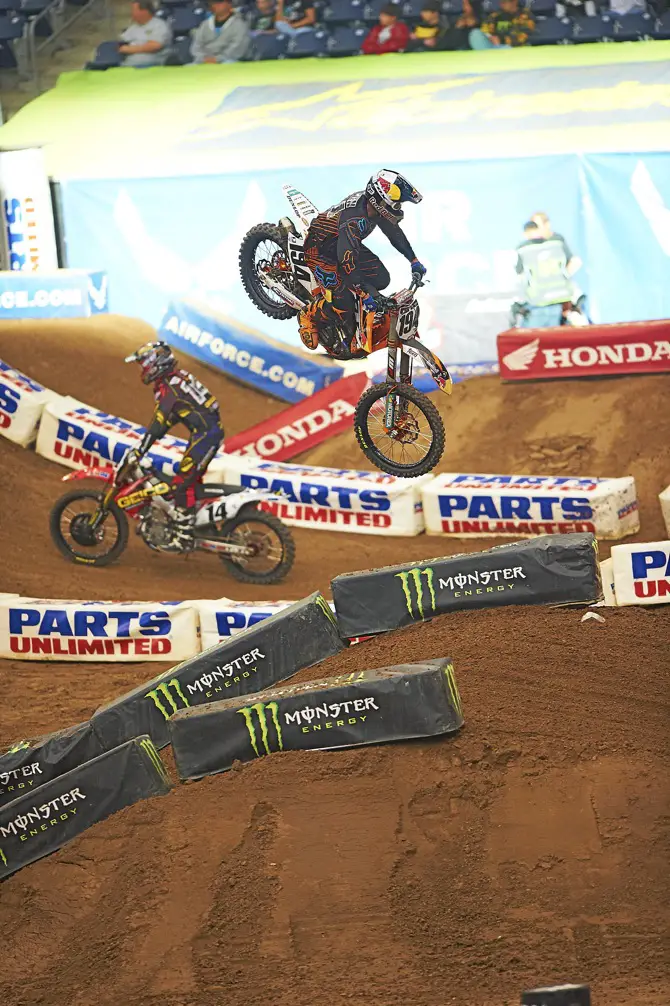 Oh to be 16, fast and famous. Ken Roczen was happy to get the opportunity to race with his heroes in the 450 class. Ken had the perfect first outing in the 450 class: no drama, no crashes and no injuries. Photo: Hoppenworld
It was an eventful night in Houston and should serve as a wake-up call to the whole pack about how quickly things can change.
James Stewart got up from his first turn crash and began to catch up quickly, but landed on the back of a Jason Thomas (did you think it would be number 490). This is obviously a freak accident because Stewie has never landed on anyone before (at Houston anyway). In Stewart's defense, Thomas didn't jump far enough and in Thomas' defense, Stewart jumped too far. Bubba's second crash damaged his front brake and he ended up 15th. That blue flag had him confused.
Kevin Windham was going to win…that might be the epithet on his tombstone. Kevin was gonna win, he had a big lead, but then he fell down. It was a brutal crash that got him tangled up with the bike. He rode off in a Mule.
Trey Canard inherited the win and the lead from Windham, but Dungey tried to take it away from him. Guess what? Canard took it back and won the race in style.


Ryan Villopoto (2) is trying to be consistent. Stewart is the man he has to watch. Davi Millsaps (18) is putting in his work. He raced hard at Houston and just missed the podium when Villopoto got him near the end.

Ryan Villopoto was in points mode. He started in the middle and worked his way up to third. Third was good enough to put him in the points lead…with a decent number of digits.
All the KTM team needed was someone to light a fire under them (and for Stewart and Reed to have a bad night). Ken Roczen might be wasting his time in the 250 West. He was a top ten guy (seventh) in his first-ever 450 Supercross and his presence inspired Andrew Short (fifth) and Mike Alessi (tenth) to have their best night so far this year. DeCoster doesn't look like the idiot that everyone hinted that he was when KTM announced that they were sending their inexperienced, 16-year-old, German, Grand Prix hero to the 450 class.
Not to throw a wet blanket on the Orange Army, but if Stewart and Reed hadn't crashed in the first turn, Andrew Short would have been lucky to finish seventh, Roczen ninth and Alessi 12th. In fact, Short was smoked off the line. He was actually second to last going into the first turn. He was lucky to be so far back because he wasn't involved in the crash and came out about sixth.
"I was not thinking very positive before the main event," said Roczen, "because my heel was hurting me from the heat. But it was not bad in the main and I forgot about the pain when I was riding. I am so excited to finish inside the top ten. I was more nervous than I had ever been going into this race. The guys in the 450 class have been my heroes for a long time and it was pretty cool to get to race with them. I am very happy to have raced this event and hope to do a few more."
Moto Concept team manager David Vuillemin ran a poll on his website asking people to vote on where they though Ken Roczen would finish in Houston. 60 percent said, correctly, that he would make the top ten. 41 percent said he would finish someplace else. Yes, we know that adds up to 101 percent, but Vuillemin is French and still uses the Metric percentage system. The KTM guys wondered why he didn't run a poll asking where his own team riders would finish.

Chad Reed's chances of winning the title are dimmer this week than last, but not his chances of winning a race. Chad has shown steady progress since the season started. He can win…and since this was the sixth race of the 2011 season, he exceeded the number of races that most office pools had him racing before quitting. Good on you, Chad.

Team Honda had a good time on the podium.                                            Photo: American Honda Racing
Villopoto is nine point in front of Stewart with Trey Canard in sole possession of third 20 points back. Those three are the current contenders. Chad Reed has dropped a full race behind, but one mistake by the three guys in front of him can reverse his fortune. Ryan Dungey is 31 points back, but has come to life recently. Andrew Short is in sixth overall, but at 52 points back, he is no longer a title contender.
Kyle Chisholm was hurt in a heat race crash. He will be hospitalized in Houston for a couple days.
In the 250 East, everything turned out as expected. Barcia, Wilson and Baggett stood on the podium and will probably all win a race before it is over.
Ryan Sipes rushed his season in a take-out move on Blake Wharton. This is Championship racing?not racing to see who's third at all costs. The sketchy move gave Bagget the podium spot and risked injury to both Sipes and Wharton.

Ian Trettel (77) and Jason Anderson made their Supercross debuts memorable.
250 East newcomers Ian Trettel, Jason Anderson and Gannon Audette acquitted themselves well. If the three can stay out a car with Jason Lawrence they will be contenders by 2012.
Darryn Durham had a killer race with Dean Wilson in their heat race. Wilson took the victory, but Durham held on for second. Unfortunately, when they clicked off each other before the triple Durham broke his foot. He had to skip the main event.
Gareth Swanepoel got to race his first-ever Supercross. Luckily he has a week to heal up before he races his second-ever Supercross. When he crashed in the whoops in his heat race Blake Bagget used him as a human trampoline. Then, in the 250 Last Chance, Swanepoel crashed in the first turn (hey, who didn't). Yeah, we know what you're thinking…he's a South African who used to race the GPs. Gareth, may we suggest you get a 450…as the next blurb will make seem like a sensible solution for any rider trying to pay his bills?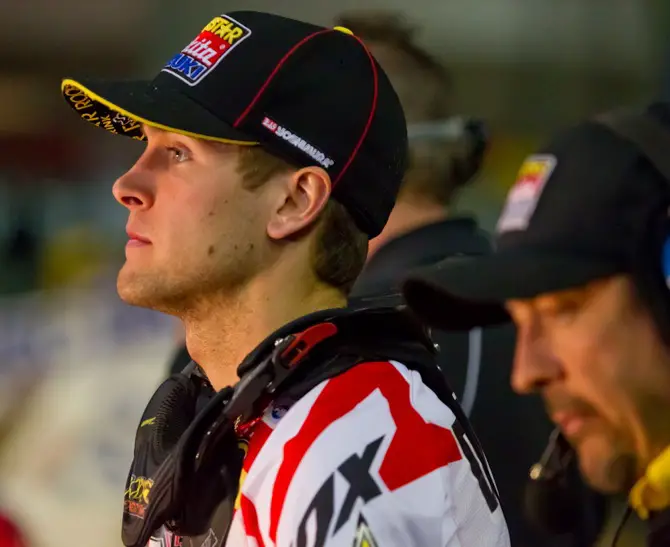 Ryan Dungey has his work cut out for him, but he's on the right track. Now its about winning races. Goose (right) can count the points later.
There were 72 riders vying for a spot in the 250 East field, but only four riders failed to make the night program for the 450 class.
Malcolm Stewart was 14th in his debut (and got the holeshot)…and it really is a debut. He holeshot for three feet into a first turn that was designed by a guy who must have never seen the start of a motocross race. A crash later in on that lap ended his chances of a top ten (as well as that of P.J. Larsen). Given that his brother was 15th this week, there will be at least six days in which James will be referred to a Malcolm's brother.
FASTEST 250 EAST QUALIFIERS
1. Ryan Sipes…49.583
2. Blake Baggett…49.970
3. Dean Wilson…49.996
4. Gannon Audette…50.067
5. Darryn Durham…50.192
6. Nico Izzi…50.243
7. PJ Larsen…50.343
8. Justin Barcia…50.455
9. Matthew Lemoine…50.494
10. Blake Wharton…50.587
THE SLOWEST 250 TIME
72. Travis Johnson…1:13.035
FIRST ALTERNATE
41. Heath Harrison…53.501

WHO DIDN'T QUALIFY FOR THE 250 EAST
With 72 riders signed up, there were 33 riders going home. They included Brad Ripple, Ronnie Stewart, Jason Hussey and Joey Rossi among the notables.

FASTEST 450 QUALIFIERS
1. James Stewart…48.567
2. Ryan Dungey…48.676
3. Ryan Villopoto…48.708
4. Trey Canard…49.002
5. Kyle Chisholm…49.012
6. Andrew Short…49.316
7. Justin Brayton… 49.461
8. Kevin Windham…49.466
9. Chad Reed… 49.831
10. David Millsaps..49.880
THE SLOWEST 450 TIME
44. Kyle Phenix…58.772

FIRST ALTERNATE
41. Clayton Miller…56.761
WHO DIDN'T QUALIFY FOR THE 250 EAST
With only 44 riders showing up for the 40 spots in the night program, only four had to go home. The unlucky four were Clayton Miller, Nicholas Jackson, Chase Spears and Kyle Phenix.

Brett Metcalfe has been steady. He is tied with Andrew Short for sixth in 450 points.

AND NOW FOR THE FULL REPORT…

A huge crowd of 45,859 fans filled Reliant Stadium on Saturday night for the sixth race of the 2011 Monster Energy AMA Supercross season. After wild night of action that resulted in a shakeup in the points, American Honda's Trey Canard, captured his first career Supercross class victory. In the opening race of the 250 East Regional Championship, Geico Honda's Justin Barcia raced to the win in the 15-lap main event.
As the 20 riders in the 450 class main event converged on the first corner, a melee ensued, collecting Supercross points leader James Stewart  and his San Manuel Yamaha as well as TwoTwo Motorsports' Chad Reed. Through the chaos, Geico Honda's Kevin Windham  grabbed the holeshot and led for the first half of the main event. Stewart and Reed crossed the line in 15th and 17th, respectively, following the first lap.
While leading, Windham crashed in a rhythm section and was out of the race, handing the lead to Canard on Lap 10. For the remainder of the main event, defending Supercross champion Ryan Dungey closed in aboard his Rockstar/Makita Suzuki and actually took over the top spot for a short time before Canard fought back and fended off Dungey to take the victory.
"I don't know what to say," said Canard. "It was an awesome race. I just tried to hang in there, because it was a tricky track. I made a mistake and (Ryan) Dungey gained a lot of time on me and from there I was just riding defensive. We had a bit of a rough week this week, but this makes it all better."
Dungey finished second, almost clipping Canard at the line, and rebounded from his DNF one week ago.
"The championship isn't over till it's over," said Dungey. "There's still a lot of racing left. We came up a little bit shy and I just have to look forward to next weekend."
Completing the podium was Monster Energy Kawasaki's Ryan Villopoto, who overcame a bad start of his own, crossing the line in 12th on the first lap.
"That was a tricky first turn," said Villopoto. "It was super tight but I got through there. There were definitely some close moments in that race. The name of the game when you're at the top of the standings is to be consistent."
By virtue of his podium finish, Villopoto took over the Supercross championship lead.
IN THE 250 EAST
As the gates dropped on the 250 East main event, Suzuki City's Malcolm Stewart  grabbed the holeshot in his professional debut. He was quickly passed by Barcia and Monster Energy/Pro Circuit/Kawasaki's Dean Wilson, who gradually pulled away from the field. The pair of sophomore riders traded the top spot on several occasions before Barcia asserted himself in the top spot and held on for the remainder of the race.
"That's racing right there," said Barcia. "If we didn't put on a show, then I don't know what will. We had a great race out there. I'm just so thankful for my whole team. Going that fast, that hard and that intense for 15 laps was crazy, but that's what I've been training for."
Wilson followed in the runner-up spot while his Monster Energy/Pro Circuit/Kawasaki teammate Blake Baggett followed in third.

Trey Canard…winner!                                                      Fly Racing

HOUSTON 450 RESULTS
1. Trey Canard
2. Ryan Dungey
3. Ryan Villopoto
4. Davi Millsaps
5. Andrew Short
6. Chad Reed
7. Ken Roczen
8. Brett Metcalfe
9. Ivan Tedesco
10. Mike Alessi
11. Tommy Hahn
12. Nick Wey
13. Justin Brayton
14. Weston Peick
15. James Stewart
16. Kyle Regal
17. Vince Friese
18. Chris Blose
19. Kevin Windham
20. Jason Thomas
450 SEASON STANDINGS AFTER SIX RACES
1. Ryan Villopoto……..132
2. James Stewart…….123
3. Trey Canard………..112
4. Chad Reed………….105
5. Ryan Dungey……….101
6. Andrew Short………..80
7. Brett Metcalfe………..80
8. Justin Brayton………..65
9. Davi Millsaps…………62
10. Kevin Windham……61
HOUSTON 250 EAST RESULTS
1. Justin Barcia
2. Dean Wilson
3. Blake Baggett
4. Ryan Sipes
5. Ian Trettel
6. Blake Wharton
7. Jason Anderson
8. Lance Vincent
9. Matt Lemoine
10. Alex Martin
11. Chris Gosselaar
12. Shawn Rife
13. Gannon Audette
14. Malcolm Stewart
15. Nico Izzi
16. A.J. Catanzaro
17. Taylor Futrell
18. P.J. Larsen
19. Levi Kilbarger
20. Daryn Durham
250 EAST STANDINGS AFTER ONE RACE
1. Justin Barcia……….25
2. Dean Wilson……….22
3. Blake Baggett……..20
4. Ryan Sipes…………18
5. Ian Trettel…………..16
6. Blake Wharton…….15
7. Jason Anderson…..14
8. Lance Vincent………13
9. Matt Lemoine……….12
10. Alex Martin…………11