THE WIZARDRY BEHIND INJECTION-MOLDED PLASTIC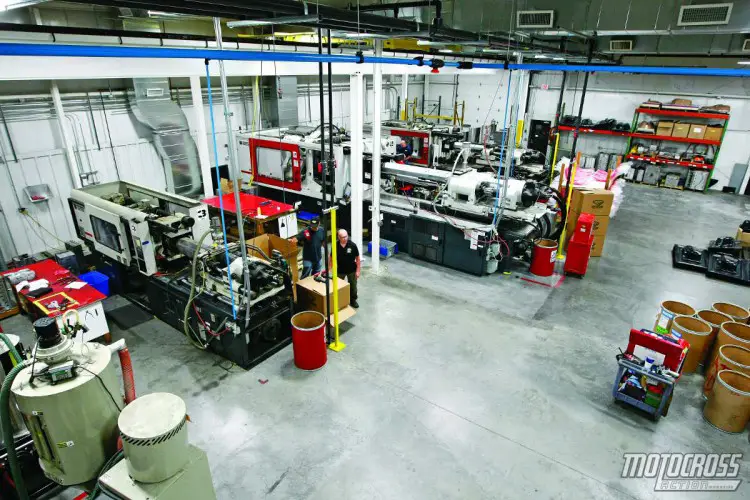 Motocross Action is not your average motorcycle magazine. We pride ourselves on providing stories that have educational and intrinsic value to our readers. Puff pieces and articles lacking substance can be left for fanzines. MXA strives to be different, and we think that most die-hard MXA readers thirst for technical articles, as well as product reviews and thorough bike tests. We understand that not every tech article is interesting to everyone, but we think that the more you know about how things work, the better motocross racer you can be. We take pride in what we do, and, more important, we know that many companies in the motorcycle industry have the same pride in their work. That's how empires are built.
Cycra Racing is one such company. Brothers Ken and Glen Laivins, co-founders and former owners of Cycra, sold the business to CV Products Consolidated LLC in March of 2013. Now located in Thomasville, North Carolina, Cycra Racing is at the forefront of injection-molded plastic manufacturing. Cycra's huge operation is comprised of millions of dollars worth of machinery, state-of-the-art control systems, massive production and intense quality control. Cycra products are represented on the professional circuit by JGR Yamaha, Geico Honda and a host of privateers.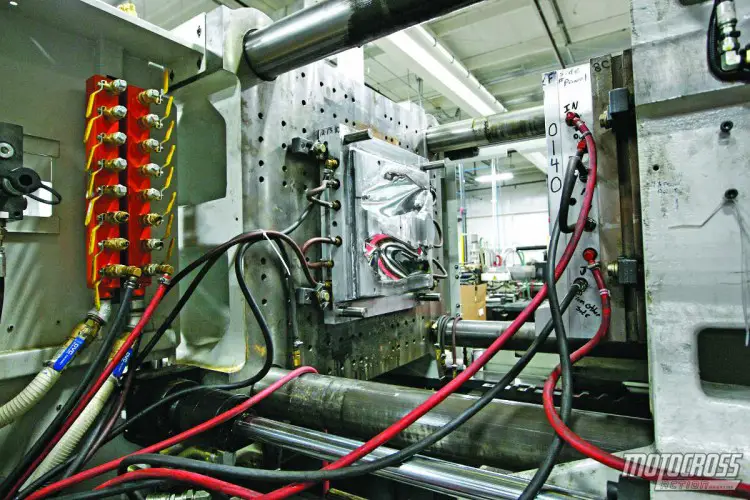 Have you ever wondered how the plastic on your motocross bike is made? Perhaps you have, but most likely the only time you pay attention to your bike's plastic is when installing new graphics. However, there's a lot that goes into manufacturing a single fender. Behold, a glimpse into the inner sanctum of Cycra Racing and how injection-molded plastic is made.
THERMOFORMING VS. INJECTION MOLDING: Thermoforming is when you heat a sheet of plastic and form it over a mold with a vacuum to hold its shape until the plastic hardens. Injection molding, on the other hand, involves using a mold that has a male and female side and a cavity that you fill with plastic. The hot, nearly liquid plastic is injected into the mold cavity at high pressure. Injection molding allows for high precision and intricate molding details, such as ribs and mounting towers.
INJECTION-MOLDING COSTS: Cycra Racing has seven injection-molding machines, ranging from 70-ton to 650-ton presses, as well as thermoforming and CNC routers. They also have a full paint facility (Cycra manufactures saddle bags for street motorcycles under the moniker Hardstreet by Cycra). The purchase price for each injection-molding machine ranges from $300,000 to $500,000.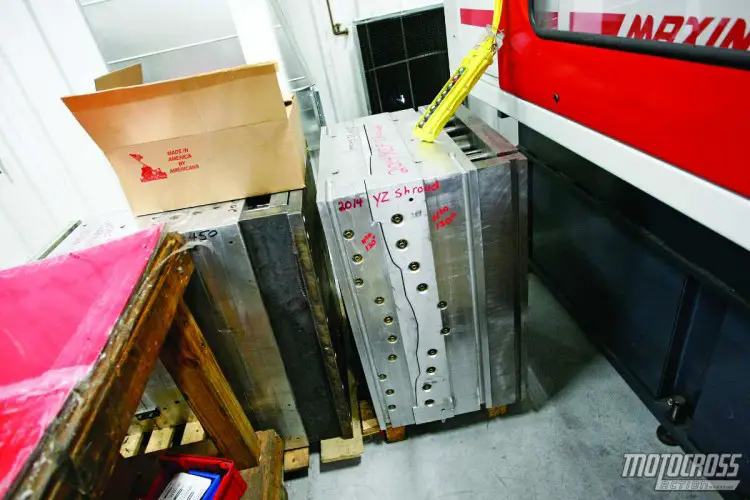 HOW A MOLD IS MADE: Cycra designs its parts on a computer using three-dimensional Computer-Aided Design (CAD) Pro/Engineer software. The molds are further refined and then built in Mastercam CAD milling software. Once the specifics are ironed out, the designs become a reality. Cycra's sister company, Xceldyne, builds the molds using CNC milling machines. In total, there are 50 different metal-working CNC machines responsible for crafting each mold.
COST OF A MOLD: The average cost per mold is $65,000. Note: a mold is for a specific piece of plastic, such as a rear fender, for a specific model. Hence, the total plastic tooling cost for one bike is nearly $300,000. Why is a mold so expensive? Each mold starts with two blocks of solid, tool-grade steel that each weigh 1500 pounds. It can take up to several weeks for a mold to be completed on a CNC milling machine. Fortunately, a mold can produce hundreds of thousands of parts in its lifetime, which could be over 20 years.
MANUFACTURING EFFICIENCY: It's possible for Cycra to run at capacity for 24 hours a day, seven days a week; however, each machine needs constant inspection of the hydraulic fluids and heater elements. Cycra continually updates the on-board computer software of each machine for greater efficiency and reliability. In the course of a day, Cycra can make 5000 parts if all its machines are running at full tilt.
HOW A PIECE OF PLASTIC IS MADE: Polypropylene is fed into a heated barrel. Materials are mixed, raised to a temperature of 400 degrees Fahrenheit, and pushed through a rod into a mold. It takes around 200 seconds for a piece of plastic to be formed. Cycra Racing makes its injection-molded plastic in-house, meaning it closely guards quality control. Cycra also has the ability to make unique plastic parts for the race teams that it supports. That technology is then trickled down to the consumer. Very cool.