HOW MANY RACES CAN YOU HOLD AT ONE PLACE ON ONE WEEKEND?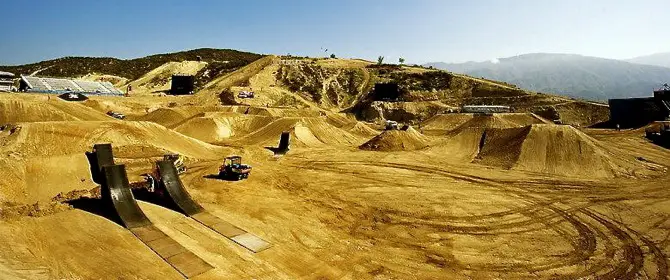 The Red Bull X-Fighters course has been transformed back into the classic REM racetrack…and the ramps are gone.
Press release: REM returns to normal action this Saturday, June 1st, on the all new REM Track. The track incorporates sections of the Red Bull X-Fighters course and promises to be fun and challenging for the riders of the longest weekly motocross series in the nation!  All the regular REM riders will be there, along with the industry participants. Frank Thomason, the REM promoter, has classes for everyone; come on out to take the gate at the new REM Track! For more on REM's program, visit them at www.remsatmx.com today.
 
While the Saturday REM racing is going on, Glen Helen's famous National/Grand Prix track will be open, for the first time in over a month, for open practice! You can spin laps from 8:00 a.m. to 2:00 p.m. for just $25.  The track will be fully prepped and promises to be, as always, a great ride!
 
Sunday at "The Glen" also brings a full slate of racing opportunities to the Southland! Round three of the Yamaha Spring Series (formerly the Yamaha Dealer Series) will take place on the National Track. The first two rounds provided outstanding competition and the same is expected for round three. Get your $5 off coupons at your favorite Yamaha Dealer, plus enter on line at www.GlenHelen.com to save additional $5. There's no membership required to race the Yamaha Spring Series and pre-entry is only $30 with your $5 off coupon. Practice starts 8 a.m. with racing 9:30am.
 
On Sunday while the National Track hosts the Yamaha Spring Series, the REM Track will be hosting the opening round of the CMC Golden State Motocross National "South" series  and the "Over The Hill Gang." For more info, check them out at www.cmcmotocross.com.