HUNTER LAWRENCE INTERVIEW: "I HAVEN'T LOOKED AT THE POINTS YET"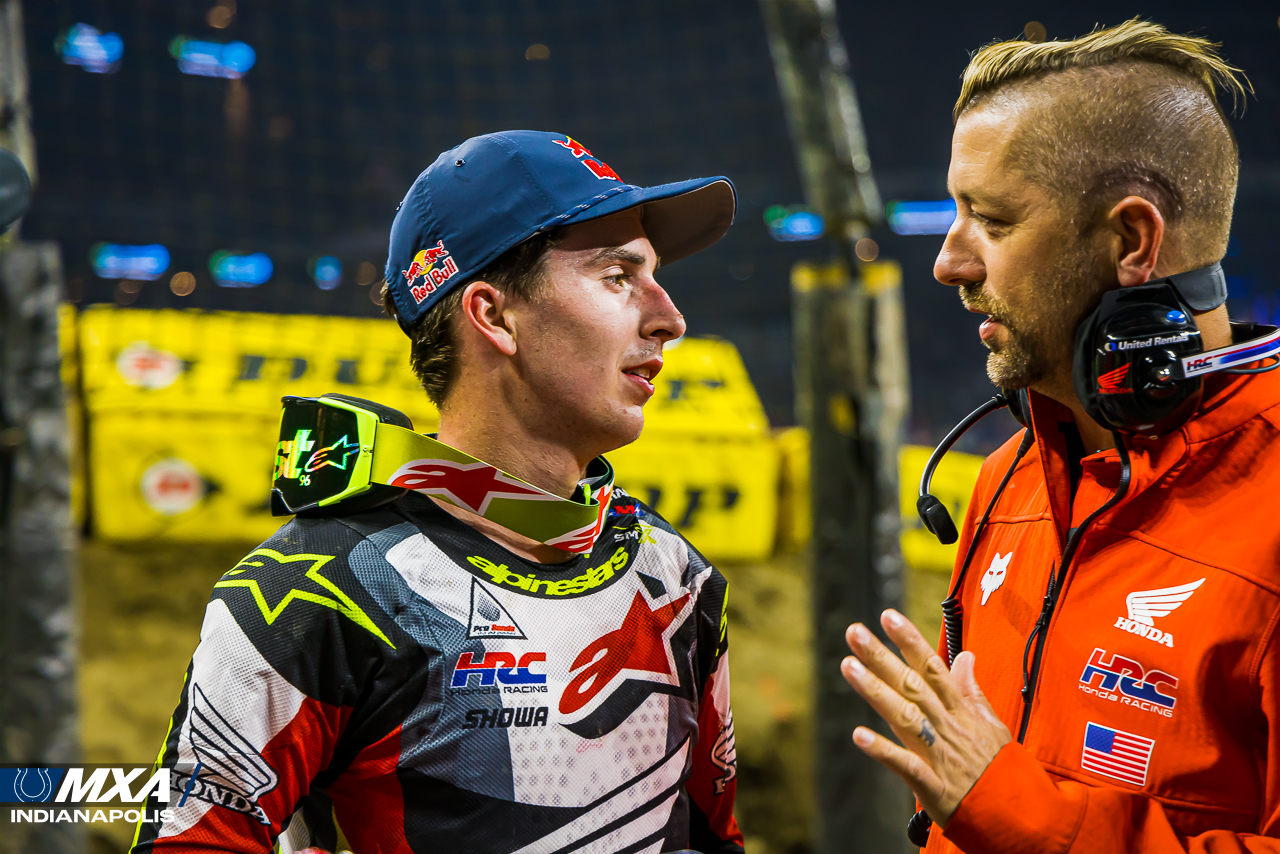 HUNTER LAWRENCE ENJOYS 22-POINT LEAD COMING INTO DETROIT SX
Hunter Lawrence was second in the points in the 250 West Coast regional Supercross series in 2022, and he was third in the 250 Outdoor National Championship, behind his younger brother Jett and Jo Shimoda. This year, the HRC Honda rider has been dominant, winning four out of the five 250SX East Coast Main Events so far. At the Lucas Oil Stadium in Indianapolis, Lawrence took the holeshot and never looked back. The Monster Energy Yamaha Star Racing duo of Nate Thrasher and Jordon Smith were not too far off, but by the white flag, Hunter had a comfortable lead. With Fire Power Honda's Max Anstie having an off-podium night, 23-year-old, Hunter Lawrence now has a 22-point championship lead. We caught up with Hunter as they began to close the stadium's doors.
By Jim Kimball
---
HUNTER, CONGRATULATIONS ON ANOTHER OVERALL WIN. QUITE FRANKLY, YOU ARE MAKING IT LOOK EASY. Thank you, thank you; I appreciate that. But a lot of hard work goes into that. It is not easy to make it look easy (laughing). It takes a lot of tears, blood, sweat, long days at the track and a lot of other stuff people don't see to win—all the mountains and valleys that we go through to make these days look easy.  
AND THIS WAS YOUR FIRST TIME RACING THE INDIANAPOLIS SUPERCROSS RIGHT? Yes, it was. I really didn't know what to expect, but I had heard it could be rutty. Right away I could tell that it was going to break down quickly, and it did. After a couple of laps you really had to pay attention.
YOUR STARTS HAVE BEEN AWESOME. HAVE YOU ALWAYS BEEN A GOOD STARTER? That is debatable. I believe my technique is good. Last year, my good starts did taper off towards the end, but we have worked hard at it because our engine is good. Throughout much of my career, maybe I did not have the fastest engine, so it is hard to say the difference between a good and bad start. Needless to say, we have worked a lot on them, so it is good to have it showing.  
YOU ALSO GAINED MORE CHAMPIONSHIP POINTS OVER MAX ANSTIE IN THE SECOND. I have not really looked at the points yet. I just am going to keep my focus on winning races, that is all I am worried about. I am not worried about the points at this time. I am going to just keep winning and keep ticking the boxes that I need to do.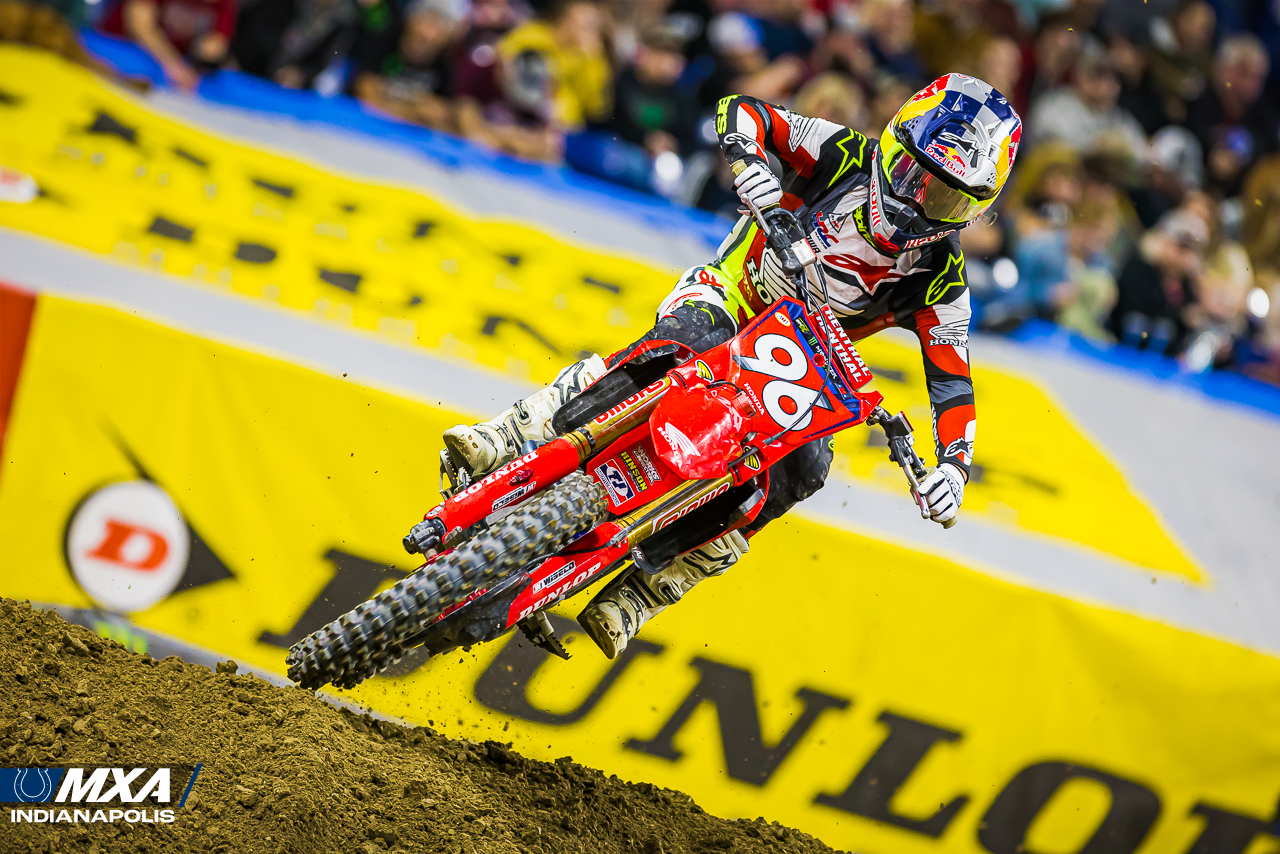 WHEN YOU ARE IN THE LEAD AND GAPPING THOSE BEHIND YOU, DO YOU EVER DECIDE "HEY, I'M GOING TO BACK IT DOWN A BIT?" Not really because I train long motos all during the week. I feel comfortable with the speed I am going, and I feel like if I was to slow down, it would be doing something different, and maybe it would catch me off guard. So, the only time I somewhat back it off is on the last lap. Just bring it home the last lap; that is about it really.  
ONE LAST QUESTION, HOW DO YOU MAINTAIN YOUR HEALTH WITH ALL THE CONSTANT TRAVEL TO DIFFERENT STATES THROUGH THE WARM AND THE COLD WEATHER? It is very difficult. After the main event, I always get a runny nose for some reason. I don't know why, at first you think "oh no, I am getting sick." But that is why diet and nutrition are so important. We are like what, the third weekend in a row, going onto the fourth, traveling nonstop—it is a lot, with the training in between it. We must be on our toes in every aspect of our program.