IF YOU COULDN'T BE AT THE DUBYA USA WORLD VET CHAMPIONSHIPS YOU CAN SEE IT HERE
Glen Helen's starting line is 140 feet across. The start straight is fifth gear wide open. The first turn is banked at 45 degrees and goes 180-degrees around.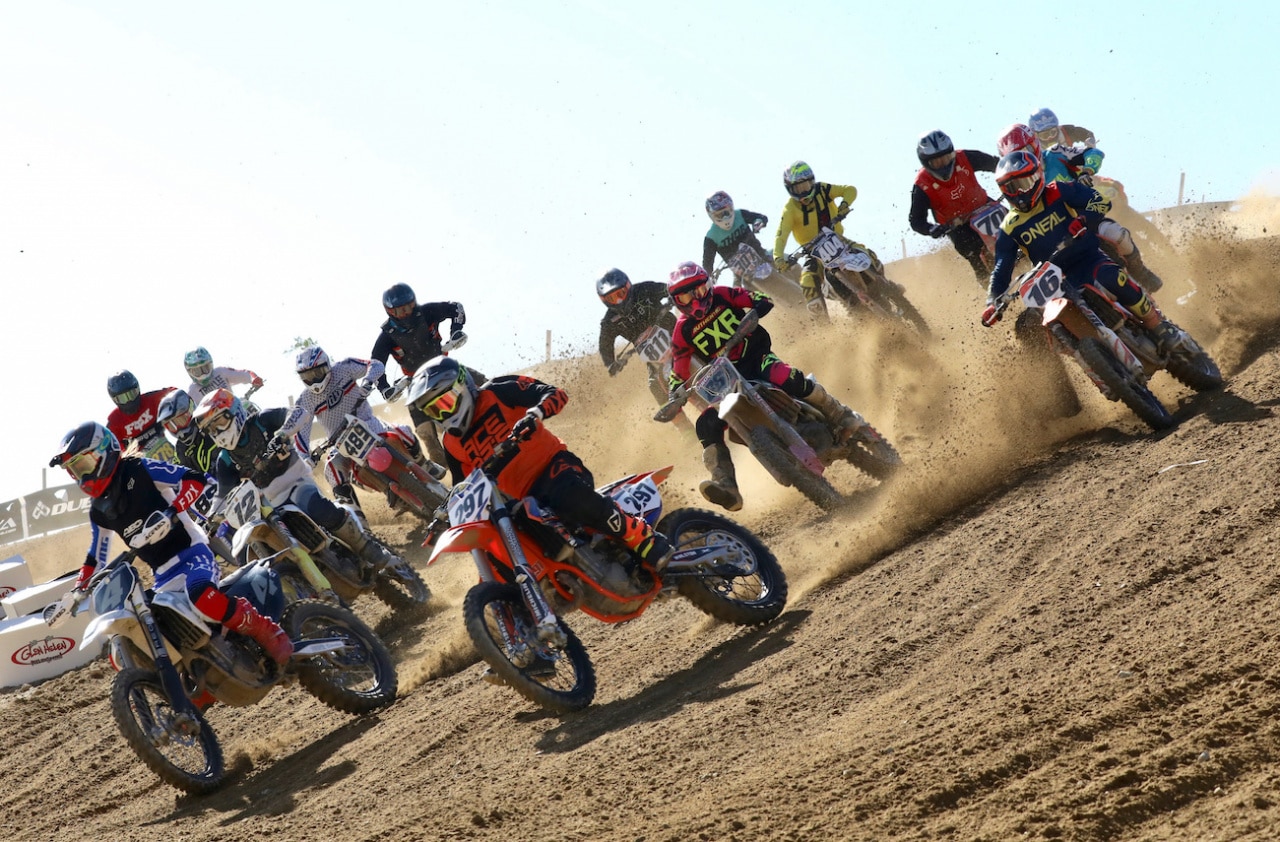 This is what the start line leads to — a perfectly banked corner that is wide enough for riders to go seven-wide through it.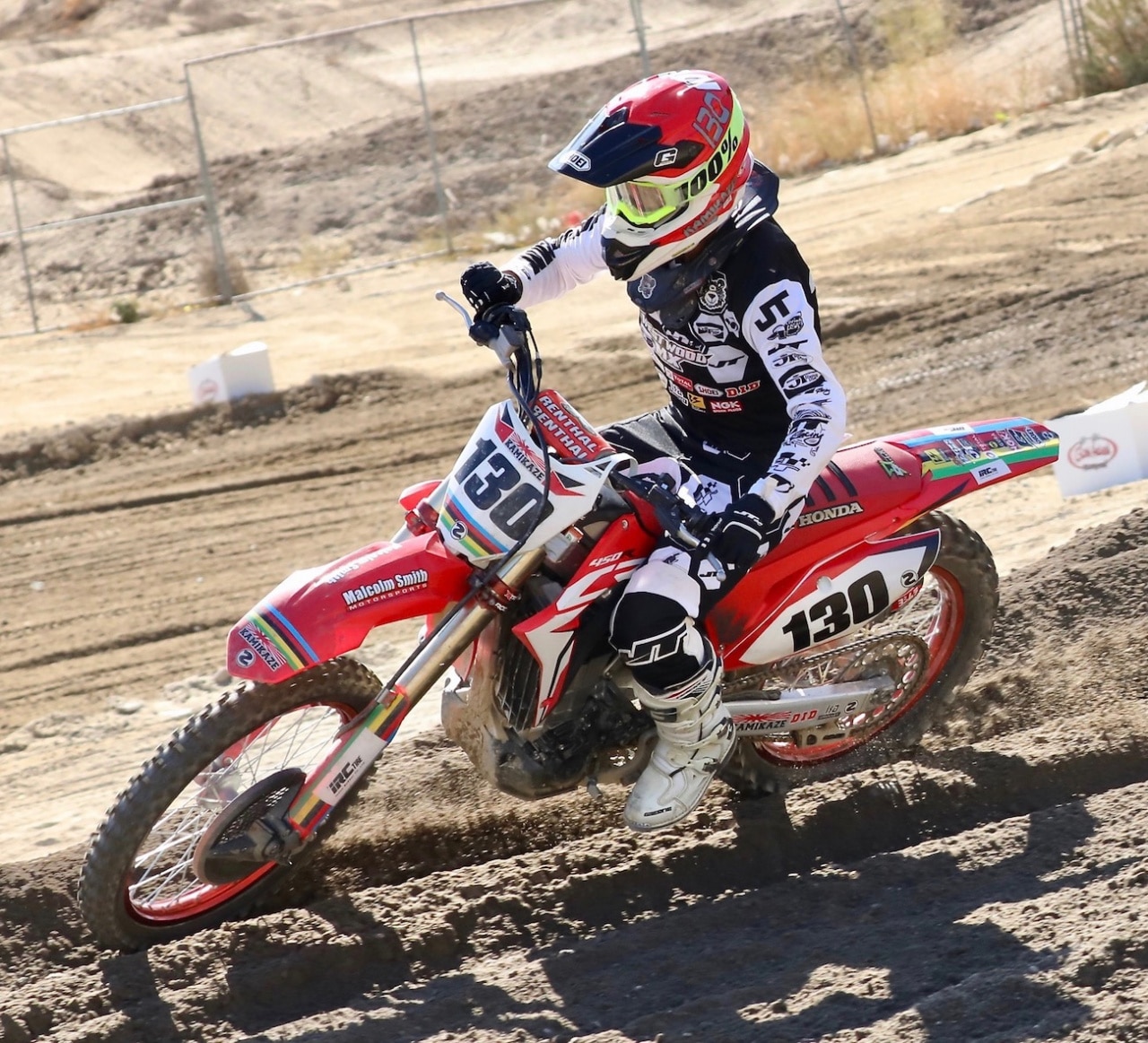 Former Japanese 125 National Champion Isao Ida was fourth in the Over-60 Expert class.
Brit Brian Wheeler (3) was third in the Over-50 Pro class behind countryman Kurt Nicoll and former AMA 125 West Supercross Champion Ty Davis (who had just turned 50).
Former AMA National Pro Rich Taylor (right) was at the Dubya USA World Vet to help riders with their EKS Brand goggles.
Ivan Tedesco (9) was fourth in the Over-30 Pro class, while off-road racer Gary Sutherlin (324) was fifth and this close most of the day.
Tim Tremblay was the surprise of the World Vet weekend. He was third overall in the Over-30 Pro class behind Alessi and Brown and carried Team Canada to sixth in the World Cup.
FXR's Milt Reimer raced both days at the World Vet. He's not just sponsored by FXR—he's the head bottle washer and test rider. It's nice to know that the guy who makes your gear actually races.
Mike Alessi (800) is 31 years old and is now the 2019 World Vet Champion.
Pro Circuit came out in force to support both Mitch Payton and Ivan Tedesco.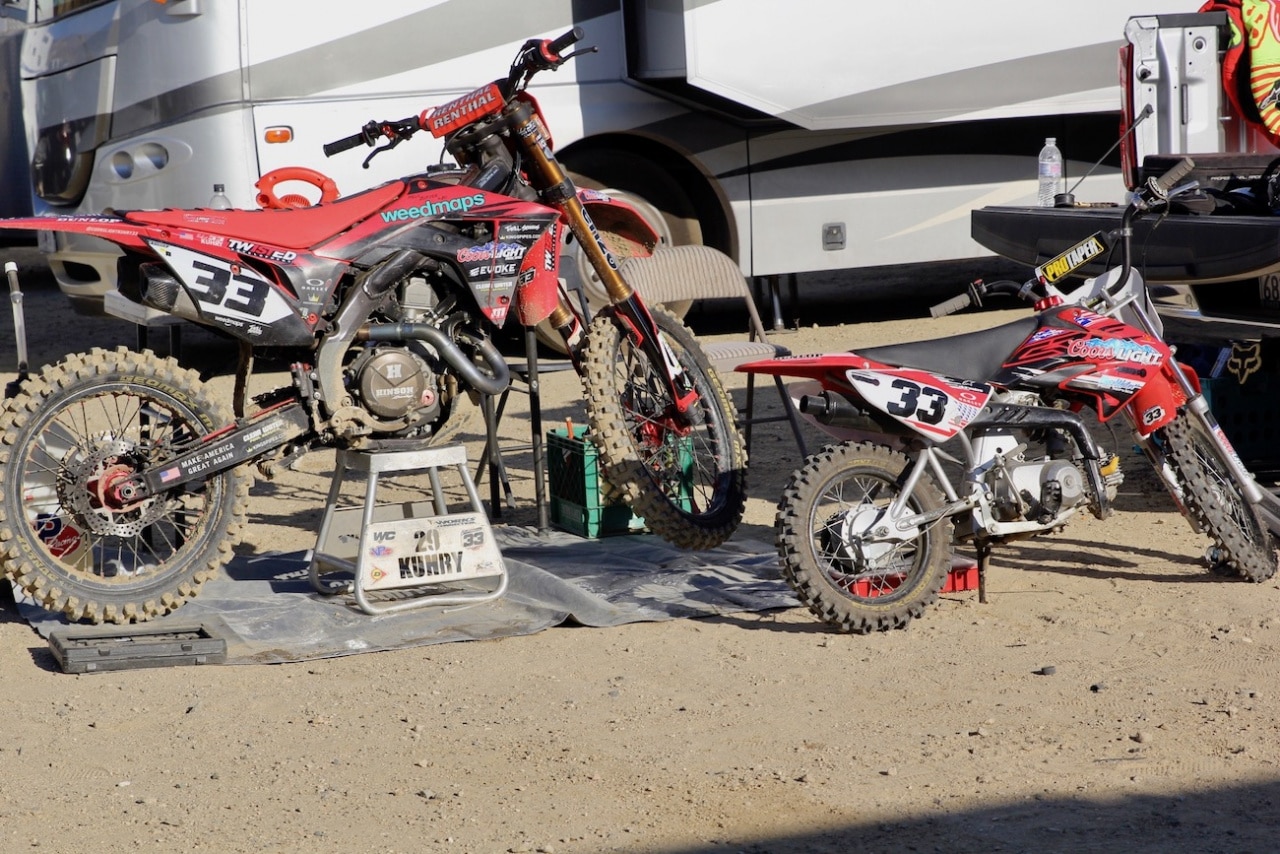 Matching CRF450 and CRF50. One is sponsored by Weedmaps and the other Coors Light.
If you jump completely over the step-up jump before the Velodrome turn, you go all the way up to the top to slingshot down the next straight. This is rider is in the middle of the banking.
Sean Collier (207) was 7th overall in the Over-30 Pros.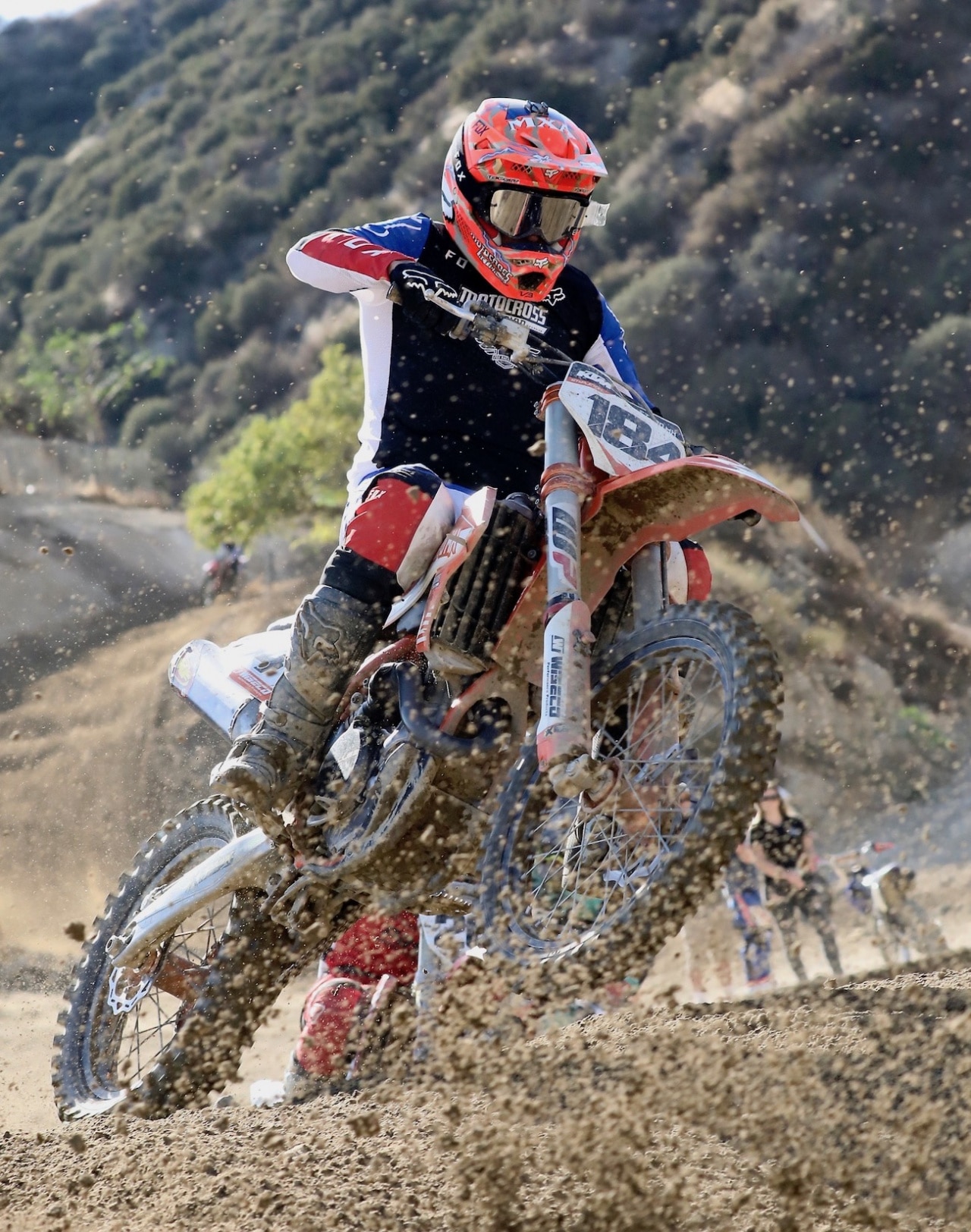 Dennis Stapleton was tenth overall in the Over-30 Pro ranks.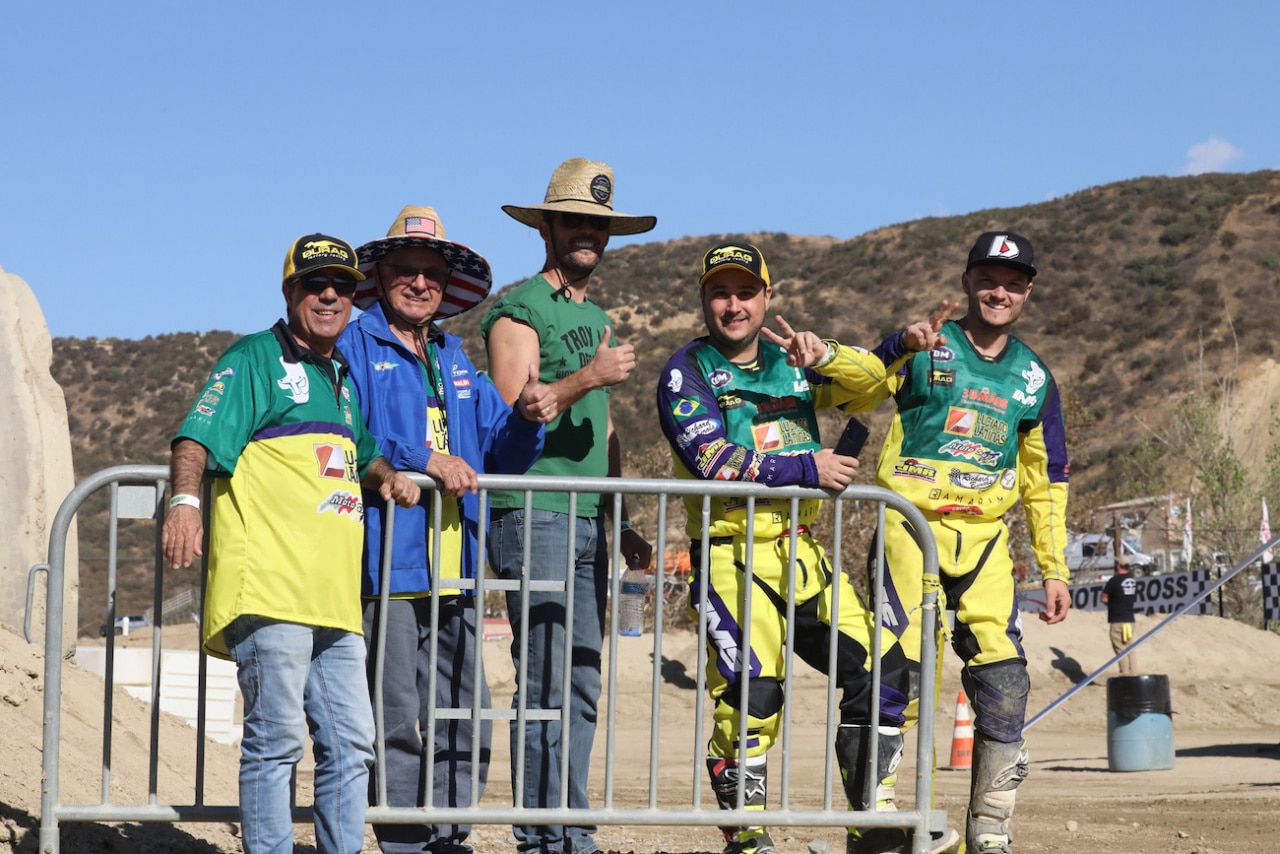 The South American riders enjoyed themselves immensely and raced well enough to get 4th overall in the World Cup.
Pick a line and go for it.
This is a Mike Alessi, Mike Brown, Brad Anderson sandwich in the Over-30 Pro class. Alessi showed up late, Brown rode three different classes and Anderson represented Great Britain in the World Cup. Brad is the current EMX 300 Two-Stroke Champion
Photo 1: You don't want to crash on the way to the Talladega first turn, which is why there is rarely ever a crash there, but this rider felt the 70 mph sting of making a mistake at full tilt.
Photo 2: When you crash at the first part of the Talladega banking, the bikes next to you can't keep up as you accelerate up the hill without your bike.
Photo 3: The racers finally are able to passed the crashed rider when his weight overcomes inertia.
There were 20 national teams entered in the Dubya World Vet Cup races. Jeff Loop (229) led Team USA #2  to the overall victory. The three riders never finished out of the top two in their respective Over-30, Over-40 and Over-50 classes. The favored Team USA #1 was devastated when Josh Grant and Doug Dubach bowed out with injuries. However, even with two fill-in riders (Shaun Hillion and Ed Foedish), they managed a third behind USA #2 and Great Britain.

DUBYA USA WORLD VET OVER-30 PRO RESULTS
1. Mike Alessi (Hon)…1-1
2. Mike Brown (Yam)…2-2
3. Tim Tremblay (Yam)…3-3
4. Ivan Tedesco (Kaw)…7-4
5. Gary Sutherlin (KTM)…6-6
6. Jeff Loop (Yam)…5-7
7. Sean Collier (Hon)…9-5
8. Brad Anderson (Hon)…4-11
9. Dominic Desimone (Hon)…8-8
10. Dennis Stapleton (KTM)…10-9
11. Alex Malott (Yam)…12-10
12. Tobey Ring (KTM)…13-12
13. Bryce Huffman (Hon)…15-13
14. Michael Carter (Hus)…14-14
15. Mike Cunduri (Hon)…16-18
16. Matt Barber (KTM)…18-17
17. Jason Lutton (Yam)…19-19
18. Benny Breck (Hon)…11-27
19. Kris Keefer (KTM)…25-15
20. Oscar Valdez (Yam)…20-20
DUBYA USA WORLD VET OVER-40 PRO RESULTS
1. Mike Brown (Yam)….1-1
2. Kris Keefer (KTM)….2-2
3. Mark Tilly (Kaw)….3-5
4. Jeremy Chaussee (KTM)…6-3
5. Joe Oehloff (Kaw)…5-4
6. Robb Floth (Kaw)…4-9
7. Tim Beatty (Hon)…7-7
8. Julien Cerny (KTM)…9-6
9. Shawn Highland (Hus)…10-8
10. Lee Walston (KTM)…11-10
DUBYA USA WORLD VET OVER-50 PRO RESULTS
1. Kurt Nicoll (KTM)…1-1
2. Ty Davis (Kaw)…2-2
3. Brian Wheeler (KTM)…3-3
4. Jeff Mataisebich (Kaw)…5-4
5. Jon Ortner (Yam)…7-5
6. Tim Tynam (Suz)…10-8
7. Troy Cardiel (Hon)…8-10
8. Steve Nelson (Yam)…13-6
9. Bryan Sannaugh (Hus)…14-7
10. Ed Heacox (Yam)…12-9
DUBYA USA WORLD VET OVER-60 EXPERTS RESULTS
1. Pete Murray (Yam)…1-1
2. Pete DeFraaf (KTM)…2-2
3. Will Harper (KTM)…5-3
4. Isao Ida (Hon)…4-4
5. Doug Frankos (Hon)…3-7
6. Val Tamietti (KYM)…6-5
7. Bob Rutten (KTM)…8-8
8. Tony Cooksey (Yam)…7-9
9. Bill Nolan (Yam)…9-10
10. Mike Monaghan (Yam)…10-11
DUBYA USA WORLD VET OVER-70 EXPERT RESULTS
1. Ike DeJaeger (Hon)…1-1
2. Billy Van Vugt (Hus)…4-2
3. Jack McCormick (Hon)…3-3
4. Bill Maxim (Hon)…2-5
5. Steve Machado (Yam)…6-6
DUBYA USA WORLD VET OVER-80 EXPERT RESULTS
1. Chuck Koistra (Hon)…2-1
2. Ernie Cabral (Hon)…1-2
The top three teams in the Vet World Cup (Great Britain on left, Team USA #2 in the middle and Team USA #1 on the right).
2019 DUBYA USA WORLD VET CUP RESULTS
1. Team USA 2 (Jeff Loop, Kris Keefer, Craig Davis) …1-1-2-1-2-2=9
2. Great Britain (Brad Anderson, Kurt Nicoll, Brian Wheeler) …2-3-3-3-1-1=13
3. Team USA (Shaun Hillion, Mike Brown, Ed Foedish) …5-5-1-2-3-3=19
4. Team Brazil (Wellington Garcia. Richard Berois, Fabio Dos Santos) …4-4-4-5-7-6=30
5. Team France (David Sousa, Thierry Traccan, Arnaud Demonmahou)…7-8-6-4-4-18=47
6. Team Canada (Tim Tremblay, Robert Martin, Alain Bourdreau) …3-2-15-7-9-12=48
7. Team Canada 2 (Ryan Gauld, Steve Bulyovsky, Nic Wallis) …6-7-14-12-8-4=51
8. Team Puerto Rico 2 (Jon Lindberg, Jeff Molina, Ed Heacox) …14-16-10-10-5-5=60
9. Team Puerto Rico 1 (Carlobi Velez, Nick Luciano, Eddie Jaramillo) …15-14-8-8-14-9=68
10. Team Guam 1 (Charles Castloo, Zeke Daugherty, George Ellinger) …10-6-12-17-13-12=70
11. Team Puerto Rico 3 (David Cincotta, Todd Gravitt, Kevin Barda) …18-17-5-6-6-20=72
12. Team Holland (Ralf Schmidt, Rowdy Wagenaar, Oliver Gottbehut) …8-10-21-15-12-10=76
13. Team USA 3 (Brandon Kirkendal, Anthony Heckart, Chuck Heckman) …20-15-9-9-20-7=80
14. Team Australia (Steve Butler, Dan Alamangos, Dave Feeney) …11-12-19-11-16-14=83
15. Team Brazil 2 (Murillo French, Artur Aguilar, Marcio Campos) …12-20-16-16-10-11=85
16. Team Canada 3 (Ron Jansen, Dean Murphy, Matt Hahm) …9-11-18-18-15-15=86
17. Team Ireland (David O'Connor, Kenny Power, Gary Sullivan) …16-13-17-13-11-17=87
18. Team Iceland (Gunnlaugur Karlsson, Ragnar Seffansson, Haukur Thorsteinson) …17-20-7-19-11-16=90
19. Team Spain (James Farrell, Xavier Costa, Joaquim Sunol) …19-18-13-14-20-8=92
20. Team Northern Ireland (Jonathan McBride, Hugh Mc Dowell, William Burgess)…13-19-21-20-18-19=110