MXA'S FUEL-INJECTED 300 TWO-STROKE PROJECT RACER
By Jody Weisel
My job, for as long as anyone can remember, has been to test motocross bikes. I don't have the luxury of having a bike I can call my own. I have to ride whatever bike is on the MXA test schedule—and there are 75 bikes in MXA's yearly lineup (luckily split among Daryl Ecklund, Dennis Stapleton, Josh Mosiman and me). Oh, I suppose that I could lay claim to the latest new bike that I feel simpatico with, but it wouldn't do me any good. Under MXA's strict test protocol, test riders have to ride the bike that is on that month's editorial runsheet—and stick with it until they know everything there is to know, which includes shepherding other test riders through its perks and peccadillos. In essence, if I'm not racing my assigned steed, I am babysitting it while other Pros from Dover are in the saddle. Under this system, I get lots of input from up to seven MXA test riders, and I'm not stuck on one machine for a month, because I'm the Pro from Dover on other test projects. For seven months out of the year, I move from test assignment to test assignment. Then, once my complete group of bikes has been run through the wringer and all the shootouts are done, I'm free to do whatever I want. But, freedom has limits—and doesn't include chucking the magazine workload to ride whatever my favorite bike might be.
"I HAVE ALWAYS SAID THAT IF I WERE NOT A MOTOCROSS ACTION TEST RIDER, MY BIKE OF CHOICE WOULD BE A YAMAHA YZ250 TWO-STROKE. TO MY WAY OF THINKING, THE YZ250 IS THE PERFECT RACE BIKE. IT IS LIGHT, AGILE, RESPONSIVE AND EASY TO MAINTAIN."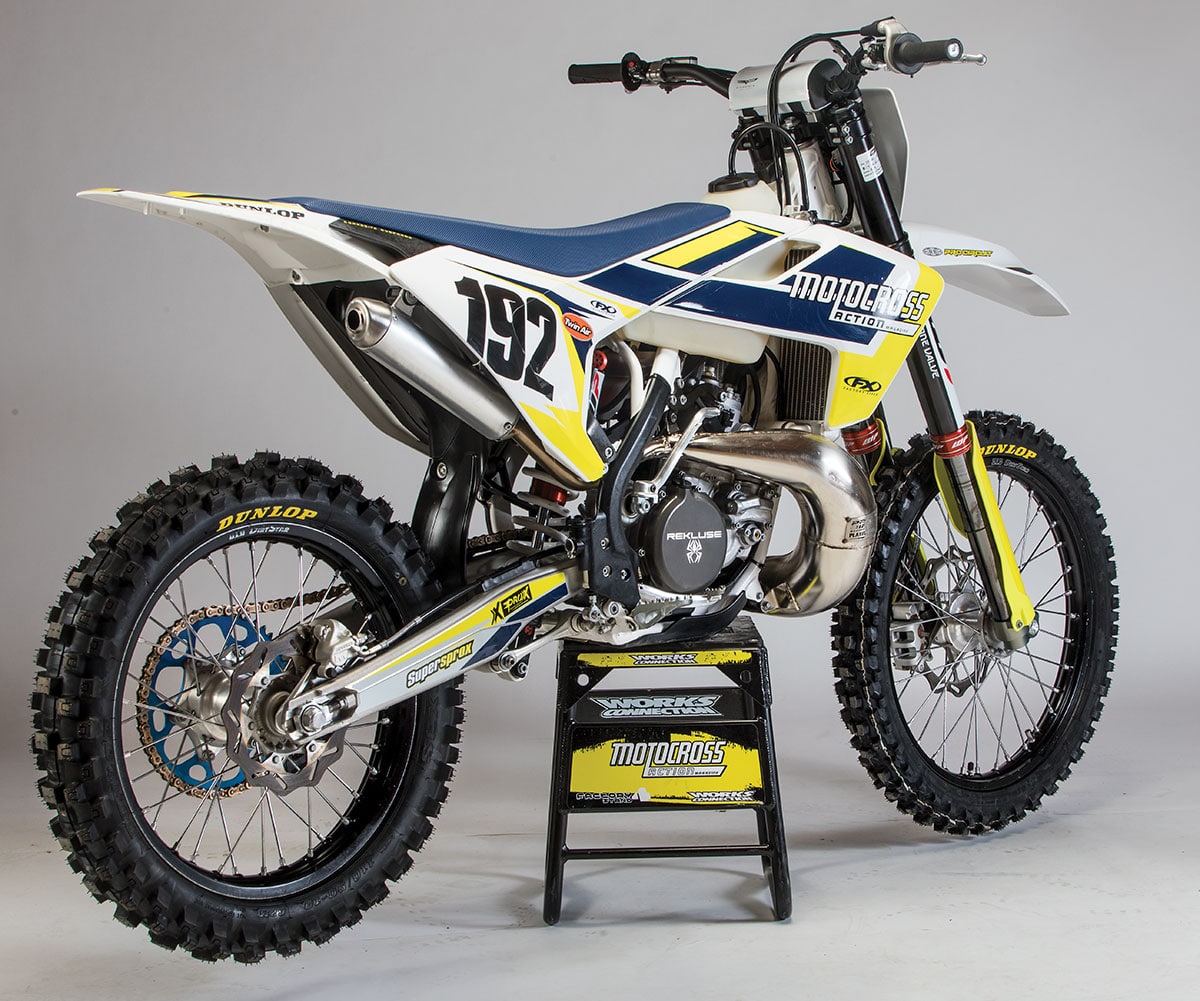 But, and this is a big but, I'm on the downside of my downside as a motorcycle test rider. My MXA workmates are all former AMA National Pros of recent vintage who are very good at what they do. They allow me the freedom to work more in the realm of a check rider, making sure that they have done due diligence, haven't gone off on some pro-speed jag, and that they understand the ramifications of whatever applied technology applies to their assignment. I still have to test for a living, but it's not as daunting a task as it was back in the 1970s, 1980s and 1990s when I was the Lone Ranger of American motocross test riders. I can relax a little now.
Which gave me the impetus to build my own personal MXA race bike this year, even though I may not get to spend much time on it. That meant that I could choose whatever bike I wanted, pick whichever tuner I wanted, choose whatever aftermarket products I wanted, and set it up however I wanted. It could turn out to be a complete roach, but it would be my roach.
I have always said that if I were not a Motocross Action test rider, my bike of choice would be a Yamaha YZ250 two-stroke. To my way of thinking, the YZ250 is the perfect race bike. It is light, agile, responsive and easy to maintain. But, a funny thing happened on the way to choosing my weapon of choice. I skipped over the Yamaha YZ250 for a Husqvarna TE300i. If you were to ask me why I changed my tune, I'd say, "I'm wiser, more experienced and a lot slower than I was in my youth. I'm not the gun-and-run Texan that I was a few years ago (or decades ago). I want the more deliberate power delivery of a 300 as opposed to the rat-a-tat-tat of a 250 at 9500 rpm."
I was lucky enough to be assigned to test the stock 2019 Yamaha YZ250, 2019 KTM 250SX and fuel-injected 2019 Husqvarna TE300i a few months ago (I even raced a couple races on a Dick Wilk's-modified 2019 KTM 300XC-W TPI). There was no doubt in my mind that I was very comfortable on the YZ250 two-stroke (and had built my dream version a couple years ago), but I was impressed with the technological innovation of the fuel-injected 300i and 300XC-W TPI. I had been seduced by technology, always a weakness of mine. I crave simplicity but am drawn to complexity.
To do what was best for me, I had to forgo the common-sense choice and choose the 2019 Husqvarna TE300i off-road model. It was, to the naked eye, a bad choice. It wasn't a motocross bike. It had less-than-stellar WP Xplor forks. Plus, the enduro foof and fuel-injection accoutrements added several pounds to the package. And, I would have to jettison the tail light, headlight, 2.2-gallon gas tank and folding kickstand. My friends thought I was crazy. I could have had any bike I wanted, but instead of building an even more exotic KTM 450SXF Factory Edition or spec'ing my own (and better) Ken Roczen Edition CRF450—I chose a 300cc two-stroke enduro bike. My goal was to build a fuel-injected 2020 Husqvarna TC300 motocross bike.
"GUESS WHAT? THERE WERE NO ENGINE MODS. SURPRISED, AREN'T YOU? IT'S A 49.77-HORSEPOWER TWO-STROKEIN STOCK TRIM—MORE HORSEPOWER WOULDN'TMEAN I'D BE GOING FASTER, ONLY THAT I'D
BE SHUTTING OFF SOONER."
There was a lot for me not to like about the 2019 Husqvarna TE300i as a potential motocross bike. First and foremost, it has a serious flat spot in the middle of the powerband that kills all drive from 7000 rpm to 8000 rpm. Second, the WP Xplor forks can best be described as half of a set of forks. They are so soft that the stock TE300i dives excessively under hard braking, so much so that the front end oversteers to the point of standing the frame at attention. Third, the TE300i chassis is seriously out of balance. It's very stinkbug-like in the rear, very tall at the saddle and very low in the front (and lower if you touch the brakes). I couldn't live with any of these faux pas. I had no choice but to fix them. I'm not a garage queen kind of guy. I remember back when I was railing against the Husqvarnas that the Swedes were building in Odeshog in the 1980s and they would tell me, "Stock is best." I didn't believe that then, and I still don't believe that now; however, building the perfect bike doesn't mean magnetizing it and dragging it through the Rocky Mountain ATV/MC parts department. Everything that can be stuck on a motocross bike is not necessary on a pure race bike. I don't care about gold, blue or black rims. If I had my druthers, my bikes would all have silver rims so that the tire iron scratches wouldn't show. The color of a rim means nothing to me—as long as it stays true, doesn't dent and gives the spokes a solid perch. Anodizing is the drug of choice of every bucks-up bike builder. I'd rather skip it.
"I REMEMBER BACK WHEN I WAS RAILING AGAINST THE HUSQVARNAS THAT THE SWEDES WERE  BUILDING IN ODESHOG IN THE 1980s, AND THEY WOULD TELL ME, "STOCK IS BEST." I DIDN'T BELIEVE THAT THEN, AND
I STILL DON'T BELIEVE THAT NOW."
I vowed to only change the things that needed to be changed for my personal peace of mind. Money was no object, but performance was. My goal was to fix the few things that were priorities for me and leave the rest alone. Stock is good when it is good.
Engine mods? Guess what? There were no engine mods. Surprised, aren't you? It's a 49.77-horsepower two-stroke in stock trim—adding more horsepower wouldn't mean I'd be going faster, only that I'd be shutting off sooner. The only change I made to the TE300i engine was to try to get rid of the flat spot at 7000 rpm. I asked Husqvarna's Andy Jefferson about remapping the Synerject ECU. He said that my TE300i had the latest map from the Husky factory installed in it the day he handed it to me. My map was the best map they had. I called Mitch Payton and told him that the TE300i engine made 49.77 horsepower, but went flat in the midrange. He gave me an exhaust pipe that he said would erase the flat spot and give the TE300i 52.20 horsepower at peak. He was right. That's it. That's all I did. Of course, I will re-map it when the masters of mapping get more real-world experience with injected TE300is.
"AS A CLUTCH ABUSER, I WAS A MASTER OF GETTING THE MOST OUT OF MY BIKE'S POWERBAND BY MODULATING THE POWER'S DELIVERY WITH MY LEFT HAND INSTEAD OF RELYING ON MY THROTTLE
HAND LIKE A HUMAN BEING."

With just the addition of a Pro Circuit exhaust pipe and silencer, the ugly flat spot disappeared. Even better, the pipe didn't change the low-to-mid transition one iota; however, at 7500 rpm, the stock pipe was stuck at 42.10 horsepower while the Pro Circuit pipe made 45.20 horsepower. At 8500 rpm, the stock pipe was making 49.77 horsepower (its peak), and the Pro Circuit pipe made 52.10 horsepower. At 9200 rpm (the Pro Circuit pipe's peak), the stock Husky TE300i pipe was making 46.10 horsepower while the Pro Circuit pipe made 52.20. Best of all, the Pro Circuit pipe didn't sign off until 9200 rpm, whereas the stock pipe gave up the ghost at 8600 rpm.
You'd be surprised by how many guys I see at the track who have spent $2000 hopping up their race engines but never get past half throttle. An equal number spend money putting expensive race gas in their stock engines thinking that their 91-octane-tuned engine will run better if they give it 112-octane race gas. Trust me; it won't. Or, worse yet, I see owners of KTM 250SXFs and 350SXFs who short-shift at 10,000 rpm (giving up the three free horsepower that lies unused at 14,000 rpm).
There are two places on a racetrack where every rider—slow, fast, fat or thin—can use all the power his bike can deliver, and that is on the start and up a big hill. The rest of the time riders need the proper amount at the proper time. With data acquisition, the factory teams discovered that the throttles on their $100,000 works bikes were only turned wide open for 5 percent of the time on a Supercross track. I didn't need a fire-breathing dragon. I ride those all the time. I wanted to ride my TE300i without every orifice in my body puckered up.
"WHEN IT CAME TIME TO DROP-KICK THE 300i'S XPLOR FORKS, WP BUILT ME A NEW SET OF CONE VALVES—ALBEIT WITH NEW NOMENCLATURE THAT LABELED THEM AS 'XACT PRO SPRING' FORKS."
I'm a clutch abuser. Always have been and always will be. It wasn't until KTM introduced its hydraulic, Belleville washer-equipped, steel-basket, DDS diaphragm clutch that anything could stand up to my relentless slipping of the clutch. The strongest, most accurate and longest-lasting clutches come on the KTM 450SXF, KTM 250SX, KTM 300XC-W TPI, Husqvarna FC450, Husky TC250 and fuel-injected TE300i. So, you'd think I would be satisfied with the stock Husky clutch, and I was—until I raced Dick Wilk's motocross-modified KTM 300XC-W TPI with a Rekluse RadiusCX automatic clutch. It reminded me of the year I spent racing a Husqvarna AC500 automatic. I loved that Husky, but its complicated cog-and-ratchet transmission was not well-suited to motocross. It should be noted that the Husqvarna AC500 didn't have a clutch lever or a shift lever. It was fully automatic. The RadiusCX clutch does not turn the TE300i into a full automatic. I still had to shift gears—I just never had to touch the clutch.
The Rekluse RadiusCX auto clutch combines Rekluse's TorqDrive friction plate technology with its EXP automatic clutch mechanism and its Core inner hub and pressure plate design. You may think that you don't fully understand how Rekluse's auto clutch works, but you already know. It uses the same slinger clutch technology that has been used in 50cc Pee-Wees for years. The RadiusCX engages and disengages based on engine rpm. At low rpm, the clutch plates are not in contact with each other, but as the rpm increases, centrifugal force slings six weighted wedges to engage the clutch (and Rekluse offers different weight wedges to help fine tune the auto clutch's feel). In action, the RadiusCX auto clutch can start and stop without the rider touching the clutch lever; however, the clutch lever still functions normally at all times.

There is a learning curve to getting the gap between the clutch pack and pressure plate properly spaced, but luckily the Rekluse comes with a detailed instruction manual and there are videos on Rekluse's website. Also, in a stroke of genius, Rekluse designed an adjustable clutch slave cylinder for KTM and Husqvarna owners. The key feature of the Rekluse slave cylinder is that it comes with a 4mm Allen bolt that allows the rider to adjust the throw of the push-rod that actuates the movement of the clutch pressure plate. I adjusted the  gap before every race…and sometimes between motos.
I was leery of the Rekluse clutch. As a clutch abuser, I was a master of getting the most out of my bike's powerband by modulating the power's delivery with my left hand instead of relying on my throttle hand like a human being. I had raced with Rekluse clutches many times before, but I couldn't stop my left hand from using the clutch. When I raced Dick Wilk's KTM 300XC-W TPI, he told me to ignore the clutch lever and just hammer into corners and hammer out of them. Dick said, "Let the clutch do its thing without your left hand gumming up the works." It took me a couple of laps to stop my left hand from instinctively flapping in the breeze, but once I let the Rekluse do its thing, I had extra brainpower available to actually concentrate on where I was going. I liked it. I liked it a lot.Plus, I could still use the Rekluse clutch as a normal clutch…and that came in handy in a pinch.
Never forget that my goal was not to build a garage queen; I didn't care if it glistened in the sun and sparkled at night. I planned to get it dirty; I had an anti-glisten and anti-sparkle mentality. My intent was to focus on the aspects of the TE300i that I could improve. Saving money is never in MXA's gunsights for any project bike. We almost always go whole hog in order to highlight all the possibilities; however, that wasn't what I wanted. I didn't change parts just to change them. I picked the best parts, pieces and people to get me exactly what I wanted.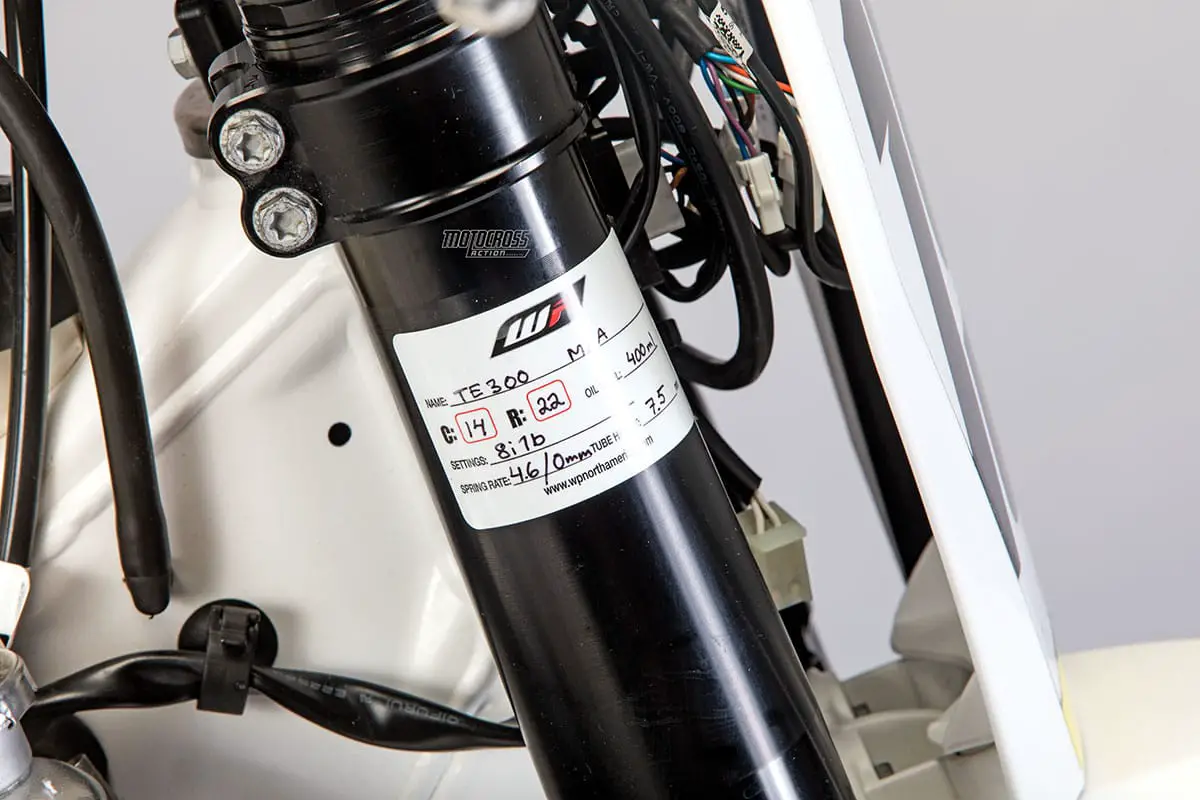 When it comes to suspension, I have had great luck with WP Cone Valve forks—this is WP's version of Showa A-kit suspension but with a price tag that is much lower and performance that is much higher. My Cone Valve journey was made easier because I had tested lots of KTMs and Huskys with Cone Valves on them. I would often ask WP to re-valve a set of Cone Valves to better suit my tastes and, in the end, I came up with a setting that was perfect. Perhaps the word "perfect" needs some clarification; they are perfect for my weight, speed and skill thanks to WP's excellent technicians. So, when it came time to drop-kick the TE300i's Xplor forks, WP built me a new set of Cone Valves—albeit with new nomenclature that labeled them as 'XACT Pro Spring' forks. When WP's Casey Lytle asked me what valving I wanted in the new forks, I said, "The exact same valving that was in my previous Cone Valves and the Cone Valves before that." I had four years of experience with this setup, and I wasn't about to start experimenting now.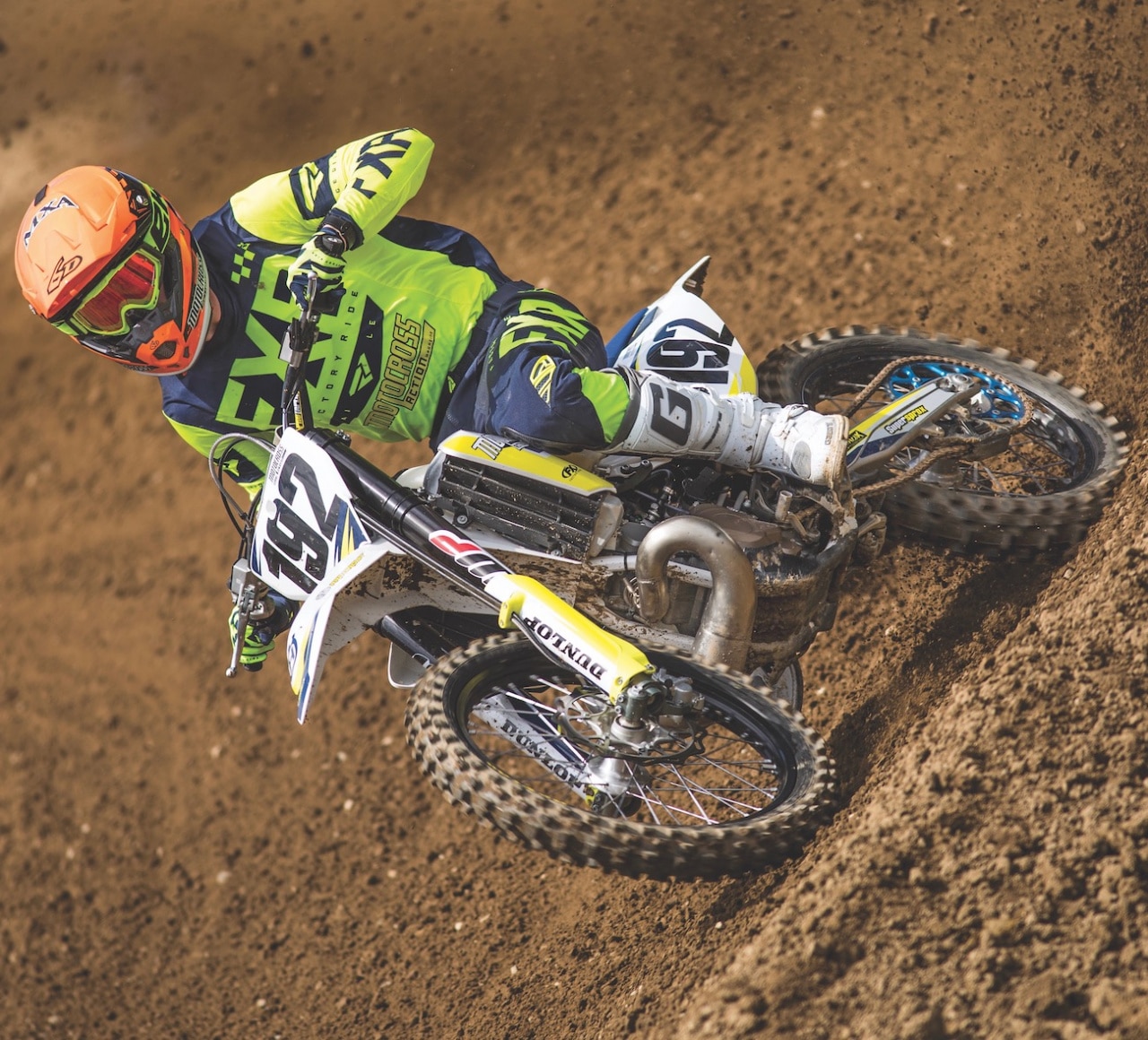 The Cone Valve system does not use any shims on the compression side of the stroke. It is called a Cone Valve fork because a tapered cone replaces the shim stack in the mid-speed valve. As oil flows through the mid-speed valve on compression, it pushes against the tapered cone, which is held in position by a short coil spring. The oil pressure depresses the cone's spring to allow more or less oil to flow through the mid-speed valve. It is naturally progressive and allows the suspension fluid to flow with an almost unlimited range to reduce harshness. This is most noticeable in how well the front wheel responds to the ground when running harder settings. There are three different optional cones, each with a different degree of taper. There are also three models of XACT forks, but only the two Pro Component forks feature Cone Valve valving: the XACT Pro Spring and XACT Pro Air. I prefer the spring version to the air one, even though it is 3 pounds heavier.
As for the shock, the stock production WP shock has come a long way in the last five years, and typically I worry more about the front forks than I do the WP rear shock, but that was not a luxury I had with the TE300i. The Husqvarna TE300i enduro bike uses the older model frame, and the stock shock setup was for off-road riding. So, I switched to the $2500 aftermarket WP Trax shock. The Trax is easily recognizable as a works part by its dual adjusters on top of the piggyback reservoir. It also comes with an X-Trig worm-drive shock preload adjuster that makes changing spring preload easier (we spin it with a battery-powered impact gun). The most famous aspect of the Trax shock is the drop-out feature. It detects when the pressure on the rear wheel decreases, then immediately activates a mechanism to extend the shock downward to get the rear wheel closer to the ground. This happens in milliseconds and is designed to help keep the rear wheel on the ground over braking bumps and in any airborne situation to maximize traction. I'm not a fan of "drop-out." Luckily, WP sells the internal parts to deactivate the drop-out feature.
I loved the WP Pro Spring forks. The forks had that plush feel that you can only get from properly set up coil spring forks. In motion, you could feel the plushness in the way the front wheel tracked the ground. The front tire contact was vastly improved in all manner of corners and even in ruts. The front end doesn't ride high, as it does with an air fork, and this allows it to absorb the clatter that fatigues your forearms. Great forks, but then again I knew they would be. As for the Trax rear shock, it stayed higher in its stroke because the high-speed compression damping was firmer. This is a good thing, because if I have one complaint about KTM rear shocks, it is that they G-out too easily. Without the "drop-out" feature, the Trax shock felt much better in the big hits than it did with drop-out activated. Overall, the Trax shock was a plus over the stock shock but not a massive step up the ladder.
"STINKBUG BIKES BOTHER ME TO DISTRACTION BECAUSE THEY TELEGRAPH A BIKE THAT IS OUT OF BALANCE. I  WANT  A FLAT CHASSIS, LOW SEAT HEIGHT, AND A SETUP THAT  MOVES FREELY. THAT DOES NOT DESCRIBE
VERY MANY MODERN MOTOCROSS BIKES."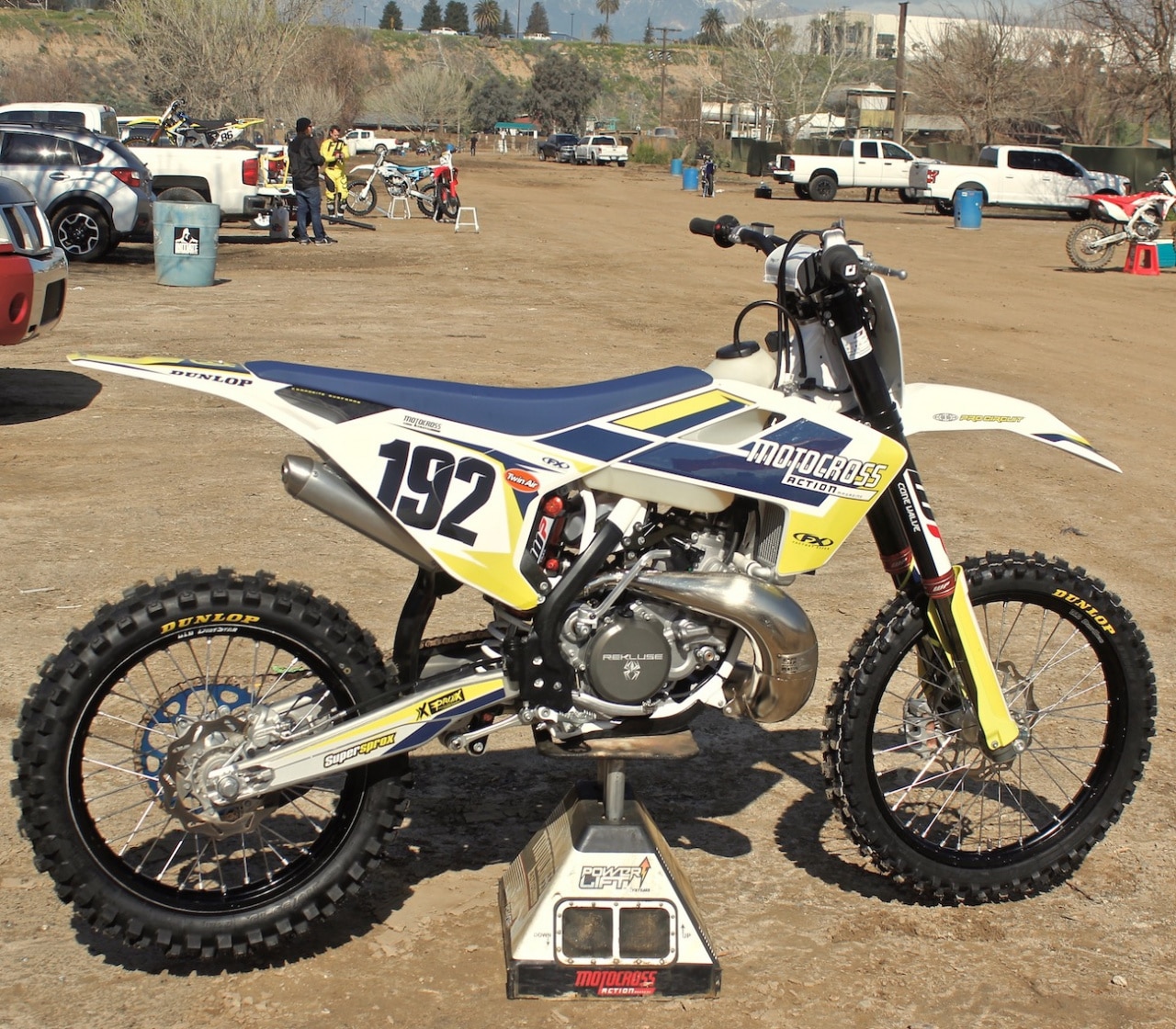 As far as the chassis goes, I am particular but not picky. I don't worry about bar bend or lever position. I'm used to racing two or three different bikes on a weekend, so the desire to have the controls "just so" was ironed out of me decades ago. There are lots of racers who can't ride if the bars aren't within a millimeter of perfect, if the logos on the grips don't face up, or if the levers aren't angled just right. Yet, when they crash and bend their handlebars, they pick the bike up and finish just as fast with bent bars. How so? Because all of the picky little stuff that matters when you are sitting on your bike in the pits means nothing when you are trying to catch the guy in front of you. 
Where I am a stickler is in the balance of the bike. Stinkbug bikes bother me to distraction, because they telegraph a bike that is out of balance. I want a flat chassis, low seat height, seat cover without pleats, narrow radiator wings, footpegs that aren't razor sharp and a setup that moves freely. That does not describe very many modern motocross bikes, most of which are skyscraper tall and biased towards one end or the other. Sadly, that described the 2019 Husqvarna 300i to a tee. The 48mm WP Xplor coil-spring forks were painfully soft. The rear shock on the TE300i felt like it was too stiffly sprung. It is, but only because the forks are so under-sprung. The seat height left my boots waving in the breeze on the starting line. The result was a bike that was way out of balance.
Luckily, WP built my first Trax shock thinking I was going to use it on a 2019 KTM 250SXF four-stroke. That shock wouldn't work correctly on the 300i's older model white frame. Thus, the shock had to be redone, which gave WP a chance to address the issues that bothered me. With carefully set race sag and the forks slid up in the triple clamps, I got one toe on the ground. I replaced the big off-road fuel tank with a small white one from the Husqvarna R&D department, removed the headlight nacelle, took the rear taillight liner off the rear fender, swapped out the stock 18-inch rear wheel for a 19-incher, went with Dunlop MX33 tires, put a Pro-X chain on in place of the X-ring chain, installed a 51-tooth blue SuperSprox rear sprocket, took the kickstand off, and used a Twin Air Powerflow kit (mainly because its screen-less aluminum cage holds the air filter more securely and farther away from the intake tract). Strangely enough, I left the enduro instrument cluster behind the front number plate (I like to see how many miles I race in a day). As a finishing touch, Factory Effex made the Motocross Action graphics that keep Husky's blue/yellow Swedish heritage.
"WHEN MXA WAS A SMALL START-UP MAGAZINE BACK IN 1973, LARS LARSSON WAS A BONA FIDE MOTOCROSS STAR,
AND HE GRACIOUSLY AGREED TO HELP MXA WITH ITS TESTING. LARS GAVE US CREDIBILITY WHEN WE
WERE JUST SNOT-NOSED KIDS."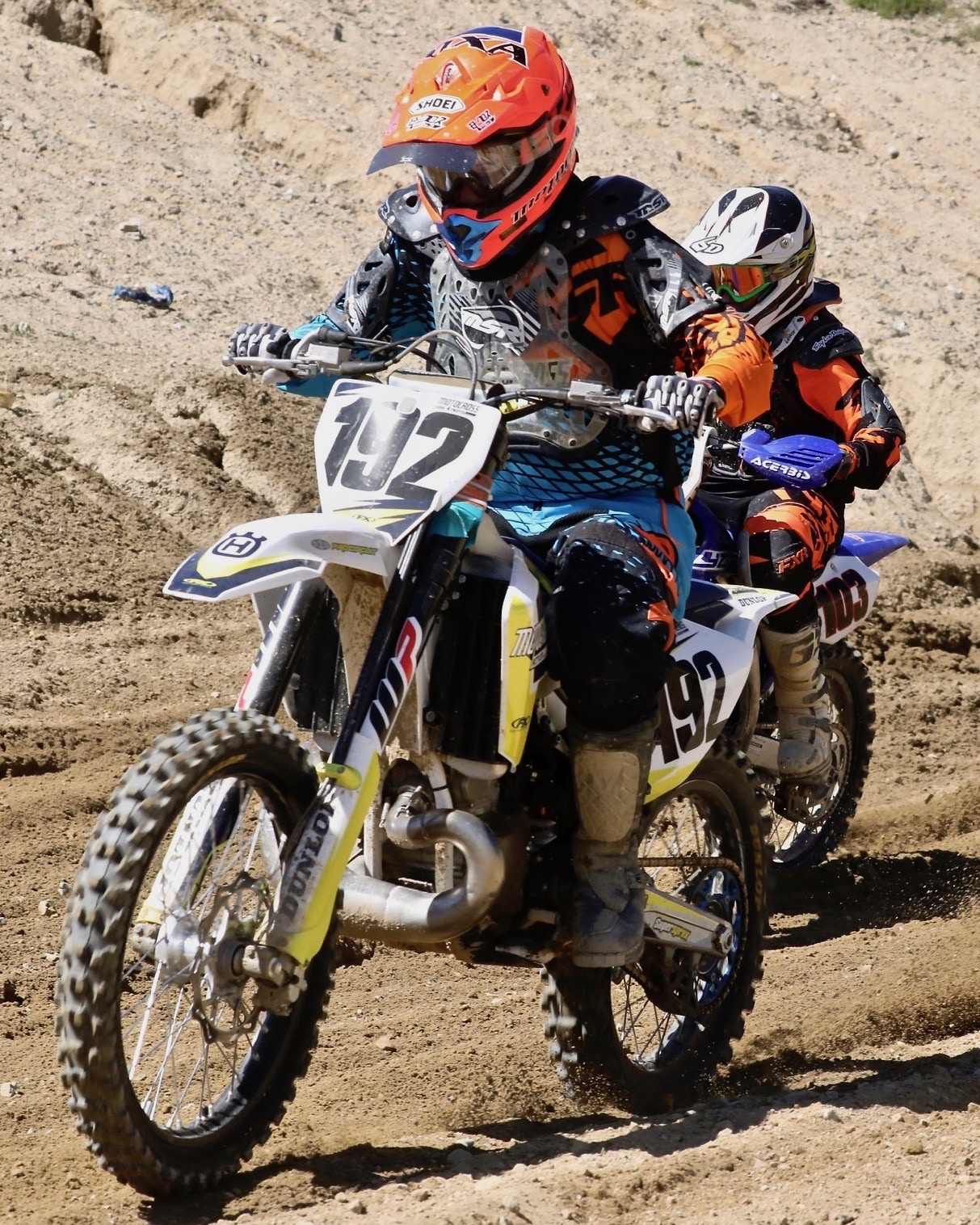 It always seems like the day will never come when the bike will be done. When that day finally came, MXA Managing Editor Daryl Ecklund reminded me that it had to go to the MXA photo studio first. With scheduling conflicts, it took a couple days before I got the TE300i back. I was hot to trot, until Daryl reminded me that I couldn't ride it until he shot the action photos and Travis Fant shot the "First Ride" video. Making matters worse was that I promised AMA Hall of Famer and former Husqvarna factory rider Lars Larsson that he could race it before anyone else. Why did I agree to hand over my personal bike to someone else? Two reasons: 
(1) When MXA was a small start-up magazine back in 1973, Lars Larsson was a bona fide motocross star, not to mention the co-owner of Thor Racing, and he graciously agreed to help MXA with its testing. Lars gave us credibility when we were just snot-nosed kids. I vowed to repay that debt by helping Lars whenever he needed a bike to race. 
(2) When all the other too-hip MXA testers looked down their noses at the stock 2019 Husky TE300i enduro bike. Lars took the stock bike under his wing and raced it every week. He paid his TE300i dues, so Lars deserved to be the first to race it in anger. My time would come.
The most common question was how the fuel injection felt on the track. It was identical to carburetion. Blindfolded, you wouldn't be able to tell the difference between a fuel-injected and a carbureted bike. One difference is that the TE300i can be left idling in the pits while you go looking for your left glove. It won't load up—not that it won't need to be cleaned out with a couple blips when you come back fully gloved, but sensors measure the amount of air and fuel to keep it idling. The biggest downside is that you are putting all your faith in computer programming instead of brass jets. There were track conditions where I wanted to clean up the midrange, but on a fuel-injected bike you need a mapping tool to do that.
The second-most common question was how the Rekluse RadiusCX felt on the track. Once I realized that I had to put my clutch-slipping, high-revving, maniacal clutch lever gymnastics behind me, the transition to the auto clutch took about four laps. On the first lap, I used the Rekluse clutch lever just like a normal clutch. On the second lap, I stopped slipping it out of the corners but still pulled the lever going in. On the third lap, I didn't pull the clutch lever anymore, but my left hand made phantom movements that signaled that I wanted to. On the fourth lap, I firmly grasped the left grip and never extended my fingers towards the lever. And I mean never. On the starting line, I snicked the transmission into second gear, without pulling the clutch in, held the front brake on, and when the gate dropped, I dropped the hammer.
Where the Rekluse was at its best, for motocross, was in the corners. I could go fast into a turn, brake as hard as I wanted and turn the throttle back on as soon as possible—and never worry about stalling the engine. This was where I previously mentioned the brainpower aspect of an auto clutch. I felt like I could concentrate more on choosing my lines without having to worry about when to pull the clutch in, when to release it and how much to slip it.
It was never my intention to build a giant-slayer of a motocross bike, but the modded TE300i pumps out 52.20 horsepower. I wanted a powerband that was torquey instead of high revving (thus the 300cc layout). I wanted a chassis that cut clean arcs through turns with just a whisper of oversteer, thus the front/rear balance. I wanted suspension that tracked like I was using spiked ice-racing tires on the transition between the switchbacks (thus the XACT Pro Spring forks). I wanted a bike that would not require me to huff and puff while jacking on a kick starter (thus the TE300i's electric starter). I wanted a two-stroke that I could fill up at the gas station without carrying a Ratio-Rite with me, thus the EFI auto-lube system. I wanted a bike that gave me the euphoria of racing a YZ250 but with more torque, incredible brakes, great suspension, a hydraulic clutch, electric starting, easily accessible airbox, push-button-activated maps, a steel clutch basket, perfect shifting and a Pankl transmission. That's everything that a YZ250 doesn't have.
And, I wanted a bike that Lars Larsson would approve of—because he may never give it back to me.