IN LESS THAN 24 HOURS: WHERE TO BE & WHAT TO DO
GENE ROMERO "CELEBRATION OF LIFE" EVENT AT SOUTHERN CALIFORNIA TRIUMPH TOMORROW
The life of famed dirt track racer and "On Any Sunday" hero will be celebrated on Saturday, June 22, at Southern California Triumph (the #1 Triumph dealership in the nation). It is located at 515 W. Lambert Road in Brea, California. The event will be held from 10:00 a.m. to 2:00 p.m. There will be an autograph signing at 1:00 p.m. by many racing legends—including Sammy Tanner, David Aldana, Bubba Shobert and many more! There will be a Burrito Truck serving Gene's favorite meal, plus guest speakers, live music and a video slide show of Gene Romero's career and memorabilia.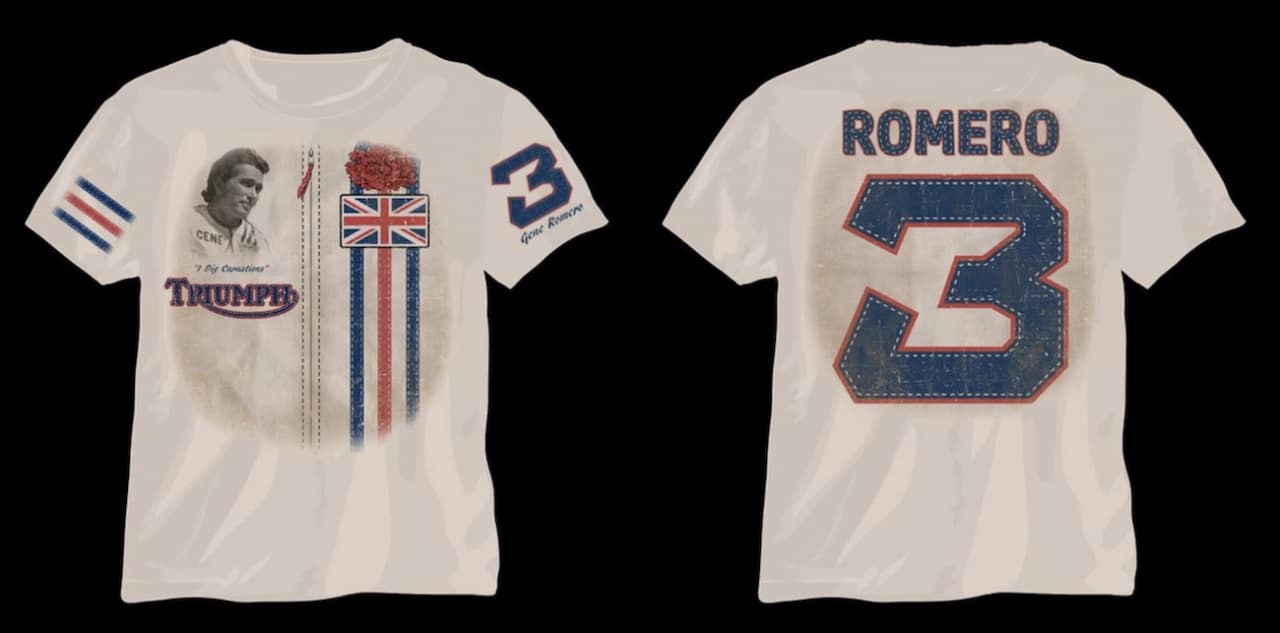 Fans can purchase a commemorative Gene Romero T-Shirt (above) depicting the Grand National Championship leathers Gene wore in 1970. 100% of the proceeds go to Gene's family. The T-shirt will be offered for the special price of $20 at the Gene Romero "Celebration of Life" Event. The T-shirts can also be purchased online at www.ascotmotorsports.com.
JEFF WARD'S 58TH BIRTHDAY PARTY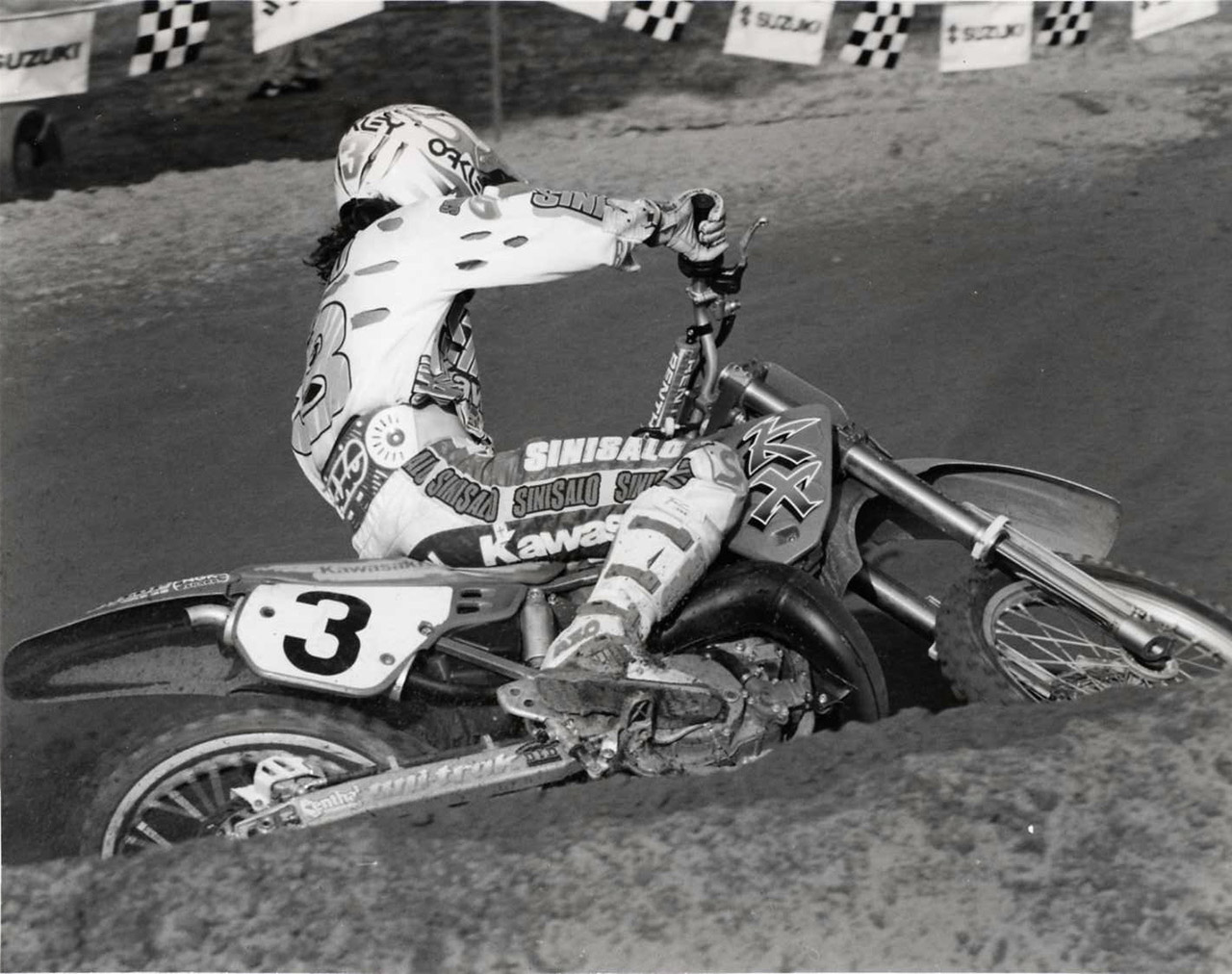 Jeff Ward's awesome 58th annual birthday bash will be tomorrow. Jeff was born in 1961 and wants you to celebrate with him. However, he won't tell us where the party is at or if any of us are invited, but we can still wish him a Happy Birthday.

TOMORROW'S JACKSONVILLE 250/450 NATIONAL TV SCHEDULE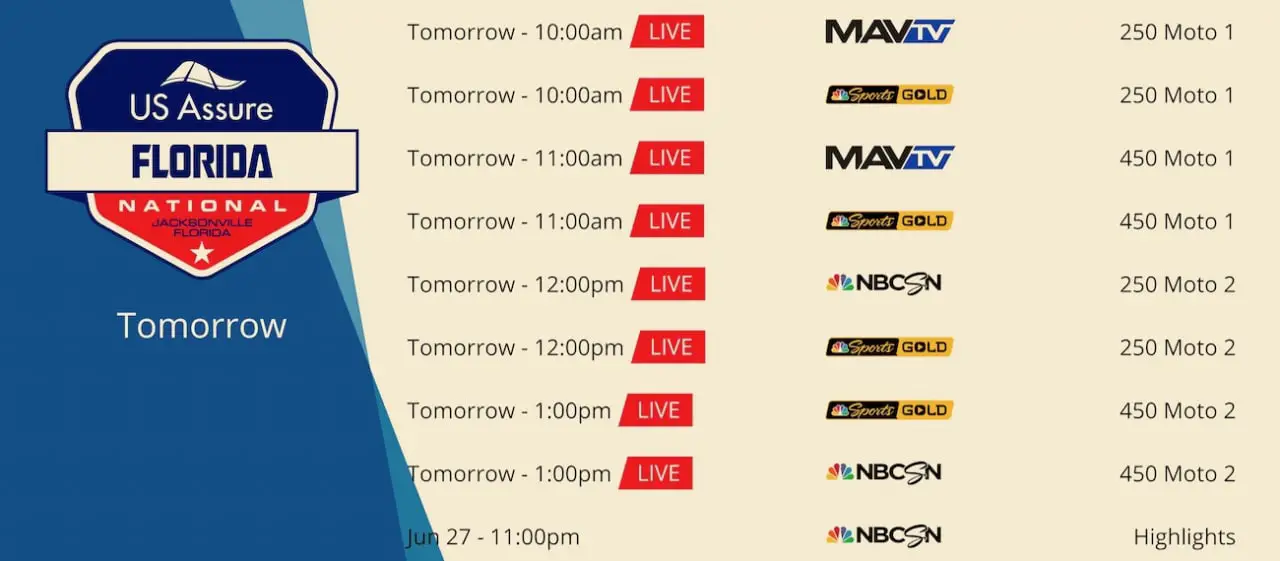 Check you local listing, because you can get burned.
2019 MAMMOTH MOUNTAIN MOTOCROSS STARTS TOMORROW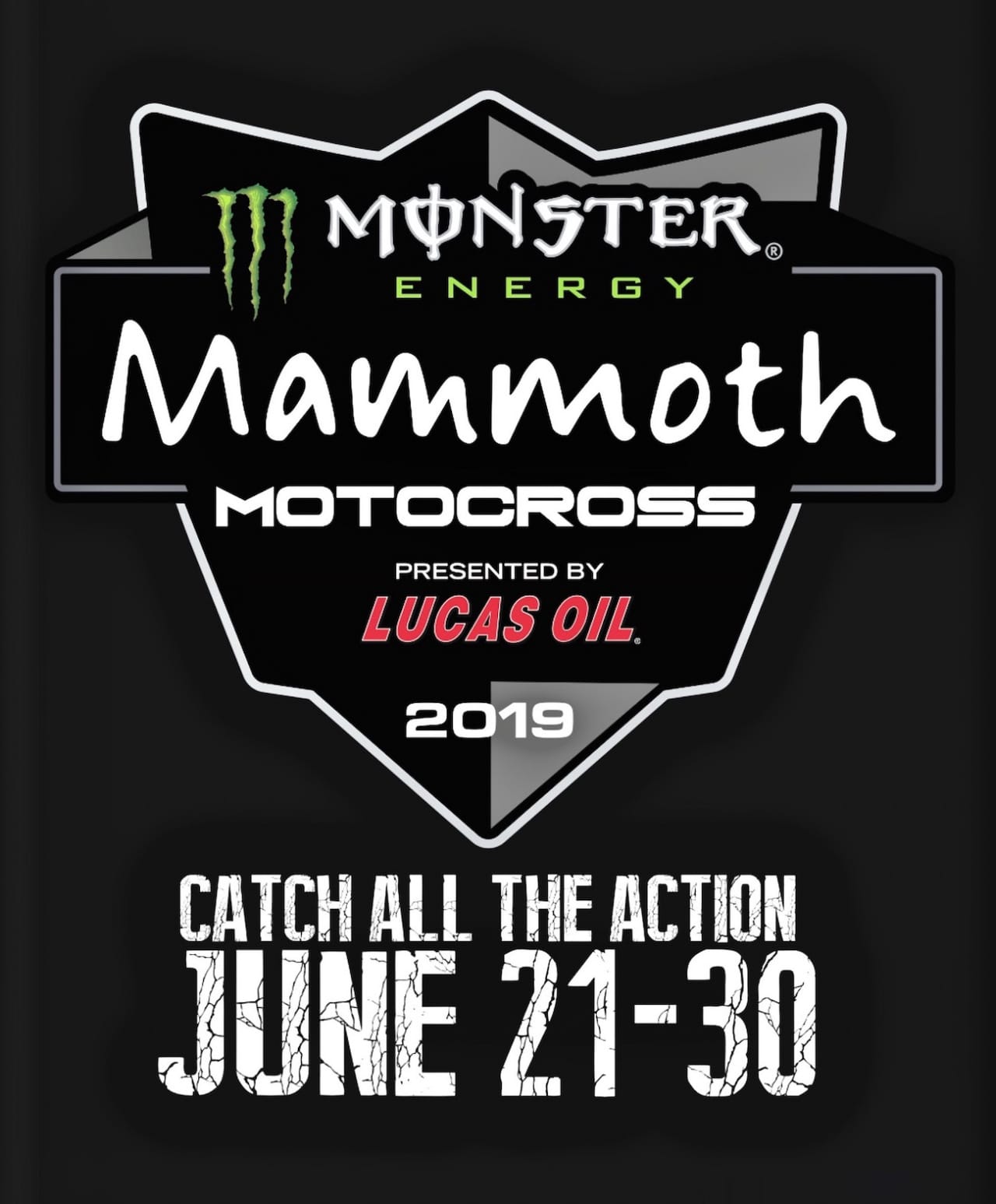 For more info go to www.mammothmotocross.com
AUSTRALIAN MOTOCROSS CHAMPIONSHIP IN GLYMPIE, QUEENSLAND, TOMORROW
CURRENT 450 POINTS STANDING AFTER 5 ROUNDS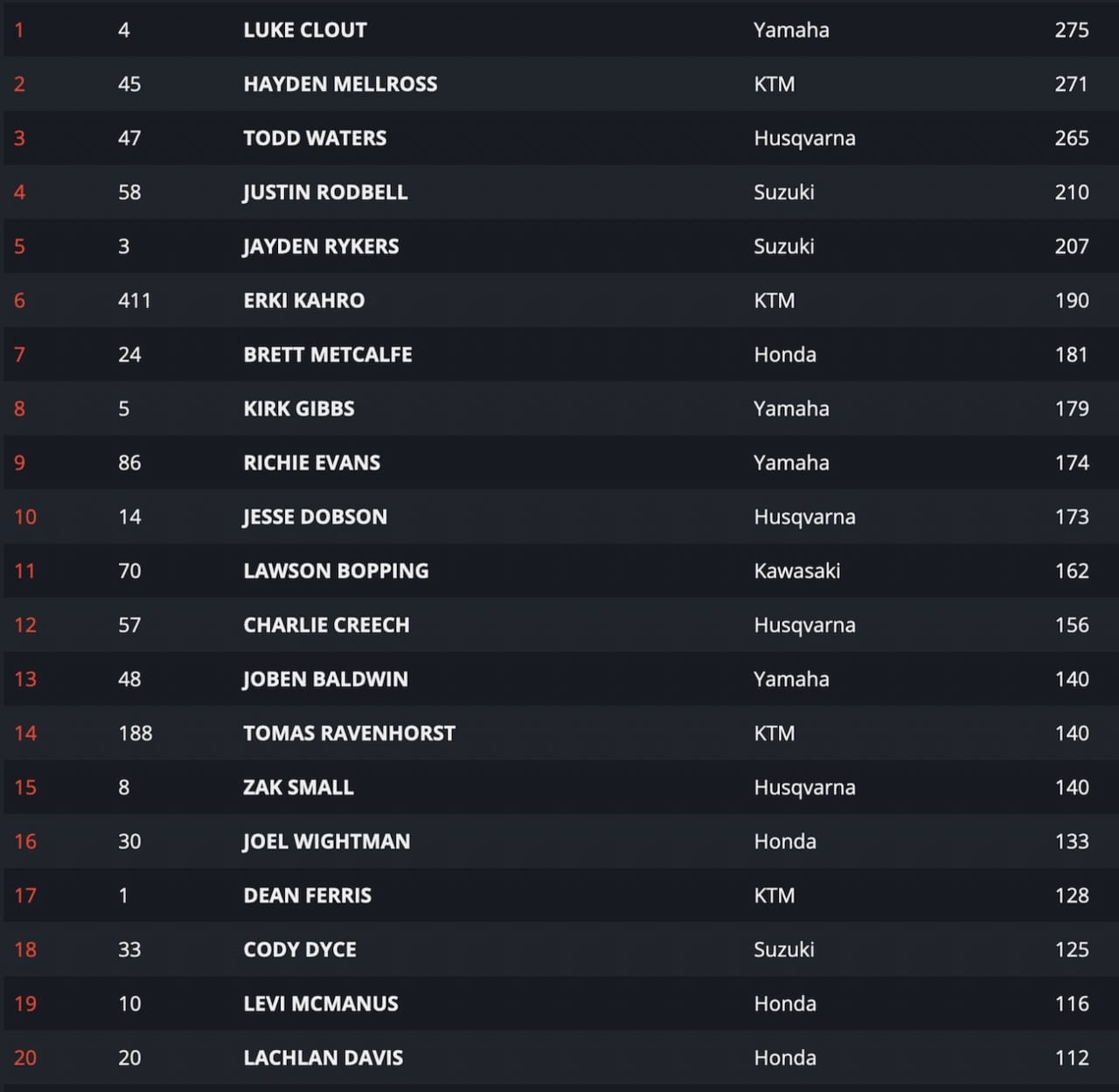 For more information head to www.mxnatonals.com.au
MEET TEAM HONDA TOMORROW AT "CYCLES OF JACKSONVILLE" AT 5:00 P.M. TONITE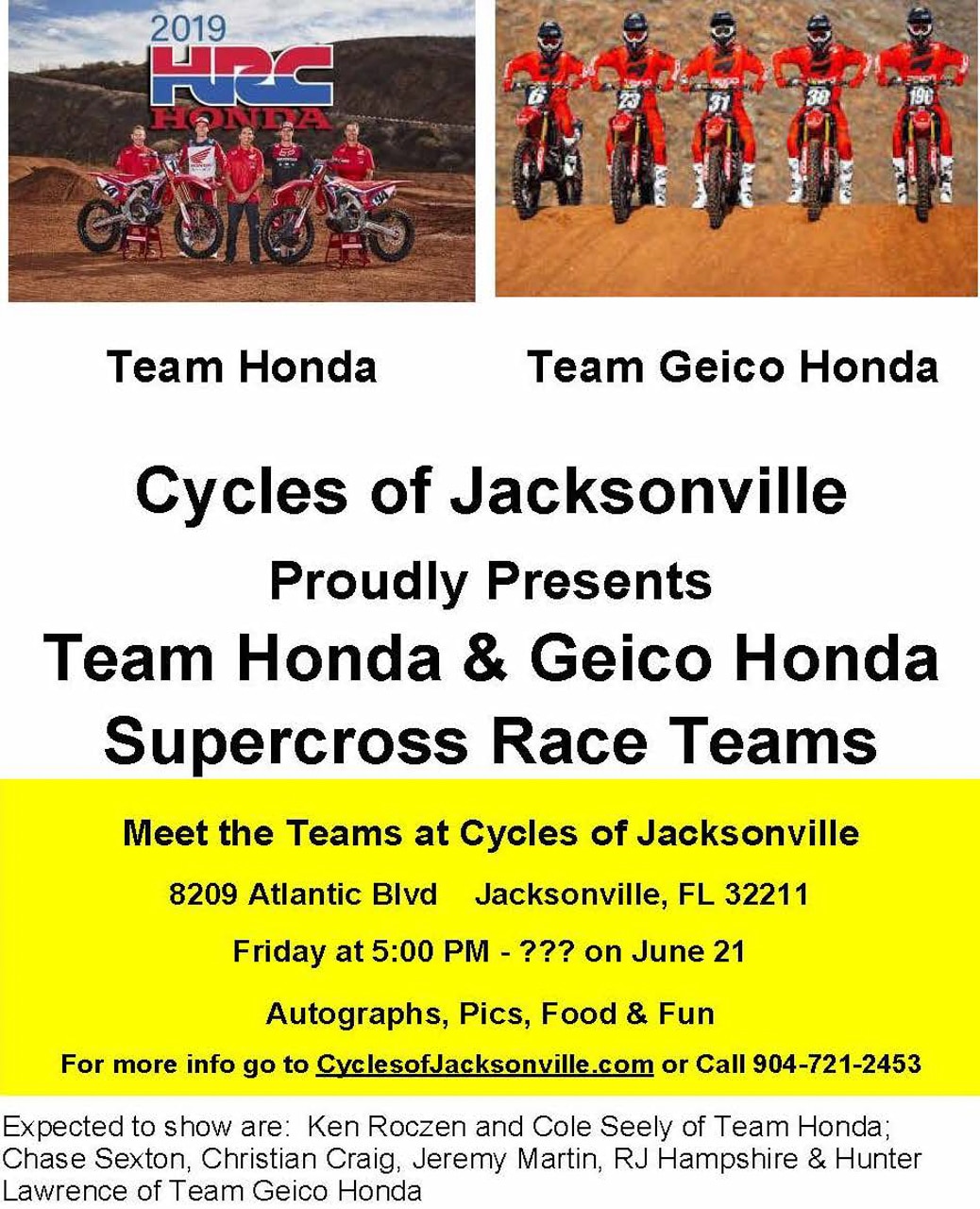 FOR MORE INFO CLICK HERE
THERE IS ALWAYS A RACE SOMEWHERE: HERE'S THIS WEEKEND LIST

The U.S. Assure 250/450 National will be at the WW Ranch Motocross track in Jacksonville, Florida, tomorrow.
2019 AMA NATIONAL CHAMPIONSHIP
June 22.………………….Jacksonville, FL
2019 FIM MOTOCROSS WORLD CHAMPIONSHIP
June 22-23…………………………..Germany
2019 MAMMOTH MOUNTAIN MOTOCROSS
June 21-30……………………….Mammoth Lakes, CA