IN SEARCH OF MORE POWER WE BUILD A 280cc KTM 250SXF MOTOCROSS BIKE
This story is much more about an engine than about the bike itself. More specifically, it is about the trend that this engine represents. KTM's 2012 250SXF engine is an advanced, 248.6cc, water-cooled and fuel-injected mechanical marvel. It was developed to incorporate Keihin fuel injection, digital mapping, electric starting and a hydraulic clutch. It is a trendsetter?in more ways than one.


Can you tell that it is a big-bore? We can, but to the casual observer there is no clue. However, the guy in the saddle can tell the difference within a few feet.
Much of what KTM has accomplished with its motocross engine is not available from anyone else. Need examples?
(1) Electric starting. No other motocross bike comes with push-button starting. Rolling the starter into the 250SXF was a bold move?maybe not a smart move, but brave from a marketing standpoint. KTM was willing to increase the bike's weight to ensure that any rider, in any situation, could easily get the engine lit.
(2) Mapping.  All modern four-stroke motocross bikes have adjustable mapping?although most require software and a computer to do it. The 250SXF has three maps already installed in the black box. Plus, they offer software tuning as well.
(3) Hydraulic clutch. What is the rest of the world waiting for? Honda keeps threatening to go hydraulic, but as of today, no Japanese-built motocross bikes come with fluid drive. Hydraulic clutches self-adjust, which makes them last longer.
(4) Finger-followers. KTM uses finger-followers on many of its motocross engines. Finger-followers are a unique and effective way to transfer the rotating motion of cam lobes directly down the valve stems. The technology is used on most Formula 1 cars.

Peak power jumped almost five ponies to 40.15 horsepower. Better yet, it reached the 40-horse mark at 9900 rpm and stayed there until 13,000 rpm.
Now, you would think that with all of these unique technological tricks, the 2012 KTM 250SXF engine would be standing in Oslo ready to receive the Nobel Prize. Not so. Specs never tell the whole story. As innovative as the Austrian powerplant is, it can't overcome the fact that the bike is slow, fat and lazy, and the Austrians have given no explanation for why the 2012 KTM 250SXF lost a full horsepower to its 2011 brother.
All of this palaver gets us back to our opening statement, that this article is more about an engine than a bike and about the trend this engine represents.The trend that we speak of has been a slogan for Burger King since 1954?"Have it your way." Since the economic downturn, many hardcore motorcycle riders have decided to be more careful when choosing how to spend their hard-earned dollars. They want to have it their way. It's no accident that the sudden rise of KTM meshes perfectly with the "have-it-your-way" trend. As the bad economy weeded out less committed buyers, hardcore riders rose to the top of the food chain. They were experienced riders and didn't want just another 450cc motocross bike that was popped out of an assembly line like so many Maytag washing machines. They wanted something special, something personal. KTM addressed these consumers by building a lineup that included two-stroke and four-stroke models in a wide variety of displacement and chassis configurations. Guess what? There are buyers out there looking for a 200cc enduro bike, a 150cc two-stroke or a 350cc mid-size four-stroke, and KTM has one waiting for them. Niche marketing worked for KTM, because in a down market, they had a unique product to offer.

The big-bore kit costs $649.95 for a brand-new cast cylinder, Vertex piston and Cometic gasket kit.
So, KTM benefited from the economy, their own excellence and the desire of motorcycle riders to get something special for their money. But, KTM can't offer every conceivable displacement to fit every rider. There was a hole in the market that even an aggressive mass marketer like KTM couldn't fill (and the Big Four didn't even seem interested in attempting to fill).
Enter the aftermarket! Creative men, who knew that there were buyers with money waiting in the wings, began to build 144cc kit engines for Japanese two-strokes, big-bore 250cc four-strokes, and even oversize kits for 350cc and 450cc behemoths.
Big-bore kit companies, like Cylinder Works, were more than willing to let you "Have it your way."


We loved the FMF Factory 4.1 on the stock KTM?250SXF, but the extra volume of the 280SXF didn't mesh well with it.
AND THAT IS WHERE WE COME IN
And that is how the MXA wrecking crew ended up building a 2012 KTM 280SXF. It is no secret that we aren't big fans of the low-horsepower, heavy 2012 KTM 250SXF. Off the showroom floor, the 250SXF is the slowest of the "Big Five" quarter-liter thumpers?as much as four horsepower slower. Riders not bound by displacement rules (Vets, play riders and offroad racers) can get the kind of power they want?for a reasonable outlay of cash.
First, the Cylinder Works KTM 280SXF engine kit doesn't make your KTM 250SXF into a 280cc fire-breather. Nope. It makes it into a 276.46cc flamethrower. The cost is $649.95 for a brand-new, 80mm-bore cylinder (the stocker is 76mm); Vertex piston; and a complete Cometic gasket kit.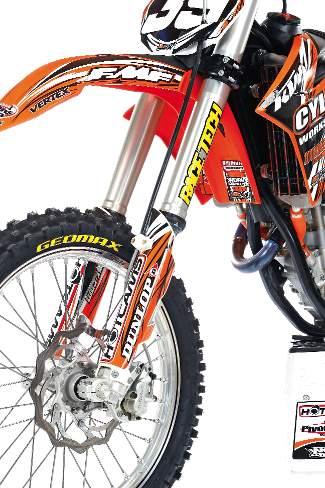 Race Tech revalved the forks and shock. We had to spin the clickers out to make them as absorbent as we needed.
Second, if you have already fiddled with your 2012 KTM 250SXF to try to get more oomph out of it, those parts will work with the Cylinder Works big-bore kit. For example, MXA's project bike had Hot Cams' Stage II intake and exhaust cams. We've used these cams before, because when you big-bore a 250cc four-stroke, you get more low-to-mid power but tend to lose top-end; the big piston just doesn't push through the air as easily as the smaller one. By changing to Hot Cams' new 2012 cam set, we hoped to mitigate the loss with increased torque at around 9400 rpm.
Plus, we added an FMF factory 4.1 RCT exhaust system to increase the power. We also remapped our ignition box (using KTM's software) to the 2011 "aggressive" map. So, as our kitted KTM 250SXF sat, before we big-bored it, it had Stage II cams, an FMF pipe and remapped black box.
WHAT DID WE GAIN AND WHAT DID WE LOSE?


The extra horsepower could pull taller gearing, but we opted for the stock setup.
Because we added pieces as we went, it is important to note their contribution before we move on to the coup de grƒce.
Hot Cams: Changing cams has the positive effect of focusing the power where you want it. Given that the KTM 250SXF is a high-rpm 250 race bike, we opted to add more power from the middle on up. The Hot Cams Stage II cams gave us what we wanted.
FMF Factory 4.1: With the FMF pipe alone on the stock 250SXF, we gained around one horse after 9000 rpm and a full two horses at 10,000 rpm. Peak horsepower was up just a hair under two horses, and the over-rev was improved by 1-1/4 horses.
Mapping: We wanted a crisper, sharper, leaner and more responsive power delivery. Even before we tried exhausts or cams, we went back to last year's "aggressive" map. It was much more lively than the aggressive setting on the 2012 map.

Thanks to the extra boost of torque and power, the KTM 280SXF didn't have much need for fancy clutch work.
LET'S GO BIG
With a modicum of four-stroke skill, you can slip the Cylinder Works cylinder and piston on your stock 250SXF engine. It doesn't require any machining or special settings.
MXAs first stop was the test track to ride it and race it. This was really just to get a feel for the powerband and to break in the new parts. Stop two was the dyno.
On the dyno, the KTM 280SXF was superb. Given that the stock KTM 250SXF makes 35.52 horsepower, we expected decent gains. Not just because we had cammed it, piped it and mapped it, but because we were going big.

We switched the ignition map on the 2012 black box back to the 2011 aggressive setting. The 2011 map was crisper.

The gains were big. Peak horsepower jumped almost five ponies to a high of 40.15 horsepower. Better yet, the 280SXF-kitted engine reached the 40-horse mark at 9900 rpm and stayed there until 13,000 rpm. It is not just the amount of horsepower that is significant, but the breadth of it. The working portion of the Cylinder Works 280 kit is massive.
Our next step was to find out if we could save money by not adding any extra parts. First, we reran the dyno run with and without the FMF pipe. Remember, the Factory 4.1 had been a good addition on the stock 250SXF engine. However, it added almost nothing to the big-bore, 276.6cc, kitted engine. Just to make sure, we sent a test rider out to race two motos (one with the stock pipe and one with the FMF pipe). He reported that there was no discernible difference. In our humble opinion, the extra displacement moved the volume of the exhaust pipe out of the picture. It worked with the smaller bore, but not the big bore.
After a couple weeks of racing the Cylinder Works KTM 280SXF, we knew that it was a winner. For a $700 investment, less than a high-end exhaust system, we gained five horsepower. Better yet, we broadened the power so much that the bike became easier to ride instead of harder.

The increased displacement resulted in the ability to move a lot of dirt.
The Cylinder Works KTM 280SXF kit is a great deal. It raises the game of the 2012 KTM 250SXF so that it can compete not only with the more powerful bikes from Honda, Yamaha, Suzuki and Kawasaki, but also the totally redesigned 2013 KTM 250SXF. This big-bore kit fits into the puzzle that is modern bike sales conundrum. By going to an aftermarket kit, a consumer can build himself a bike that previously didn't exist.
For more information, go to www.cylinder-works.com or call (515) 251-4070.