IN THE REAR-VIEW MIRROR! THE WRECKING CREW'S FAVORITE 2022 RACE BIKES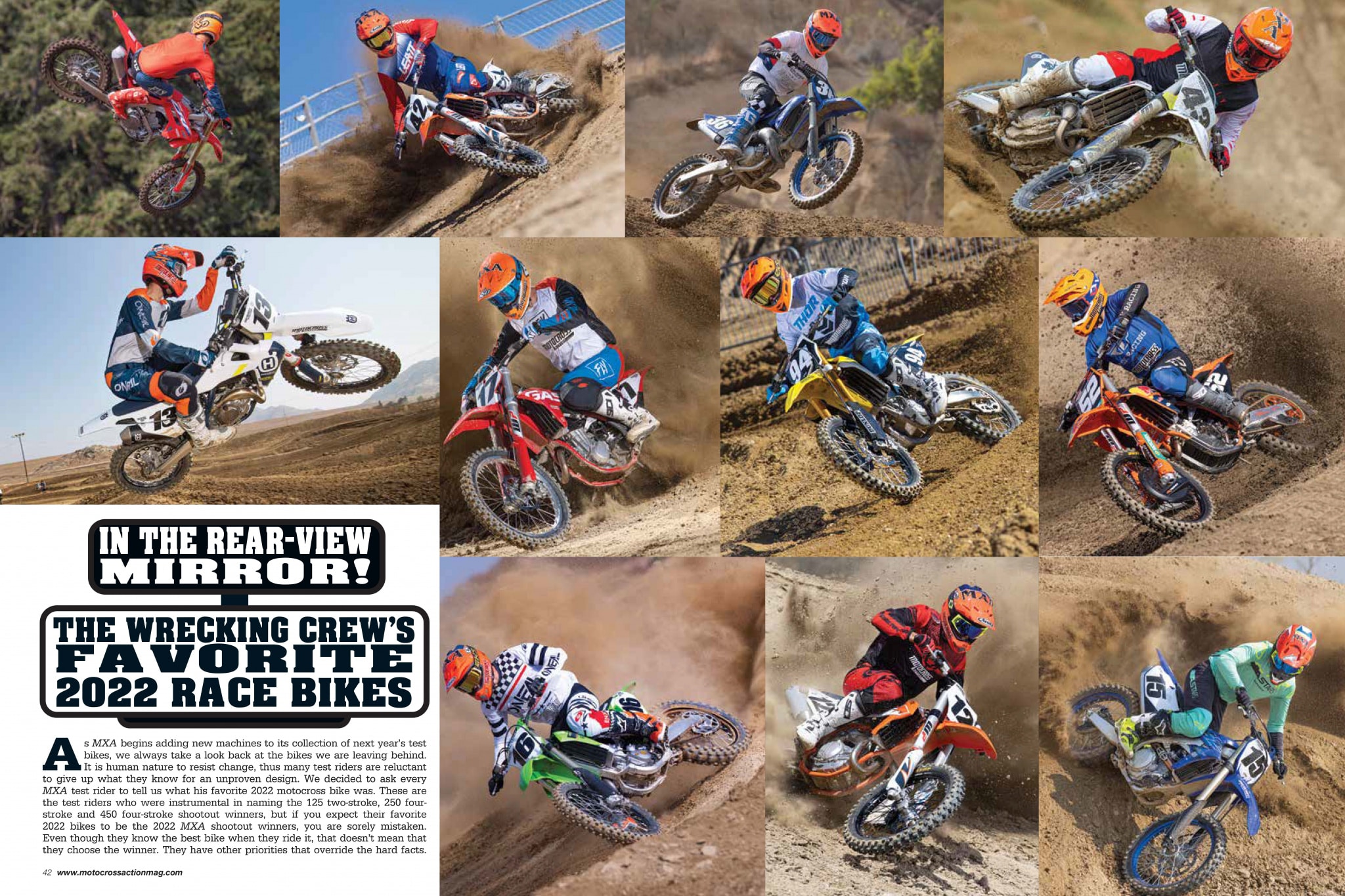 As MXA adds new machines to its collection of 2023 test bikes, we always take a look back at the bikes we are leaving behind. It is human nature to resist change, thus many test riders are reluctant to give up what they know for an unproven design. And we know that many of you are also facing the same connundrum—to go for an all-new 2023 machine or stick with a proven 2022.
We decided to ask every MXA test rider to tell us what his favorite 2022 motocross bike was. These are the test riders who were instrumental in naming the 125 two-stroke, 250 four-stroke and 450 four-stroke shootout winners, but if you expect their favorite 2022 bikes to be the 2022 MXA shootout winners, you are sorely mistaken. Even though they know the best bike when they ride it, that doesn't mean that they choose that bike for their own racing. They have other priorities that override the hard facts. Find out what factors colored their choices.
JOSH MOSIMAN: 2022 HUSQVARNA FC450
"You hear the question, "What's your favorite bike?" a lot when you're an MXA test rider, and I've ridden hundreds of bikes since joining the wrecking crew. Every dog has its day, and there are certainly times when I felt ultra-fast on the 2022 Honda CRF450 Works Edition or right at home on the new 2022-1/2 KTM 450SXF Factory Edition.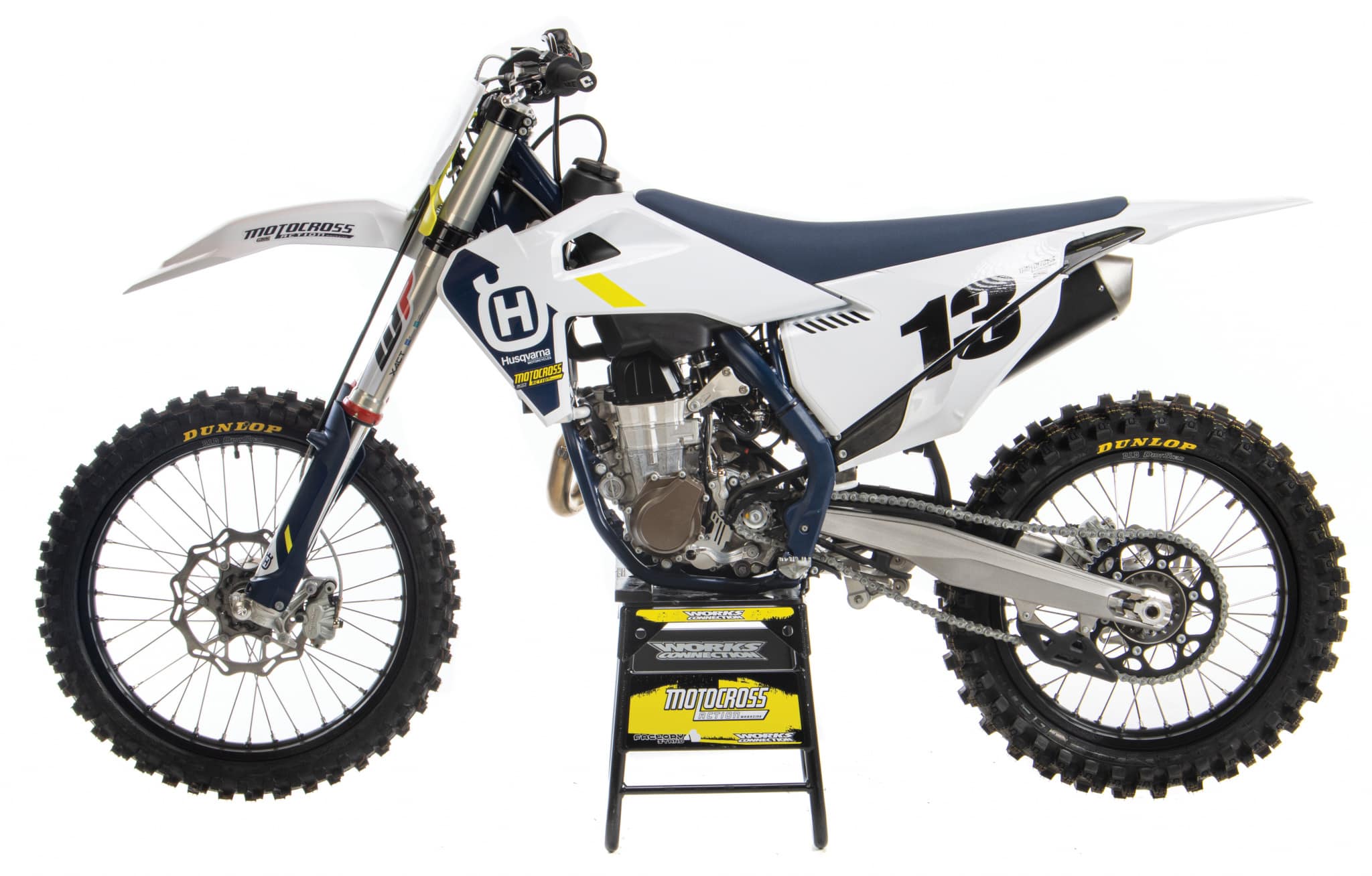 However, my favorite bike for 2022 was the Husqvarna FC450 because it never talks back. Even if the air pressure in the forks or tires isn't set perfectly, the sag isn't spot-on, the handlebars aren't sitting at the perfect angle or the tires aren't brand new, I still feel comfortable on the Husky FC450. The power is what we like to call 'non-confrontational,' meaning that it isn't too abrupt, isn't too slow and isn't too fast. What is it? It's smooth and easy to ride. The FC450 isn't the fastest or most exciting 450 off the showroom floor, but I prefer smooth power because I can push harder with it."
As for the handling, the 2022 spec WP XACT air forks are lightweight (yes, I can actually feel a difference), and they work great on practically every track. I also prefer the lowered suspension because it makes the FC450 turn even better. The lowered suspension doesn't feel low once I spin a few laps on the Husky because it's so comfortable, but other bikes feel tall when I switch back. This is the bike I chose to race at the Washougal National."
DARYL ECKLUND: 2022 KAWASAKI KX450
"Back in 2015, I loved the KX450F, but Jody kept switching bikes out from under me. It was quite infuriating, and as a newbie test rider, I didn't get it. At the end of the test year, I kept the 2015 KX450F under wraps because I loved it. I know now, seven years later, that Jody was just trying to make me a better all-around test rider, not just a KX450F test rider."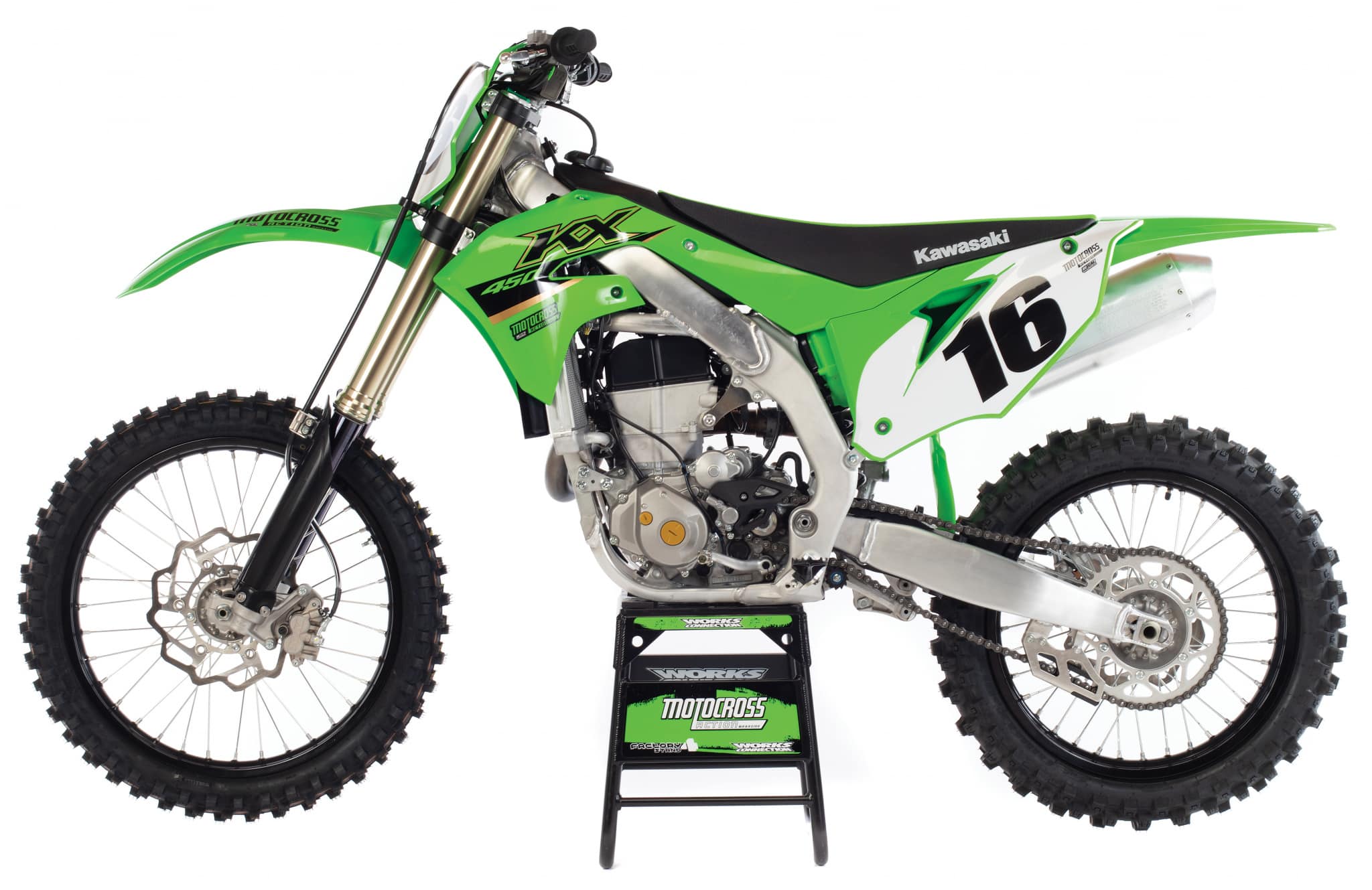 "Surprise! The 2022 KX450 felt like a reincarnation of the bike I rode the wheels off of in 2015. I was instantly comfortable on it. It is a predictable bike that does everything well but nothing great. As a racer, confidence in knowing what the bike is going to do is invaluable. This is why so many racers are die-hard fans of a certain brand. Anything different would be unfamiliar until they put enough time into something different to become comfortable. That's why all those die-hard Suzuki guys won't let go,"
"As a professional test rider, it is hard for me to admit that I love the KX450. It is always my first pick out of the MXA arsenal. Yet, I don't recommend it to my friends because the forks are too soft, the plastic too brittle, the rear brake too touchy, the chain roller too weak, the plug-in ECU couplers are too old fashioned, and the engine too underpowered. As an MXA test rider with unlimited resources, these problems are easily solved, especially since I feel so at home on it."
JODY WEISEL: 2022 HUSQVARNA FC350
"If I wasn't assigned to test any other bike, I would choose to race the 2022 Husqvarna FC350. You may be surprised to learn that I didn't choose it because I liked the engine, because I actually preferred the 2022 KTM 350SXF powerband. It was crisper, snappier and delivered sparkling throttle response. The Husky FC350 was hampered by an airbox design that muted low-to-mid power compared to the KTM's freer-breathing vented airbox cover. I Band-Aided that by running a 52-tooth rear sprocket and vented airbox cover."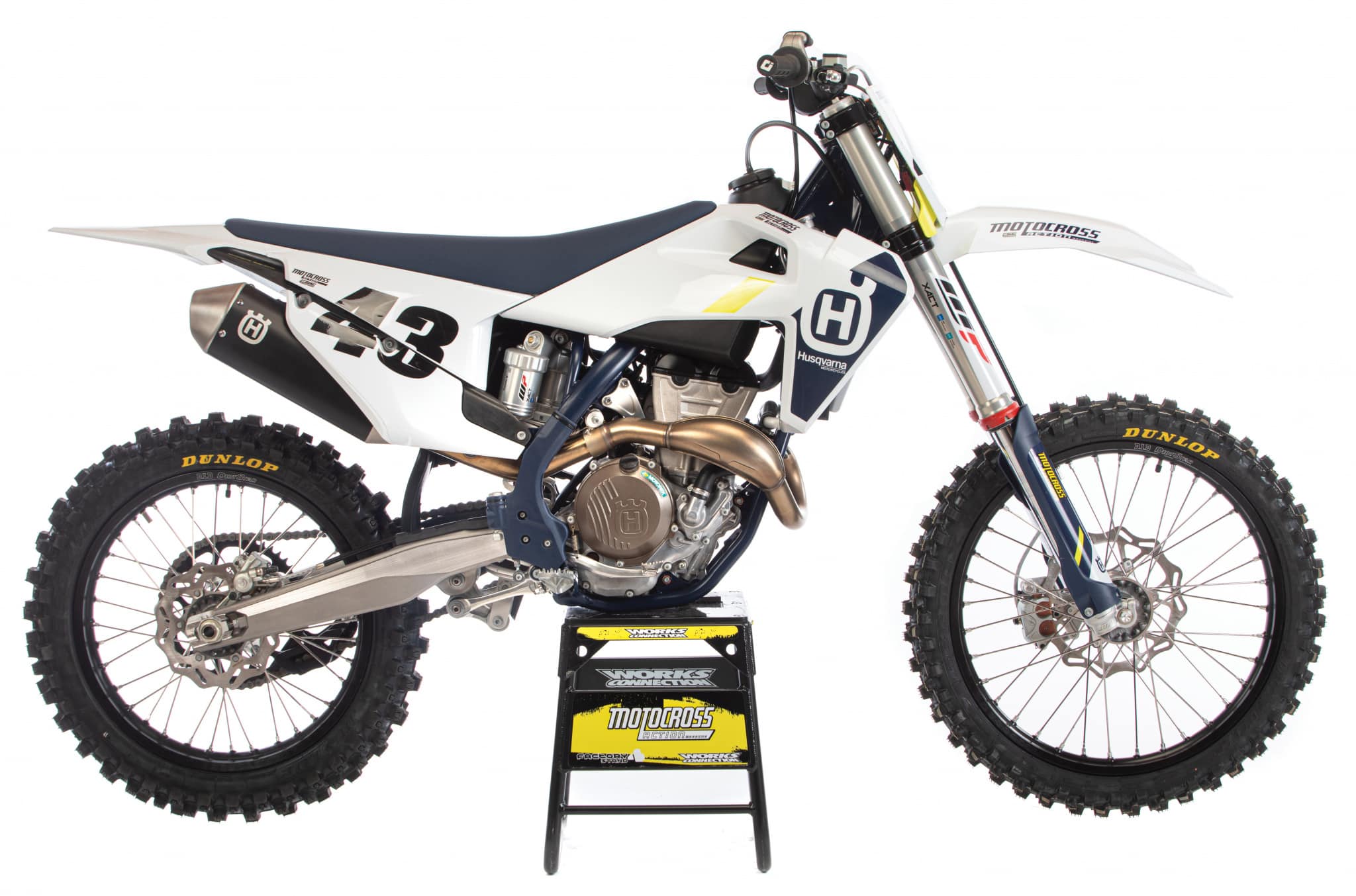 "With the exception of the airbox and its effect on throttle response down low, the KTM 350SXF and Husqvarna FC350 were virtually identical. Note the word "virtually," because the Husqvarna version had one design difference that I loved, which overrode any concerns I had about the FC350's weakened low-end power delivery." 
"What was it? Husqvarna is the first manufacturer to shorten its forks and lower the rear of the bike with a new shock linkage. You haven't lived until you've ripped into a tight berm on the FC350's lowered chassis. It is like a surgical scalpel through the corners, feels smaller between your legs and allows slight weight shifts to control the bike's angle. The FC350 flat-out handles better than any bike on the track—helped by its light weight and resilient chromoly steel chassis. Best of all, I could touch the ground on the starting line."
DENNIS STAPLETON: 2022 KTM 450SXF
"Over my years at MXA, I have been assigned so many different bikes that there's no way to keep track of them. In 2013, I was always asked to ride the Honda CRF450, but it would eat clutches faster than a beaver can eat through a log. After a multitude of burnt clutches, Jody would only assign me to YZ450Fs or KTM 450SXFs, as both bikes had strong clutches. My riding style leaned towards the KTM 450SXF. Back then, the 4CS forks were the bike's downfall, but it allowed us to test with every suspension company (finally choosing ESR). Fast-forward to 2021–2022 when WP nailed the air fork settings."
"On the 2022 KTM 450SXF, I could get 50 hours out of the clutch and 80 hours on the engine before even thinking about pulling it apart. All I had to focus on was fine-tuning. Here is what I ran: 14/52 gearing, PowerParts Factory split triple clamps (with the torque settings at 12 N/mm lower and 19 N/mm on the top), a Twisted Development Vortex ECU and a Twisted exhaust flange, gripper seat cover, Acerbis X-Grip frame guards, fork pressure at 160 psi (11 bar) for hardpack and 162 psi (11.2 bar) for deep loam, race sag at 103mm, a new fuel-line filter every 10 hours, fresh oil and oil filter every six hours, and an Akrapovic exhaust system."
"I raced this setup at the 2021 Pala 450 National and qualified for the big show at 40 years old."
JOSH FOUT: 2022 GASGAS MC450F
"How can an MXA test rider choose just one bike? There were times when my fellow racers told me how well I rode and how fast I'd gotten. That made me feel good inside. That is, until Jody told me that I'd ridden the same bike too long and assigned me a different bike. On the new bike, I struggled for a couple races and wished that I had that previous bike back!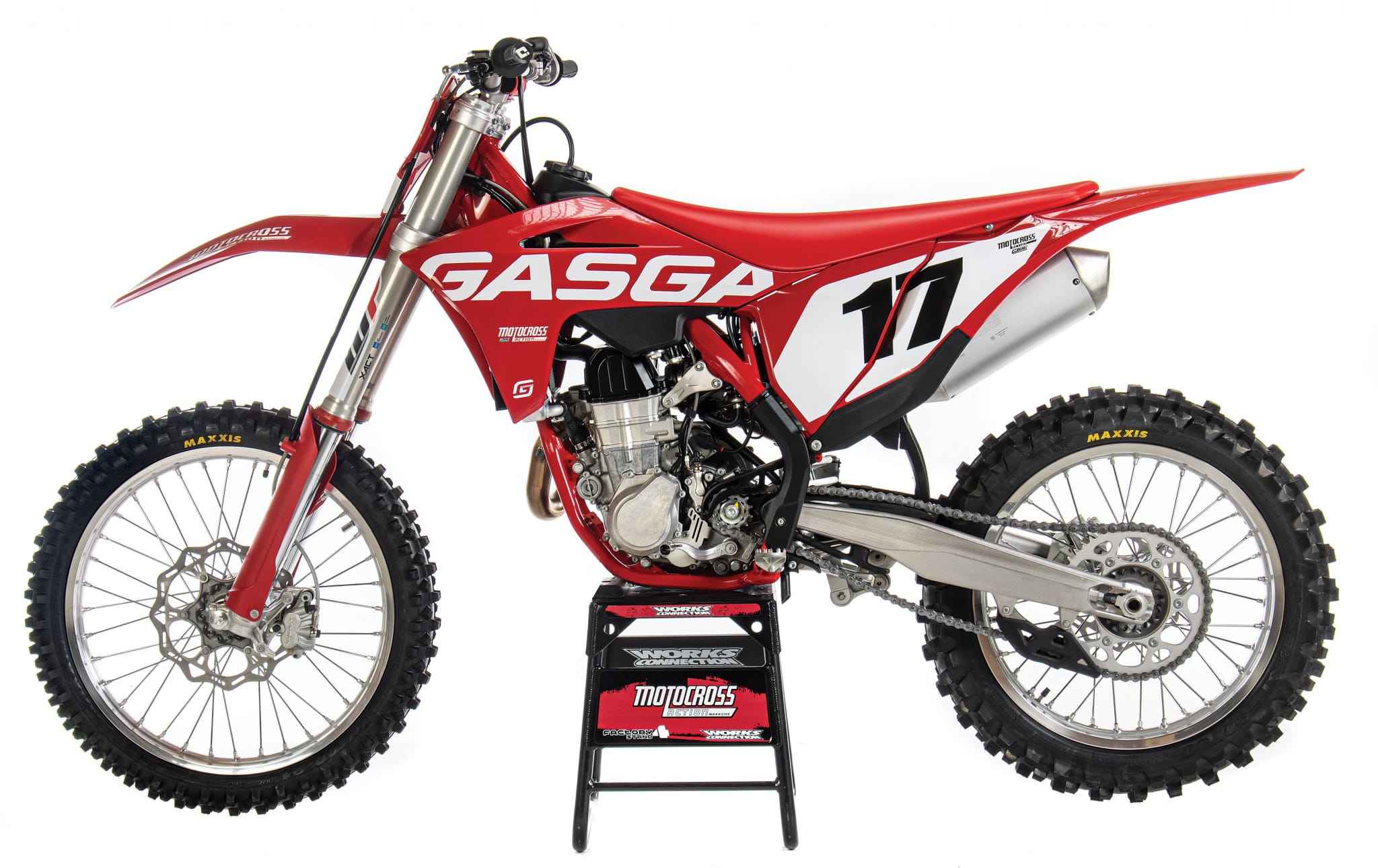 "For me, my go-to bike is the GasGas MC450. This red-headed stepchild to its KTM and Husqvarna siblings may not be the best dressed, but it has a price point that is irresistible. The MC450F's overall package is highlighted by amazing cornering and an easy-to-ride powerplant. The power has a mellow bottom, caused by the closed-off airbox, but is capped by a linear pull through the middle all the way to a hard-pulling top end. Many racers have a love/hate relationship with the WP AER forks. For me, this fork is a crown jewel."

"I may be a motocross racer at heart, but I've really come to love off-road racing as well. This bike checks all the boxes for a multi-discipline racer. The combination of WP's AER fork and softer-sprung shock allows me to fine-tune the chassis to any type of terrain, while its totally manageable engine guarantees rear-wheel traction on demand. Plus, with just a few simple bolt-on parts, it can be one of Austria's better-dressed siblings!" 
TREVOR NELSON: 2022 HONDA CRF250
"Look, I'd be lying if I said I haven't been a Honda guy my whole life. Growing up racing, I was repping the red plastics through my entire—and short-lived—off-road career. I wasn't racing motocross; I was racing desert, hare scrambles and enduros. So, when Jody asked me what my favorite 2022 bike was, I said the Honda CRF250 without hesitation; however, there were a handful of bikes that nearly won me over before I chose the Japanese red bike." 
"I'm not a Pro rider by any means, but there are some characteristics that I look for and fell in love with on the Honda that other bikes also excelled at. The next-gen Honda CRF250 that debuted in 2022 had major improvements, especially in the low-end department. The Yamaha YZ250F was even stronger there, but while the YZ250F shined in the power department, it lacked the CRF250's cornering capabilities. As a shorter rider, the Husqvarna FC250's lowered suspension was a godsend, but I still was missing the grunt that the Honda had down low."
"While the 2022 Honda CRF250 may not have won MXA's 2022 250 shootout, it won the shootout in my book. As someone who struggles to hang on to the power of a 450, I still prefer the 250 powerplant, and the Honda checked off the boxes that I want in a motorcycle. Plus, everyone looks good in red."
BRIAN MEDEIROS: 2022 SUZUKI RM-Z250
"I did not choose the 2022 RM-Z250 because it's the fastest or lightest bike available—it's not. As an AMA Pro, I love the power of the Austrian bikes, but I can't seem to get comfortable enough on those bikes to ride at my full potential. To get better throttle response out of the RM-Z250, I added an FMF 4.1 MegaBomb exhaust system, cut holes in the side number plates and ran a Twin Air PowerFlow cage."  
"The RM-Z250 has been over-sprung since they switched to Kayaba suspension. Instead of re-valving the suspension, I decided to try softer fork springs first. To my surprise, the overall action and feel of the suspension was great. It was awesome over small choppy bumps while still holding up for the bigger hits. I don't understand why Suzuki builds a 250 with fork springs that would barely work for a 200-pound rider. I only weigh 130 pounds and switched to 4.6 N/mm fork springs and a 52 N/mm shock spring." 
"Why did I choose the lowly Suzuki? On Kauai, where I grew up, all we had was a Suzuki dealership. They were my first sponsor when I moved up to big bikes. After all these years, I still feel right at home on the RM-Z250. Being shorter and lighter, I can make less horsepower work by riding it harder. I enjoy the fact that you rarely see Suzukis at the track anymore, and I love it when people walk past really trick YZ250Fs and KTMs to come ask about the Suzuki. This is the bike I qualified with at Washougal and Pala II."
RANDEL FOUT: 2022-1/2 KTM 250SXF FACTORY EDITION
"I have ridden and tested every 2022 bike, and all of them have their own charms. But, none match up to the KTM 250SXF Factory Edition. Why do I like it so much? (1) The ergonomics from the handlebars back are exceptional; it works with you, not against you. (2) The WP air forks are my favorite. I know that there are forks that deliver a better feel for their target rider weight and speed, but the WP forks are easily adjustable from track to track. Need a stiffer spring? Go up a few psi. Need a softer spring for the square-edge bumps? Go down a few psi—and you don't need any tools to change the clickers on the forks or shock. (3) I like the blazing-fast QuickShift feature. (4) KTM's new airbox design lets enough air in to pump up the midrange. I would say it has the most usable powerband in the 250 class. (5) Steering accuracy is A+ once you get the chassis balanced. (6) One caveat: the suspension and frame are harsh and stiff for the first couple of hours. For me, the forks came into their own at six hours and frame at 10 hours. (7) Incredible clutch, slick shifting, awesome brakes and a Formula 1 transmission." 
"I enjoy the challenge of testing bikes and spending time getting them to work the best I can in stock form. The 2022-1/2 KTM 250SXF Factory Edition is my perfect wave until the next big set rolls in."
DAN ALAMANGOS: 2022 KTM 350SXF
"As one of the smaller and lighter MXA test riders, I've always chosen to race small-bore bikes in the Vet class—first a 125 two-stroke, then more recently 250Fs. MXA has put me on 450s on occasion, but I always felt they were too powerful and too heavy compared to a 250F. My fellow test riders always advised me to race a KTM 350SXF, but I resisted because of my negative impression of bigger bikes. Then, Jody gave me no choice. Since that day, the KTM 350SXF has been my race bike of choice. I believe it's the perfect-size bike for Vet and smaller riders, especially those who feel that 450s have too much power and 250s are not fast enough to race in Vet classes filled with 450s."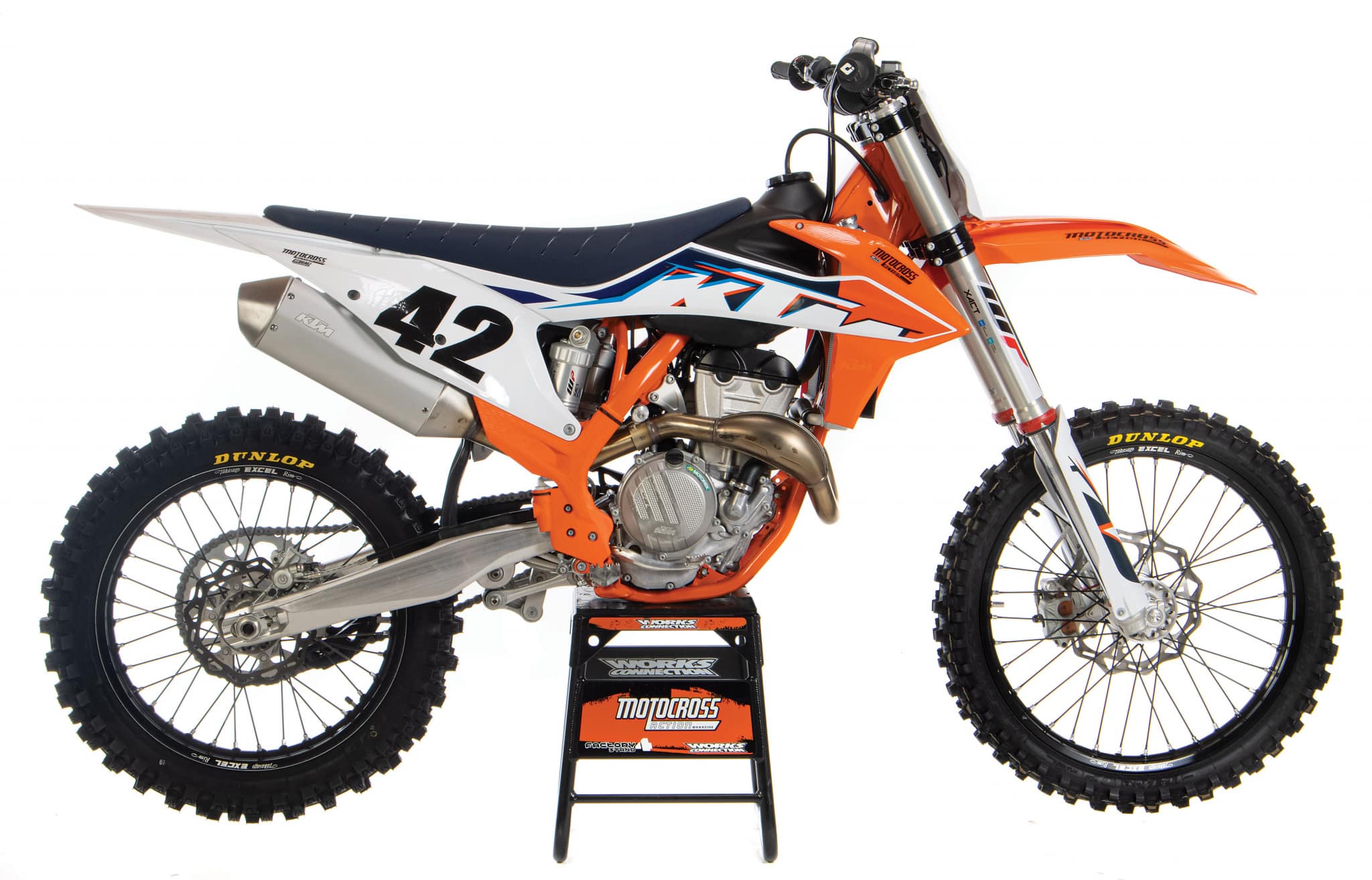 "KTM has found the perfect middle ground with this bike. I love the engine characteristics and its 13,4 00 rpm rev limiter. I can hold it wide open in one gear or use the 29.4 pound-feet of torque to carry a taller gear with ease. The KTM 350SXF handles like a dream, and the suspension is good. I love the current version of the AER air fork because I can adjust the air spring, not only for my weight, but also to different tracks conditions. Plus, thanks to traction control, I can find hook-up on shiny hard-packed or extra power for deep loam. My personal changes are a vented air box cover, grippier seat cover and a holeshot device to lower the bike on the starting line."
JOHN PERRY: 2022 YAMAHA YZ125
"Left to my own devices, I'd always choose the Yamaha YZ125 as my favorite bike. Here's why I like the YZ125 so much. It's a tried-and-true platform dating back to 2006 (although constantly upgraded). It feels comfortable like an old shoe. The suspension is always great. The 2022 engine has plenty of power to meet my aspirations as a racer. The 2022 plastic was given a modern look, and is flatter and easier to move around on. The cost of maintenance is very reasonable compared to a four-stroke—although as an MXA guy, cost is rarely a concern. When my personal 2005 YZ125 needed a new top end, MXA said they'd do it for me. When I got my bike back, it had re-valved suspension, a rebuilt engine, new plastic, Ti footpegs, Dubya wheels, Dunlop tires and a new pipe."
"I love the sound of a properly tuned 125. When you're riding it, you think that you are going faster than you really are. Even better, it is so light compared to a four-stroke that at the end of a long moto I can still throw it up on the stand. The simplicity of this motorcycle puts a smile on my face. As Jody always says, "You can fix it with a nutcracker and butter knife."
"I only have one real dislike—I wish the brakes were as good as the Austrian 125s I've tested. I find it funny when people boast that 125s are in fashion again. When were they out of fashion?"
JON ORTNER: 2022 YAMAHA YZ450F
"The 2022 Yamaha YZ450F is my choice when I am not racing MXA test bikes, thanks to incredible support from Simi Valley Cycles. I am fortunate in that I have ridden and raced all of the 2022 manufacturers' motorcycles, thanks to MXA. Each year I navigate through the buzz and hype of the newest and greatest technology and consistently come back to the durability and stability that Yamaha is famous for. This racing season, I decided to cut back on the weekly moto wars and commit to racing the AMA National Grand Prix Championships (NGPC). I love motocross, which the NGPC events use as the hub of their race courses, but I also love riding on wide-open terrain throughout California, Utah, Idaho, and Arizona."
"I use the same Yamaha YZ450F for both motocross and cross-country racing, but I swapped to an 18-inch rear wheel, added 1 tooth to my countershaft sprocket for the high-speed sections and used Yamaha's Power Tuner app to download the mellow map. When I'm not on the road for the NGPC series, the YZ450F still works great on Glen Helen's motocross tracks, even with the off-road compromises, especially my Dubya USA-built 18-inch rear wheel."
"For me, the 2022 Yamaha YZ450F is the best race machine of my career. Could it be improved? You bet! It is too wide, too heavy, the brakes are only adequate, and the seat/footpeg/handlebar relationship could be better. But, hey, what do I know? I am just the racer.