INDUSTRY HAPPENINGS: JEREMY MARTIN, AUSTIN FORKNER, HRC HONDA & MORE
It was a week day in the world of motocross public relations. The Jeremy Martin to Geico Honda rumor is true. Evgeny Bobryshev is debuting the 2017 Honda CRF450 this weekend at the USGP of the Americas. Austin Forkner unsurprisingly won the AMA 250 National rookie of the year award. Asterisk and One Industries appear to be closing their doors. And, last but not least, American Suzuki hired new faces for their management team.
JEREMY MARTIN SIGNS TWO-YEAR DEAL WITH GEICO HONDA: WILL RACE GLEN HELEN USGP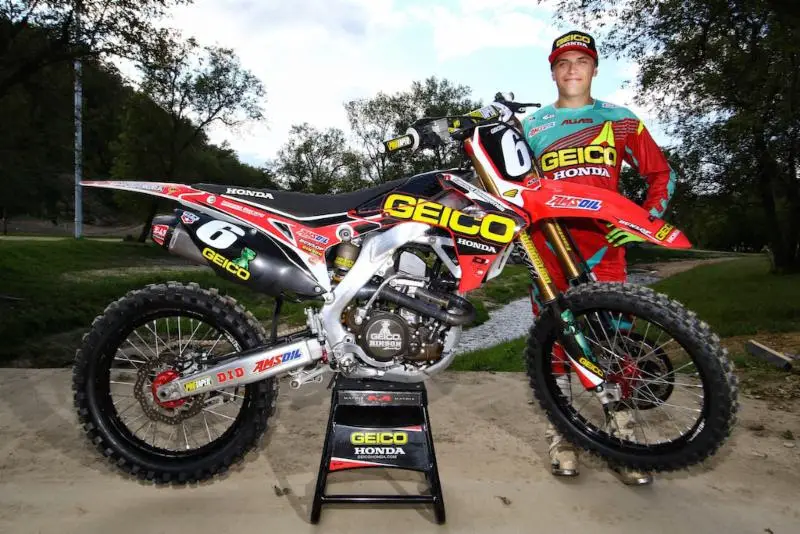 Team GEICO Honda announces the signing of two-time AMA 250 National Motocross Champion Jeremy Martin for the 2017 and 2018 professional supercross and motocross racing seasons. The deal will see Martin ride a Honda CRF250R in the 250 class for the 2017 season, and move to a Honda CRF450R full time in 2018. "I'm very excited to finally announce I've signed a two-year deal with the GEICO Honda team," says Martin. "They're a proven, championship winning team and I'm excited to reach a new level on the 250 next year and continue the relationship through the 2018 season as a rookie 450 rider." Martin, of Millville, Minnesota, won the 2014 and 2015 AMA 250 National Motocross Championships and has won 11 career AMA National Motocross races and four career AMA 250 Supercross events, along with collecting 12 supercross podiums finishes.
"Everyone at GEICO Honda is happy to have Jeremy Martin coming to our team," says GEICO Honda Team Manager Mike LaRocco. "He has that burning desire to be great and I look forward to working with him. He's a great addition to our team." Martin will now begin testing his new ride. He will make his racing debut with the team at the Glen Helen MXGP of the USA in the MX2 (250) class next weekend, September 10-11, in San Bernardino, California.
The full 2017 rider lineup for the GEICO Honda team will be announced at a later date.
HRC HONDA DEBUTING 2017 CRF450 AT CHARLOTTE
[Press Release]
During the MXGP of the Netherlands last weekend, Evgeny Bobryshev showed off his all-new 2017 CRF450RW, and this weekend the Russian #777 will line-up behind the gate on the new machine for the first time. The factory-spec racing machine is based on the all-new Honda CRF450R that was also unveiled in Assen, and has received the works Honda Racing Corporation touch to make it the benchmark in the highest level of competition. Alongside Bobryshev, Gautier Paulin will also line up on his #21 machine for the penultimate round of the 2016 season.
The MXGP of the Americas will be held for the first time at the famed Charlotte Motor Speedway complex, where The Dirt Track has been specially constructed to take in one of the facility's grandstands. Racing is set to be Saturday night-spectacular, with the gate dropping on the first moto at 1815hrs and the second at 2110hrs local time.
Evgeny Bobryshev:
"I'm really looking forward to the US GPs in Charlotte and Glen Helen, especially riding the new bike. The bike looks great and it feels so good to ride – so fast and easy to ride, and with electric start which I really love! I'm really pumped to get out there and line up on the new beast and have some fun on it."
Roger Harvey [HRC General Manager]:
"Charlotte is a new venue but we should be used to the type of track as it's built in the MXGP style. We have a pretty good idea of the obstacles but the ground is new and there are always new challenges from a new venue. It's good to keep the momentum up at this end point of the season as there's still a lot at stake, and we're readied to be back at the front of the field again this weekend. We're excited to watch Bobby make the debut of the new 2017 CRF450RW too. Testing has been very positive, and using the new bike for the last two GP events of this season will allow us to gain a lot of data to give us a head start for 2017."
AUSTIN FORKNER EARNS AMA 250 NATIONAL ROOKIE OF THE YEAR AWARD
Austin Forkner.
Press release: In his first season in AMA Pro Motocross Monster Energy/Pro Circuit/Kawasaki rider Austin Forkner impressed the motocross world with six moto podiums, including two moto wins and consistent riding throughout the season. At the season finale in Indiana, Forkner not only earned the first overall win of his career, but shortly after was named the 2016 AMA Pro Motocross 250 Class Rookie of the Year, finishing fourth overall in the final standings with 376 points.
"This year went really well," said Forkner. "Finishing out my rookie season fourth in points is pretty cool and I think I surprised a lot of people. I came into this season without any goals and not knowing where I'd stand against the best in the world. That quickly changed as I began to finish in the top-10, top-five and before long was battling for podiums and wins. I knew I had the speed, I just needed to improve my starts to give myself a chance. Once I figured that out, everything began to fall into place and you could see my results improve with four consecutive podiums and two wins. Overall, this year was a lot of fun and I am honored to be Rookie of the Year."
In 2011, Forkner joined Monster Energy Kawasaki Team Green  and since then has earned four AMA Amateur National Championships at Loretta Lynn's, 48 amateur national wins and was the 2015 AMA Amateur MX Rider of the Year.
AUSTRALIAN MXDN TEAM LOSES A MAN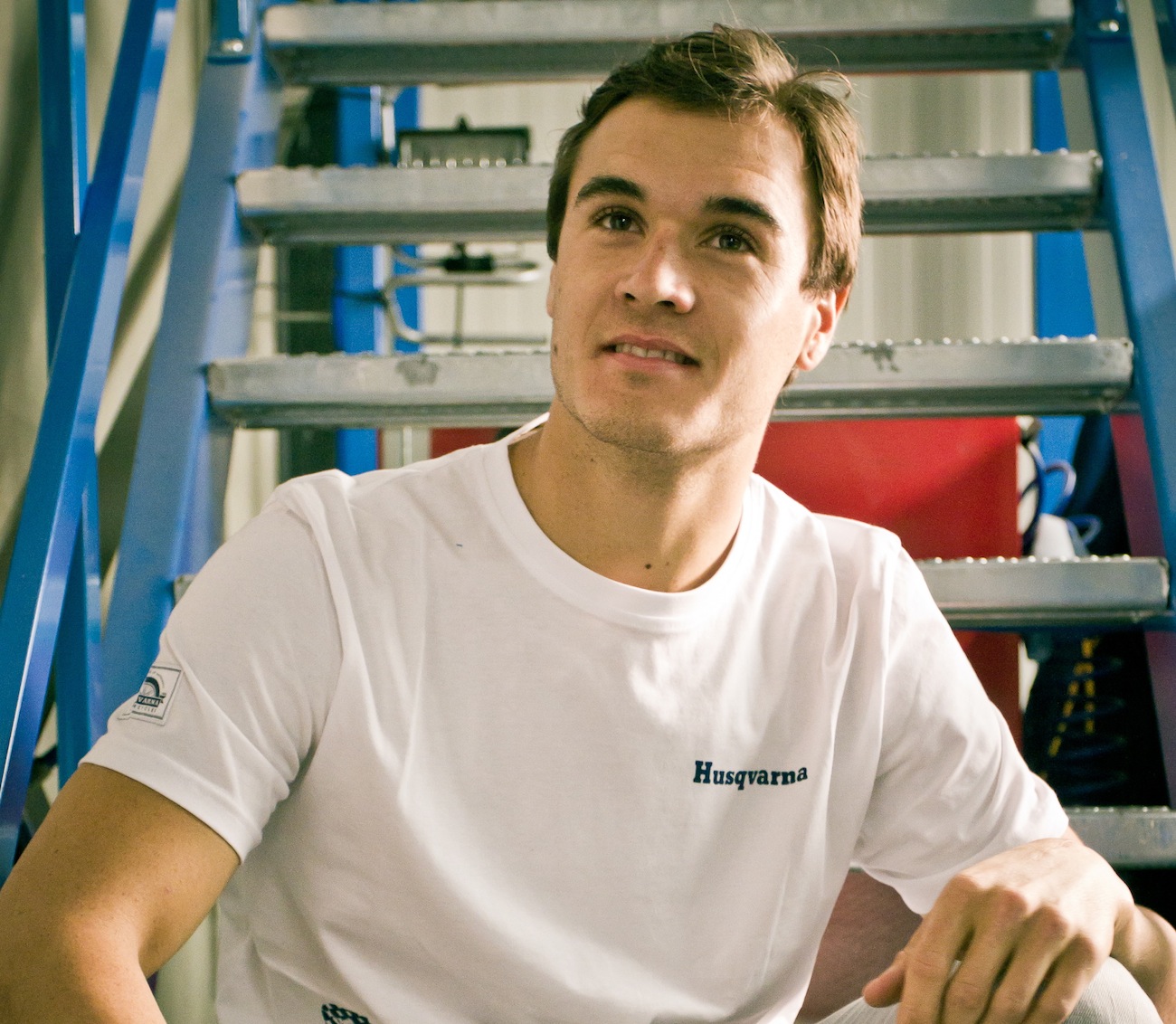 Todd Waters will replace Kirk Gibbs on the Australian MXDN team at Maggiora.

Kirk Gibbs, who finished second in the 2016 Australian 450 National Motocross Championship to Dean Ferris and was selected to join Ferris and Jed Beaton on Team Australia for the Motocross des Nations, broke his femur this week and will now be replaced by Todd Waters. Todd Waters finished third behind Ferris and Gibbs in the Aussie 450 title chase. Waters and Ferris both race the GPs for a couple years and thus have considerable experience with the European system. Our condolences to Kirk Gibbs.
ONE INDUSTRIES GOES UNDER



Never the same after it was bought from Ludo Boinnard and Marc Blanchard, One Industries appears to have closed its doors, shut down their distribution and halted their website. One Industries had been a big success under its previous owners, who started out making graphics and grew into the apparel market. After the sale, the new owners lost the magic that made One Industries a success. Ludo and Marc went on to form 100% goggles.
*Correction. Asterisk will not be going under. According to a rep, their lease ended and they have been unable to procure a new location. Asterisk makes their products in the US so they have different requirements for the facility they need than some of their competitors.
PICHON SIGNS WITH TEAM SUZUKI
Mickael and Zach a few years ago at Glen Helen.
No, not two-time World Champion Mickael Pichon, but his son Zach. Suzuki will field the young Pichon in the EMX 250 class in 2017. Pichon had ridden the EMX 125 series in 2016 and finished 8th overall. He will also compete in the ADAC Youngster Cup races and he will ride several Dutch Masters rounds.
KEN DE DYCKER INJURED AGAIN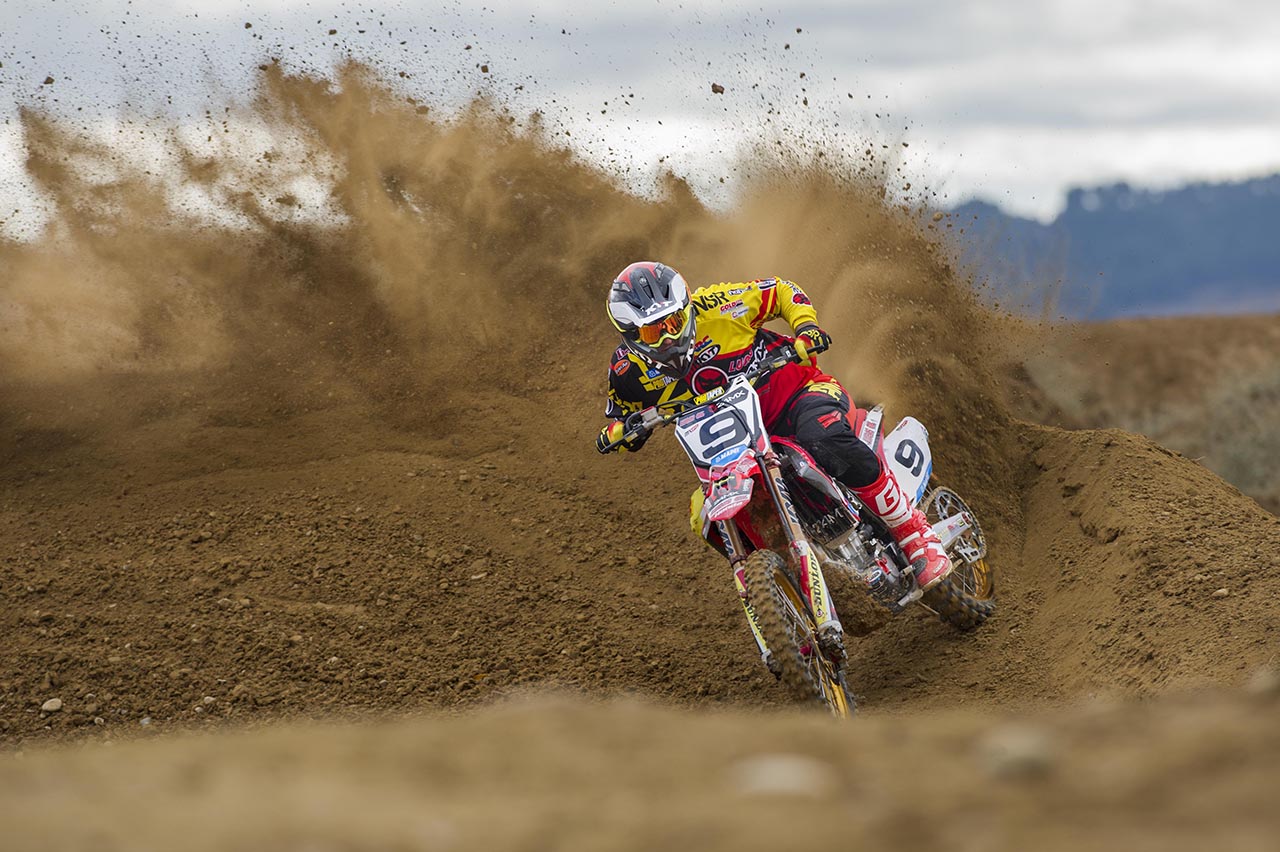 Ken De Dycker in happier times.
Belgian GP rider Ken De Dycker will miss both American rounds of the 450 World Championships with a knee injury. DeDycker posted on social media that "Assen will be my first and last race of this season. Had a big crash today. My bike broke while jumping and I hurt my knee very bad. Saturday I will know more… Only good thing is that I know I have one super strong upper leg! I want to thank the team, sponsors, friends and family. But especially My girlfriend Katrien Geerts because she has to live with me."
THE AMERICAN GP RIDER NOBODY KNOWS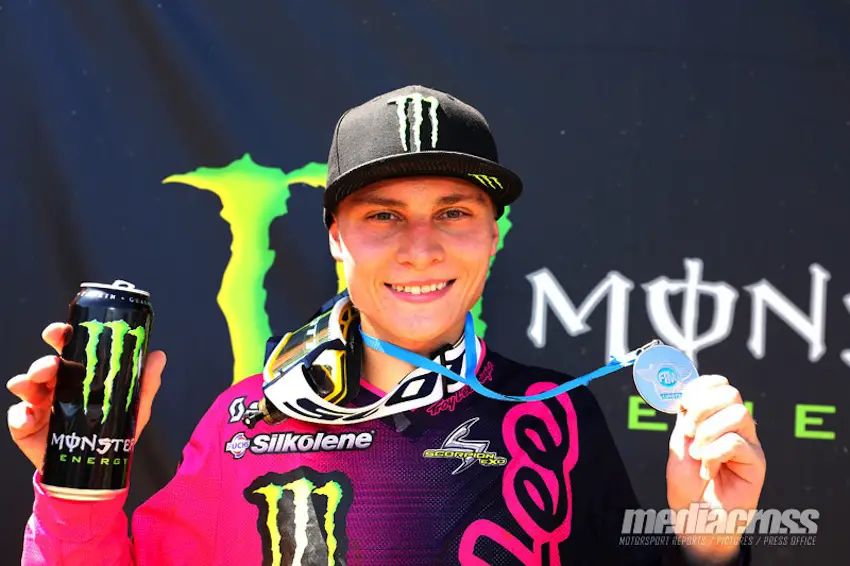 Darian Sanayei.
Darian Sanayei has signed to race for the Steve Dixon Kawasaki team in the 2017 FIM 250 World Championships. "I was pretty close to sealing a deal with the CLS factory Kawasaki team, but my buddy Aaron Nixon at Monster helped me with Steve Dixon and we went that route. I ended up signing with Monster Energy DRT Kawasaki to ride the 250  World Championship." Sanayei will race the last two rounds of the 250 World Championships at Charlotte and Glen Helen. Darian Sanayei, Vsevolod Brylyakov and Tommy Searle make up the Dixon team in 2017.
MORE SUZUKI NEWS: MANAGEMENT MOVES
Press Release: Suzuki Motor of America, Inc. (SMAI) welcomes the addition of two experienced powersports pros to its management team. Paul LaBella joins the company as Communications Manager, MC/ATV Division. Bruce Knight fills the role of National Sales Manager, MC/ATV Division.
With more than 20 years of experience in the powersports industry LaBella has a strong background in marketing communications. During more than 15 years with Cycle World magazine, he gained a thorough knowledge of powersports products and the motorcycle lifestyle, along with an understanding of reaching powersports enthusiasts. "I look forward to helping Suzuki and its dealers grow, and I'm eager to connect with industry friends and colleagues", said LaBella, an Orange County, Calif. resident and married father of three. LaBella started in Suzuki's Brea office on August 15, and his duties include management of advertising, public relations and event activities. Before joining Suzuki, LaBella helped launch powersports industry websites and digital media, and most recently gained experience providing digital marketing solutions to dealerships.
Knight, who began his new role at Suzuki's Brea headquarters on August 29th, is a highly experienced sales professional with an extensive background in the powersports industry. He joins SMAI from Arctic Cat, and also gained years of experience with BRP in sales leadership, and as a business development manager working with dealers to improve profitability.  "Helping to grow the Suzuki brand through sales development is an exciting opportunity for me," said Knight. "I've been a Suzuki fan for years", and know many dealers through my industry experience. I'm eager to help manage that relationship for mutual benefit."