MOTOCROSS SCUTTLEBUTT & TASTY INSIDER MORSELS
THE DUTCH DENTIST'S USGP BIKE AT MECUM LAS VEGAS MOTORCYCLE AUCTION ON JAN.25-28
At the South Point Hotel on January 25-28, Mecum Auction House will be selling Gerrit Wolsink's 1977 United States 500cc Motocross Grand Prix winning Suzuki RM370.
Wolsink's Carlsbad USGP  is unrestored—the only way that classic race bikes should ever be sold.
For more info on all of the motorcycles in the auction click here.
MARVIN MUSQUIN GOES 3-FOR-3 THIS OFFSEASON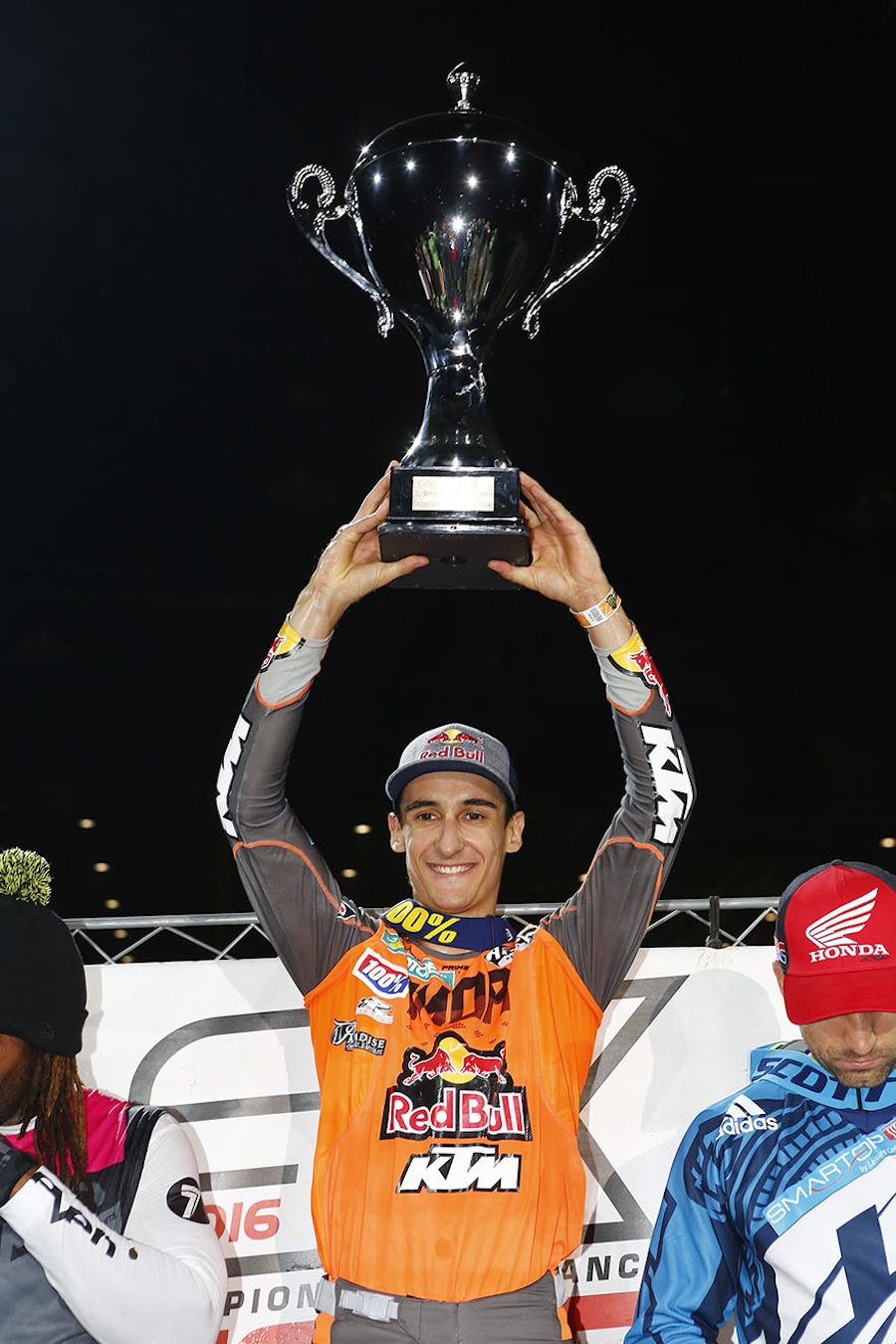 Marvin doesn't have to do any weight training this week after hoisting the Geneva Trophy.
The Geneva Supercross was the last offseason race before the AMA Supercross series starts on January 7 in Anaheim. Marvin Musquin finished off his money-making winter by sweeping both nights in Geneva, after winning the Red Bull Straight Rhythm and Paris-Lille Supercross leading up to Geneva. Justin Brayton also had a good offseason, as he won the Australian Supercross Championship and stayed down south for the weird New Zealand Straight Rhythm/Supercross combo race. And, Brayton, who had won Geneva three time sin the past, finsihed second behind Marvin this past weekend.
The offseason races aren't what they once were—back in the 1980s and '90s American riders could ask for get $100,000 in start money for Paris. But, Marvin is interested in getting more familiar with his KTM 450SXF leading into his second season in the 450 Supercross series—and if familiarity is what he was after, he had three really good outings.
RESULTS: 2016 GENEVA SUPERCROSS
1. Marvin Musquin (Fra)…1-1
2. Justin Brayton (USA)…3-2
3. Malcolm Stewart (USA)…2-3
4. Justin Barcia (USA)…4-4
5. Cedric Soubeyras (Fra)…7-6
6. Thomas Ramette (Fra)…9-5
7. Simon Mallet (Fra)…11-8
8. Killian Auberson (Swi)…10-9
9. Christophe Martin (Fra)…14-7
10. Cyrille Coulon (Fra)…6-15
Other notables: 11. Arnaud Tonus (5-16); 12. Chris Martin (14-7); 13. Maxima Desprey (13-11); 14. Valetin Teillet (8-17); 15. Kyle Chisholm (18-12).
JON ORTNER ZACA STATION RIDING SEMINAR ON WEDNESDAY, DEC. 7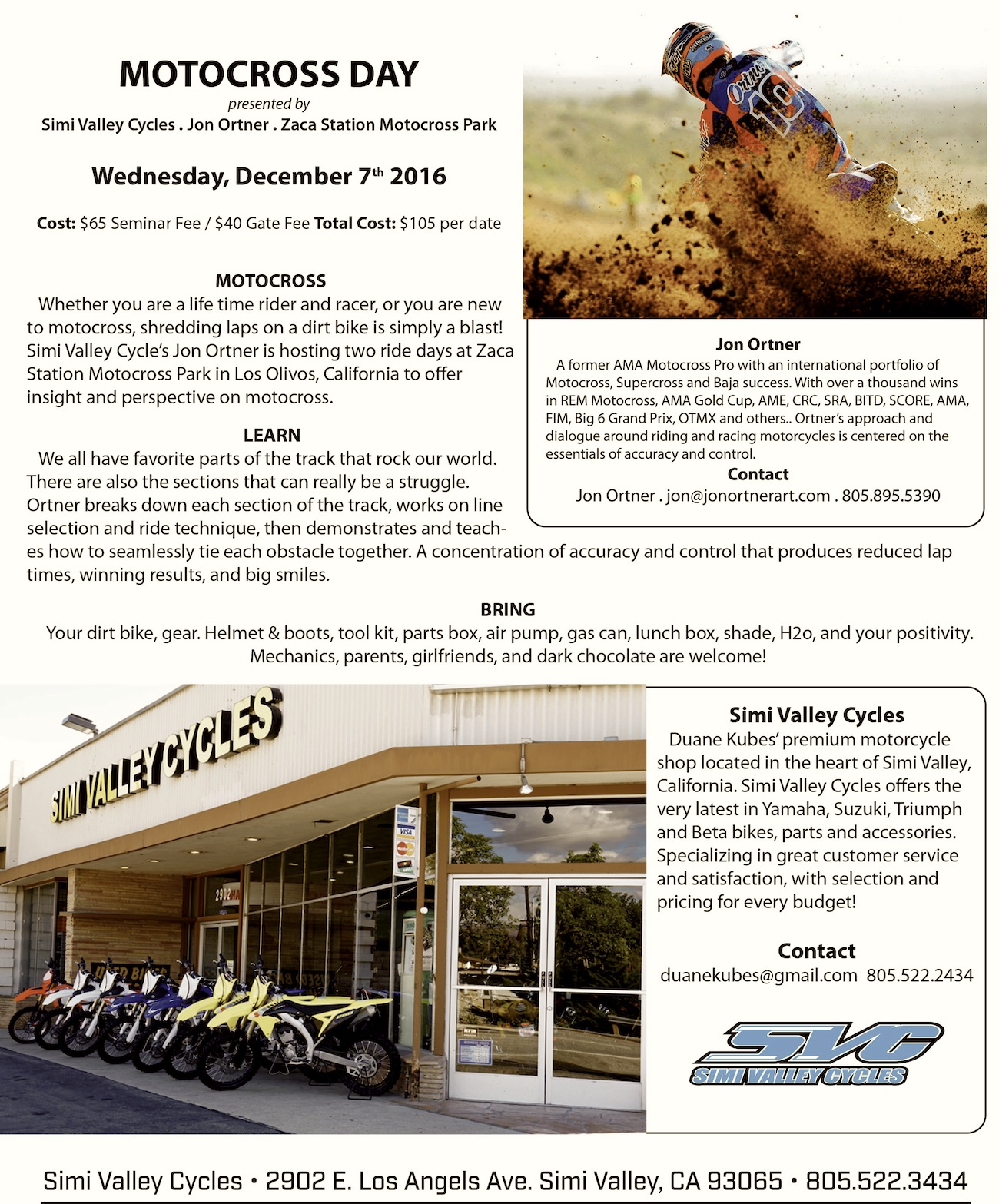 Your chance to ride Zaca and get riding instructions at the same time. To sign up or get more info contact Jon Ortner at [email protected] or call (805) 895-5390.
BUD RACING MONSTER ENERGY KAWASAKI READY TO START THE 2017 SEASON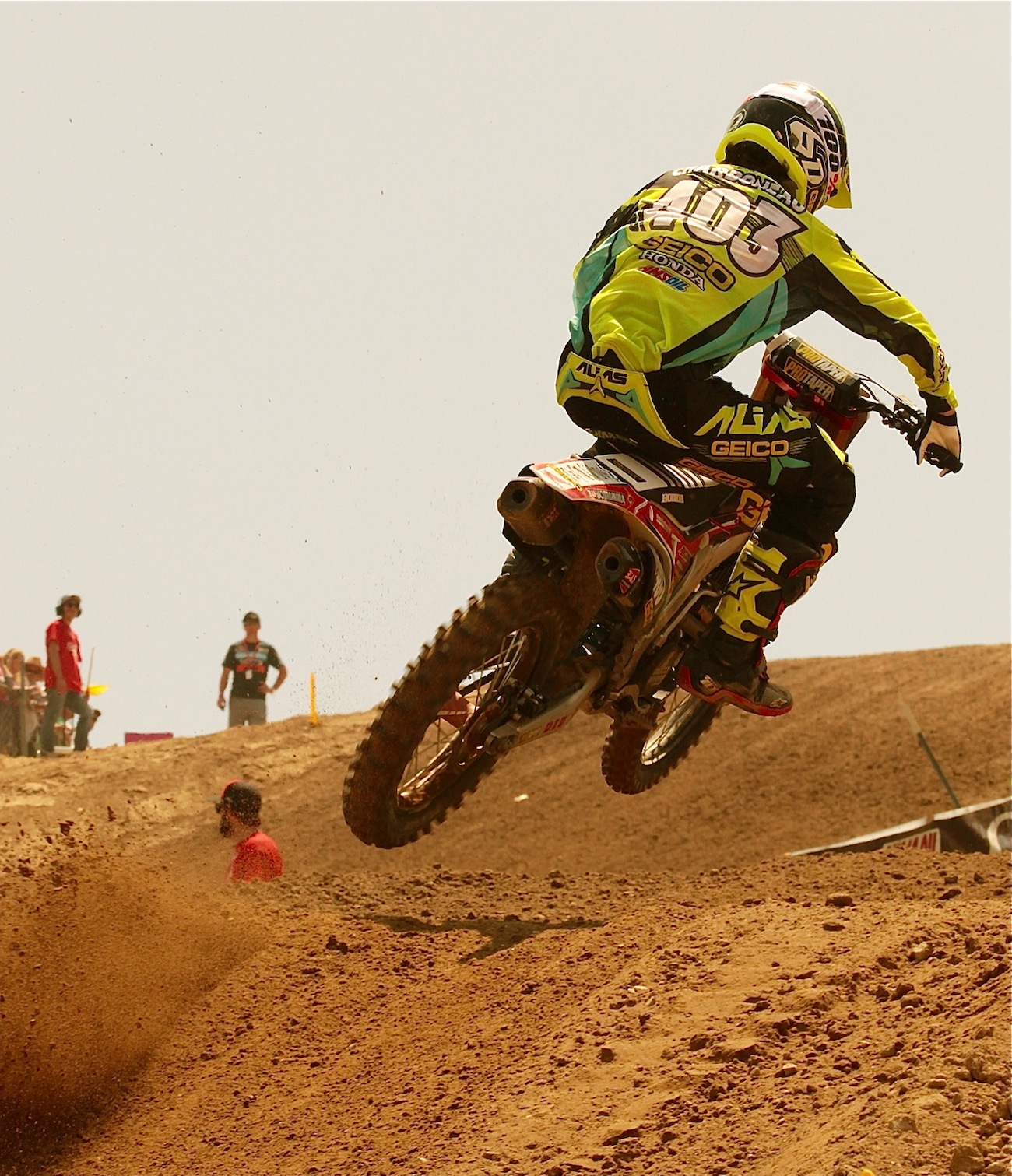 Former Geico Honda rider Tristan Charboneau will race in the USA and Europe in 2017.
Bud Racing, the French team that races in the USA, France and the EMX series in Europe, has finalized its 2017 teams. The youngest rider on the team, 14-year-old Brian Moreau, will race the 125cc EMX Championship. Moreau was runner-up in the 2015 World Junior 85cc Championship. American Tristan Charboneau will race the 250 West series along with Michigan's Marshal Weltin. Then, Charboneau and Weltin will fly to Europe to race EMX 250 series and the French Elite 250 series. Finn Kim Savaste had two 125 EMX second place finishes last year, but crashed at the MXDN while racing for the Finnish National team. He will miss the start of the 250EMX series, but will join it in progress.
Maxime Desprey.
Maxime Desprey will race the French Elite 450 series for Bud Racing, but will race the 450 MXGPs for the Dutch Gebbens Team. Additionally, Ryan Surratt, who had been part of the team originally, will not be on the team in 2017.
BUD RACING 2017 TEAM RIDERS
Tristan Charboneau…250 West, EMX250, French Elite 250
Marshal Weltin……….EMX250, French Elite 250
Brian Moreau………….EMX125 , French Elite 250
Kim Savaste……………EMX250
Maxime Desprey…….French Elite 450
AMERICAN MOTORCYCLIST ASSOCIATION SANCTIONS SNOW BIKE RACING
A Timbersled in the trees.
The AMA will begin sanctioning snow bike racing—not snowmobiles, but snow bikes. The inaugural series sanctioned by the AMA will be called the AMA Championship Snow Bike Series." The first round of the AMA Championship Snow Bike Series will be held at ERX Motorpark near Minneapolis, Minnesota, on December 18. The snow bikes, which swap out wheels and knobby tires for a ski up front for steering and a high-performance snowmobile-style track in the rear for traction, will compete on a motocross-inspired half-mile track of jumps, banks, right and left hand turns, and whoops and dips.

"The AMA is excited to be getting involved in the new and innovative sport of snow bike racing," said AMA Motocross Manager Kip Bigelow. "We have been watching it with interest for several years and decided that it makes sense to embrace this interesting new competition segment." For more information about the Dec. 18 event and the AMA Championship Snow Bike Series, contact Ron Dillon at (208) 573-4255, or visit www.amachampionshipsnowbikeseries.com.
2017 AMA SNOW BIKE CHAMPIONSHIP
Dec. 18……………………….Minneapolis, MN
Jan. 14……………………….Morgan, UT
Jan. 28……………………….McCall, ID
Feb. 11……………………….Detroit Lakes, MN
Feb. 19……………………….Denmark, WI
Mar. 12……………………….W. Yellowstone, MT
Mar. 25……………………….TBA
April 8…………………………Boise, ID
May 13……………………….TBA
HOW TO SUBSCRIBE & GET MXA FOR FREE: WE ACTUALLY PAY YOU $9.00
Interested in getting a new bike this year? The January 2017 issue of MXA is on the news stands now and includes the long-awaited 2017 MXA 250 Shootout. You should be reading MXA, and if you subscribe now you get a $25 gift certificate from Rocky Mountain ATV/MC which more than pays for your subscription.
Do you subscribe to MXA? You should. We know that you think that print magazines are dead and that the internet will fill the void, but most of the stuff in the current issue of MXA won't appear on the web for several months, if at all. Luckily, you can get all of MXA on your iPhone, iPad, Kindle or Android by going to the Apple Store, Amazon or Google Play. Better yet get the Digital desktop version at https://hi-torque.com/product/motocross-action-digital-edition/ for $9.99 a year.
The MXA test riders prefer the print version and not just because it is delivered by a uniformed employee of the U.S. Government, but because right now you can get 12 issues for $15.95 and a free $25 Gift Card from Rocky Mountain ATV/MC. That means that there is a profit to be made in this deal for you. For the Print magazine go to: https://hi-torque.com/product/motocross-action/
ALL-TIME SUPERCROSS WINNERS: MCGRATH'S RECORD IS SAFE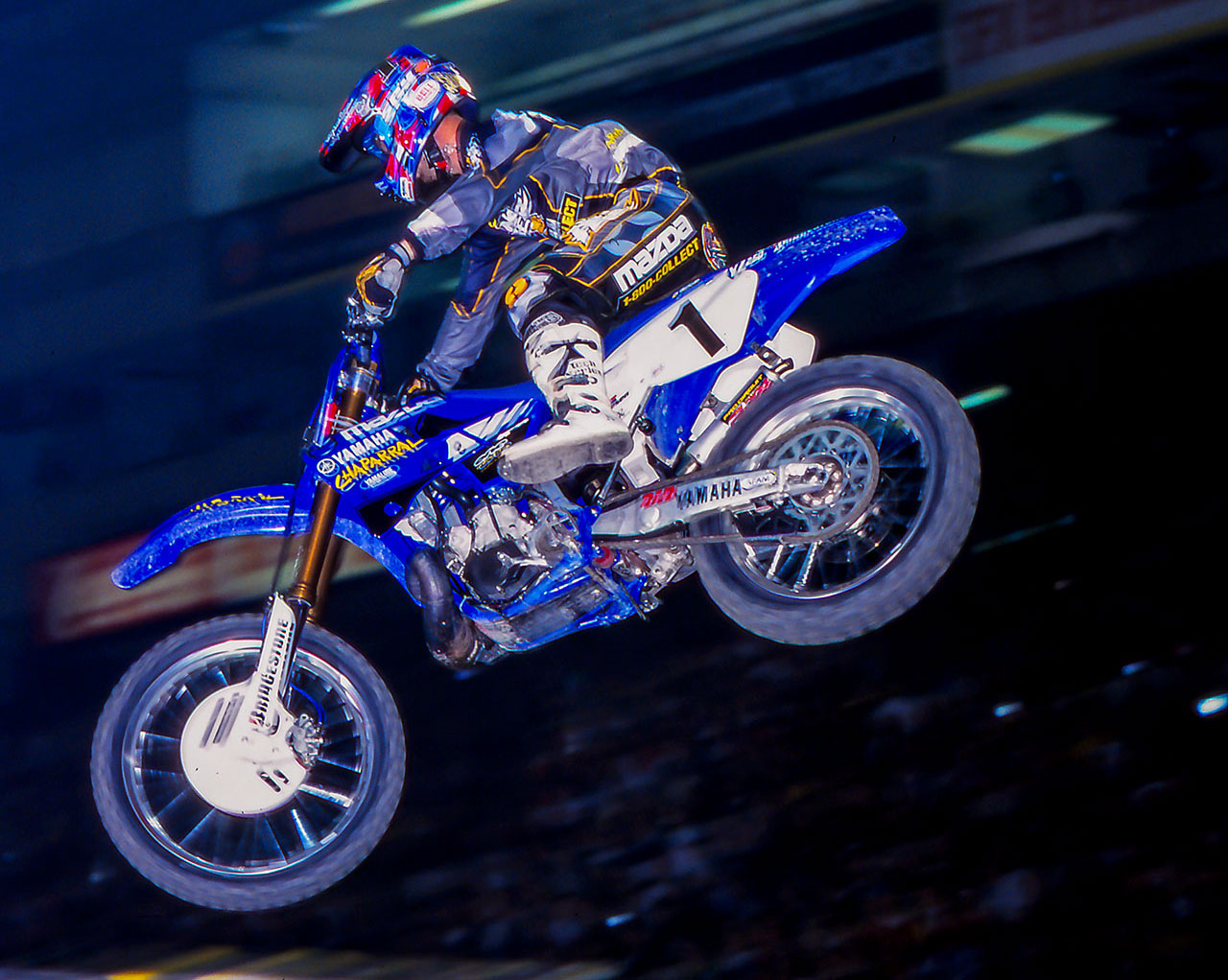 With 72 wins, Jeremy is 22 wins ahead of his closest competitor. Only James Stewart, Chad Reed and Ryan Dungey are still chasing SuperMac
1. Jeremy McGrath…72
2. James Stewart…50
3. Ricky Carmichael…48
4. Chad Reed…44
5. Ryan Villopoto…41
6. Ryan Dungey…31
7. Ricky Johnson…28
8. Bob Hannah…27
9. Jeff Ward…20
10. Damon Bradshaw…19
11. Kevin Windham…18
12. Jeff Stanton…17
13. Mark Barnett…17
14. Jean-Michel Bayle…16
REM GLEN STILL HAS TWO RACES TO GO IN 2016 SERIES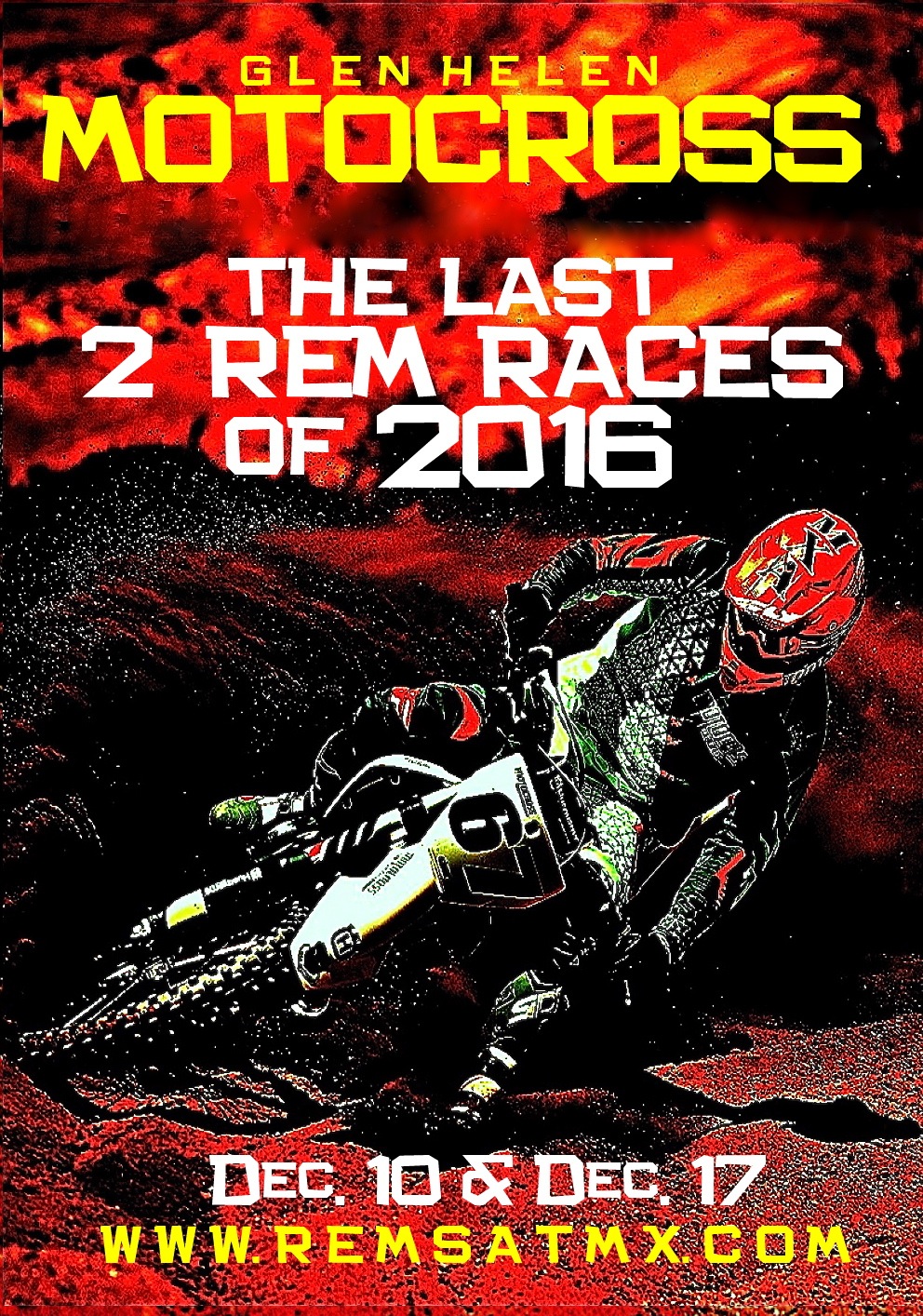 The longest motocross series in the world, one that started 11 months ago and doesn't culminate until December 17, Glen Helen's 40-race long REM series is down to the final two rounds (actually it is only 39-races long this year because 50 mph Santa Ana winds last weekend forced the cancellation of the December 3rd round. In fact, you can race at REM and attend the Kurt Caselli Ride Day on the USGP track on the same day. For more info about REM Motocross go to www.remsatmx.com.
KURT CASELLI RIDE DAY ON DECEMBER 10 AT GLEN HELEN
The 4th Annual Kurt Caselli Memorial Ride Day presented by Rocky Mountain MC/ATV Saturday, December 10th, 2016 (starting at 9:00 a.m.). Join the Kurt Caselli Foundation for a great time with family and friends. Festivities include: Glen Helen National Track, Caselli Team Challenge race, Off-Road Loop With Timed Special Test, Kids Only Practice On The Main Track, Pee-Wee Track, Great Raffle Prizes & Give Away's and Live Auction. For more info go to www.kurtcaselli.com.
NEW REDLABEL.MX "MOTO 2" KAWASAKI GRAPHICS
RedLabel Custom Graphics is proud to release its new Moto 2 Kawasaki line of graphics. RedLabel has 8 color options to start with and then you can customize your kit from there, for free. That's right, free custom work for every order. Full custom bike kits are $189.00 which includes free hub stickers and free mini plates with every order. Use coupon code "REDLABEL-10-OFF" to get a 10% discount on your first Red Label Custom Graphics Kit. For more info go to www.redlabel.mx.
SNOCROSS GETS A MOBILE MEDICAL RIG SPONSORED BY FXR
Motocross has had a mobile medical rig for many years. It is sponsored by Alpinestars and attends every major race. Now, the newly formed Snocross Mobile Medical Team is excited to announce FXR Racing as its title sponsor — with a three-year deal to provide on-the-spot emergency, trauma and medical care to Snocross athletes at every round of the Amsoil Snocross Championship. Former Snocross assistant race director, Jake Vanada, was prompted to start this organization after seeing first-hand how the Alpinestar Mobile Medical works at AMA Supercross and Nationals. Vanadaconsulted withe Alpinestars Mobile Medical director Tom Carson on the  ins and outs of the American program.
The Snocross Mobile Medical Team is a non-profit organization which exists thanks to the generosity of teams, team owners, families, and businesses in Snocross. All donations are fully tax-deductible. Dr. John Odom from Odom Health and Wellness will be the Medical Director of the FXR Mobile Medical Team. Dr. Odom is a board-certified medical doctor who specializes in sports medicine, and continues to practice emergency medicine in Minnesota. FXR Mobile Medical will have an ER Doctor, athletic trainer and medical coordinator at each race.
MXA PRODUCT SPOTLIGHT: SWITCH HAULER BUMPER CARRIER
MXA has considerable experience with the Switch Hauler from All-Jacked-Up Inc. It is the strongest, most durable, bumper carrier on the planet. Not only does it come with footpeg restraints, strap eyelets and the ability to carry a 300-pound load, the Switch Hauler is a modular package, that breaks down to a nice, easy to store package when you get home.  After all, who has room in their garage for a big bulky ramp or awkwardly configured contraption that doesn't fit anywhere? With the Switch Hauler you're not limited to the trailer speed limit, a few lanes on the road, prohibited from the carpool lane and it doesn't need a ramp because it lowers itself down to bike height. If you don't want to pulll a trailer, mount a Switch Hauler on the back and take what you need to where you're going.
This Switch Hauler comes in three drop heights: a straight tongue design with no drop, 2 inches of drop and 3-1/4-inches of drop to insure that it works with every size truck and Class III or better receiver. The modular design means that the Switch hauler is amazingly simple to install right out of the box. The retail price varies from $449.00 to $479.00. For more info go to (760) 500-3397 or www.alljackedupinc.com.
SWITCH HAULER VIDEO

2017 MTA WORLD TWO-STROKE CHAMPIONSHIP AT GLEN HELEN ON APRIL 15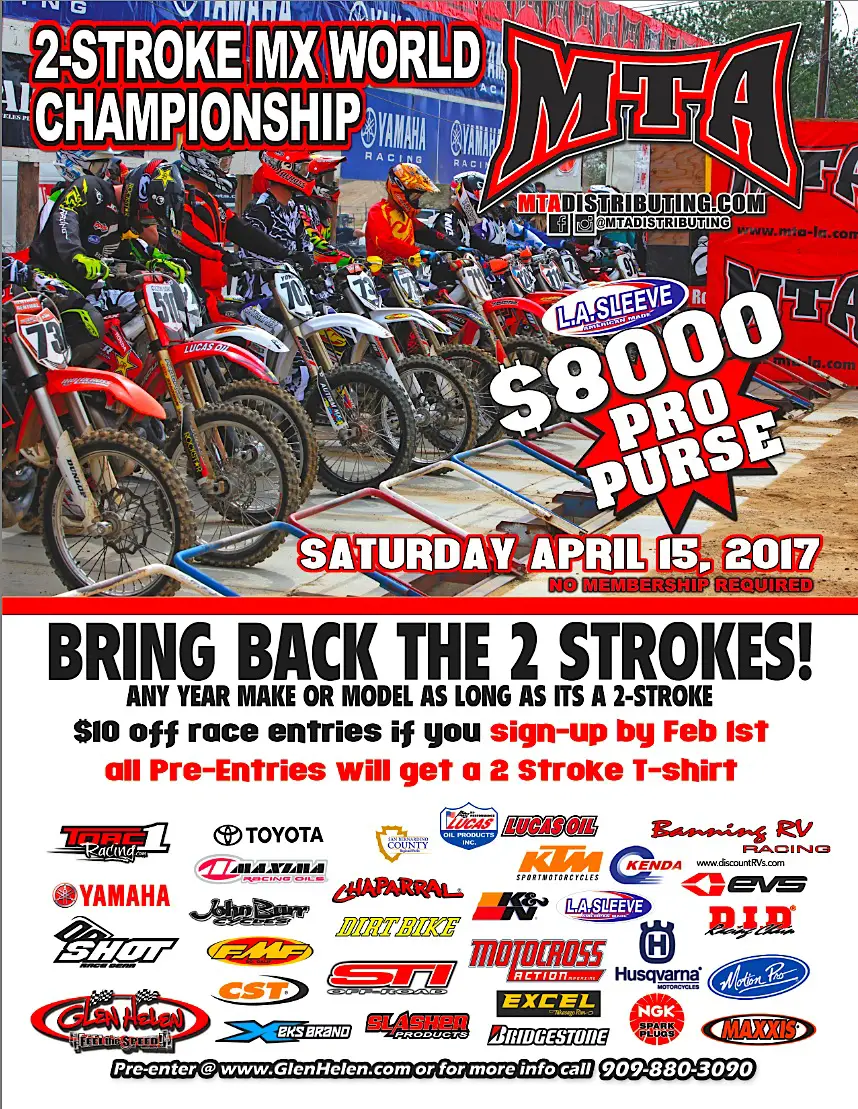 For more info go to www.glenhelen.com.
VP RACING FUELS LAUNCHES NEW WEBSITE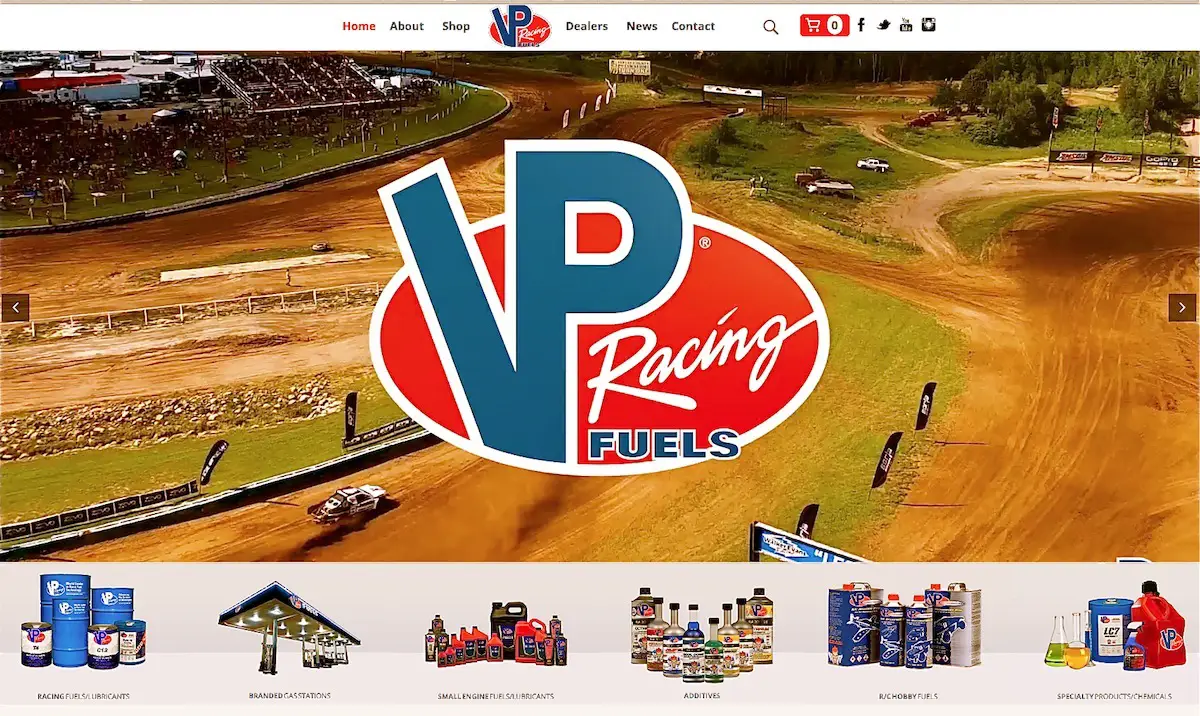 VP press release: Customers of VP Racing Fuels will enjoy a whole new user experience when they visit its newly redesigned website at http://VPRacingFuels.com, according to Chris Wall, Chief Marketing Officer for VP Racing Fuels. "Between our 70+ blends of race fuel and the new product lines we've launched in the last several years, customers sometimes had difficulty finding the product information they were looking for," Wall said.  "Our new platform is clearly segmented between product lines and applications so it will be easy for customers to zero in on the most appropriate VP product to meet their needs, whether it's race fuel for their dirt bike, a small engine fuel for their chain saw or a fuel system cleaner for their street car. The relevant documentation frequently required by racers and engine builders such as fuel specs and SDS forms will be easy to find as well. As in the past, we'll post breaking news on the site regarding new products, race results and industry news. The site also features numerous videos containing product information, tutorials, company background and action sequences, with many in both English and Spanish." Check it out at www.vpracingfuels.com.
AUSSIE DAN REARDON BECOMES FIRST FILL-IN RIDER OF 2017 SEASON
Dan Reardon will replace the injured Colt Nichols in the 2017 250 Supercross class. Reardon was a hot commodity when he first came to the USA in 2008, but in three full seasons he didn't impress and ended up returning to Australia where he was ultimately successful.
NASCAR SPRINT CUP SERIES TO BE THE MONSTER ENERGY CUP IN 2017

NASCAR announced on Thursday a multi-year deal that will make Monster Energy only the third title sponsor in premier series history. Monster Energy has existing sponsorships with a number of motorsports sanctioning bodies, most notably with the AMA Supercross series, but the NASCAR deal is their biggest sponsorship step ever. The new deal goes into effect on December 31, 2016
The current NASCAR Sprint Cup series will now be the NASCAR Monster Cup series. They will also sponsor the NASCAR All-Star Race and become the Official Energy Drink of NASCAR. Plus, Monster Energyis expected tol continue to sponsor Stewart-Haas Racing car. The current Sprint Cup sponsorship ends on December 31, 2016. Under the agreement, energy drink sponsors already involved in NASCAR may remain in place. Potential sponsors from the energy drink category will not be eligible for future sponsorship if not already involved in the sport.
"Monster Energy is a brand built on excitement and enthusiasm, qualities that align with NASCAR," said Brian France, NASCAR Chairman and CEO. "This sponsorship position is the most unique in all of sports and entertainment, and we are thrilled to have a partner that will help us further elevate the series. Today's announcement is the culmination of a thorough search, one that resulted in the right partner at this important time in our sport's history."
Mitch Covington, vice president of sports marketing at Monster Beverage Company, said, "Monster has built its brand on racing and motorsports, and NASCAR is the pinnacle of motorsports in America. It's American racing; we're an American brand that's a global company, and NASCAR is, too. When the opportunity came along to further associate yourself with a sport like NASCAR, it was the perfect fit for us. … NASCAR is just a hard-hitting, close-racing, fun property to be associated with."
2017 RED BULL KTM TEAMWEAR HAT COLLECTION

Red Bull KTM Racing Orange/Navy                            Red Bull KTM Racing Side Stripe/Navy
Drawing inspiration from its champions on the track, the Red Bull KTM Teamwear Collection is designed with the highest quality of "Ready to Race" materials. This stylish co-branded sportswear line allows KTM racing fans to wear exactly what the pros wear every day and feel like part of the team. It wouldn't be a Red Bull KTM Factory Racing clothing line without the inspiration of its talented team members — Ryan Dungey, Marvin Musquin and Trey Canard. All of KTM's hats are $30.00 with the exception of the Space Dye and Diamond Mesh, which are $32.50. The complete 2017 Red Bull KTM Teamwear Collection is available now through local authorized KTM dealers.
Red Bull KTM Racing Logo Navy                           Red Bull KTM Racing Logo Navy/Orange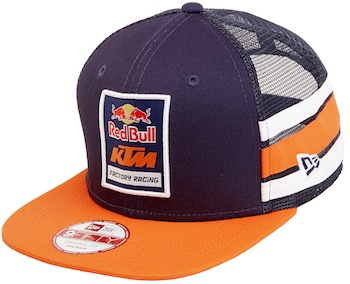 Red Bull KTM Racing Side Stripe/Grey                           Red Bull KTM Racing Space Dye
Red Bull KTM Racing Diamond Mesh                           Red Bull KTM Racing Curve Bill
PRO CIRCUIT KTM 350SXF/450SXF ALUMINUM THROTTLE TUBE

The Pro Circuit throttle tube is CNC-machined from aircraft-quality aluminum, which is much stronger than the OEM plastic material. Pro Circuit also ensures
a smooth twist by reducing friction with a Teflon coating on each throttle tube. Slide a Pro Circuit throttle tube on your new KTM and experience the buttery throttle twist for yourself. The retail price is $69.95 at www.procircuit.com.
TORC1 RACING PARTNERS WITH BPRMX/HOME DEPOT YAMAHA TEAM

Torc1 Racing is proud to announce a partnership with BPRMX/Home Depot/Yamaha Team for 2017. Torc1 will be the official handlebars, grips, shifter, and brake pedal sponsor for the team. "We are very excited about our partnership with the team for the 2017 Monster Energy Supercross 250SX West Series. With Chris Alldredge and Scott Champion, the team has huge potential to be a serious contender in the 250SX class. Working with the team will help us to continue to test and develop innovative high quality products at the highest level of racing that we can pass down to retail consumers. We are looking forward to a great relationship with the entire team and can't wait to get this season started," Said Ryan Pursley from Torc1 Racing
"BPRMX is excited to partner with Torc1 this year for the Monster Energy Supercross Season. We have tested the product earlier this year and the quality and workmanship is second to none. We know we are putting our team on the best products to help us win each and every weekend and Torc1 is a big part of that." Scot Steffy Team Manager. For more info about Torc1 go to www.torc1racing.com