Inside Fox Shox: MXA Interview With Mike Marquez
MXA INTERVIEW: Mike "Neezer" Marquez
By; Zap
ÿ
Mike "Neezer" Marquez has been a suspension guy for as long as we've known him?.and that started in the early 90's when the mountain bike boom was taking off and he was working at Rock Shox, the bicycle suspension company founded by former Honda mechanics Keith Bontrager & Paul Turner. Mike always stood out among the plethora of bike geeks not only because he didn't look the skinny & shaved legged type, but mostly because we knew he was an official back in the day throttle twister. We've always liked those types!
And so when Fox Factory (the suspension side of the Fox brother dynasty) decided to take up the MX wars last year with their new Podium shock we were stoked to see Neezer back in his true element ? motocross! We finally had a sit-down the Neez at A2 to find out more about his world of suspension and undying passion for the sport.
MXA: When did you get into racing? How far did you go?
Mike: My first race was in Northern California on a 1973 Honda XR 75.ÿ I was winning the first Moto and about ? of the way into the race a flag come out?.I thought it was the checker and pulled off the track. My brother was yelling at me go back out go back out?.the flag was a yellow and I finished dead last. I won the second moto, but came home with no trophy.ÿWhen Kevin Windham pulled off the track last year at Washougal I sure knew what he felt like and brought back the memories of my very first race.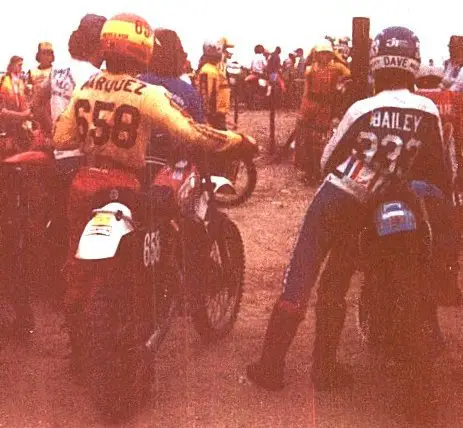 MXA: What was your career highlight?
Mike:
I have been blessed over the years with plenty of career excitement. I have had many memories and highlights with racing motocross racing, but I really can't claim to have ever made a living at it until now because I'm getting paid to go to the outdoor nationals and Super Cross races as manager of technical services for FOX Racing Shox. Last year I was the suspension services technician for Gavin Gracyk and I'm currently working with Michael Willard. I would also like to point out it's just not me that's working for Fox, but a whole team of people working on this project. As far as actual racing memories, here are a few?
One of my first big highlights has got to be getting sponsored by Moore and Sons Motorcycle (the local Husky shop in Santa Cruz) back in 1975. I was being scouted by John Preston who at the time was the man behind the Moore and Sons race team efforts.ÿ Note: John Preston had worked with Billy and Bobby Grossi in the years prior and I knew that this was a deal that I could not pass up. The only issue I had was that the Husqvarna 125 was no match for the Honda 125 Elsinore. I decided to take the ride thinking at least I would be able to race every weekend and that was some thing I my family could not afford to do at that time. My local results on the Husky 125 were okay. I would win races but mostly was finishing 2nd. andÿ 3rd.ÿ I raced against some very fast northern California racers names like Danny "Magoo" Chandler, Mike Preston, Paul Turner, Danny Turner, Donnie Cantaloupi and Billy Grossi when he was not racing Nationals.

We really started to do well on 1975-76 Husky 125 because the bike had decent power and it handled very good on big bump tracks.ÿI think it was Hangtown 75′ or 76′ on the amateur Saturday race I finished 3rd. overall in the expert class on the Husqvarna 125 I was about 15 years old. The Winner of that race was Broc Glover on his DG Honda and 2nd. place went to Pat Jacobson who was put on a factory Suzuki 125 later in the year. I heard that Pat was hurt bad in his first race with team Suzuki. Hearing about that really effected me?that our dream is to become a factory racer and to do all that hard work and have it come to an end on the first time out? that is some thing that was hard to believe.
At Hangtown that year I felt like I was on my way to Pro career.ÿI raced locally in Nor-Cal stuff for the next couple of years and when I finished High School I went into AMA pro racing. I went to the Florida Winter Series in 1979. I was in the top twenty in every race and one time I finished 8th overall on a Husqvarna 250. That was a great day because I beat my arch rival "Lavender" Larry Wosick. Later that year I went to the Nationals and was doing very well placing inside the top twenty and finished 12th. overall at the Hangtown opener in the 250cc class.ÿ I also did one Super Cross that year near my home town at the Oakland round. This is the race that Jimmy Weinert won with a paddle tire. I went straight to the Main by finishing fourth in my Qualifier. I remember this was a big money finish, 16th. in the main paid out around $600.00.
I was on top of the world thinking I was on my way to factory truck the next year. Unfortunately, I broke the navicular bone in my left wrist at a local race. Now everyone knows this is the bone you do not want to break as a racer because it can be career stopper (just ask Rick Johnson!).ÿWith only three outdoor nationals and one Super Cross in 1979 I ended up with National number 95. I was very proud of that number, but unfortunately the number 95 and the rider who earned it was not at any races during 1980 season as my pro racing career was over. I also was sponsored by Moto-X-Fox in 1979? not a money deal but lots of free stuff?.and I was very happy with that.
MXA: Was it the wrist that made you retire?ÿ
Mike: Yes, it was the broken wrist that stopped my racing career. My left wrist was just too painful to continue, and I still deal with the pain every day. My last Pro race was the 1979 Super Bowl of Motocross. I went to the doctor a couple of days before and had cortisone shots put into it. In practice, I just could not take the pain any longer. After practice I pulled out of the event and my pro racing career was over.ÿ
MXA: When did the brothers split from the original Fox? In your mind, what is it that drives Bob Fox?
Mike: Bob Fox joined his brother's company called Moto-X-Fox, and set out to help further develop the suspension program Geoff had started in early 1973. Bob designed and produced the first Fox air shock around mid 1974, and left the company to start his own company called Fox Factory in 1977. Both Bob and Geoff were motocross racers in the early 70's. Both brothers are very competitive, and I believe this is why both have the business drive and with hard work and dedication to the sport, have therefore been very successful in the market.
MXA: What's been the most important thing you've learned in the SX season so far?
Mike:
I have been involved with the bicycle and motorcycle suspension industry for what seems like a life time. It has been really fun working with Michael Willard who is a fourth generation motorcycle racer?racing runs deep in his family's blood. Michael is a two time Canadian MX champion and is a top twenty Super Cross 250 class rider. We tested with Michael Willard a couple of months before the Anaheim opener and after we felt the settings for his fork and rear shock were close, he was left on his own to practice and train over the course of a month. Michael was giving us some feed back on things he wanted to try and we made only a couple of adjustments.ÿ Overall the testing went very smooth and we ended up with some very good settings for the Supercross season. Our rear shock is working very good and from track to track we only have to do some very small external knob adjustments and ride height adjustment.
Being part of the team you have to know the people and keeping the rider positive is key. The bike is pretty much easy to keep running and working well, but the rider is the pilot of the machine and he needs to be a fine tuned racing machine also. Michael has surrounded himself with upbeat and positive people that have passion about the sport and are part of his foundation that he will build his racing career from. Remember he has already won championships and he is here doing the ground work. Right now he's taking a step by step approach to reach the next higher plateau.
MXA: What's your best suspension set-up tip for up & comers?
Mike: The best suspension set up for Supercross corners is a good sharpe edge tire at the right air pressure. In Supercross the suspension is very stiff and this makes for difficult cornering which is why the indoor corners in general have big banked turns. The other thing we do is find a balance tolerance for good cornering traits. We try to go as soft as possible in low speed compression to allow the tires to hook up and also allow the bike to settle for turning? if we lean too far to achieve good cornering traits the bike may have issues going through the whoops. So we have to score theses suspension traits, by which I mean really boil it down to what makes the difference in laps times.ÿ It's hard to keep the best of both worlds and some times we tune more for corner speed and some times we tune more for the whoops. Ultimately, it depends on the track style and rider preference.ÿ
ÿ
MXA: What is Fox bringing to the table for racers?
Mike:
Michael Willard is helping to bring the Fox Racing Shox name back into a Supercross this season. Fox got out the sport along time ago so we've not been competitive in AMA Pro racing in over twenty years. Bob Fox is very excited about bringing his name back to the sport he loves so much and Michael Willard is the only racer at this time to carry our Fox Racing Shox name back into the main events. Last year we went racing with Gavin Gracyk and he was using a Fox Racing Shox Podium rear shock on his Honda CRF 450 and was finishing in the top ten almost every weekend. Gavin ended the series Top Privateer in the 450 class. After the nationals we changed a few valve shims and the shocks that Willard is using now are the same shocks that Gavin raced with. Now that has got to be by far the ultimate test for a Motocross shock a AMA out door season and a super cross season with out changing the shaft seals, piston glide rings, shock body or shaft? We do change the oil often.
The bottom line is that we have many idea's that we believe will change the world of motocrross suspension in the near future and as you would expect I can't talk about that right now. Right now we are in phase one and confirming with our test shocks all the pros and cons of current damper technology.ÿOur next phase will be to incorporate very new technologies into this market and bring motocross suspension out of it's 15 year hibernation!

MXA: Are there things you learned with MTB that you are now applying to the MX tech?
Mike: I have been working with MTB suspension for about 15 years, and have worked with many world class athletes along the way. I see many similarities between mountain bikes and motorcycles, as they both have two wheels, a fork, and a shock of similar design. The main difference is the motorcycles weight and power output of the motorcycle engine. In racing, the best race suspension setting is the one that helps the rider clock the fastest lap times.ÿ
For example: you can set up your motorcycle to feel like your plush couch in your living room, but you cannot go to a Supercross with a setting like this. This is what makes suspension tuning so fun and never-ending with the set-up possibilities. Tuning for mountain bikes or motocross is a matter of logistics. We use the science of fluid flow control to meet race requirements for any given race day, be it with bicycle or motorcycle suspension, tuning techniques applied for both worlds.
Suspension is very dynamic and requires special attention and respect. The rider puts his or her career on the line every time they pull out onto the track. It's no big deal if the muffler falls off, but a failure with a suspension can be catastrophic and very serious. In either sport, the rider needs to be able to pull up to the starting line with full confidence in their equipment and the team of people who are responsible for the machine. It's the whole package that makes for a solid foundation, or in other words, the winning combination.

MXA: What's the biggest difference in suspension tech between now & then – were the principles even similar?
Mike:
I think the main difference now is pure damping control, and external rebound and compression adjusters.ÿWhen I say pure damping control I mean the oil is free of gas,ÿ meaning separating the oil from the internal gas i.e. air or nitrogen. In the old days, shocks and forks used a hydraulic damper technology known as the "emulsion" shaft displacement system. In most cases, the old dampers did not use an oil/gas separator system and the oil would mix with air as the shock was put into action. These shocks did not offer much control over damping and you could always look forward to "mid-moto-fade" which was really fun when you only had four inches of travel!
The amount of low speed compression that we use today to control the stability of the Supercross bike would not be possible with the damping systems of the early 70's, no way, no how! We owe modern day suspension to the pioneers of motocross; Bob Fox and his company Fox Racing Shox will always be found towards the top of that list. The Fox shock was on many of the championship-winning motorcycles during that era of the 70's.
MXA: Will the Fox Podium shock do for the sport what the original Fox air shock did in '76?
Mike: The current Supercross rear shock that we have installed on Michael's bike is the stepping stone into the future? I say it's the "space monkey".ÿWe are going to use this shock to further develop and blend our quiver of technologies.ÿ Right now we are limited to what we can do at the Supercross races due to the homologation rules, but off the race track, well, I would love to talk about that but loose lips sinks ships. Our current goal is to learn by listening to the Pros we work with. We have a huge amount of damper technology that may find its way into the MX world in the not-too-distant future…we plan to bring it on!
ÿ