INSIDE MXA'S WORKSHOP: BUILDING THE ULTIMATE 2012 HONDA CRF450 ? IT IS LIGHT TO BEGIN WITH, NOW YOU JUST HAVE TO MAKE IT RIGHT

By John Minert
After all of the 2012 bike test and shootouts are done, every MXA test rider is allowed to build his dream bike. There is no budget, not limit and no rules. It is a reward for spending almost a year riding what the test riders were assigned, and often racing a different bike between motos. For this test, test riders were free to choose the bike they want, the parts they want, the suspension they want and go-for-broke. They have spent all year testing products, riding works bikes and working out the bugs on the stockers…and for this one brief period they are rewarded with the bike of their dreams. Then, suddenly,the 2013 bikes come pouring in and they go back to racing stockers. Each week we will show you a new test rider dream bike. It is my honor to show you my personal project bike.
Considering the 2012 CRF450 finished fifth place in MXA's 450 shootout, it may seem like I got the short end of the stick in our project bike suite that includes the YZ450F, KX450F, YZ250 and 250SX?not so, for three great reasons.
First , I could have chosen any bike for this project?and I chose the Honda CRF450.
Second, just because a bike finishes poorly in an MXA shootout doesn't mean it's a bad bike. All the "Big Five's" motocross bikes are competitive. This hasn't always been true; there have been bikes in MXA shootouts with anemic powerbands, severe structural problems and inelegant engineering?this is not the case with the 2012 CRF450. It is true that it makes the least power of the big bikes, has a pitiful clutch and needs some setup help, but at its heart is a very light bike with a willingness to be improved, thanks to high-quality material and components.

The expensive Ti CRFStuff pegs are very lightweight. The inexpensive Acerbis protectors keep the pivots clear.
Third, my final reason for choosing the Honda CRF450 is that each MXA test rider was given free rein to modify his bike as he saw fit. This is important, because anyone shopping for a new bike must not only consider its stock performance, but how much potential there is for modification (tempered by how much is in your bank account). The Honda spent so many years as the cool kid in school that aftermarket companies have worked hard developing a potpourri of accessories for the red machines. The CRF450 has tons of potential because there are race-ready mods already available (proven by the fact that Honda's engineers borrowed the fork springs, footpegs and shock linkage from the aftermarket to improve the 2012 CRF450 production bike).

A HotCams camshaft is a particularly cost-effective mod for the Honda because you only have to buy one.
MX-Tech's Kashima coating and levigated alumina surface preparation reduced friction in the shock.

In addition to the Kite/Excel wheels, we had Dubya include an oversize Brembo rotor for light-touch stopping.


The current CRF450 has been in service since 2009. Updates to things as significant as fork spring rates, the exhaust system, rear shock linkage and throttle body have made considerable improvements in the bike's overall performance. But without any real frame or engine changes, the 2012 CRF450 is the same basic bike that was introduced in 2009. That sameness meant that I could fall back on three years of racing experience to show me exactly what was needed to transform the machine with practical and affordable modifications.
In the end, personal taste is key to any project bike. I've learned to compensate for the CRF's quirks and to love the things it does well. Admittedly, when I'm riding a KX450F or KTM 450SXF, I might wish that the CRF450 were as stable at speed, powerful off the mark or as refined in overall handling; however, with the lightweight Honda chassis, I can throw the bike into turns quicker, jump bigger jumps and whip with more confidence than on any other 450.

Step one: With the bike's soft hit and mellow clutch, I was never quite sure what was going on underneath me when exiting a turn on the CRF450. It wouldn't do much good to boost the bike's power if I couldn't control the power that the bike already had. The initial hit of the stock 2012 CRF450 was so mellow, I found that it was very difficult to balance while negotiating turns and technical obstacles, especially in soft terrain. Normally, feathering the clutch would provide the required boost, but unfortunately, the four-spring CRF clutch has a very vague feel. Getting more power out of the bike would only further abuse the weak clutch. Similarly, getting the suspension dialed would be a hollow victory if I couldn't anticipate traction and power enough to stay balanced on the bike.
I started this project with a frugal mindset. What would I do if I were spending my own money? Yet, I knew that I had to spend money to bring everything up to snuff. I ordered a Wiseco inner hub, pressure plate and six new springs. The stock basket was not showing any signs of wear?although it will after more hours are put on the bike. I stuck with the stock clutch cover, because even though it looks beat up, it's perfectly functional.
Step two: To further help the overall package, I considered several popular throttle-control options. For the record, I'm an advocate of Injectioneering's throttle-body modification. It definitely perks up the throttle response. Yet I decided not to go this route, because I didn't want to go through the hassle of taking everything apart and shipping it off.
Instead of going the Injectioneering route, I made an economical decision and installed a RollOn Throttle Lightning throttle tube instead. The Lightning's throttle reel pulls more cable per degree of rotation. It is like the quick-turn throttle, and for $37, it is the poor man's Injectioneering mod.
I knew that some additional mods would be necessary to turn the mellow powerband into an aggressive one, but with the clutch and throttle tube, I ensured that whatever I decided to do to the powerband and suspension from this point on, I could get the power to the ground quickly and use throttle control to stay balanced on the bike.
Step three: When I first saw the pinhole-sized muffler outlet of the 2012 CRF450, I thought that the thing was more choked up than when I decided to chop onions at Jimmy Mac's wedding. (It's a good cover-up; just say, "I'm not crying; it's for the dip.") Oddly, when the EFI CRF was introduced in 2009, the powerband was too snappy and aggressive for carburetor-accustomed riders. So, how in the world did it get to the opposite end of the spectrum? It has a pink-poodle delivery now; it was all pit bull back in 2009. The answer is mellower mapping and a more restrictive exhaust. The pinhole muffler had to go. I chose an FMF PowerBomb header and Factory 4.1 exhaust system for several reasons. I knew that it would not only increase overall power, but give the bike some hit. I chose the PowerBomb head pipe over the MegaBomb to achieve a quicker-revving powerband. Lastly, FMF's new spark arrestor system makes it easy for me to head to I-5 MX, a forest service-controlled track close to the MXA headquarters.
Step four: I wanted more power out of the CRF450, but I wanted to keep the engine mods simple. I didn't want to compromise durability or have to buy race gas, so I shied away from increasing compression. Sending out the cylinder head for porting would have been more money and wrench turning for less power improvement in comparison with just slipping in a camshaft. I decided to limit my internal engine mods to a HotCams camshaft?having tried one with good results in our 2010 CRF450. This is an especially cost-effective option, because the Honda only has one cam to replace. For $300, you can choose among six different Builder Series CRF450 HotCams; for $270, you can choose Stage 1, 2 or 3 cams (all designed to optimize power at different parts of the powerband). With a DOHC engine, you'd have to spend twice the money, or settle for an intake or exhaust camshaft only.
I went with the Stage 2 camshaft, which is designed to offer the same power as the stocker up to 6000 rpm and an overall improvement from 6000 rpm to the rev limit.
Step five: My final step was to remap the ignition. MXA has the mapping tools and software, but I decided to let Tokyomods do the mapping for me. I thought that $75 seemed pretty steep for a couple megabytes of data, but it was a lot cheaper and easier than buying the $350 Honda programming tool and heading out to the track with my laptop for a few hours of map tinkering.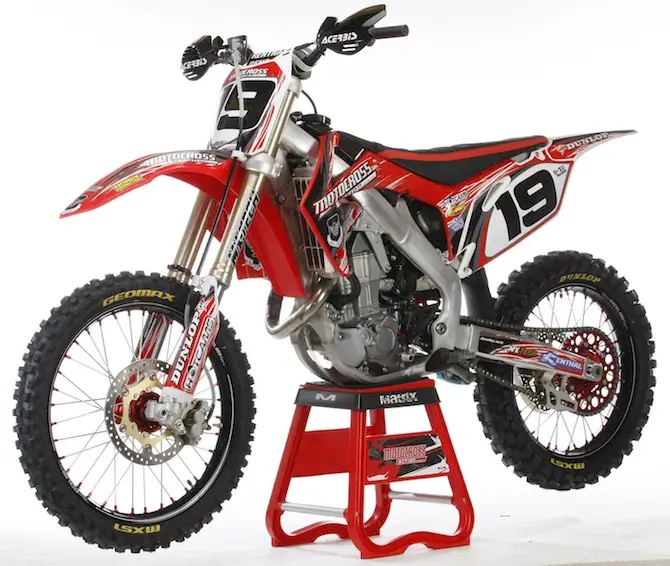 Step six: To me, the Honda's front wheel seems tucked back so far; it feels like riding a unicycle sometimes. So after handling the power, it was time to address the suspension and chassis. The best mod to combat that feeling on a 2009??2011 CRF450 is a longer link arm, but Honda got smart and spec'd a longer link for 2012. I considered ordering a set of 24mm offset Applied triple clamps. I have tested them before, and I know that they help, but Honda's strangely configured handling is too extreme to be fixed with simple bolt-ons. It costs a lot of money to make chassis mods that don't totally fix the twitchiness. No matter what, you still have to get used to it, so I decided to focus all of my attention on dialing in the suspension.
As an MXA editor, I've been lucky to meet many clever suspension guys. One of the standouts is Jeremy Wilkey of MX-Tech. He's not just a re-valver, he's an innovator. Plus, he's super enthusiastic, a straight shooter and loves to ride. So I broke out the MXA suspension case and shipped my forks and shocks to MX-Tech's West Coast office in Phoenix, Arizona.
MX-Tech's most recent innovation is low-friction piston rings for shocks, touted by Jeremy as an incredible improvement for a very low-cost part. Unfortunately, they weren't in production at the time of this build, so MX-Tech didn't have any ready for me to try. Even without the rings, however, they did plenty of high-tech trickery to my shock.
It received Kashima coating and levigated alumina surface preparation to reduce friction. MX-Tech provided a Merge Racing linkage bell crank. Jeremy explained that the bell crank slows down the shock shaft's initial movement, which puts less weight on the front end in braking bumps and the entrance to corners, lessening the wiggle and oversteer. At about the sag point, it starts to speed the shock up but still keeps the overall action slower than stock. Jeremy prefers this, because it lets him put some more high-speed compression valving into the shock. He feels that it creates a better balance among bottoming resistance, bump compliance and stability under braking.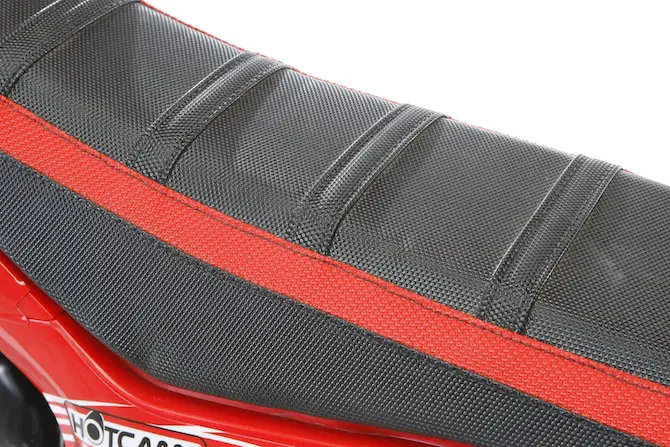 As for the forks, MX Tech kept the program reasonable and affordable, leaving out the super-expensive coatings and most of the tricky internals that they offer. They did install their $250 SSBCV (Speed Sensitive Bottoming Control Valve), but you can call it the single-sided Huck valve. The Huck valve sits in the left axle lug and uses a separate shim and piston to control the last part of travel. The separate valving relieves some of the main valving's responsibility, allowing MX-Tech to valve the fork for smaller bumps and let the Huck valve handle the big stuff.
Since Honda's engineers spec'd our recommended spring rates for 2012, most riders will be happy with the stock 2012 springs. I, however, am larger than the average rider, so I went one notch stiffer on both the fork and shock springs.

Step seven: As an MXA test rider, I constantly switch from bike to bike, so it makes me chuckle when I see riders who can't ride unless their bars are adjusted just so. My job has many luxuries, but becoming accustomed to one setup is not one of them. I readily admit that it's much easier to go fast when you're comfortable and confident. So with this project bike, I wasn't going to pass up the opportunity to get my controls dialed in specifically for me?not the test rider who got off the bike five minutes ago.
At 6-foot-2, it's a treat to get to run taller handlebars. I like oversize bars because they offer the most flex, so I sprang for the oversize bar mounts and ordered Renthal RC High FatBars. I'm also a big fan of firm grips, and Renthal is one of the few companies who offer them. I'm also a firm believer in using hand guards for rocky tracks, cold weather and because I tend to ride very close to hay bales, bushes or whatever else is at the edge of the track. My favorites are Acerbis' X-Force guards, because they can be set up for large-area and cold-wind blocking or for max ventilation thanks to the removable panels. I also ordered Acerbis footpeg protectors to prevent mud from jamming into the pivot and keeping the pegs up in deep ruts. To keep me planted in the saddle, nothing seems to hold better than seat covers with folds of raised material. Moto Seat obliged with a stylish and grippy pleated cover.
Step eight: In case you haven't noticed, my original plan of building a "best-bang-for-the-least-bucks" bike has slowly gone out the window. It's funny what an unlimited budget does to the human psyche. So for the final step, I threw cost-effectiveness out the window and chose some functional, high-quality products that I admittedly didn't need.
The two most creative folding levers ever built, in my opinion, were introduced last summer: Renthal's second-generation Intellilevers and ARC's unbreakable composite levers. I've been switching back and forth between these two aftermarket levers and stock levers. In the end, I decided on the Renthal Intellilever clutch and the ARC brake lever.
I love that Honda finally installed decent pegs on the 2012 CRF450, but I didn't shed a tear when I replaced them with titanium CRF Stuff footpegs.
The stock Honda wheels were in fine condition, but Dubya's Kite wheels with Excel A60 rims added strength and plenty of bling factor. I wisely acquired a red anodized Renthal sprocket to match the hubs and added to the style.

FMF's Factory 4.1 is a full-race muffler with flexibility. It has a removable spark arrestor for U.S. Forestry areas.
Works Connection makes an hour meter that is lipstick size and can be ordered with an aluminum mounting bracket. I like the tach function and maximum rpm features?although I never use them.
I had Works Connection throw in an anodized dipstick?because I broke the stocker while removing the timing cover?plus one of their new magnetic Pro Launch holeshot devices for dirt starts.
As I wrapped up the project, I chose some shiny new Dunlop MX51s, which are best for the widest variety of conditions in SoCal. Although most of my MXA compatriots prefer to run the MX31 front tire, I don't like the feel of the soft-terrain front because of the knob flex. Lastly, the DeCal Works MXA project-bike graphics called out all the sponsors and gave the bike a custom look.

MX-Tech used a Merge Racing bell crank to slow the initial shock speed and allow for more high-speed compression.
Step nine: After spending so many hours preparing and poring over my personal project bike, I thought of it as my baby. So when I finally got to take it out to the track for the first ride/race, naturally it was pouring rain. I was disappointed not to be able to display my pristine, tricked-out project bike.
It may have been caked with 15 pounds of mud, but underneath, I knew it was a gem. How so? Because I had four years of experience with this generation of Honda CRF450. None of my steps were pie in the sky; all were based on hard-earned lessons from the racing circuit.