INSIDE MXA'S WORKSHOP: BUILDING THE ULTIMATE 2012 KAWASAKI KX450F ? IF MONEY WAS NO PROBLEM WHAT WOULD YOU DO?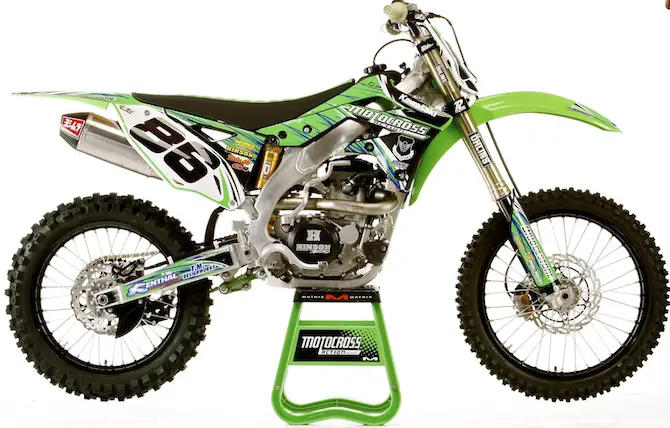 By John Basher
After all of the 2012 bike test and shootouts are done, every MXA test rider is allowed to build his dream bike. There is no budget, no limit and no rules. Test riders can choose the bike they want, the parts they want, the suspension they want and go-for-broke. They have spent all year testing products, riding works bikes and working out the bugs on the stockers…and for this one brief period they are rewarded with the bike of their dreams. Then, the 2013 bikes come pouring in and they go back to racing stockers. Each week we will show you a new test rider's dream bike. It is my honor to show you the first project bike.
It's only fair that I come clean. I have had a long-standing love affair with the Kawasaki KX450F. Since before Obama was sworn into office, I have called the seat of a KX450F home. It is my stimulus package. Nowhere am I more comfortable and confident than on that bike. It's the crŠme de la crŠme.
Oh, don't get me wrong; I've had flings with other bikes in the past. I adored the 1999 KTM 125SX, with its platinum pipe and hydraulic clutch. We kept a close kinship for several years, even through many cold and snowy New York winters. I left the KTM 125SX behind when I punched a one-way ticket to California, but quickly found an odd satisfaction with the 2004 Suzuki RM-Z250. The engine was soft and the suspension was undersprung, even for a horse jockey, but the bike cornered like a dream.

The 2012 KX450F engine was left stock, thanks to a healthy powerplant right from the factory.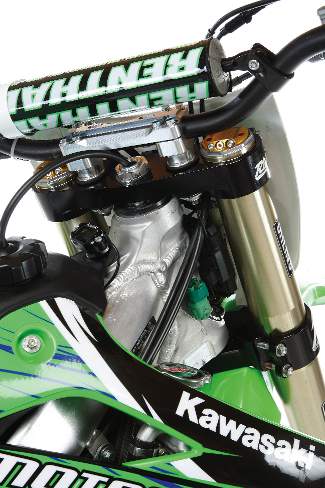 We decided to throw caution to the wind and opted for Ride Engineering 21.5mm offset triple clamps.
The Ohlins fork cartridges and Moto-Master oversized rotor remedied two of the KX450F's biggest problems.
The Ohlins TTX44 shock is as good as gold, and it's just as expensive. Is it overkill? Not in John?Basher's eyes.


Maybe it was destiny, or inevitability, that led me to the Kawasaki KX450F. Since 2007, I have adored the ferocious powerband (for most of the model years, anyway) and the large chassis (I'm 6-foot-1). I especially like that Kawasaki has improved the bike every year. In the past four years, the KX450F has won MXA's coveted 450 Four-Stroke Shootout three times. For 2012, the Green Team developed Launch Control and created an easy plug-and-play system to change maps?two excellent additions that strengthened my passion for the KX450F. Although it sounds like I look at the KX450F through rose-colored glasses, I'm no fool. There is no such thing as the perfect motocross bike. The KX450F can be made better, but it will take someone with a large bank account and a serious spending habit to make the necessary changes. And thanks to MXA, that's me. These are the steps that were taken to improve MXA's 2012 Kawasaki KX450F.
Step one: Saying that the 2012 Kawasaki KX450F needs more horsepower is like saying that the space shuttle could go a little faster.
The KX450F engine has more power than I could ever use (to the tune of 55.50 horsepower). That's one of its greatest attributes. However, in stock trim, the powerband is a bit too potent off idle. An easy solution is to swap out the stock ignition map on the ECU. Kawasaki provides a mellow map that mutes horsepower output by one to two ponies below 9500 rpm. It is an option that every test rider elected to run, myself included.
Of course, I couldn't leave well enough alone. Idle hands are the devil's workshop, and I couldn't bear to look at my project KX450F if I had stuck with the stock exhaust system. That would be like putting a bumper sticker on a Ferrari. So I did the most logical thing I could, given that I had an unlimited budget. I asked Yoshimura for their complete titanium RS-4 system. Not only would the Yosh exhaust help broaden the dragon-scorching powerband, but I'd also knock a few pounds off the swine.
The Yoshimura titanium RS-4 exhaust system was $945. In one fell swoop, I was nearly a thousand dollars in the red, but I didn't care. It was time to get on the phone and order more products.
Step two: Would you believe that there's a downside to improving the powerband on the KX450F? It's no mystery why the stock clutch on the mighty Kawasaki lasts as long as a marriage to Kim Kardashian. The clutch cannot handle the strain that the engine puts on the basket and plates. Although I'm not a clutch abuser, I can still put serious notches in the basket tangs and fry the plates in no time.
What's the answer? My best bet was to call up Hinson and order a complete clutch kit, so that's what I did. The kit includes a clutch basket, inner hub, pressure plate, steel and fiber plates, high-temp clutch springs and a clutch cover. I feel obligated to tip my cap to Hinson's Dave Dye for drilling out the stock clutch gear and installing it on the Hinson clutch basket. I've changed many clutch baskets, but since I was in a race against time (I only had two weeks to get my dream bike built), Dave came to my rescue. By the way, the Hinson clutch kit costs $1054.99. There's another grand out the window.
Step three: I'd love to paint a pretty picture about how amazing the suspension is on the KX450F. Believe me, it would be nice to use such adjectives as "magnificent" and "blissful" when discussing the performance of the Kayaba AOSS suspension. Unfortunately, that isn't the case. The suspension isn't horrendous, but it's far from pleasant. Where did Kawasaki go wrong? For starters, the forks are very harsh in the second half of their stroke. Add in the fact that the shock feels dead, and the KX450F can feel like you're riding a Harley through a rock quarry.  
There are a plethora of aftermarket suspension companies that MXA has access to, and many of them are right in our backyard. I could have shipped the KX450F suspension to Pro Circuit, Factory Connection, RG3 or Enzo, and they would have done an excellent job catering to my desires. Instead, I threw my forks in a box and shipped them?$90 in transit costs each way, mind you?to Ohlins in
North Carolina. Why? In the January issue, I was responsible for testing A.J. Catanzaro's Ohlins Racing Yamaha YZ450F. And although I am 50 pounds heavier and nearly half a foot taller than A.J., I loved his suspension. It was supple and forgiving?two words that I have never used to describe KX450F suspension. I vowed to try Ohlins-tuned suspension in the future. The future is now. Ohlins installed different cartridge rods in the Kayaba forks and sent me their shock.
The cost? $1193 for the fork cartridges, $140 for the springs, $1080 for the shock and $89.95 for the spring. I have expensive taste, but I also value performance. On the stockers, I couldn't get through braking bumps without jarring my fillings loose. The Ohlins kit allowed me to attack every part of the track without wondering if my wrists were going to crumble. At this point the bill is $4682.94…so far.
Step four: A brief history on the handling of the KX450F: from 2006 to 2008, the bike cornered like a garbage scow. Then, in 2009, Kawasaki's engineers changed the trail by moving to 23mm offset triple clamps (down from 24mm) and going with a different rising-rate linkage. The changes equated to an incremental improvement in handling. Woes continued until this year, when the frame was narrowed and the pull rod was also slimmed down. The 2012 KX450F handles better than its predecessors, but there's still significant room for improvement.
I've played the handling game for many years on the KX450F. The recipe for better cornering goes something like this.
(1) Change fork offset. Less offset prevents the front end from understeering.
(2) Invest in a longer pull rod. It's not a Kawasaki unless the shock wallows under acceleration. The solution is to install a longer pull rod, which drops the rear end and stiffens up the initial part of the stroke.
For my handling needs, I called Adrian Ciomo at Ride Engineering. Not only does Adrian make a longer shock linkage for the KX450F, but he has also recently experimented with increased fork offset. The popular solution was to go with 22mm triple clamps, but Ciomo took it a step further by dropping down to 21.5mm. Adrian dangled the carrot right in front of my nose, and I couldn't say no to the opportunity for even greater turning prowess. The clamps retail for $449.90, while the one-piece bar mount is $89.95. The longer shock link is $209.95, and the plastic front brake-line guide rings are $9.95. At this point, I've lost track of how much money I've spent.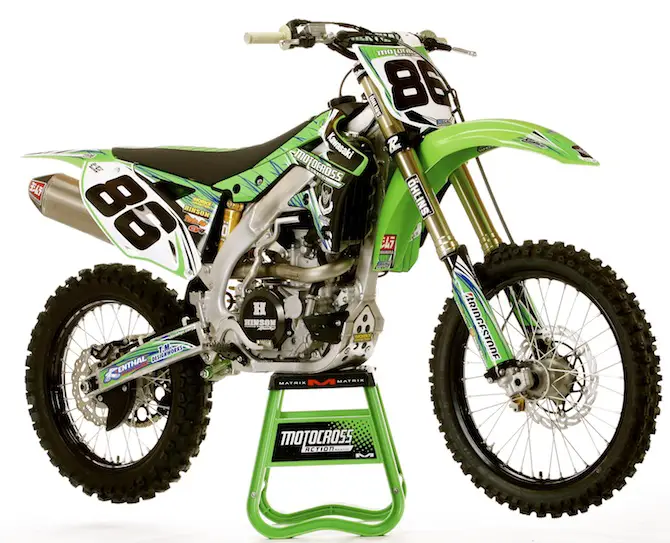 Step five: As much as I love the Kawasaki KX450F, I have a serious beef with the R&D department's continual oversight of several obvious problems. A few minor changes would improve value, increase longevity and go the extra mile toward satisfying the customer.
For example, Kawasaki insists on using a cotter pin as a safety measure against the rear-axle nut coming loose. That's annoying, because a self-locking nut is all that's needed to remedy the problem; hence I keep a handful of Honda self-locking, rear-axle nuts at my disposal and immediately put one on every Kawasaki that passes through my garage.
Need more examples? The KX450F is prone to overheating and spitting radiator coolant out the overflow. It doesn't take an engineer to understand that water-cooled motorcycles need coolant to keep running. I drop-kicked the OEM 1.1 kg/mm radiator cap for a 2.0 kg/mm high-pressure CV4 cap. There's also the issue of the stock seat foam. Sure, it works great for a few hours of riding time, but after logging as little as 10 hours on the KX450F, the seat foam breaks down. If you fancy the feeling of sitting in mashed potatoes, then the OEM seat is a marvel. If, however, you are like me, then you'll need to buy stiffer aftermarket seat foam. I opted for SDG, not only because they sell extra-dense seat foam, but because they also make a gripper seat cover that keeps me from sliding off the back of my KX450F. The seat foam costs $55.99, and the pleated cover is $65.99.
Kawasaki isn't the only manufacturer guilty of outfitting their bikes with weak brakes. Every manufacturer?save for KTM, TM and Husqvarna?needs to beef up their front-brake system. The KX450F desperately needs an oversize front-brake rotor. In stock trim, the front brake is like trying to stop a charging rhino with a BB gun. The excessive horsepower of the KX450F, coupled with the bike's 242-pound mass, puts a serious strain on stopping power. I installed a Moto-Master Flame 270mm rotor and found immediate improvement. The rotor retails for $175, while the adapter bracket is $74.95. I stuck with the OEM brake pads because I believe that stock pads offer the best feel at the brake lever.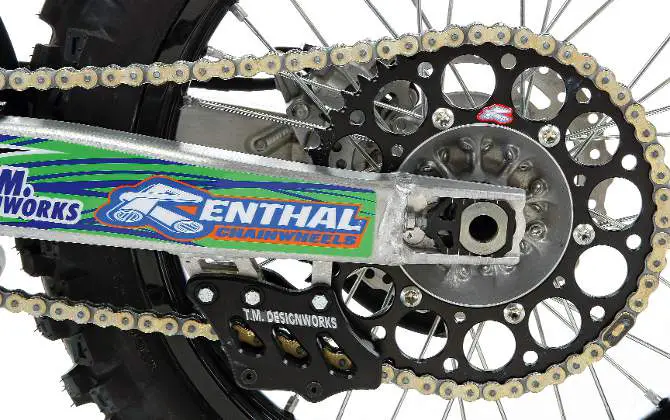 A 51-tooth rear sprocket works great for tighter tracks, but a T.M. Designworks chain guide is imperative for longevity.
Step six: There's an odd order of operations that must take place when working on a Kawasaki KX450F. I'll generalize by saying that you must be willing to enter a give-and-take relationship with this bike. For starters, I'm not a fan of the hard-compound stock grips. They're tougher than a beaver's teeth. The stock grips are also nearly impossible to remove from the handlebars and throttle tube. Why? Kawasaki vulcanizes the grips onto their bikes for fear of potential lawsuits. It makes sense, but it is another case of overkill.
Instead of spending precious hours grinding the stock grips off, I enlisted the help of Renthal. I stuck with the same 971-bend, 7/8-inch handlebars and opted for my absolute favorite grips in the galaxy: Renthal Kevlar half-waffle grips. Of course, I couldn't use the stock plastic throttle tube (since the stock grip wouldn't budge), so I called up Works Connection and had them send me an aluminum throttle tube. They also included an hour meter and bracket, along with a grenade-proof skid plate, to protect my KX450F's undercarriage.



The Hann titanium footpegs aren't just beefy; they are also lightweight and prevent mud from building up.
Back to my musings about the order of operations when working on a KX450F. I prefer to gear the bike down by adding a tooth to the rear sprocket. I got rid of the stock 50-tooth rear and went with a 51-tooth black Renthal sprocket. The fine folks at Renthal also provided a 13-tooth countershaft sprocket and chain. Unfortunately, going bigger on the rear sprocket is the kiss of death for the KX450F chain guide and slider pad. The chain will rip through the chain guide in two races if you don't take preventive measures. To avoid these catastrophes, I ordered a T.M. Designworks Baja Rally Slide-N-Guide kit for $179.95.



The Ride Engineering lowering link dropped the rear end and prevented the dreaded wallowing sensation. It worked.
Step seven: My project KX450F was nearly complete, but not without a few minor modifications to really tie the package together. After all, my intentions weren't just to scrape by with minimal modifications, but to build a bike that was worthy of competing on the professional circuit. Even the slightest oversight could spell disaster for the bike's potential on the track. I inspected and analyzed every piece of equipment on my Kawasaki weapon. I recalled past experiences and dug through heaps of memories trying to remember all the problems I had encountered. The most obvious bugaboo was the scrawny footpegs, which were heavy, narrow, dull and collected as much dirt as TMZ. I swapped the stockers out for ultra-trick Hann Racing Components' Superlite titanium footpegs. These babies cost $219.95, but are worth every penny.
I knew that I couldn't go wrong with Bridgestone's 403/404 tire combination. In my opinion, they are the best intermediate-terrain sneakers in the business. Not only do they offer consistent traction across a wide platform of conditions, but they also wear quite well. I often swap back and forth between a 110- and 120-width tire, depending on the moisture in the track. For the typical SoCal climate, where the dirt is often dry and hardpack, I hedge my bets and go with the 120. And any race bike wouldn't be complete without a sweet set of graphics, so I had DeCal Works whip up something. I think you'll agree that they did a great job.



We tacked on a Yoshimura RS-4 titanium exhaust to smooth out the powerband and drop some weight.
Step eight: I'm a competitive person, so naturally I looked at the other MXA test riders' bikes to see what they were doing (you'll see them starting next Tuesday). In all honesty, I knew that there was a clear-cut winner all along?me. I chose the bike with the best engine. All I had to do was build around the monster powerplant. Sure, it took a bit of creativity?not to mention a lot of money?to solve the numerous riddles of the 2012 Kawasaki KX450F, but with my vast experience, I was able to address those peccadilloes with little difficulty. As a result, I believe that I have built the best possible bike for a wide range of riders. Aside from individual tastes in suspension settings, my project KX450F is lethal in the hands of a Beginner all the way up to a Pro. Was it worth the money? You betcha!