INSIDE SHANE MCELRATH'S MOTOCONCEPTS HONDA CRF450 RACE BIKE: THE 2020 MODEL
INSIDE SHANE MCELRATH'S SMARTOP MOTOCONCEPTS 2020 HONDA CRF450
Shane McElrath was forced to move up to the 450 class for 2021 after pointing out of the 250 class last year when he finished second in the 250 East Coast Supercross series and third in the 250 AMA National Championship. After a strong season on the Star Racing Yamaha team, Shane moved over to the Smartop Bullfrog Spas MotoConcepts Honda team for his debut season in the 450 class. Unfortunately, his introduction to the 450 class was delayed when Shane crashed in December and injured his shoulder. After lots of hard work and physical therapy, Shane got back on the bike and only got a few days of riding in before he made his debut at the 2020 Orlando Supercross #1. We all got to see Shane McElrath style out front in his 450 Heat race when he grabbed the holeshot and led for a majority of the race before the defending Champion, Eli Tomac passed him. Even though Shane started off his 450 career in the lead, the 450 rookie is still taking his time to get comfortable on the new bike and he's continuing to build up his fitness after taking a lot of time off for his injury.
In this Inside the Pro's Bikes video presented by Dunlop, MXA's Travis Fant brings his camera up close and personal with Shane McElrath's MotoConcepts Honda CRF450 to capture all of the cool little details that make Shane's bike different from the rest. Team Manager for the MotoConcepts team, Tony Alessi, has been known for providing his riders with a great bike and he spends some time with MXA to explain how Shane's CRF450 became what it is today. Tony also explains the reason why three out of the four MotoConcepts riders are racing on the 2020 Honda CRF450 instead of the all-new 2021 Honda CRF450. Shane McElrath, Broc Tickle and Benny Bloss are still using last year's model, while Vince Friese has been racing on the 2021 bike. For more Inside the Pro's Bikes videos, click the link below: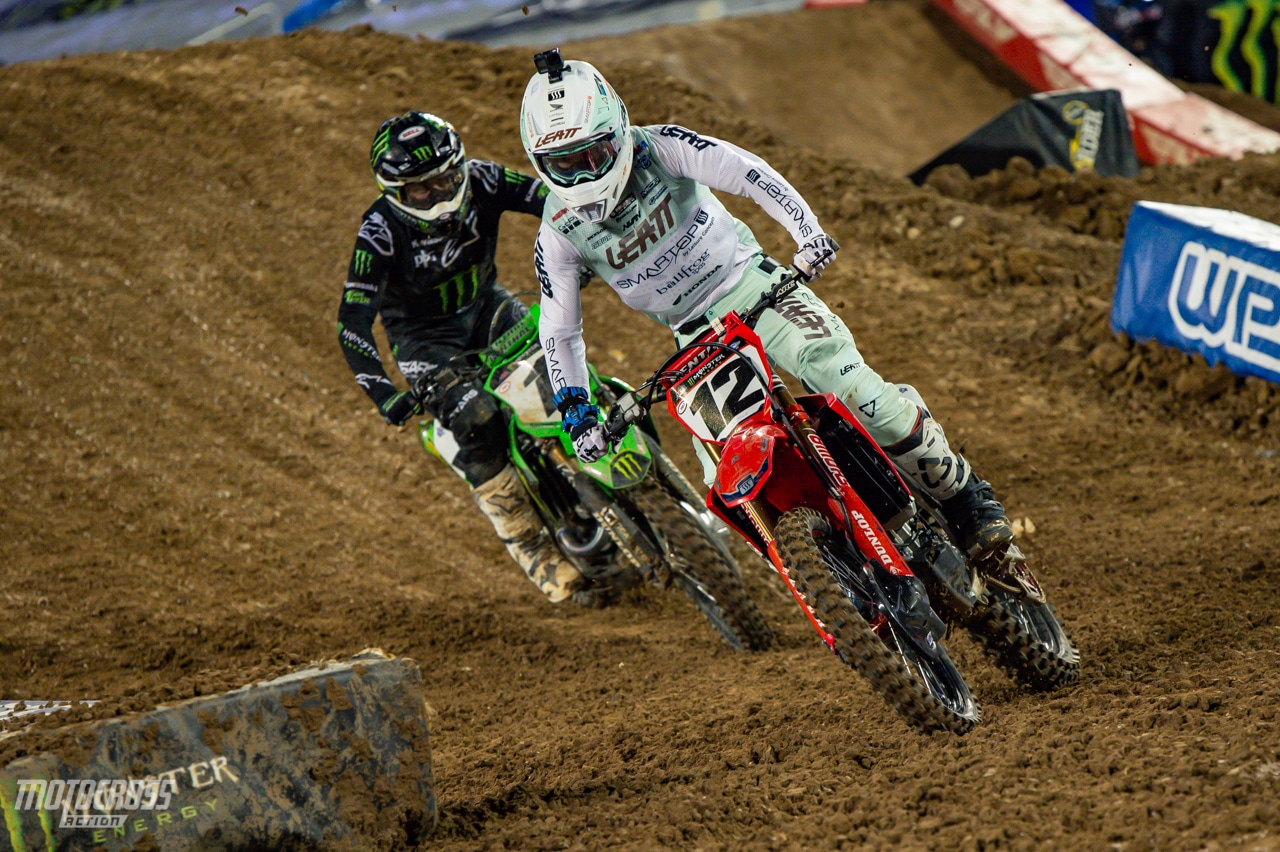 Shane McElrath missed the first portion of the Supercross series due to a shoulder injury that occurred just before the season started. His 450 debut came at the Orlando Supercross #1 and he started it off with a bang. He grabbed the holeshot in the 450 Heat race and held off Eli Tomac for most of the race. Eli did get passed Shane late in the race, but McElrath still finished a strong second in his first 450 Heat race. 
SHANE MCELRATH PRE-SEASON VIDEO + INTERVIEW
Up close on the cock pit of Shane McElrath's Smartop Bullfrog Spas Honda CRF450. 
Shane McElrath rode for the Star Racing Yamaha team in 2020 and finished second in the 250 East Supercross series and third in the 250 AMA National Championship before making the jump up to the 450 class for 2021.