INSIDE THE WORKS HONDA HRC CRF450 GRAND PRIX BIKE
The California drought is nothing  compared to Honda's lack of  results over the past 10 years.  Is this the rainmaker?
In 2012 Honda pulled out all the stops in an effort to win the 450 World Motocross Championship, a feat Honda hadn't accomplished in the premier class since Fredric Bolley did the deed in 2000. With HRC in command, Honda built full-race, all-out, one-off works bikes for Evgeny Bobryshev and Rui Goncalves to race. The bikes had special frames, canted-forward engines, wraparound snake pipes, right-side exhaust ports, twin airboxes, Launch Control, hydraulic clutches and the first version of the Showa SFF Air forks. They were cool, made all the cooler by the fact that true-to-life works bikes had been displaced by modified production machines on the GP circuit. The 2012 Honda CRF450 was big news.
Now, you might wonder why Honda would release its ultra-trick prototypes in Europe instead of in the USA, but under AMA rules, the engine castings and frame have to be based on for-sale production parts. Europe and Japan were the only places where the works Honda could be raced legally. As cool as the works Honda CRF450 was, however, it was a disaster. Between them, Bobryshev and Goncalves only made the top five in one moto apiece. It goes without saying that they came nowhere near winning the 2012 450 World Championship—and when you learn that they DNF'ed 11 motos between them, you can guess how unhappy they were with the bike.
In 2013, the Honda works bike disappeared, Goncalves was fired (replaced by Max Nagl), and the Honda Grand Prix team returned to modified production bikes. Things were a little better, as Bobryshev and Nagl scored a couple top fives, but they had no wins and missed eight GPs between them with injuries.
Honda does not expect to lose—that wasn't in its DNA in the 1980s and 1990s—but losing has become Honda's lot in life over the past 15 years. And not just in Europe, as Honda hasn't won the AMA 450 National Championship since Ricky Carmichael in 2004 or the Supercross title (again with Carmichael) since 2003.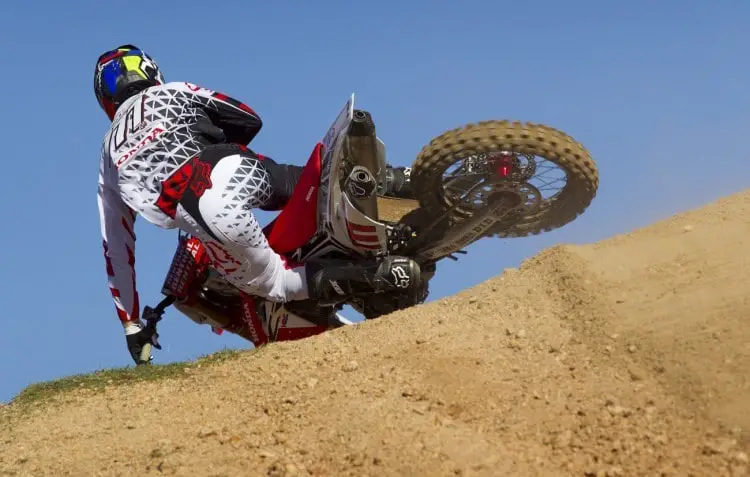 Let's not say that Honda is desperate to win, but its pride is at stake. So, for the 2014 450 World Championships, it introduced a new works bike for Nagl and Bobryshev, and a corporate statement of its dedication to succeed. The new bike is a blend of the 2012 prototype and the 2014 production bike, but make no mistake about it, it is a works bike. Honda is hoping to end its drought by throwing technology and money at it. They have already signed Gautier Paulin from Kawasaki for the 2015 season.