INTERVIEW OF THE WEEK: AARON PLESSINGER

Aaron Plessinger is making a name for himself in motocross, but he's not actually the most successful two-wheel racer in the Plessinger family. That distinction belongs to his dad, Scott, who is a two-time GNCC Champion and two-time National Hare Scrambles title holder. However, Aaron is doing his best to fill his father's shoes. The kid from Ohio is a member of the Yamalube Star Racing Yamaha powerhouse, and he raced professionally beginning last year. Plessinger had a great season, winning the Ironman National and winning the prestigious Rookie of the Year awards in Supercross and the Nationals.
We caught up with Aaron to find out why he didn't follow in his father's footsteps and become a GNCC racer. We also wanted to know what it's like being a part of the Star Racing Yamaha squad, and many other interesting tidbits about the amiable kid.
By Jim Kimball, Photos by John Basher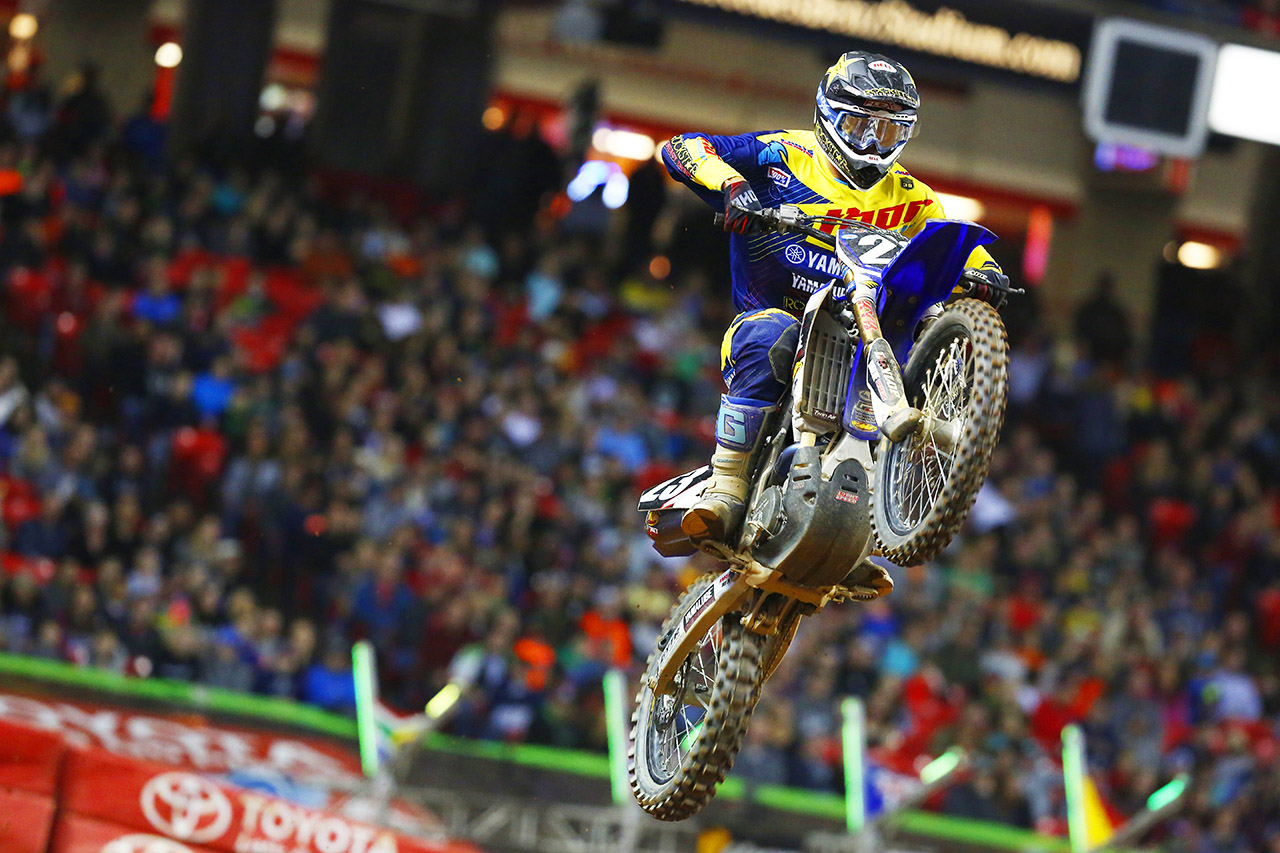 Aaron, didn't you first race GNCC offroad events before adapting to motocross? Yes, I started racing when I was five years old. My first race was in the woods. I stayed racing in the woods until I was around 7 years old, and then I got on a motocross track. I began ripping on motocross tracks and continued with that up until 2006, when I returned to the CNCC series. At that time I raced both motocross and woods. Later, when I turned 12, I got a couple Pro offers in GNCC. In 2013, my dad said, "Lets see what motocross can bring." So I focused more on motocross. I did pretty well and ended up winning six Amateur Championships in 2013. I went six-for-six in the motos at Loretta Lynn's, which was pretty prestigious. Even before Loretta Lynn's that year Bobby Regan from Star Racing called me. He flew me out to California and had me test their bike. I just loved the bike and really vibed with the team. So I rode their bike at Loretta's that year, and that's when I gained their trust and earned their ride. My 2014 season was also good, although not as good as 2013.
What was going through your mind as a young teen when you were getting GNCC Pro rides? I had some pretty good pro offers to race GNCC, and at the time I was battling for the 250A Championship. I really loved everything about the GNCC series–the atmosphere, the people, and the tough conditions. To be honest, it was my dad that probably convinced me to consider motocross. He liked the intensity in motocross, and he knew that there was likely more money in motocross. He really wanted to see if I could succeed in both motorsports arenas. I had done well in GNCC, and he wanted me to put that same emphasis in motocross to see how I could do. GNCC's are just gnarly; three hours of battling with only one little pit stop. Thirty-minute laps, so one lap is pretty much a pro moto, and you are doing six of those in most of the races. It's really a shame that there is not more money to be made in GNCC racing. Of course, I can see why the fans prefer Supercross and motocross, because you can see so much more of the racing. I do think that the GNCC races are way more gnarly than Supercross.
What did winning the Monster Energy Cup Amateur All-Stars race in back-to-back years do for your confidence? I went into 2015 with some confidence feeling that I could do well in Supercross. Going into last year's Supercross series, it was really huge to have won at the Monster Cup. It felt awesome. To compare, I think that going six-for-six in moto wins at Loretta Lynn's was a bigger accomplishment. I think that had trumped everything. But yes, winning the Monster Cup helped me feel ready for 2015 Supercross. After that win at the Monster Cup I solely focused on Supercross, and it was a big milestone in my career. I actually took a couple of fifth place finishes during the first few rounds of Supercross, but then didn't do well in Oakland. I came back strong at Anaheim 3, though, and got my first podium. I did okay during the rest of the Supercross series and ultimately finished 5th overall.
You started off somewhat slow in the 2015 National series, but you won an overall by the end of the season. What challenges did you face outdoors? I was dealing with some minor injuries and stuff. Later in the series, maybe around Washougal, I really started going. Washougal was a very bad mud race, and I love the mud. It was just a very fun race, even if I went down at the beginning of the first moto. Still, near the end, I caught up to third place and was battling for that spot before going down once more and ending up fifth. In moto two I got a pretty good start in fourth and stayed there the entire moto. I earned my first outdoor podium with a third overall. After that I took a fourth overall in Utah, and then won the series finale in Indiana.
Your results earned you the 2015 AMA Supercross Rookie of the Year and AMA Motocross Rookie of the Year awards. Impressive! I would say that my rookie year was great! The outdoors didn't exactly go as planned, but I did get some podiums and then took that win at the finale. It was a great end of the year, and to win the Rookie of the Year awards was icing on the cake. That felt awesome, and it gave me a lot of confidence coming into 2016. My team kept telling me that it was a great year, but I still wanted more.
Did the fact that your teammates, Cooper Webb and Jeremy Martin, won titles last year put more pressure on you to perform? It definitely put some pressure on me. Being around them, seeing what they were doing, and riding with them was just kind of a mental deal for me. I wanted to get to the level that they were at, and maybe I was setting my goals a little too high at first. Once I gained some more confidence, got the bike working better, and had a breakthrough ride at Washougal, I started feeling great. Then I backed it up in Utah. It made my confidence sky-high at Indiana.
How was that whole experience winning your first motocross overall with the dynamics between Cooper Webb and Jeremy Martin? There was just something going into that day where I felt really good. It is hard to describe how things were going so well that entire day. As far as the team dynamics, I don't think there is that big of a rivalry. Maybe in 2014 there was a bit of tension between Martin and Webb, but everything was pretty civil this past year. I think that I lightened up any tension in 2015 because I am much different than those two and can really lighten the mood. It was a lot of fun around the semi in 2015 and everyone had good attitudes. Nobody was really mad at each other, at least not until I won [laughter]. Everything stayed pretty fun in 2015, but since I wasn't around in 2014 I cannot say too much.
With you, Cooper Webb and Jeremy Martin having won AMA Nationals, this outdoor season could be stressful under the Star Racing tent. It may be a little hectic! There may have been a little bit of tension, but I think that Jeremy was really just concerned about winning the title, and not his teammates. Cooper, on the other hand, was really just worried about beating me. I thought it was funny at the time, and I think Cooper was not too mad, but I know that he really wanted to beat me. It was kind of funny to me to be just chilling and having fun, while everyone else was so serious.
You three seem to have some pretty distinct personalities. I am definitely the jokester around the truck. When I get ready for motos I dance around a lot. It's definitely a good time at the truck. I like lightening up the mood and just doing my thing. Other people may laugh at me, but I just keep on doing it. Most of the team loves it, though. It's like a comedy show around the rig when I get ready for a race.
Is your dad still involved much in your racing career? Definitely. He actually trained me through my early days on a dirt bike up until 2012. In 2013 and 2014 I trained with Matt Walker, and then I moved out to California. That's when I began training with Gareth Swanepoel. But, yes, my dad has been there ever since I set foot on a dirt bike. He always has and can still help me with things. Just by looking at him I can tell what he is thinking. He did come from the woods, but so much of what he can relay to me is really just common sense. He knows what I need to do. I pretty much stay in California year round, but there may soon be some changes to that. I may go east for outdoors.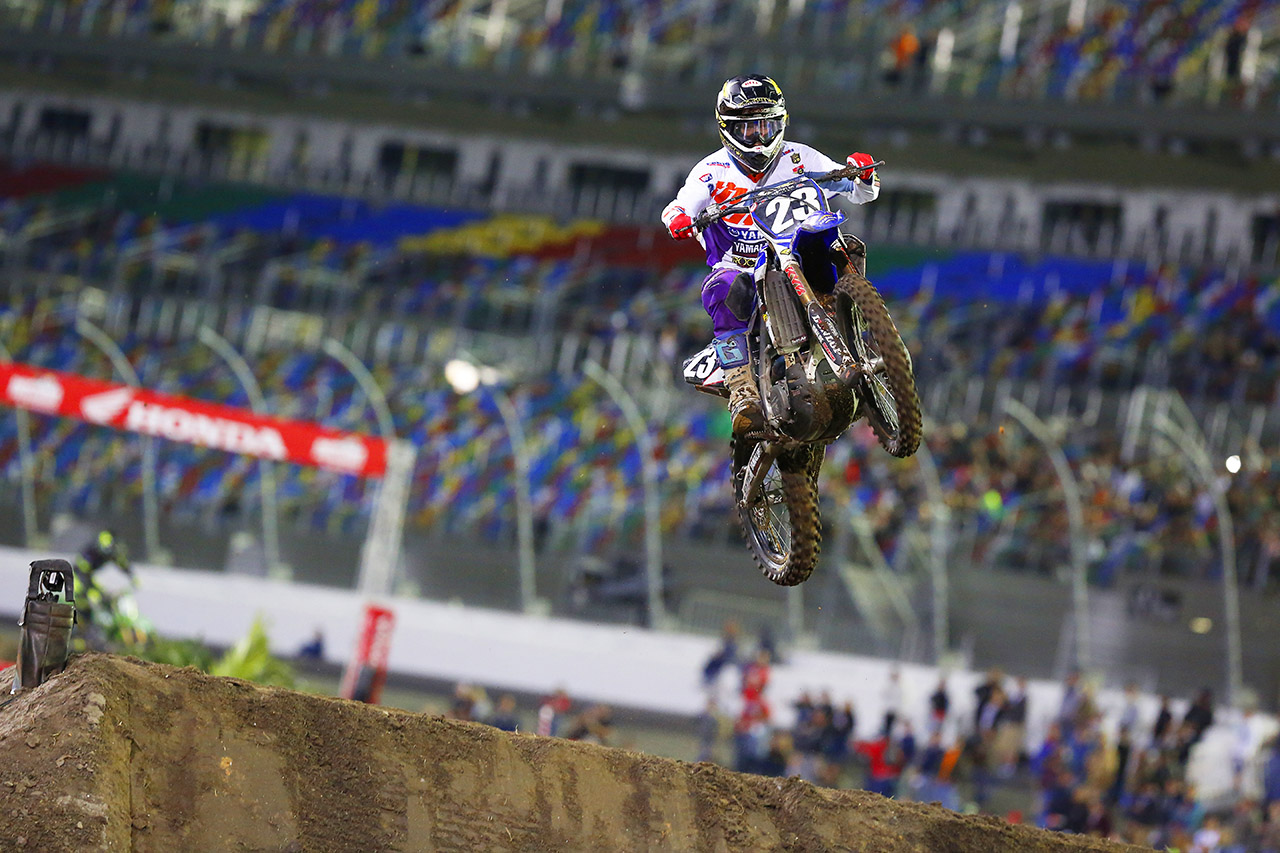 You may be too young to remember the early days of Star Yamaha. With no disrespect, they were a B-level team in the early going, but now they may be the premier 250 team. Yes, that's true. This team has pretty much come out of the blue with Jeremy and Cooper. At the same time, they did pretty well with Ryan Sipes and the others they had back then. They really stepped it up when they got the 2014 bikes. It was like a door opened then. It was a whole new world then, because the bikes were finally updated, and they were so fast. Everything on those new bikes was dialed in. When the team had that breakout championship year in 2014, it was all about Star Racing Yamaha. Since then it has been a West Coast Supercross title and two outdoor titles. Now we are working on East and West Coast Supercross titles, and certainly another outdoor title. It's a very prestigious team.
The Martin brothers and Cooper Webb are short in stature, while you're very tall. Does your height help or hinder your riding? My height is both bad and good. I can really get down in the whoops, but it may handcuff me in the corners a little bit, because my legs are so long and I cannot really stand up as quickly as those guys can. I do think there are far more pluses than minuses, though. I can really get into the rhythm and jump sections and flow through them, and these other guys being shorter have some difficulties. There are more pluses than minuses.
Do you have enough experience to win a title? For sure, I can win a title in 2016. My confidence is very high. I can win on any given weekend, and I then could be up front in points. Everyone is so close right now that it comes down to whomever is most consistence. As long as I am consistent and picking off wins I know that I can win a championship this year. I am especially confident for outdoors. I love the atmosphere of the Nationals and the uniqueness of the tracks. I even like the travel to the outdoor races. I want to put my head down and win both titles. That's the objective.
Have you ridden a 450 much since joining Star Yamaha? I ask, because it seems like a bigger bike may suit you. I love the 450. I rode one every Thursday before every outdoor in 2015. I feel that riding a 450 during the week makes me a little bit better rider. I can handle the 450 better. I rode a 450 a lot in my amateur career and always did well on one. I like it, as it's a little bit bigger and a lot faster. I can actually throw one around pretty well. I like the 450 power!
Do you get many opportunities to ride with your dad? I don't get very many chances to ride with him. In fact, I cannot remember the last time that we rode together. It has probably been a couple years. He still can get after it, though. He still trains kids, and he spends his time mainly back in Ohio. He is making the young kids get better, while I am out in California trying to get better.
How long is your deal with Star Racing Yamaha? I am signed with Star Racing until 2018. The Star Racing Yamaha team is amazing with what we can do with suspension and KYB; what we can change with the tires; and all the support that we have with our sponsors is so great. Yamaha and all our sponsors have come through for us and made this team great. I don't think that it can get any better than riding for this team!