INTERVIEW OF THE WEEK: ANTHONY RODRIGUEZ

Click on images to enlarge
By John Basher
Venezuela's Anthony Rodriguez has endured hardship since turning Pro in 2014. Riding for Star Racing Yamaha, the rookie crashed out in only his second Supercross race, resulting in a broken collarbone. The injury kept him from competing the rest of the series. He came back for the Nationals, but crashed at Washougal during qualifying and was sidelined for the remainder of the season. "A-Rod" came back healthy in 2015. He finished sixth overall in the 250 East, but bad luck bit him again when, while practicing for the Glen Helen National, another rider crossed the track in front of him. The crash kept Rodriguez from competing until Budds Creek, where he finished 22nd overall. A week later he scored an 18th overall at Red Bud, although not without drama. He was down and out for the remainder of the season and out of a job. Enter upstart Trader's Kawasaki, a team with sound support and a famed crew chief in Skip Norfolk. Trader's picked up Rodriguez, and things have gone well. Anthony scored his best finish of the year in the 250 East this past weekend at Indianapolis–a seventh–and he's currently 11th in points.
Find out more about the pride of Venezuela, Anthony Rodriguez, and the sacrifices he made in order to chase his dream of becoming a Professional racer.
Anthony, when did you first move to the U.S.? I was 13 when my parents finally got tired of me asking them to take me to "USA," so they decided to bring me to Millsaps Training Facility in Cairo, Georgia. They thought it would be worth it for me to learn English. They said it would open doors for me to find jobs. Little did we know I would get this far [laughter]!
Why did you choose to train at Millsaps Training Facility, and what are the benefits of MTF? Coming from a different country, it was hard to find the right place to train. My parents couldn't leave Venezuela permanently, because they had to continue working so they could afford for me to race. MTF was the best place where I could live by myself and learn riding techniques, since all I knew then was how to hold it wide open. Colleen Millsaps was and is the reason I'm in the USA and making a living out this sport. If my parents didn't get a confident feelings from her, they wouldn't have had the commitment to leave me here at such of young age.
What was it like growing up in Venezuela and racing? Oh man! It was so different. It was like having a second little family. We were all friends and it was so enjoyable. However, to be honest, some of the tracks were not very enjoyable.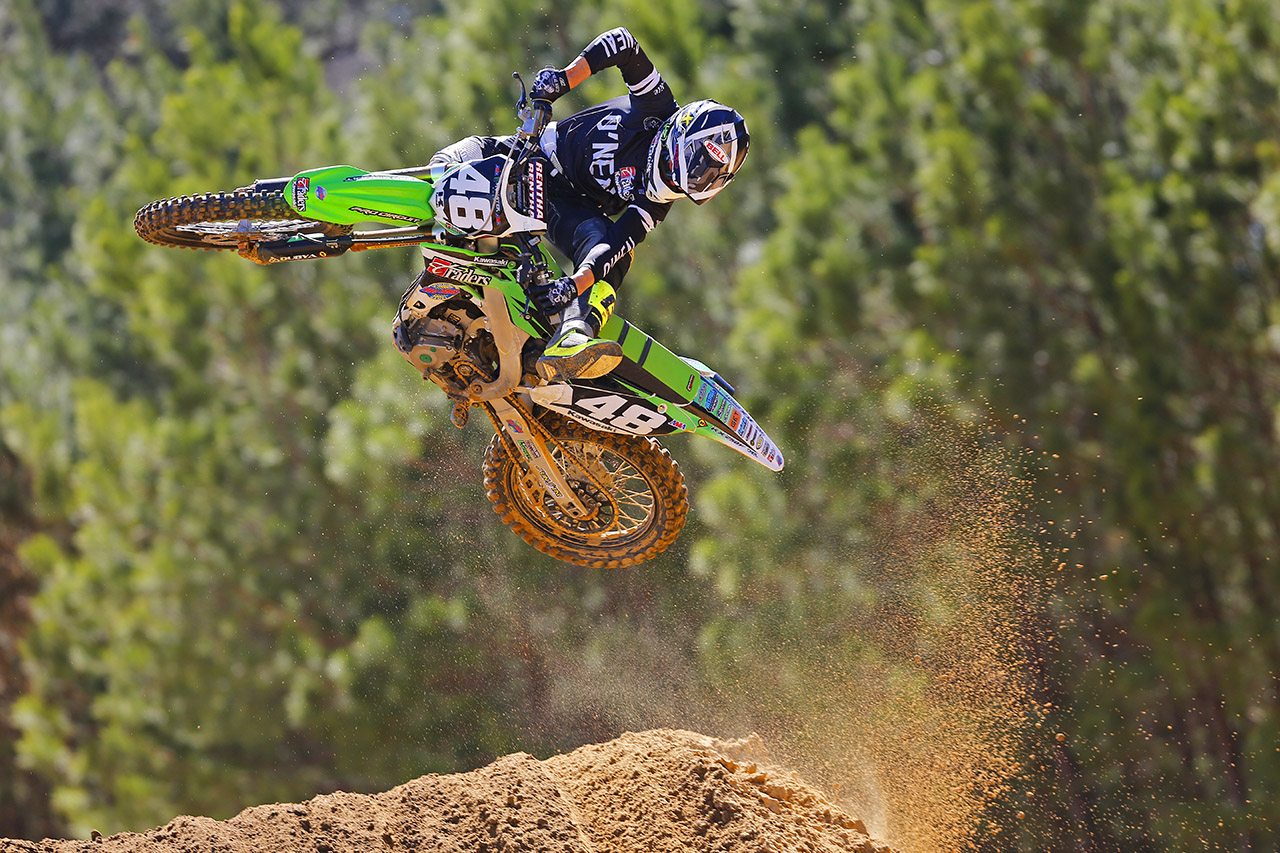 What are your favorite childhood memories from growing up in Venezuela? I would say my best childhood memories came from those days. That's when I met some of my best friends, and very close rivals as well. We would be very close in speed, but even after a race where there were some dirty passes we would laugh about them and play in the dirt with some bike toys.
Do you have any scary stories about growing up in Venezuela? I hate to talk badly about Venezuela, because that's where my heart is. It is also a country with very many beautiful features, such as the nature. On the other hand, there are also some downsides to the country. I know that if a Venezuelan fan is reading this he might be upset about what I'm about to say, but my fans deserve to know the truth.
What happened? I was 9 years old, and I had just won a South American Championship on my 65 in Argentina. When we arrived home in Venezuela, two armed men robbed my family. We stopped at a food place that was literally almost in the middle of the road. My dad was buying food while my brother, mom, and I waited in the car. Suddenly, two guys came up to him and one of them instantly put a gun to his mouth and yelled, "You will be dead!" The guy then searched my dad to see if he was armed. As I saw this happening, I told my mom to lock the rear doors, but as she was locking the front doors, the other guy had gotten in the car next to her. For some reason, even though this guy was armed, my mom decided to try and defend us. She tried pushing the guy away, but he still ended up grabbing a wallet and left. Meanwhile, the other guy took my dad's gold chain, money, and watch. When the robber asked my dad for his wedding ring, my dad tried talking it off, but it was stuck. The robber literally put my dad's finger in his mouth to try and take the ring off, but he couldn't get it off, either. So, the robbers started running away. My dad went to reach for the pistol that he had on the back of his pants. I had no idea how the robber didn't feel it when he searched to see if my dad was armed. A third criminal came out of nowhere with a shortened shotgun to be backup for the other two guys as they ran away. Luckily, the third criminal didn't see what my dad was trying to do, so my dad stopped reaching for his back or he would have been shot.
You started your Pro career off with a bang, running in a podium position at Dallas and then Atlanta in 2014. Unfortunately, you crashed in Dallas and then had a big get-off in Atlanta, which resulted in a broken collarbone. What did you learn your rookie year of Supercross? I learned that I didn't have a rookie season that year at all. I didn't gain any experience from it since I only got to ride a few laps around the tracks before I got injured. I felt that luck was not on my side that year at all. I was a big promising talent, too. I had just beat Cooper Webb multiple times the year before that, so I knew what I was capable of. That put added pressure on me. However, as soon as that injury came along I didn't have that same pressure anymore. I guess I did learn how not to start a professional career [laughter].
How extensive was your recovery after crashing in qualifying at Washougal in 2014 and suffering a concussion? Although it was a bad crash, the recovery period was extended much more than it needed to be. The doctors said I was perfectly healthy after some time, since I was constantly doing recovery exercises. Unfortunately, the doctor's approval was not enough for some people in the industry. Due to forces beyond my control, I wasn't able to return until later.
Do you feel a bit unlucky with how your Pro career has gone so far? I mean, you placed fifth at the Hangtown opener last year, only for a rider to cross the track during practice at Perris the following week. All things happen for a reason. It has been a hard journey, as you can imagine. I have put all of my effort and life into the sport. In the first two years of my professional career a majority of the injuries that I had were not my fault. There was a period of time where I thought I had lost it. I didn't feel the same as I used to because of other people's faults. I had lost my factory ride and the whole motocross industry thought I was done. I was also somewhat depressed and began doubting my skills. I kept having negative thoughts like, 'Why me? I don't deserve this. Why does it seem like it is not meant to be?' It did take longer than needed for me to get back on my feet and out of the whole deal of feeling sorry for myself.
What have you learned from hardship? Making a comeback is the hardest thing I've had to do, but as they say, what doesn't kill you makes you stronger. I'm so much stronger mentally and I have realized many things. I'm enjoying riding more than ever. However, after all of this time, of course you lose some speed. So, I'm still getting the speed back. Everything else is there, and when I get that speed back I will be among the best and will also be a much more mature rider. I promise you that I will be battling for titles in the future.
Do you prefer Supercross or the outdoors? I like them both. As a rider, I have features that benefit me for both Supercross and motocross, so I really don't have a preference.
You logged your best Supercross finish of the year–a 11th place at Detroit. How is your season going? Being my best finish of the year,  the 11th place doesn't feel like much of a success after getting a few top fives last year. Still, every weekend I'm improving. I didn't come to the first round with three months of preparation as other riders did. I had a lot going on between fixing my visa and having to visit different countries. When I came back, I had to buy my own bike, send out suspension to get worked on, and figure out how I was going to race as a full-on privateer. I didn't have Traders supporting me at that time. By the time I signed with Traders, we had very little time to get ready. As the season is going I'm getting my speed back.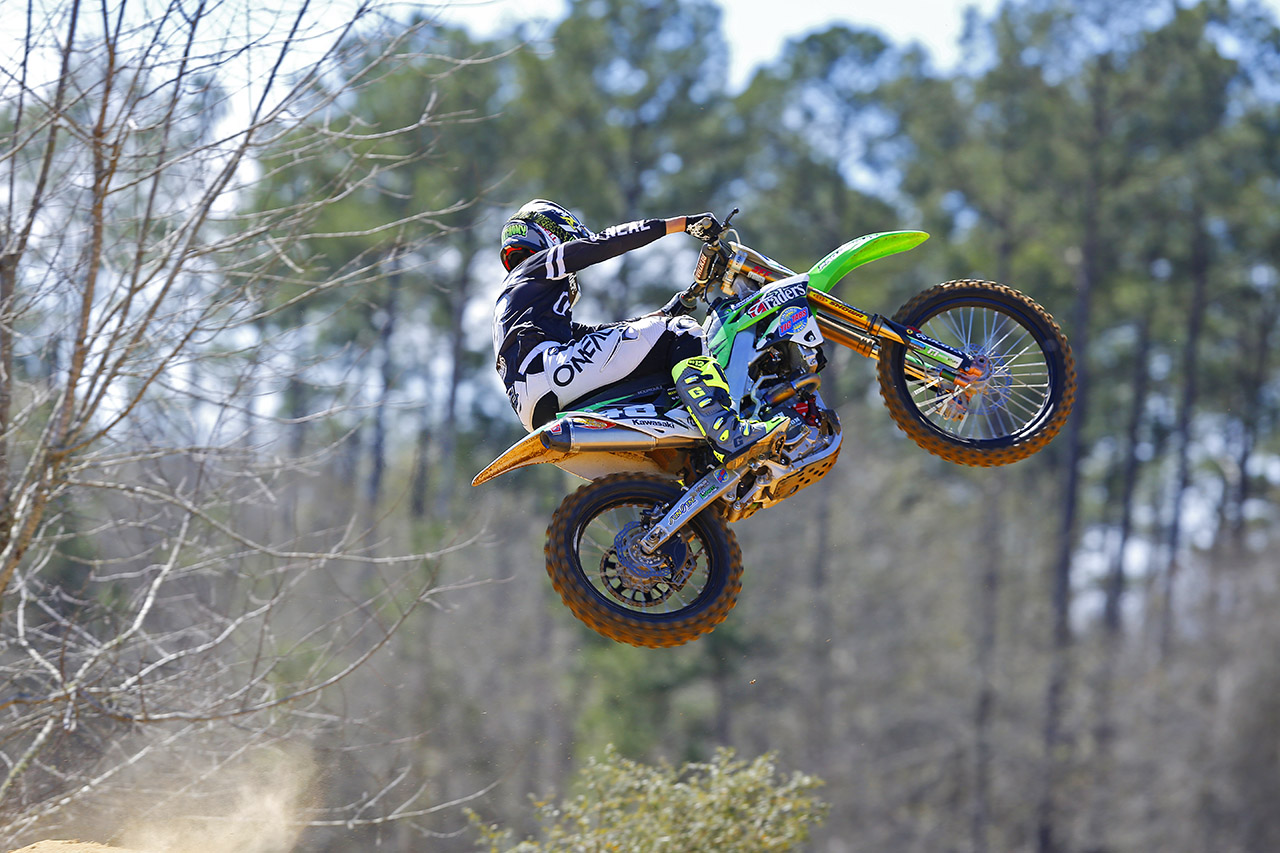 Has it been tough adapting to the Kawasaki after racing a Yamaha for so many years? It was at first. As I said, I was off for a while, so I was rusty when I got on the Kawasaki.
How did the Traders Racing Kawasaki deal come together? I met Gary, the team owner, at Mini Olympics during the offseason. I told him what I had going on and that I was in the market. Two weeks later I received an email from him. Honestly, it was the best thing that could have happened to me. I was really stressed not knowing if I would be able to race the whole season or even get the appropriate equipment. When this deal came along it felt like I had won the lottery.
What's it like working with Skip Norfolk, the race director at Trader's Racing Kawasaki? It is amazing working with him. He has so much knowledge and helps me so much to get the bike to where it needs to be. And as a person, he is also amazing. He and the rest of the team make me feel like I am at home. Skip knows exactly what it takes to be at the top, and he is doing an amazing job at guiding me that way. It definitely feels good and gives me confidence to know that the person who is helping me be my best and have the best setup is the same person that helped the legend, Jeremy McGrath.